As a height challenged rider, I'm always on the lookout for ADV bikes that allow me to get a couple of toes on the ground.
I was excited when Kawasaki reached out with an opportunity to test ride the 2018 Versys-X 300. A newer bike on the market with a 32.1" seat height, the Versys-X says it is for any road, any time. Any road? Let's find out!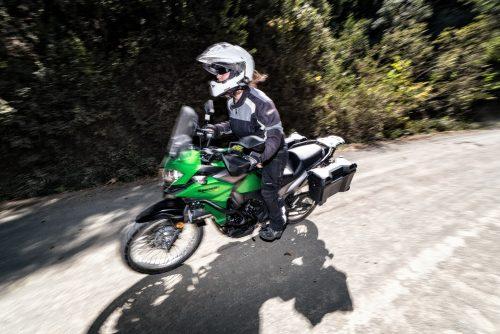 To share my history, my street riding experience started on a Ninja 250. I entered the world of dual sports on an XT 225; I've been a thumper rider ever since.  But as I've wandered through the low-seat adventure bikes, my partner and I have always joked "maybe we should just put a Ninja 250 engine into the XT frame."  It's like Kawasaki was listening, and I got to ride that reality.
The Kawasaki Versys-X 300 uses the Ninja 300 engine, modified for a better midrange, which is important off road.  The seat height is a reasonable 32.1", and narrow, which allows a bit of extra toe-to-ground experience for those of us who are inseam challenged.  The bike has optional lights, panniers, crash bars and handguards, making it ready to ride into your next adventure with minimal preparations.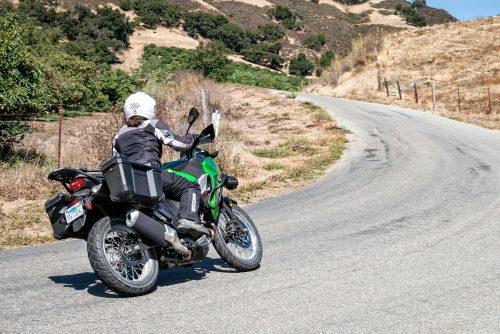 My testing ground consisted of freeway, twisties, and gravel. On the freeway, the windscreen and handguards provided excellent protection against the cool morning fog on Highway 1. The engine cruised along at 75 with no issues, with plenty of power left to accelerate.
My heart really sang for joy once we exited the freeway and turned into the twisties. We embarked onto a road that, without a doubt, was created by a rider.  Going up and down hills with sharp, hairpin, off-camber turns, the Versys-X 300 was planted, flickable and would put a smile on any rider's face.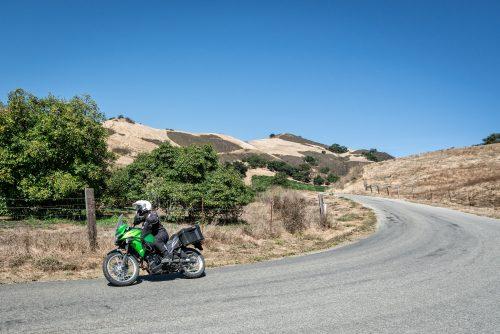 We then spent some time on gravel, so I tested the bike's limits. The bike is planted and predictable. Around 7000 RPM's, you could break the back end loose.  Just for fun, I tried engaging the ABS off road.  The bike was perfectly behaved.  If I were going to take the Versys-X 300 on more serious off road terrain, a bit more protection would be in order. A skid plate, wide foot pegs, and more substantial hand guards would make me feel much more comfortable finding this bike's limits and the street tires would need a knobbier swap. On the plus side, it already has the advantage of a forward placed windshield, so there was no helmet-to-windshield interaction and the engine guards appeared beefy. Fortunately no drop testing was performed on this test ride.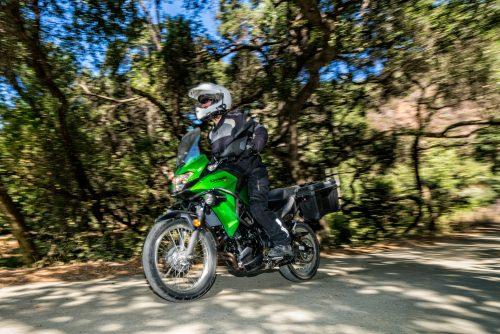 If I had to sum up the Versys-X 300 in one word it would be 'playful.' Unique features include: Gear Position Indicator, Positive Neutral Finder, Clutch Assist, DC Power Outlet, Top Rack and Remaining Fuel Range Display. Starting at $5400, this bike will appeal to new riders and experienced riders alike.
Love Kawasaki? Check out the KLR 650 review!  It may not have been love at first  sight, but the KLR 650 is a bike that stands the test of time.