BY GRACE MCDONALD
I've got a KTM 690 Enduro and I'm 15,000km into my overland trip from Sydney to Paris via Asia and the Middle East.
Not too early for a bike review – but the first thing I'll say about bike choice is this: don't worry too much. Don't overthink it.
When I first decided to ride a motorbike solo halfway around the world, I foolishly asked the internet for advice on common mechanical issues affecting the 690 that I might need to watch out for. The response was a deluge of outraged opinion. The most common was, "oh bad luck, shoulda bought a Beemer" and my favourite was "with your mechanical knowledge, better take a good pair of walking boots".
A year down the track, and this is what I've learnt: pick a bike that you love. There's no bike in existence that's not going to break down or wear out or give you some sort of trouble as you bully and cajole it through a world of varied terrain and conditions. There's also no bike on earth that will do everything perfectly: some will be too tall, some will lack clearance, some will lack power, some will have enough power but too much weight. Some will break down all the time but be fixable with tie-wire and a toothpick and others will rarely break down but will need to be put on a truck to the dealership when they do.
So the important thing is to weigh up what matters to you – and pick a bike that you love. Pick a bike that you want to wake and ride every morning, because it will give you trouble at some point – and you need to love it enough to want to persevere with it when it does.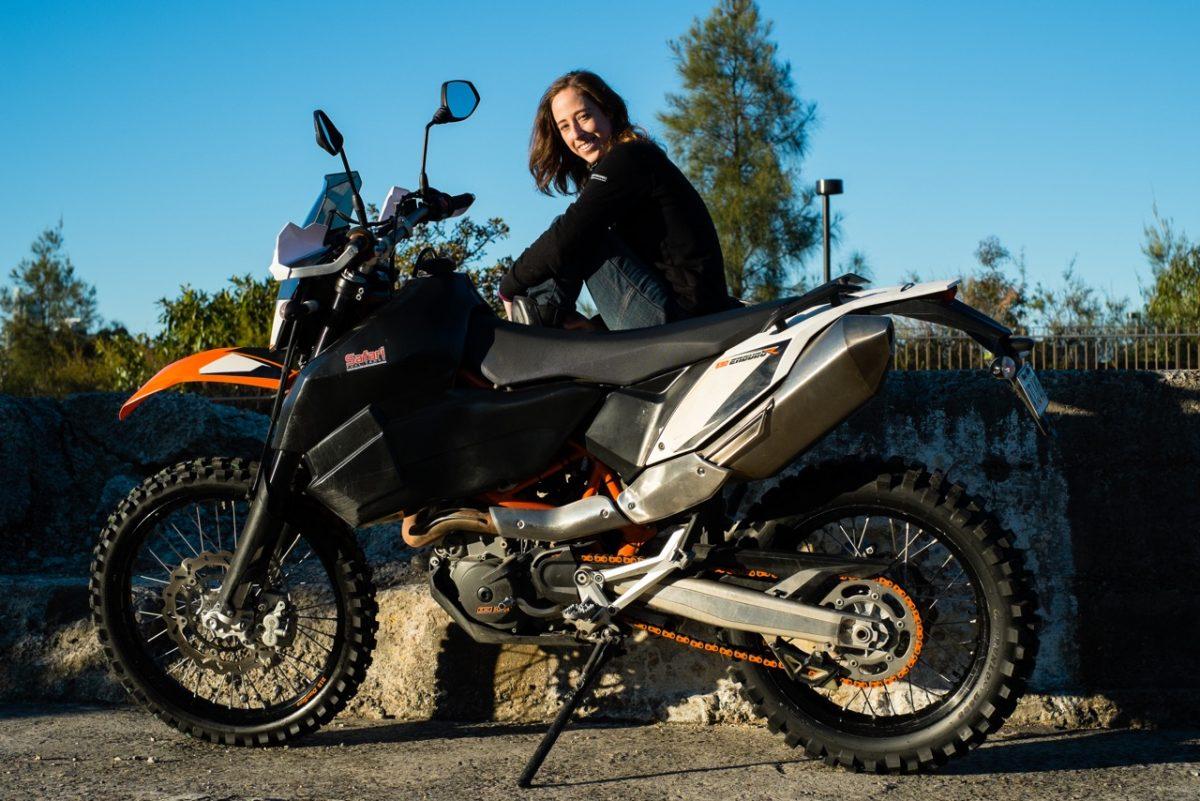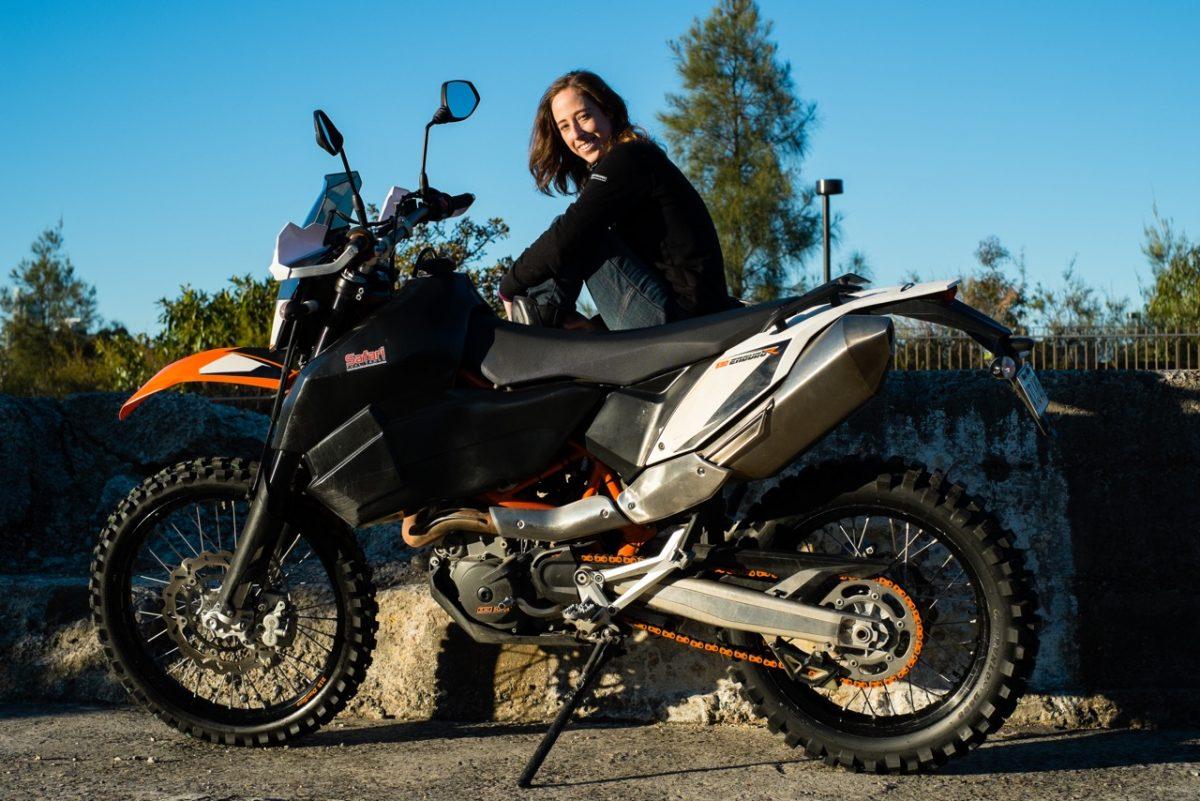 So let me tell you a little about the 690 as an overlanding bike.
2012 KTM 690 Enduro
Power & Weight
This is where the 690 delivers: a big bore single, the 2012 model gives you somewhere between 59 and 66bhp for a dry weight of around 140kg. That's a pretty good kick, and you'll appreciate it when you want to overtake a road train or throttle of out of an 'oh crap' moment in difficult or soft terrain. Also, when you're a solo woman traveller, there's something to be said for the ability to leave town a hell of a lot faster than the wannabe gangstas in it.
Weight was a major consideration for me, because I travel alone: I would literally be dead by now (bleached bones in the wilderness) if I rode a bike that I couldn't pick up on my own. As time and travel have progressed, I've gotten stronger and I can now pick up the bike when fully loaded (about 200kg); but 150kg was enough of a challenge for the desk-weakened lawyer I once was.
The trade-off for this very attractive power-to-weight ratio are the related issues of price, plastic and aluminium. KTM have saved weight relative to other 600-range adventure bikes by using aluminium in preference to steel, but that's not cheap: be prepared to cough up an extra $4000 or so for the privilege. Also, the KTM 690 only has half a frame: instead of a rear subframe, everything at the back bolts straight into the plastic of the rear-mounted fuel tank. Nice and light, but that's a hell of a lot of weight and stress on bolts that go into plastic, especially once you mount pannier racks. Lots of bolts going into aluminium also mean lots of soft threads to strip.
Service Intervals
When things get dicey, I quite often wish that I was riding around on something perky, light and dirt orientated like a WR or a KLX.  But if you're going overland, here are a couple of things to consider. First, is the service interval measured in hours and will you go insane servicing it once a week? And second, is the engine really designed to crunch the kind of miles you'll be asking of it? Modern dirt bikes have reached impressive standards of power and performance, but it puts components under a lot more stress than unkillable old bikes like the XL185 would ever have had to deal with. Burning twice as bright, half as long? It's hard to know. Overall, the 10,000km service interval of the 690 Enduro gives me confidence, although I never leave it that long. I usually service it every 6,000km or so: engines are expensive, oil is cheap.
Handling
The 690 Enduro is a tall bike – one of the tallest seat heights around. This can be intimidating in bad terrain, but don't write the 690 off just because you're not a giant: us ladies often have a longer in-seam than the blokes. I'm 5'4 and I rode all kinds of terrain for nearly a year before I put a Kouba lowering link on the bike for the trip. It's supposed to lower the bike by 5/8″ but I can barely tell the difference. What does make a difference is the extra sag when I load up the bike with all my gear: that lets me get plenty of foot down, when I need it.
Off road, the 690 is an incredibly capable bike. It's got awesome ground clearance, great suspension, 21″ front wheel, dirt-bike steering geometry and feel. Stock rims and spokes will take serious punishment unscathed. Weight and size becomes a challenge on the single track, however I'll be the first to admit that the only thing holding me back off-road is my own skill level, not the bike. Having said that, the stock gearing is a bit high for gnarly stuff, so I'm looking forward to dropping a tooth on the front sprocket.
On road, the 690 is capable and comfortable, with a lovely upright sitting position for long days in the saddle. Unfortunately, it is a big bore single cylinder and the vibrations can be annoying around the 4,000rpm and 80-105km/range. On the upside, the stroke is quite short: she smooths out nicely at 120km/h, not that any of us would be so delinquent as to ride that fast.
Exotic & Endangered
Trying to access parts and expertise for a fancy Austrian motorbike across parts of Asia and the Middle East is not so easy. Although many an enthusiastic Indian man will assure you that your 690 is just like his 390 Duke, it isn't. Still, no need to freak out. Carry a spare fuel pump and a set of rocker arms and think laterally: if your stator goes, see if you can get it rewound; if you need new bearings or shims or o-rings, remember these are pretty standard items. Be careful about your specs, but you may not need to get them from the KTM dealership seven countries away. And hey, if you do need to wait for parts from the KTM dealership seven countries away? Grab a beer and a good book – you'll be alright.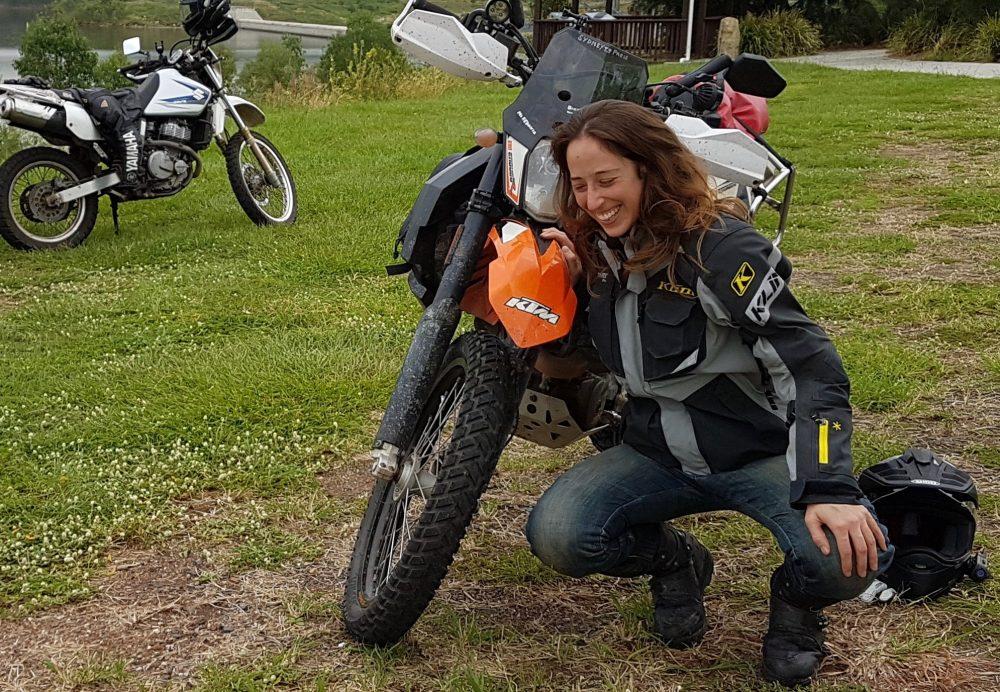 I do recommend getting familiar with your own bike, because the bottom line is that no one else will ever care about it or rely on it as much as you. Other people will over-tighten your bolts, leave the o-rings off your oil screens and run your throttle cable the wrong way so the throttle jams open when you turn full lock (true story).
Essential Adventure Mods
You don't really need that pricey aftermarket exhaust made from 100% unobtainium. But here are a few things that I'd highly recommend before you head off on a major adventure:
Upgrade those rear tank bolts.

Get Barkbusters.

Replace the plastic bash plate with a quality alloy one that also shields the rear master cylinder.

Add an extra fuel tank or fuel carrying system: the stock tank is only 12L. If you go for an extra fuel tank, I recommend avoiding a front-mounted Safari tank like mine, as I find it gets in the way and affects off-road handling too much. You can get rear mounted auxiliary tanks but they cost a little more.
Is it a lemon?
As with all bikes, sometimes you get a lemon. I think Piers Hammond might be ready to put a match to his 2015 model after a round-the-world trip that has averaged a new countershaft and complete rebuild every 15,000km. On the other hand, plenty of people have ridden 690s round the world without any show stoppers.
My Beastie, so far, is going strong. I bought her second hand with 20,000km on the clock and she's been pretty solid: in the subsequent 26,000km, she's done-in one rocker arm and given me an electrical short in heavy rain. She also has an intermittent reluctance to start, but I've got an easy work-around and I'm much too cheap to replace the starter motor until this one's really dead. Her spotlights don't match anymore and neither do her indicators, but it's all part of her personality now.
Beastie and I are in Timor Leste at the moment, and she devours these craterous potholes and rocky mountain roads like nothing else. People say the roads are 'terrible' – apparently worse than usual – but I've had some of the best riding days of my life.
Get a bike that you love riding, and it'll be the right one.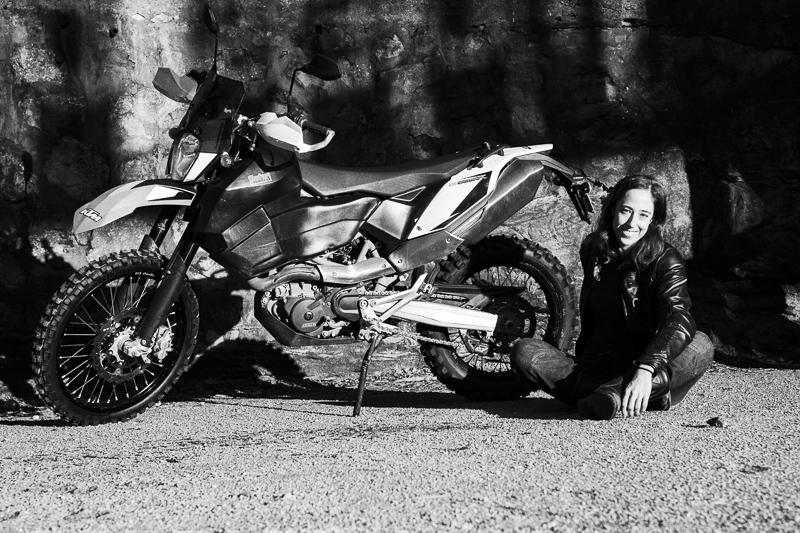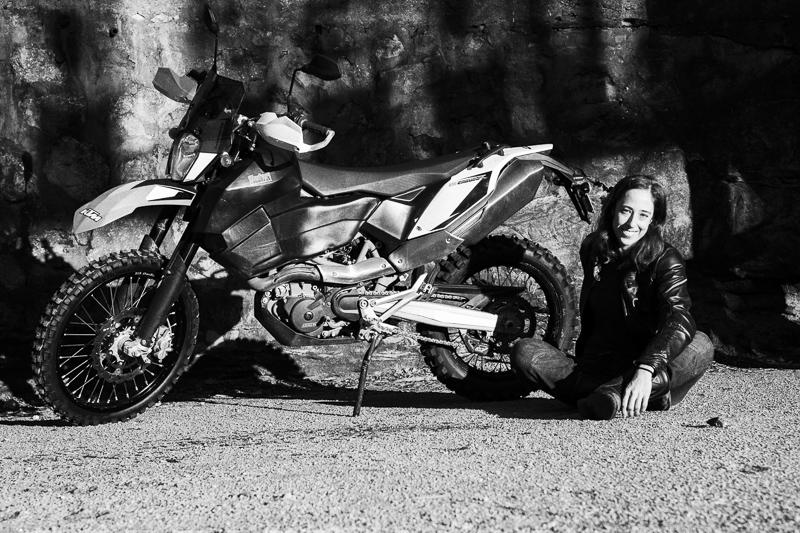 Check out Grace's excellent stories and follow her travels from Sydney to Paris on her KTM 690 Enduro, here!
Photo credits to Shane Smith, Keith Plunkett and Zoom In with Eden.