Here's a confession: I've never ridden in women's motorcycle leggings. I'm mostly found on a dual-sport bike looking for off-road trails, so my gear is usually either pure off-road armor or an adventure suit if it's a long-distance journey. I do own a pair of moto jeans, which comes in handy when I'm exploring cities or just jumping on a bike to get groceries; moto leggings, however, are something I've never tried before… Until I found myself in the Caribbean, that is.
Pando Moto Women's Motorcycle Leggins
Scouting routes for a dual-sport motorcycle tour in Belize, I was expecting lots of gnarly trails, so my first choice was, as always, Leatt protectives. However, when packing for the Caribbean adventure, I threw in a pair of Pando Moto SKIN-UH 03 women's motorcycle leggings into my bag.
And boy was I glad I did.
Belize is a fantastic country to ride, both on and off the road – but it is insanely hot and humid. So much so that you easily go through 3 liters of water in six hours, and whenever you're off the bike, it's best to run for the nearest swimming hole or at least, some shade.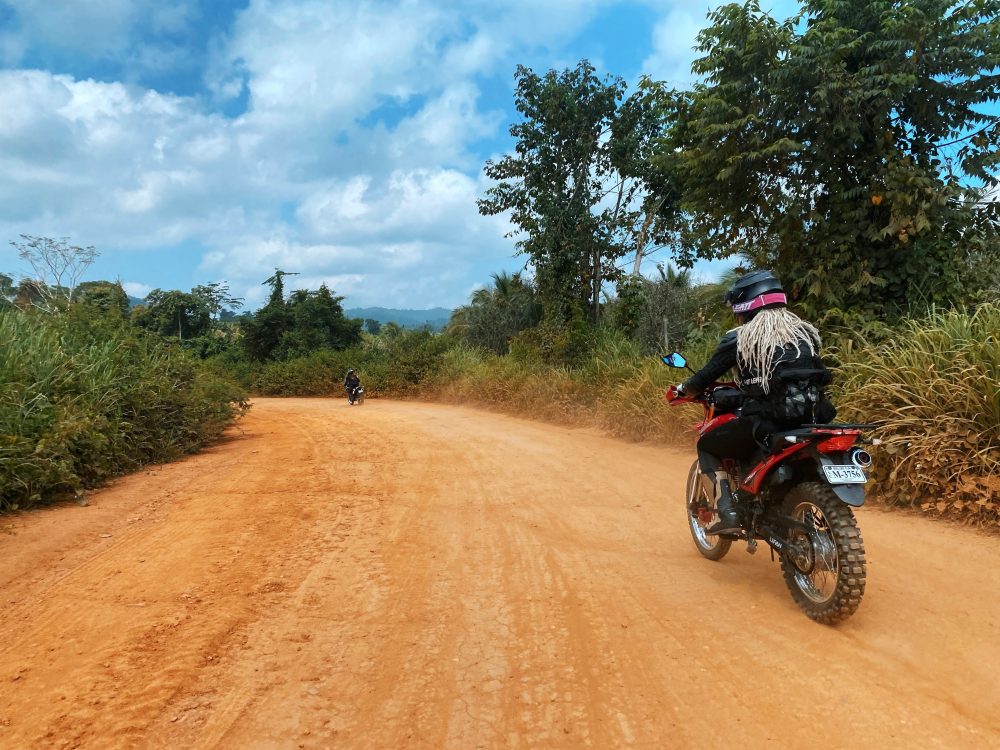 Since the first few days of riding mainly included paved backcountry roads and a few hard-packed dirt trails, I decided to ditch all the heavy armor and enduro pants and try out the leggings. Made with durable power-stretch Balistex fabric, the leggings are both thin, comfy, and protective with integrated knee and hip pads. Although they feel ultra-light and breathable, there's some serious protection that's incorporated in the material and the protective pads. Riding the Caribbean, it felt incredible – it's like riding in simply yoga leggings, except you're protected and can move freely on and off the bike. For two glorious days, I was able to ride in the Pando creation, ADV boots, and body armor – and for the crazy heat and humidity of Belize, that was an excellent combination.
Now, Pando's women's motorcycle leggings are meant to be worn underneath other gear like moto jeans – but I just rode in them as is. For the gnarlier sections, I'd combine the leggings with the Leatt knee braces. For easy cruising on forest service roads and paved backcountry routes, it felt like the leggings were more than enough.
While it's best to ride off-road with fully off-road-oriented gear, I'm keeping the leggings in my panniers: they're perfect for commuting, everyday riding with other gear over them, or mixing and matching as you please. They'd probably work great under an ADV suit for extra protection and warmth in cold riding conditions, and they can be combined with just about any other gear out there giving you the freedom and flexibility to find what works for you and create your own style.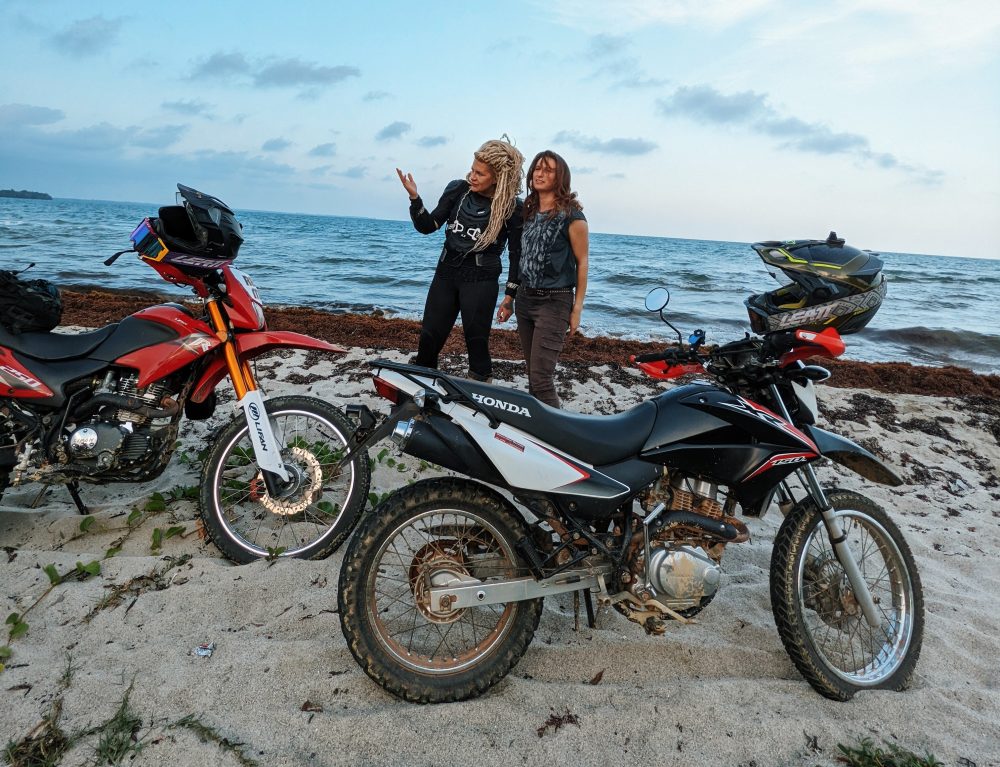 Pando Moto SKUN UH 03 specs:
Armored unisex base layer pants (high waist)
Extremely durable power-stretch Balistex (65%
UHMWPE – 15 times stronger than steel) fabric
35 meters slide distance or 4.1 seconds sliding time
Highly heat-conducting fabric (cools down)
The bi-stretch fabric gives maximum comfort and keeps
armor in place
Fully CE approved garment – performance level AA in
accordance with EN 17092
Low profile protection for unrestricted movements
Double mesh on the fly for increased ventilation and
breathability
Due to the comfortable tight cut, the armor is secured in
place and doesn't move around
SAS-TEC TripleFlex CE (EN1621-1:2012) approved knee
and hip armor INCLUDED
Easily removable armor
Comes with 2 years warranty