BY VANESSA of @THEFULLTHROTTLEFAMILY
Intrigued by the new Beta 390 RR-S? Here's a review of the Italian beastie if you're considering taking the leap!
About the author:
I started riding motorcycles in the spring of 2019. After spending my first two seasons on an entry-level Japanese dual-sport, a 2018 Yamaha XT250 that I purchased brand new, this mom of two was ready to upgrade! The XT is a virtual goat and was selected primarily for its low seat height and price. Those points and the beginner-friendly power allowed me to scale the learning curve at an accelerated rate and as my riding confidence and ability grew, the "need" I had to be flatfooted was replaced with the desire for more power and a better suspension. I spent the 2020 riding season sweet-talking riders into letting me test out their bikes, and it paid off. Many smiles and 20 motorcycles later I believed I had fallen in love with an Italian Princess, the 2021 Beta 390RR-S!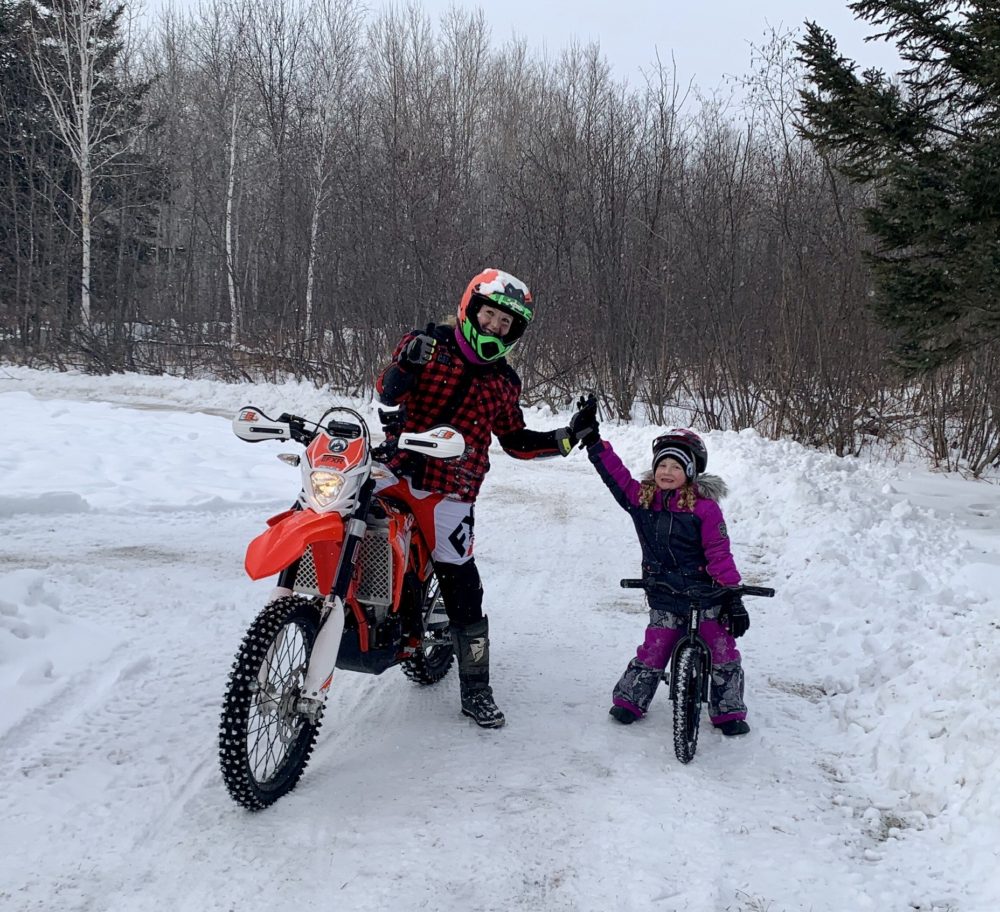 The RRS Line Up
The 390RR-S, outwardly identical in appearance to her siblings the 350,430 and 500RRS, the only difference between them is their displacement and thus motor characteristics. Narrowing down which model is right for you is somewhat of a small victory. My advice is to attend a Beta demo day in your area where you can try each model and decide for yourself. Unfortunately, for me, COVID had put a stick in my spokes and forced the demo days to be kyboshed. During my research journey, I was able to ride a 2020 Beta 480RR-R and a 2019 Beta 350RR-S to get a feel for both motors. Feeling like Goldilocks and the 3 bears the 350RR-S felt too race-oriented and the 480RR-R felt too "heavy" for my abilities, therefore the 390 should be just right, right?!
A Closer Look at The 2021 Beta 390RR-S
Having the longest stroke motor of the family, the 390RR-S was described as the most luggable of the bunch with plenty of traction-finding low-end torque. Although the RR-S models (S for street) are fuel injected with 6-speed transmissions and come with all the dual sports goodies to make them road-legal, the stock mirrors and signals are not the most visually appealing and could use a little upgrade IMO. Also, and like most "race bikes", the seat was designed after a piece of lumber, and most riders considering a Beta as a dual-sport should budget for a more comfortable aftermarket solution. However, the seat is not without its merits as Beta nailed it with the no-tool-required push-button release and air filter access. Very slick! It is worth noting that you must possess some decent upper body strength to yank the plastic side cover off to get to the airbox, the strength that I discovered I did not have! All the models come with 13 & 15 tooth front sprockets and a 48 tooth rear so it is up to you to decide which one you want your dealer to install but you do get to keep both so you can swap them as needed. The bike comes standard with plastic rad protectors and simple hand deflectors, which many will upgrade immediately to aluminum rad guards and wrap-around handguards.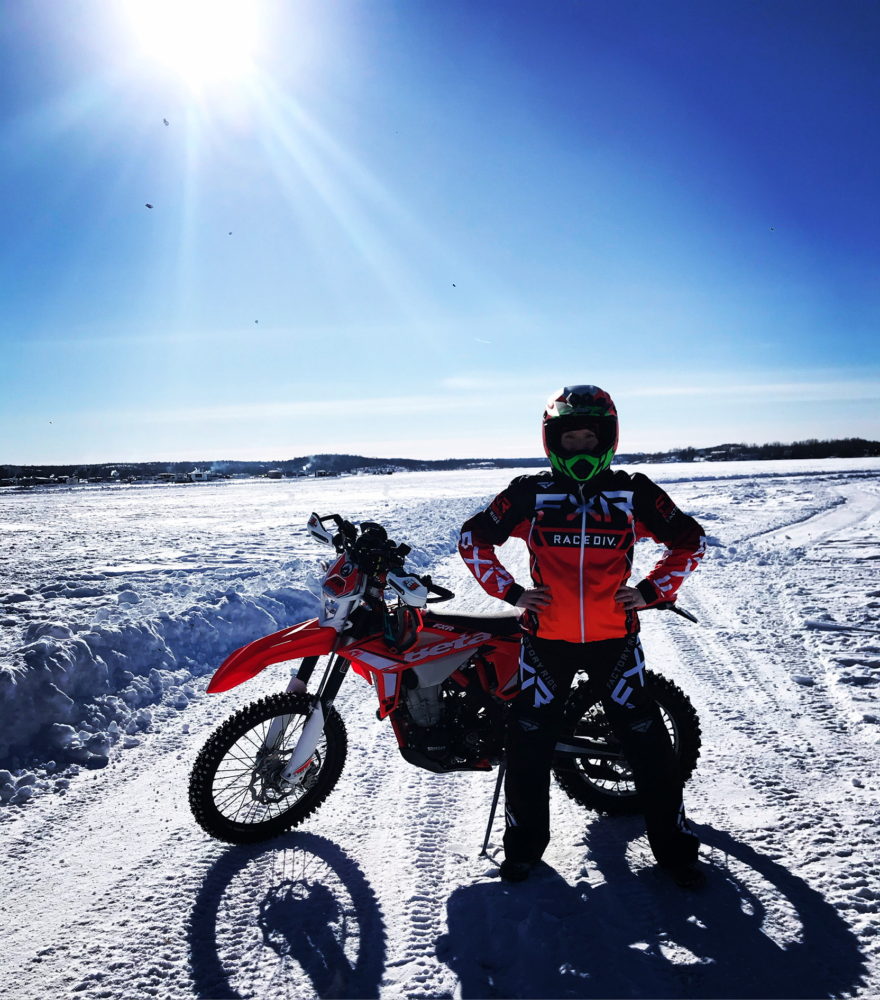 A rather nice touch is that RR-S models come stock with a Trail Tech Voyager GPS unit instead of a simple Speedometer/Odometer. The inner workings are Garmin-based and give you the same abilities as a handheld GPS. In addition, it also provides you with ambient and engine temperatures, your speed, an odometer, and a bunch more things that one can spend hours figuring out! The handlebars come with three ergonomic options of "forward-neutral-back" and the height felt perfect to me, eliminating the need to install bar risers.
Becoming Acquainted
Now for my first-time riding perspective. Upon receiving my new ride, I headed straight to the Horseshoe Valley Forest in Southern Ontario for us to be acquainted in some mild ATV and singletrack. My mind was thinking back to all the "it's mellow" and "not intimidating" comments bandied about and I admit that I might have been lulled into a false sense of security. After being accustomed to 250cc of air-cooled foofoo bike power, it quickly became apparent that the 390 packed a wicked punch. To me, the power felt unreal and the throttle response was immediate. Betty, as I endearingly named her, just wanted to go! I quickly discovered that my previous bike was very forgiving when it came to clutching and usually tractored through most everything without stalling. The Beta's 386cc race-bred engine however was a different beast and if I was going to tame it, I would need to fine-tune my clutch skills. The initial repetitive stalling had me thinking, "my new bike hates me", but with more seat time I learned that she just needed to be ridden faster than foofoo speeds and that the clutch was a more important factor than it had been on my XT250.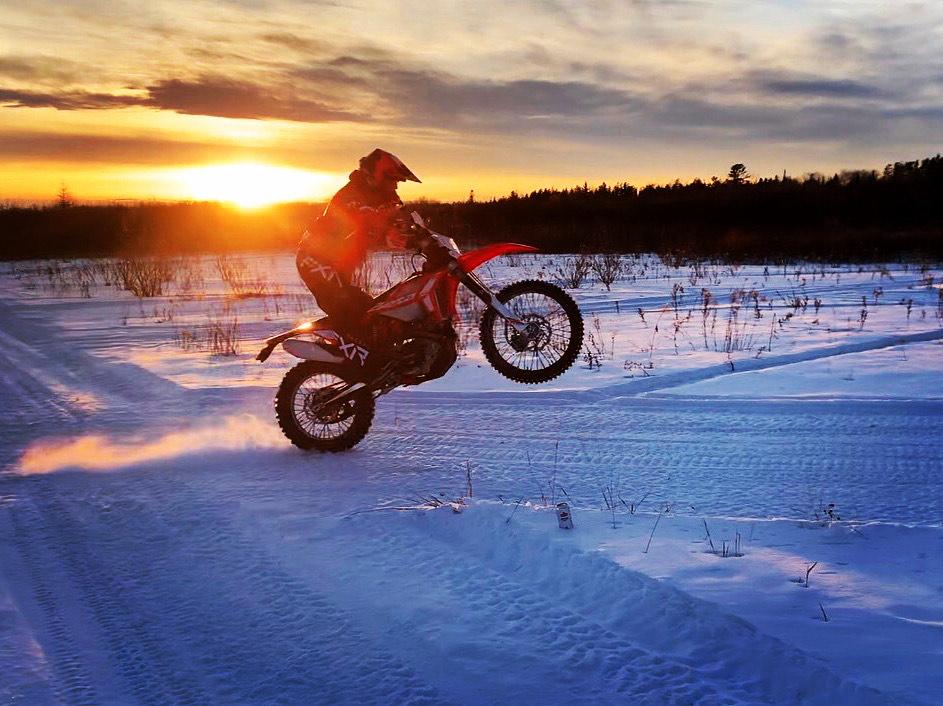 Conveniently, the clutch and brake levers are easily adjusted to accommodate smaller hands with a simple screw adjuster. After riding about 700kms in the first few weeks, I noted that in flowy trails, sandpits, or on the road the hydraulic clutch's pull was not an issue for a relative beginner such as myself. However, in an attempt to make tackling gnarlier terrain more enjoyable I did go ahead and order an aftermarket easy pull clutch lever from Midwest Mountain Engineering.
Performance On & Off-road
Newer Beta models come with a relocated map switch just ahead of the tank instead of on the handlebars, like previous models. The newer location makes it less likely to switch modes accidentally, and yes, I have witnessed this, ending in an impressive loop out. The maps that I call snowflake & sunshine modes can be switched with the press of a button and without turning off the engine. The sun mode intimidated me at first and I rode my 390 for two weeks without having the courage to experience the full heat. I eventually got over my irrational fear and was delightfully surprised at how smooth the power delivery was in sunshine mode. The snowflake (rain) mode becomes your best friend in situations where increased traction in slick terrain is needed. I attempted a loose sandy rocky hill in the sun mode and found myself spinning out halfway up. I reattempted it in the rain mode and made it up like a champ.
The power of the 390 is made manageable due in part to top-notch customizable suspension. The bike's front suspension is an open cartridge upside-down fork with compression, rebound, and spring preload adjusters that are accessible at your fingertips. The shock also has clickers to adjust the rebound as well as hi and low-speed compression damping separately. The Betas come sprung for a 180lb rider so for this reason I had my bike resprung for my much lighter weight. The springs were also shortened to lower Betty 1.5 inches from the 37-inch stock seat height. Yes, she's a tall Italian redhead. With a stock ground clearance of 12.6 inches, I felt that losing some of it would not hinder the bike's handling and would hopefully save me from some slow-speed tip over embarrassment.
The 390 performs expectedly of a street-legal dirt bike on the road. However, she's fast, she's loud and she accelerates effortlessly. Did I mention she's smooth? The stock Michelin Enduro tires impressed me in the mud, sand, rocks, roots, and even on the pavement. I felt no need to upgrade them, unlike the ones that come on "other" dual-sport bikes. With a mere dry weight of 241lbs, it is not the most grounded and enjoyable ride on the highway, especially so in blowing winds, however, she immediately reminds you why she's the boss as you turn down a dirt road and head into the trails. The 390 gets great fuel economy and even the stock 9-liter tank should reward with a very respectable range but extended adventures must be had to confirm this! Nevertheless bigger tanks are available for those seeking fewer fuel stops or for spinning a gas-guzzling snowkit.
Comparables
I have been asked several times by fellow riders, "Why a Beta"? My first response is usually to point at her and say, "Isn't she gorgeous"?  I know this is subjective but IMO the Beta designers did an amazing job with this bike. I then start rambling about the bike's specs, value, and quality. Before purchasing I also compared the prices ($CAD MSRP) of the KTM 350EXC-F ($12699), the Husqvarna FE350 ($12099) and Honda 450L ($11999). At $11850 the Beta 390 RR-S was the least expensive in class and had all the bells and whistles that I wanted, and more!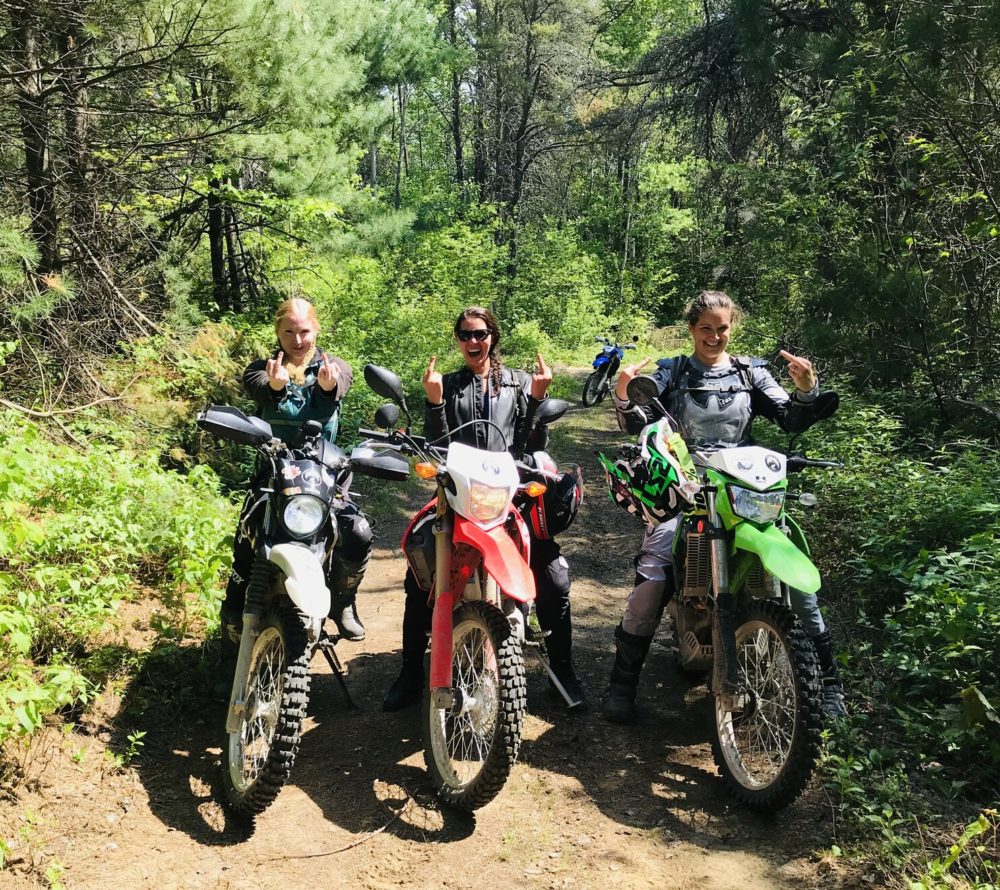 Lastly and of importance to me was the customer service. This Italian motorcycle company is making a name for itself in Canada and it appears they are not letting their growth take anything away from their values. Knowing how excited I was to receive my new ride a Beta representative kept me updated on its journey across the Atlantic Ocean until it arrived at the dealership. From there Lang's Off-Road sent me photos of my bike in the crate and being assembled. Talk about building anticipation! My advice to the dual sport riders looking for a higher performance machine is to give the 2021 Beta RR-S models a spin, it will be clear to you afterward why the red bikes are quickly replacing orange ones!
Vanessa
2021 Beta390RR-S purchased @ Maxxim Powerspot (Barrie, ON)
Suspension work completed @ Lang's Off-Road (Dorchester, ON)