EGLE GERULAITYTE
Jessica Leyne, better known as Jess Sjiriki Zekusn on social media, is one of the most badass ADV women out there.
The fierce Belgian is a math teacher by profession, but she is crushing it out there on the trails, throwing her beloved R1100GS around like nobody's business, attending and hosting moto events, riding around the world, and tackling this year's BMW GS Trophy in South Africa.
She has thousands upon thousands of die-hard fans on social media, in Belgium, and across the globe. Jess, who calls herself a Moto Mental, is an inspiration to so many of us – hell, she even got married in motocross boots!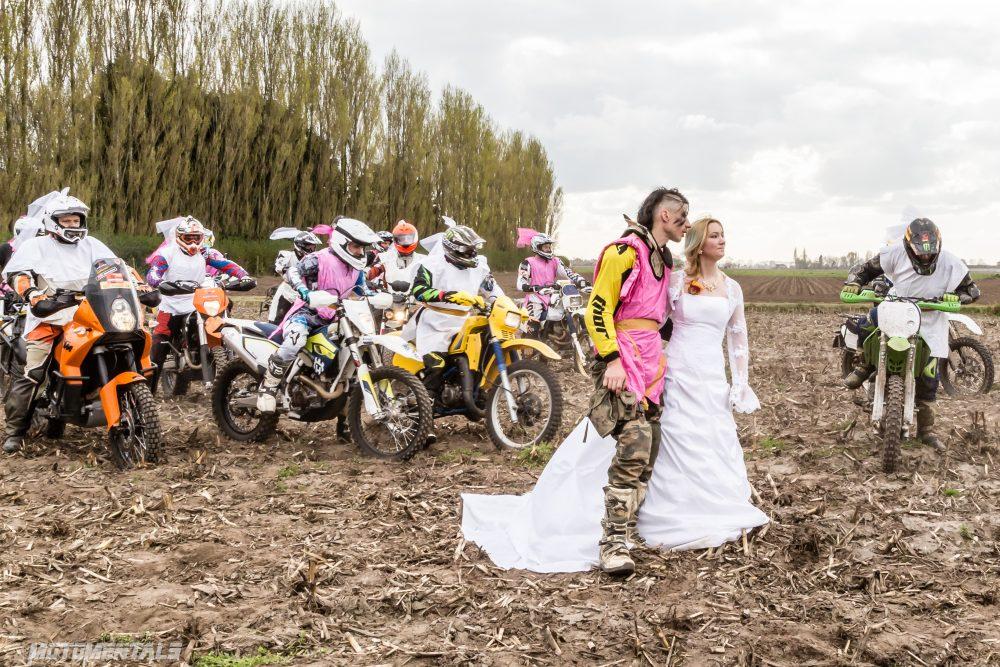 But the living legend confesses she isn't made of steel and titanium. Jess admits that she sometimes has doubts and anxieties, just like we all do, and that her goal is to be honest about both her victories and her failures. "I want to show people that things happen, but most importantly, that you can get up again and try again. I want to inspire people to keep on trying", – says Jess.
So what is Jess really made of, and what's her secret to success? As she prepares for the GS Trophy in South Africa, we chatted with Jess about motorcycling, life, and adventures.
Jess,  how does a math teacher become a MotoMental?
I'd like to rephrase that question to: 'How does a MotoMental become a math teacher?'. After my 16th birthday I was legally allowed to ride a 50cc motorbike and I realized I wanted a profession involving motorcycles. However, my mom and dad didn't see me working with my hands as a girl and offered me an option of becoming a teacher in college and study mechanics during separate evening classes. Three years later, with both degrees in my pocket, it turned out that they were right. No matter where I applied for a mechanics job, I got turned down, but the first time I ever applied for a teaching job, I was hired.
During the first years I was fairly happy with the job, being able to combine it with lots of riding. Still, there was that itch. That relentless voice inside my head going "You're getting older Jess, slowly, but steady. Are you going to spend your life in a classroom, or are you actually going to do something with your life? Pursue your dream of traveling the world, make your way into motorcycle journalism, become an instructor or finally develop riding gear for women who ride?"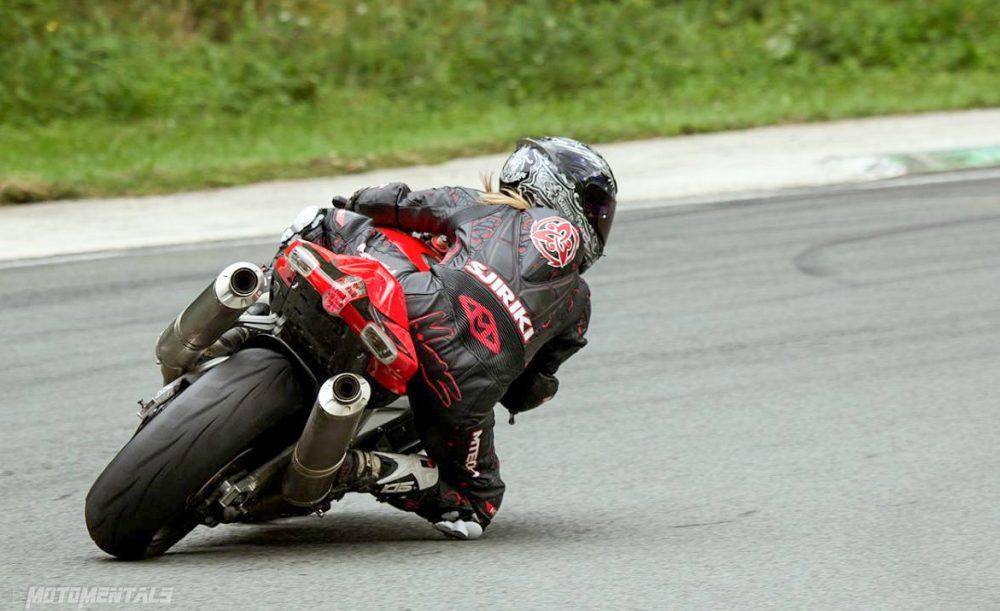 I pushed those thoughts aside for a few years until my bubble burst. I remember one moment in the spring of 2017 when I woke up with my heart in my stomach, went to the bathroom and saw my reflection staring back at me and I realized, if I didn't change things this year, twenty years from now I would still see the same reflection in that same mirror.
My husband Jeku and I had so many talks about this, and decided to go for it. So now I'm working full time on realizing my dreams, preparing to get a steady income in the future, and doing side jobs like writing travel stories, some basic journalism and writing my first book, plus I'm making arrangements to become an instructor. I can't wait till I have that silly piece of paper that will allow me to help others getting into riding or make them better riders!
The GS Trophy has long been a dream of yours. What happened this year to give you that final push?
Ah the GS Trophy and me, it's a long story.
It started in 2014 with the Belgian GS Trophy: I got an invite to participate in the event with my BMW F650GS Dakar in order to attract more female participants in the future. Needless to say, if you're the sole female participating, you win the category rather gloriously. I was quite happy with my performance at the time and it really boosted my eagerness to get better because I was still a newbie at the time, so I set a new goal for myself. I wanted to do better in 2015, to get higher in the ranking along the men. The whole fall, winter and spring me and Jeku went riding with friends every weekend. Into the dirt, into the sand and into gravel, everywhere in Belgium and France where we could find legal trails. It became my hobby and my passion.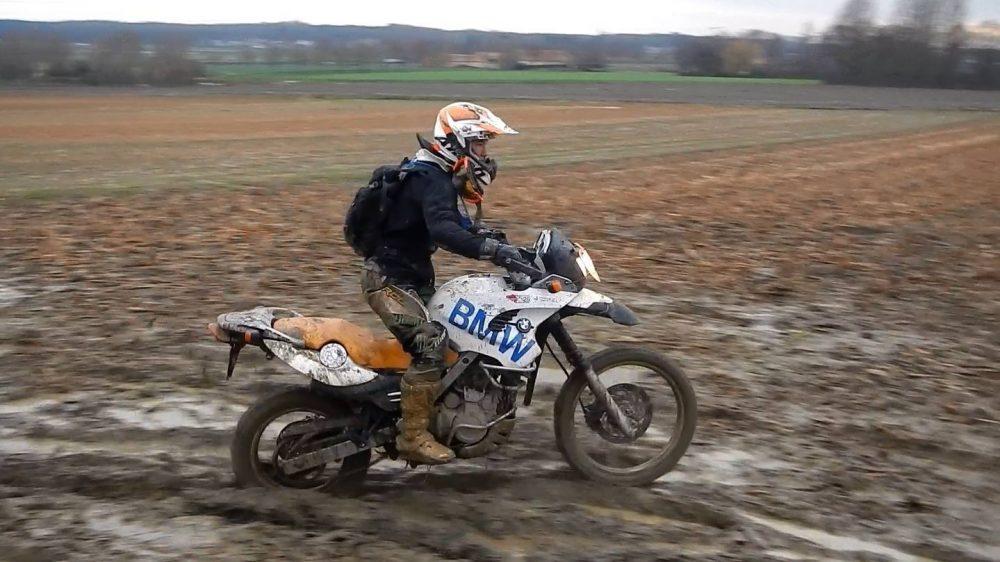 Three days before the Belgian Trail Tour, a ride-out specifically for big bikes, Jo Rust had a special announcement about the GS Trophy. BMW Motorrad was introducing an all-female team for the GS Trophy 2016, and that minute, a new bucket list item and dream arose in my heart.
Jo asked all the women that were interested to fill in the application and make a short video displaying our riding skills. I was in heaven! I didn't sleep for days thinking about how I'd best make the video and that became my downfall. Being a little sleep deprived, overly excited and only thinking about the Trophy, I crashed and broke my wrist. I was honest about it and didn't make the cut for the top ten to go to the Female Qualifying event in South Africa.
I saw this as a message that I wasn't good enough in their eyes. But I added the magical word 'yet' to it in my mind. I wasn't good enough yet. I was going to get good enough and make it in the next selections.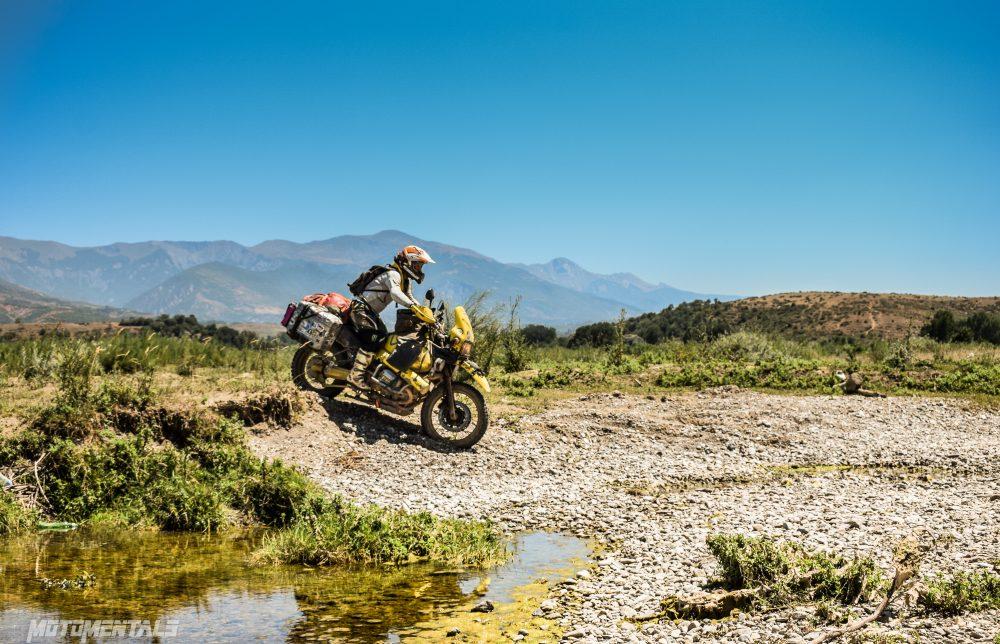 Finally, this year, I participated in the GS Trophy in France and made my dream come true. Reaching the female qualifier in South Africa was my goal! Can I score a ticket to the finals in Mongolia? I don't know, but I will give it my best.
How are you feeling about South Africa?
Excited! And in a way, anxious: competition will be tough, the tests will be tough and weather conditions might be extremely hot paired with a lot of rain. I know I'll have a great time, but I'm afraid to disappoint the people who are rooting for me.
You have devoted fans among riders all over the world, and you're a role model for so many women riders out there. Were you always so cool?
I wasn't popular in school, I was the strange kid that liked animals and engineering stuff more than socializing with others. I still struggle immensely to interact with people. I am shy in groups and when people talk to me I find it very hard to make eye contact.
But I do not see this as a disadvantage because it gave me the opportunity to learn how to write. How to tell my story to others without bothering them when they don't have the time or don't feel like it.
Social media gave me a strange new way of freedom to express myself, my goals and my riding. I think people like me because I try to share all my experiences, including my failures. When someone only shares successes, one is more likely to achieve the status of a real winner and being a good rider. I on the other hand have another goal, that is showing other people that success isn't a DNA-strand. It is hard work, not giving up and rising up again after a fall or a setback.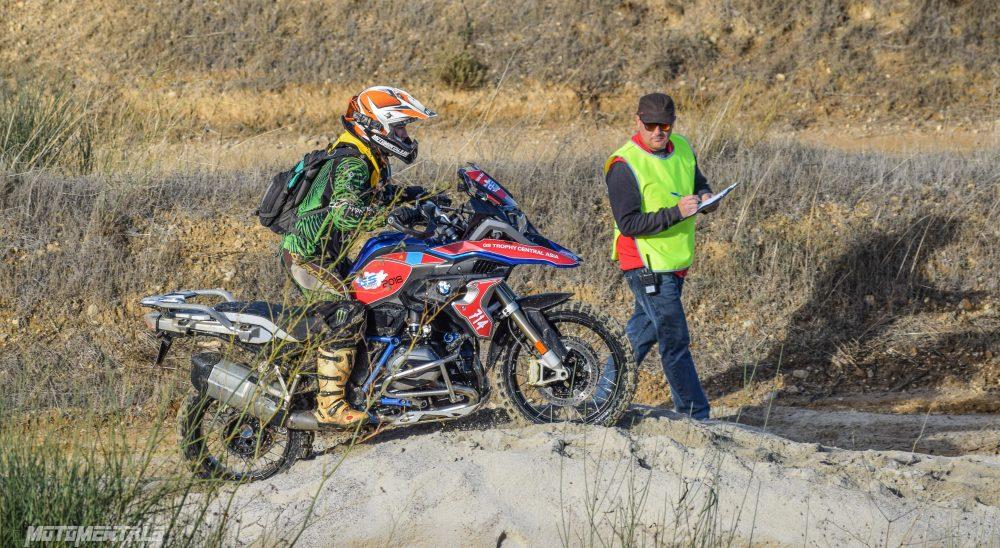 Some people say that I have talent, I refuse to believe that. I believe that all the countless hours of riding have given me riding experience, all the times that I had to lift the bike after a fall and switching to riding a boxer GS off-road has given me more upper body strength, all the times that I went riding with people who are so much faster than me have given me the eagerness to get better and every time that I read all the heartwarming and encouraging comments online, I tend to believe that I can achieve my goals and thus persuade others to follow their dreams as well.
Sometimes I feel that people think I am a super hero who is able to defeat everything but I can't, I can only do what I can and I know my limits. I am afraid of disappointing those that support me and not being able to fulfill their image of me and what I can do, but I'm willing to work on my current limits.
It might also be that the real reason I'm afraid to disappoint fans is that people might think, 'she didn't make it, so why would I be successful in pursuing my dreams?' But that's also why I am such a supporter of the 'fall and rise again' quotes and inspiration. If I failed now in the GS Trophy qualifiers, I hope other women riders will still find the inspiration and do better than me, instead of thinking that if Jess couldn't do it why could I?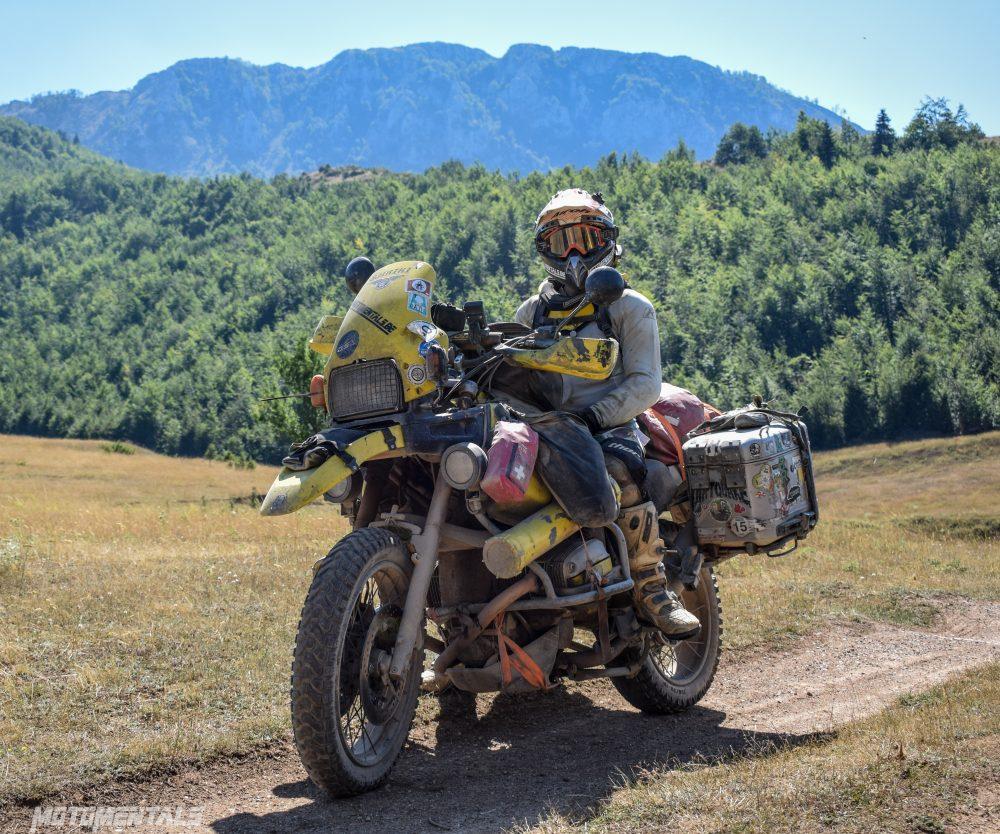 You've been riding since you were a teenager. What would you say to women who want to learn to ride as adults, but are unsure?
For me riding feels as natural as breathing, I might not be the fastest one or the most accurate rider, even being sometimes unsure about my riding style but I have never been unsure about the simple act of 'riding'.
I'd say, start out small and grow out big. If you're unsure whether riding is something for you, maybe some motorcycle classes can help you out. Also, I've read that adult women feel guilty about wanting to ride motorcycle because the general opinion is still that it is unsafe, that you have to take responsibility and not start a potential hobby that will not involve your kids, in some occasions not even involve your spouse… If that is the case I want to refer to the childish abbreviation, YOLO. I think 99,99% of all people will never make history and get into the history books after they die. Please do something in your life that gets your gears going! You are not being selfish, and at the very least, you will make history in the family records as that badass grandma that still rode motorcycles when she was 80 years old.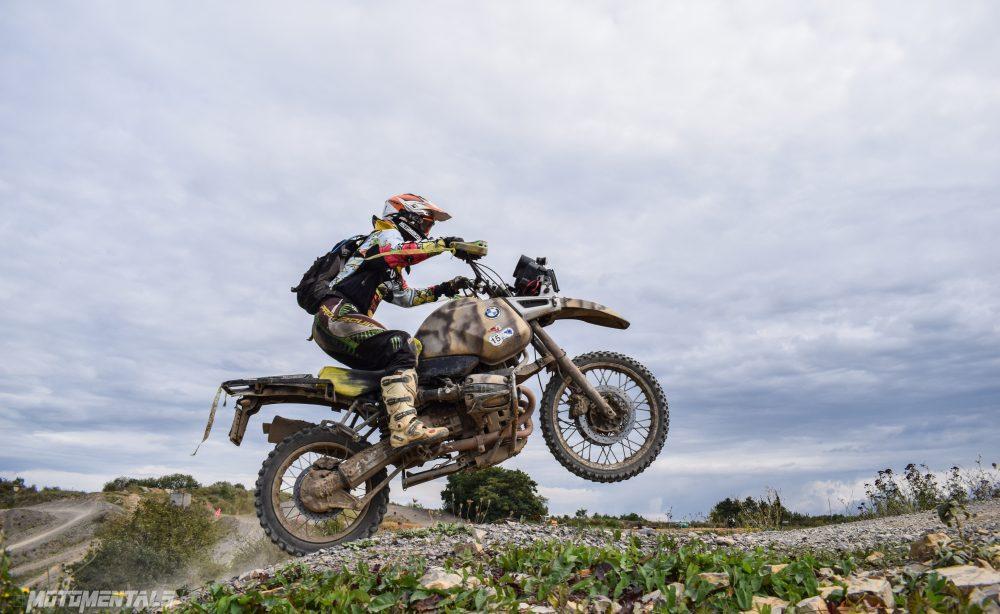 This fall, we're launching an #adventureisattitude campaign – a project to help women riders gain self-confidence through motorcycling and adventure. Do you think self-confidence matters? What has helped you boost your self-confidence the most?
Self-confidence matters big time. It can make or break your ride. Often, I wish I had a lot more self-confidence: I'm always busy thinking whether I'm  holding someone up or if I'm riding well enough to go along with the pack. I overthink everything when I should let my experience do the work.
I guess I haven't cracked the big self-confidence box just. There are two things that work for me to get the doubts switched off inside my mind and that is 1) playing music inside my helmet, loud and adrenaline boosting beats and 2) I have mantras that I repeat when there is no music playing, that way I am focused on what I have to do instead of 'what could go wrong'.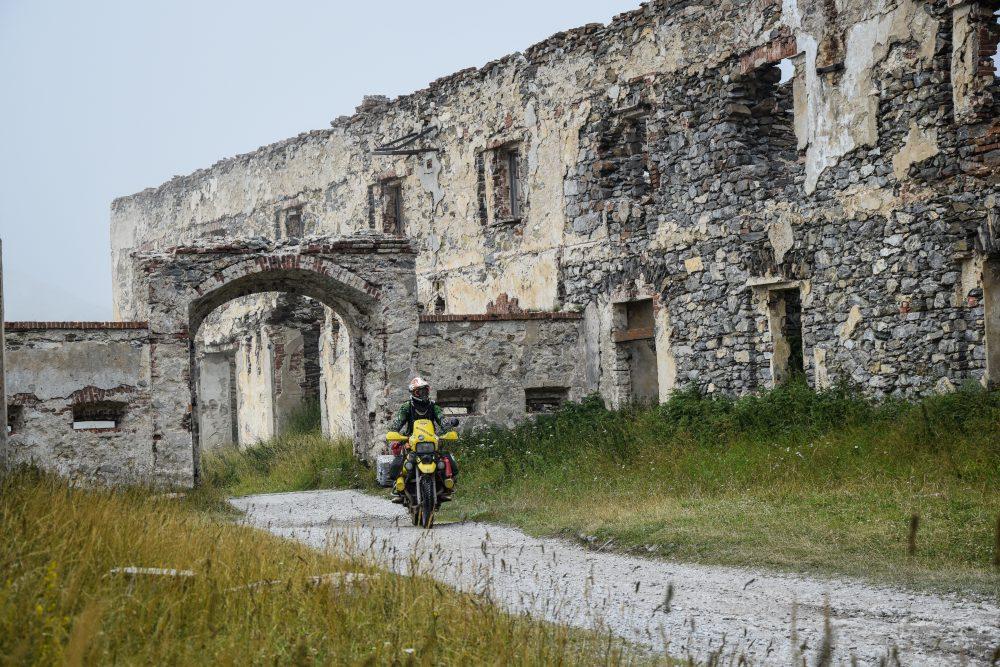 Where do you find strength and inspiration?
Everywhere, anywhere, sometimes in the middle of nowhere.
When I was a teen, I wanted a Derbi Senda as my first 50cc bike and my dad backed me up in that. We visited dozens of shops but I couldn't find a  supermotard moped low enough for me to be able to touch the ground with both feet. I was devastated and disappointed. Never before in my life I had been set back by my body! I didn't have big boobies, still don't, but that had never crossed my mind as a disadvantage and now it seemed my legs were too short to ride what I wanted.
On my sixteenth birthday, my dad gave me the Derbi Senda. I looked up to him and said, "But dad, I can't touch the ground with my feet." His reply was very simple, "Well, then you're just going to have to learn how to ride it like that." He was my strength and inspiration at that moment to not let my physical shortcomings stand in the way of what I truly wanted. I still use that attitude today.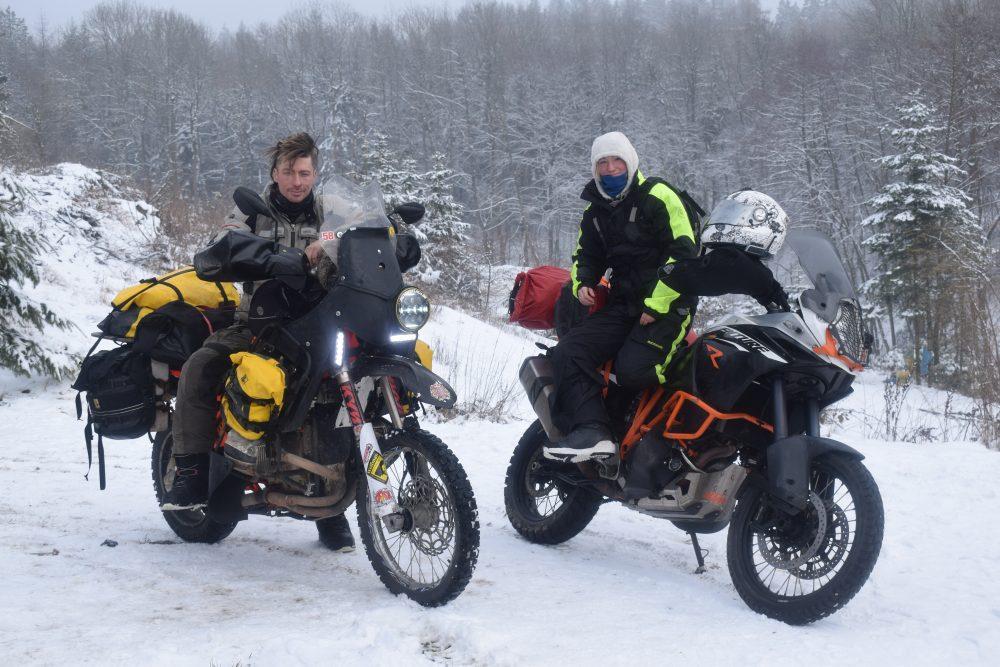 Finding strength and inspiration today is simple, we have never been so connected with each other through social media than ever before. Often, I come across obstacles (not always necessarily involving riding) where I think to myself "If they can do it, I can too." That is also why I love sharing my stories, experiences and pics: I want to create an attitude of "If that little nipshit can do all those things, I can, too."
In October when I had very bad pneumonia, and I went to the GS Trophy in France while I was still recovering from it. My thought was "If that badass Laia Sanz can ride Dakar with a broken collarbone, I can ride the GS Trophy in France with a cough."
I like to browse through pictures of adventure riding groups, seeing more of the world, fueling my fire to get going and see it myself. That and quotes! I am a sucker for inspirational quotes, I can spend a whole evening with a large glass of red wine and my favorite book, "The big lexicon of quotes".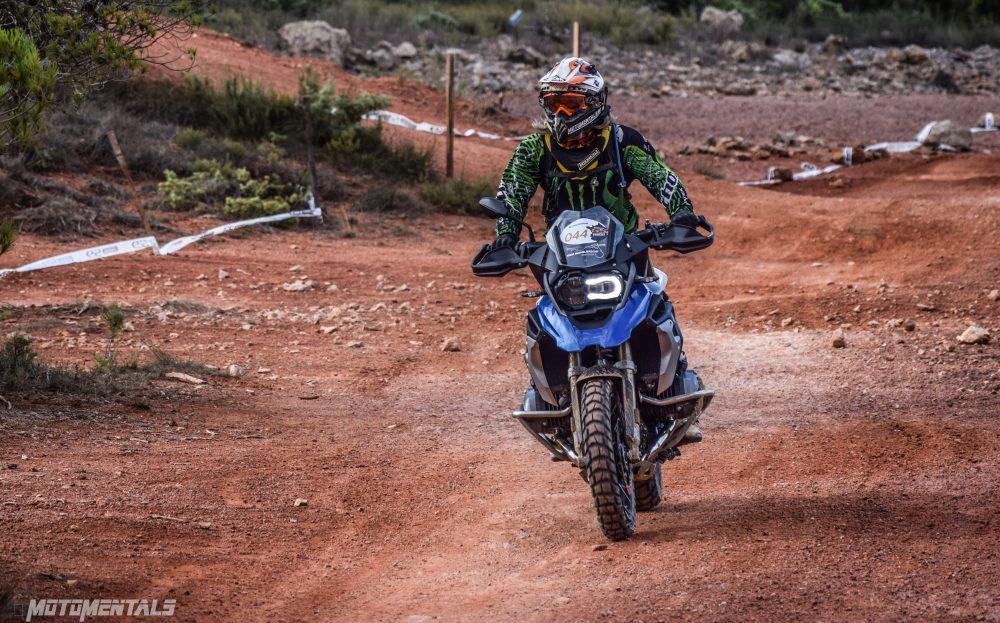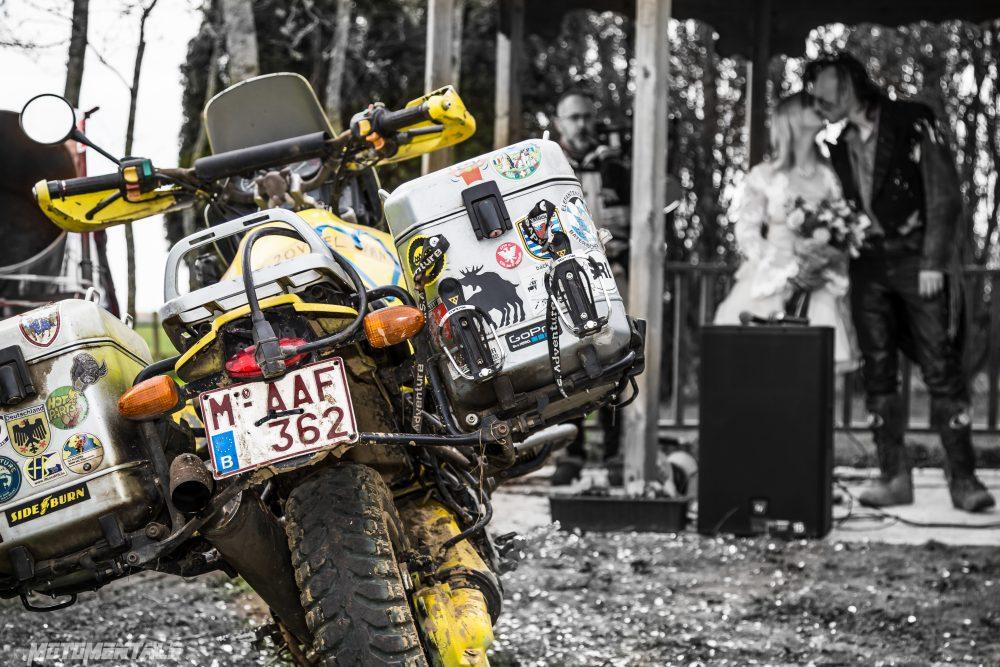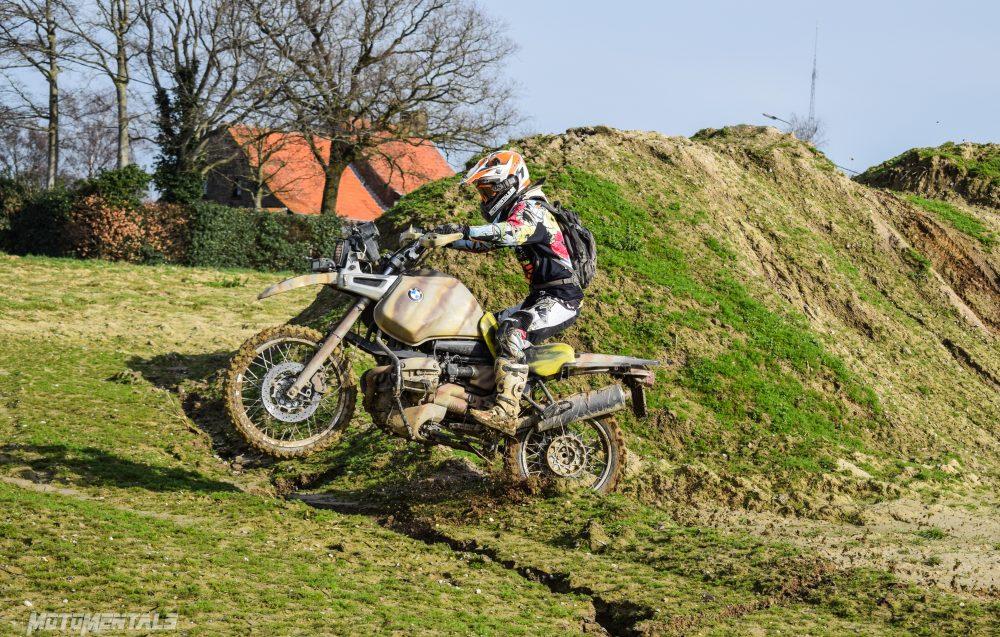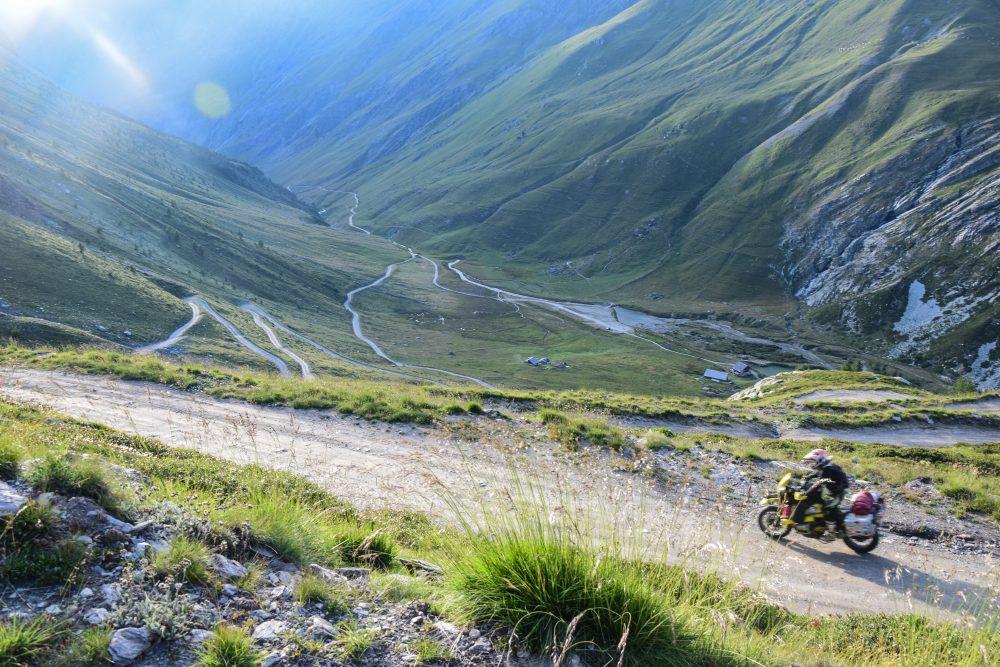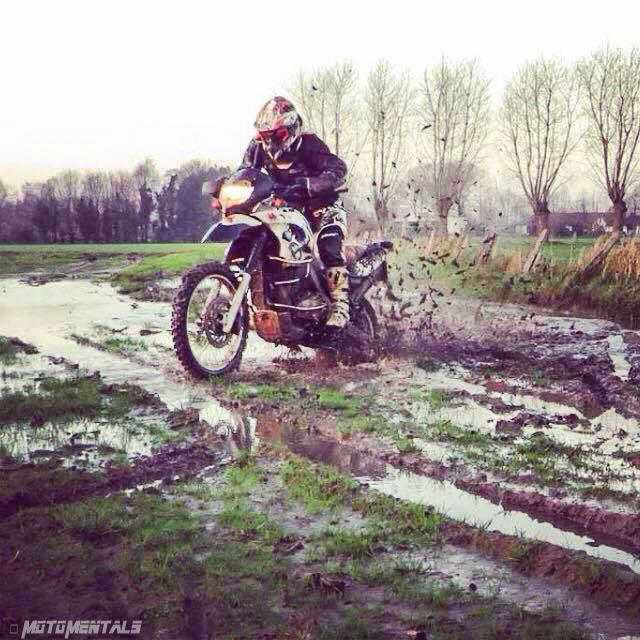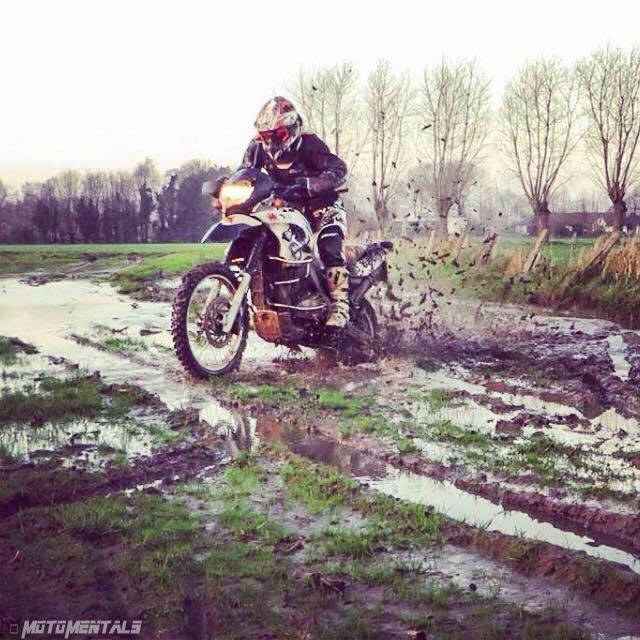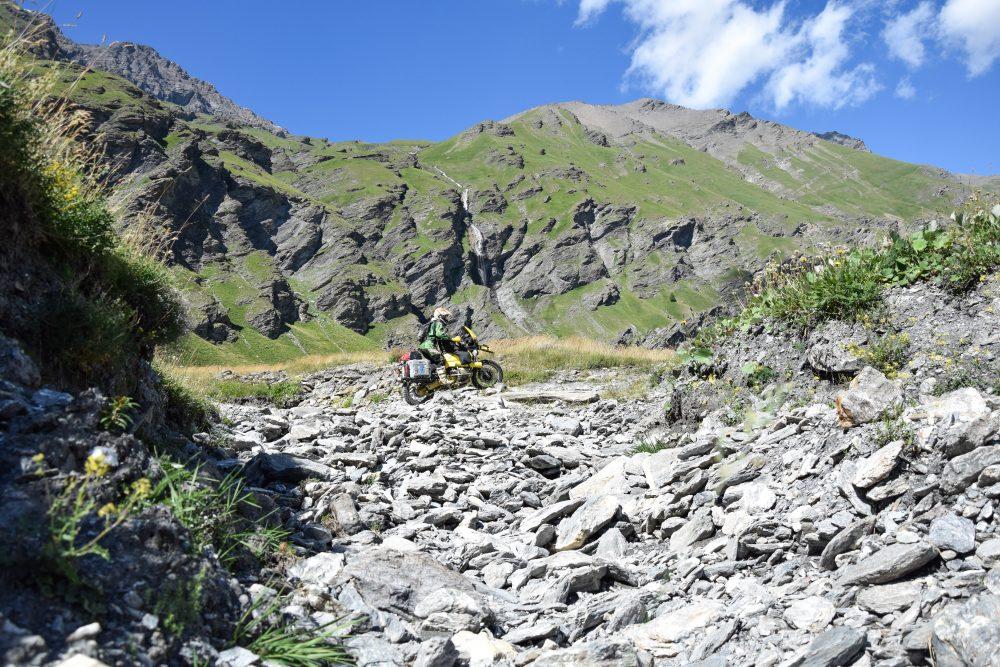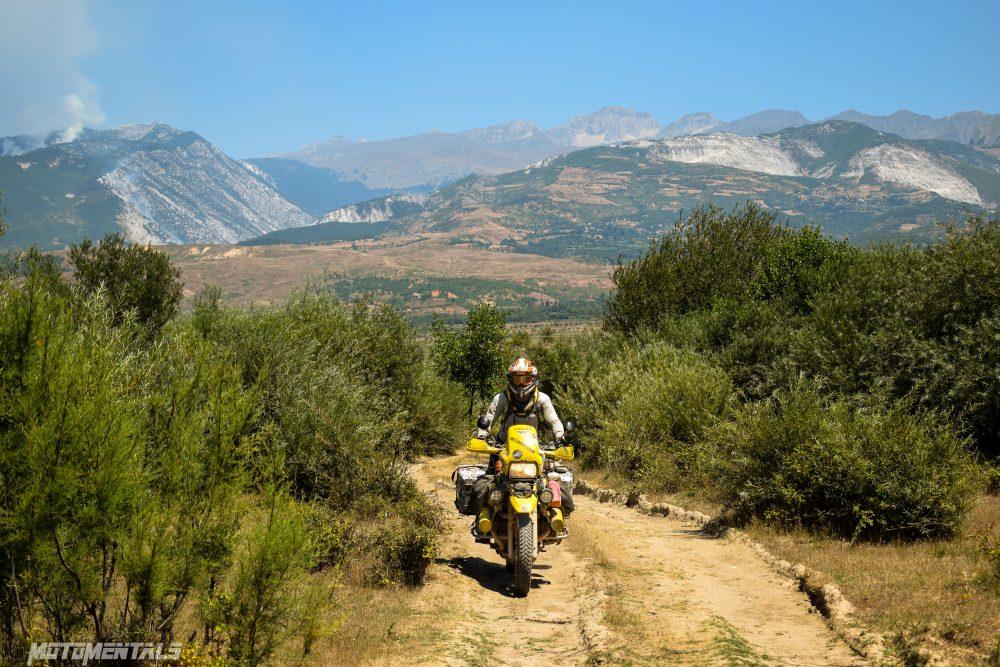 Intrigued? Follow Jess' adventures on her MOTO MENTALS PAGE, and don't forget to check out her Instagram!

Sponsored by