BY: SARA PARLIER
Some of you may be groaning right now. I've heard it a lot, "A WR250R? You don't have to start out on a small bike. Forget that!"
I hear you, but bear with me for a minute.
Yes, I'm a newer rider. Yes, it's a smaller bike. But, honestly, I've grown to love the WR250R. It's perfect for what I'm doing and has earned its large following.
My goal was to have something I could enjoy on weekend trips, but transition to a longer, multiple-week, mainly off-road adventure as well. The 2016 WR250R has fit the bill for me. 
The Basics of the Yamaha WR250R
This bike hasn't changed much in design since its inception for good reason. It's small, nimble, and reliable. I probably wouldn't choose 'Hyacinth', as she's been dubbed, as a daily commuter, though there are many who do. Yamaha understands this though. They clearly say on their site,  "Ideal for those who ride off‑road more than on."
This bike is fuel-injected and chain-driven with a 6-speed transmission and (surprise!) 250cc of displacement. It's a push-button start without a back-up kick start. It runs about 295 lbs wet and the stock tank holds 2 gallons of fuel. Seat height is 36.5" inches off the showroom floor. Remember that piece; it will come up again later. I'm a newer rider, 5'8" tall and ~145lbs.
After having had Hyacinth several months now, here are my impressions.
What I love: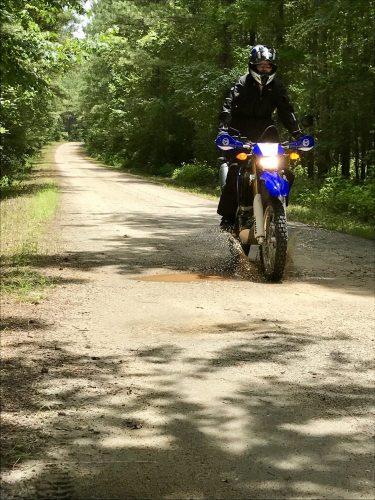 This Yamaha WR250R bike is designed for off-road riding, and it shows. As soon as you put rubber to dirt, gravel, sand or mud, you can feel that it was engineered with years of dirt-bike know-how behind it. It does just as well on roomy gravel or muddy roads as it does on tight turning, single-track trails through the woods.
The suspension travel was good for me right off the showroom floor in both front and rear, but is easily adjustable if needed. Adjusted properly for the type of riding you do, I can attest to the fact that you can run over rocks, small logs, and unfortunately, a squirrel, and barely feel a thing.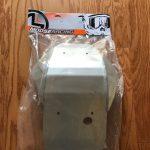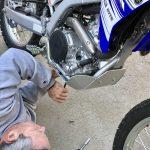 As with most dual-sport bikes that have been around a while, there are plenty of accessories available, making it an easy choice for ADV travel. The only additions I've made so far are bark busters and a skid plate, both from Moose Racing. Both were installed in under an hour with no issue and have stood up well so far.
A gas tank will likely be the next change, and no surprise there. The stock tank is only going to take you about 100 miles, depending on the type of riding you're doing and how comfy you are with running it all the way down. Hint: I'm not. Statistics say you get an average of about 60 mpg.
The stock mirrors, indicators and lights have worked and held up well, even through a couple of drops in the woods. Overall, I've found it to be very reliable and easy to ride in all conditions.
Its real strong suits are size and agility. It's small enough to be a lot of fun to ride in the dirt, but has enough power to get you where you're headed, even loaded with luggage. Many people, even bigger guys, take it out for something like the Trans-American Trail and find that it's quite big enough to get the job done and easier to control on technical terrain than some of the larger options. Being able to pick it up after drops is also a bonus.
The Challenges:
While this bike really shows off on dirt, pavement can be a beast. Can you hop on the highway and open it all the way up to 65-70 mph or more? Absolutely. Without a windscreen the buffeting is brutal, and your right wrist is not going to thank you since the throttle is wide open. Again, it's not really what this bike was designed for, so that's okay. But I'd be hesitant to plan a long trip that I knew was going to have a lot of higher-speed slab. It gets the job done; it just doesn't shine.
The seat height is roughly 36.5 inches without adjustment. Even at 5'8" tall, I personally found it to be a little too high. We fixed this with a YamaLink. It was an easy install and best money we've spent on it so far. Without further adjustment, it brought the bike down about 2 inches, and, with appropriate suspension tweaks, I've not had any issue with bottoming out to date.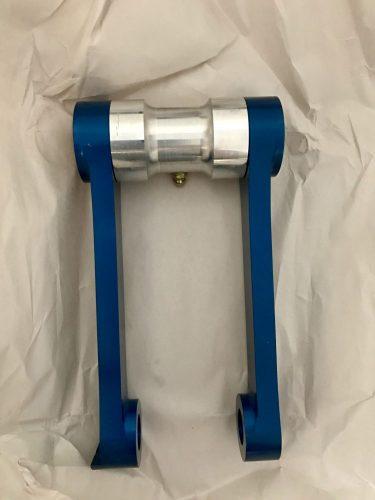 As with many bikes, the stock seat leaves something to be desired on longer rides. I'd personally go ahead and plan to upgrade it if you do more than very short trips.
The only other issue I've had is a common one. Initially, the throttle was very snatchy on the low end. And I mean VERY snatchy. Go look it up online, you'll see what I mean. The bite point on the clutch was also pretty far out and the lever right at the end of my reach. These things combined made slow-speed technical riding difficult and feathering the clutch almost an impossibility. The lever's free-play was easily adjusted to solve the clutch issue. The throttle was mostly left to break in. Once you have a few hundred miles on it, the fuel injection 'learns', if you will, and this evens out. It isn't something I notice at all now.
If I were buying one of these for a long ADV trip off-the-bat, I'd either be looking for a good used bike that already had break-in miles taken care of, or, if new, some time to work through this throttle issue.
Overall Impressions:
I stand by what I said in the beginning: I love this bike. It may be diminutive, and isn't without its issues, but if you're looking for something that is easy to work on, reliable and nimble as heck, it's a great choice. And, yes, depending on your comfort level, I'd say it's made a great starter bike. It's forgiving on the trail and predictable on the road. The real proof is in the pudding when your significant other, regardless of what else is available in the garage, says, "Hey – if you don't mind – I think I'll hop on Hyacinth today." Because she's perfect for that. Just hop on and go!
If you'd like to see what else we're riding, check out Egle's recent review of the DR650 vs the Trans American Trail!