By default, most enduro and dual sport bikes are…well, tall. From the likes of Husqvarna 701 and KTM 690 and the good old Suzuki DR650's and Kawasaki KLR 650s right down to the new and shiny Yamaha Tenere 700, dual-sports aren't exactly designed for the more vertically challenged riders. So what's a shorter gal to do? Sure, adventure and off-road riding are all about balance and technique rather than the ability to flat-foot the bike on both sides, but let's face it: being able to touch the ground adds to the sense of comfort, stability, and control while you're riding, especially when you're just starting out. Setting up your bike so it fits you rather than trying to fit yourself to the bike is a way of less resistance, and it makes life easier.
So what's the best way to set up a dual sport bike for a shorter rider, and what's the one magic ingredient that can make all the difference? Here's our take:
Suspension, Suspension, Suspension
Fact is, most bikes these days can be lowered, and there's no shortage of options to do so: lowering kits, lowering links, or even staving an inch off your seat can make all the difference. Some bikes can also be factory lowered, so if you're looking for all the power and none of the height, you're guaranteed to find something that fits. However, what most people forget is that when you lower a bike, it might throw it off balance, change the way weight is distributed, and affect handling. Even when done well, lowering the bike means its balance points will change, and that, in turn, will affect the way you ride. Often, riders simply get on with it and get used to a different feel of the bike – but is there a better (and safer) way to customize your dual sport and retain the balance?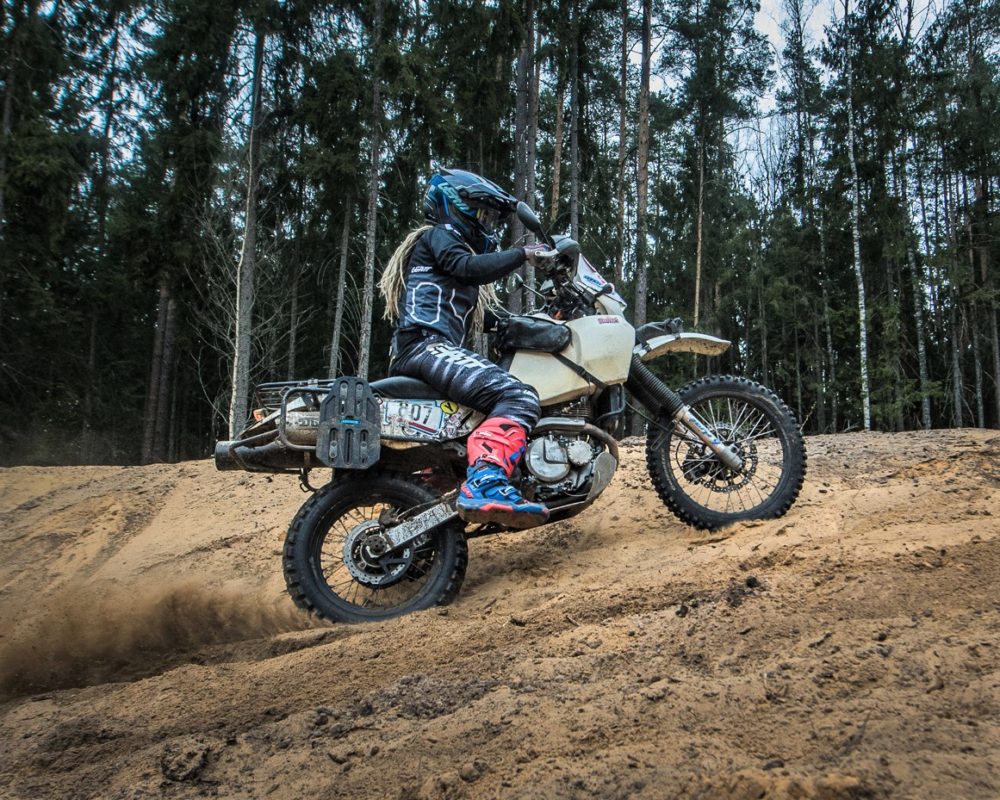 The short answer (see what we did there?) is, yes, hell yes, and the magic lies in suspension. Your bike's suspension is the most important part when it comes to overall balance and handling of the motorcycle: if the suspension is off, you'll either be bouncing off the trails or experiencing a weird wobble on the road, all because the suspension is too hard or too soft. Motorcycles are built for The Average Rider, and if you're lowering your motorcycle, its ergonomics is inevitably going to change. To correct and offset that change, you need to tune in your suspension by either going to a suspension specialist and having them set it up correctly, or, if that fails or if your stock suspension cannot be fully adjusted, getting a custom suspension set up.
Stock Shock
Much like your motorcycle's height is aimed at the mysterious Average Rider, so is your suspension. It's set for an averagely built person of average height; if you're a shorter rider, and you're considering lowering your bike, stock suspension may not be up for the challenge and, as mentioned previously, that will result in a bike that isn't balanced properly. Fighting your bike's handling is never a good way to go, and it's certainly not safe. If your front is too light and feels jittery or wobbly, you won't be cornering with confidence, and if your front forks dive at every hole and uneven surface, trail riding won't be a lot of fun.
Enter TFX Suspension, a Dutch company currently on a mission to revolutionize the way we think about suspension and the way we ride. TFX has a philosophy they describe as the "magic carpet feeling": according to the founders, "every motorcyclist should have a bike that is so in tune with their individual needs that it gives the rider a feeling of floating on a magic carpet rather than wrestling with your machine". Sounds too good to be true? It isn't: just look at world travelers like Kinga "On Her Bike" Tanajewska who swear by TFX and tell us that after the switch from stock to TXF, everything that used to be hard work on the bike has now become so easy it feels like second nature.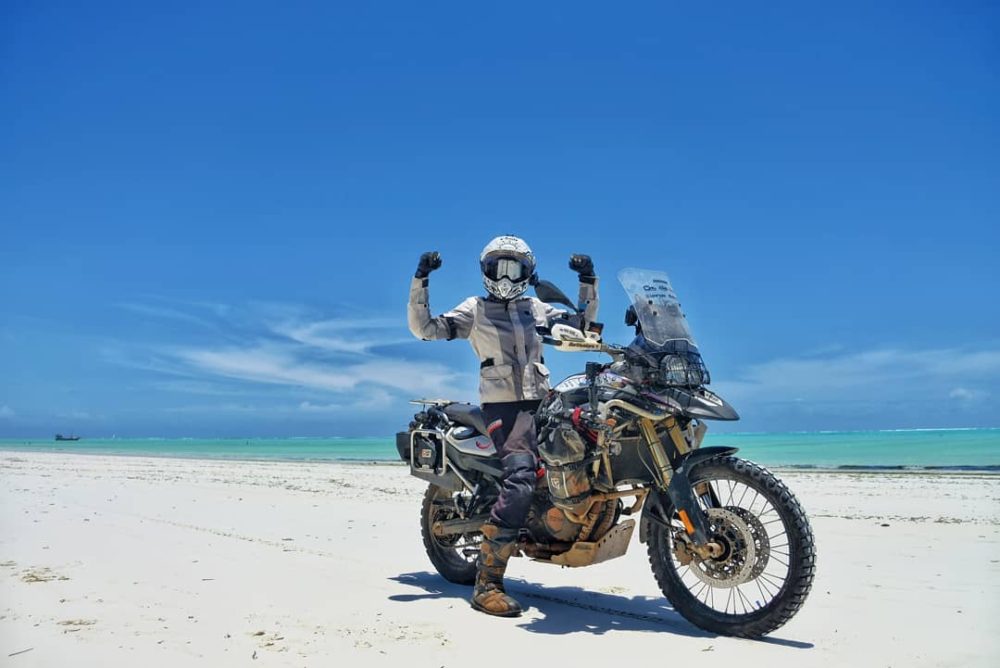 Our own editor Egle here at Women ADV Riders says the transition from YSS to TFX suspension has made such a radical difference in the handling of her Suzuki DR650 it feels like a completely new bike altogether; she reports huge improvement in cornering on pavement as well as easier handling of the bike on off-road trails, especially rocky terrain and steep climbs.
What TFX does differently is build a custom suspension that is fully adjustable in just a few turns and clicks of a handle. When you lower your bike and install a TFX set-up, you can then further adjust the suspension yourself as you go along: for example, if you normally ride unloaded but decide to throw some luggage on for a weekend's getaway, you can set your suspension to a harder mode so your bike's balance isn't affected by the added weight. You can have different settings for on-road and off-road riding, adjust the suspension if you're carrying a passenger, and tweak it according to how much luggage you're putting on – or taking off.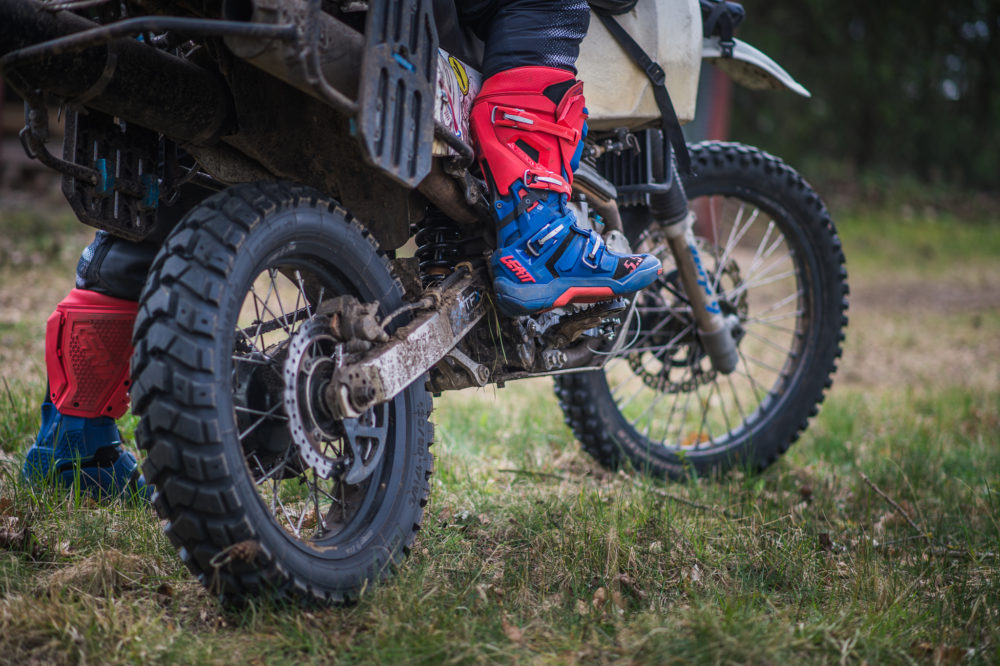 In other words, custom-built suspension is what's keeping your motorcycle in balance at all times, regardless of changes in height or weight. When customizing dual-sport bikes for short riders, custom suspension like the TXF's "magic carpet" set should be the number one mod you need to focus on. Not only it will offset any disbalances caused by lowering the bike, but it'll also provide you with the flexibility to adjust the suspension as much as you need for different types of riding, different luggage, and passenger options, and even on road vs off-road conditions.
Have you recently lowered your dual sport, and has it made a difference in the way you ride? Share the good stuff in the comments below!