BY KRIS FANT
Imagine you are on the bus in Tanzania, and you see a thirteen year old boy having a seizure in the street all alone. No one stops to help, your bus driver won't pull over, and you know that even if someone did stop, there's nowhere to turn for help. Motorcycle ambulance project in Tanzania has started with a personal story. 
No 911, no ambulances, no local doctors. All you can do is drive by, watching the young boy convulse, and you'll never know what became of him. This is the situation Claire Elsdon found herself in as she journeyed home from a meeting with a medical officer asking for her help in repairing motorcycle ambulances in Tanzania. This was not the first time she saw a way to offer support in Tanzania, but this moment certainly strengthened her resolve to overcome all of the obstacles until more services were in place. This was a call for Pikilily*.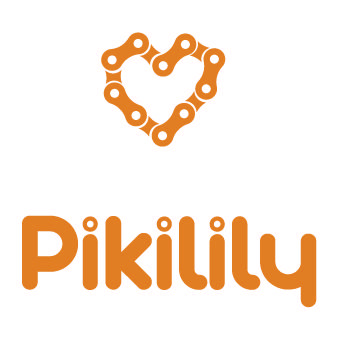 Looking Back
Let's go back  to the beginning of this story. Claire grew up in Wiltshire, a small town southwest of the UK, in the countryside.  An outdoor enthusiast and animal lover from the start, Claire describes herself as always caring for things, and thought she might grow up to be a vet.  Her family was not one for grand adventures, but they bought her books, so from a young age, she was mentally traveling around the world and thinking big thoughts, even right from her own bedroom. She also describes herself as curious about everything, always trying to invent something new. She didn't dream of moving to Africa and working to empower women and enhance medical availability for the people of Tanzania, but when she imagines telling herself that this would be her future, she says "I think little Claire would have liked that very much."
Finance seemed to be a way to provide a solid foundation, and allowed her to travel and explore "weird and wonderful places." In opposition to her outdoor loving nature, however, she found herself working twelve hour days in the physically artificial, competitive, male dominated environment of a stock broker for eight years. "Which is a strange thought, actually." She found herself missing having "real conversations with people about something besides money."  This confined environment contrasted with her travels led her to realize she loved life outdoors.  "In Mongolia, I didn't have a bath or shower for a week, and I didn't care at all.  We were outside."  She was enchanted by the simplicity of carrying her home with her, and choosing her home for the night based on the beauty around her. She bought a motorcycle for her daily commute, and in Wales, she learned to off road.  The world of market shares and commodities was steadily losing its sparkle. Notions of travel entered her dreams, and she started to wonder "could I take a year off?"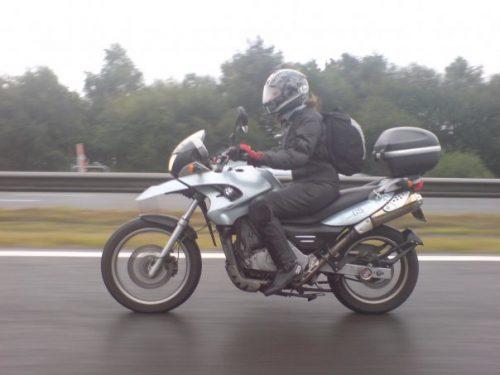 Claire had heard stories of British women riding from London to Cape Town, and she decided she could do it, too. As a competent biker and novice mechanic, she felt confident she could handle things that came up, but also realized that no matter how independent she would like to be, she would likely utilize the help of strangers along the way. She decided that she would be proactive, and 'give back' on her journey. She had contacts in Malawi and reached out to offer her financial skills. The organization responded: they had figured out the finances, but needed mechanical help. Would she help them find a solution to their spiraling costs of running motorcycles? This would push Claire outside her comfort zone, but she said yes. She implemented a motorcycle training for their in-house loan officers, supported by a manual.
Tales from Claire's Trip
Claire reflects "the hardest part of the trip was getting on the boat to France."  She had made the decision to travel less than six months before, and in her typical rapid movement way, was off on an adventure before she knew it.  But getting on the boat, she realized "I was finally going, on my own.  Anything could happen.  Which is true in daily life, I suppose, but you're less aware of it."
Like many travelers, she was repeatedly amazed by the kindness of strangers.  One of her favorite stories was when she ran out of fuel in Zambia.  A man came up to her and said "no problem, I can look after your bike for you. You hop on this bus and get fuel." She was only a short distance from the next gas station, so she left her bike and all of her supplies with this stranger.  What she didn't know was that the next station was out of fuel, so she had to go an hour down the road to a town. She realized she didn't really know where she was, she had no idea what the man's name was or his phone number.  She had to find her way back, and suddenly realized perhaps it wasn't very smart to leave everything with this stranger.  Finding herself getting mildly panicked, she told herself "I'm on the bus now, there's nothing I can do."  The entire trip which was anticipated to take less than an hour took her three.  When she returned, the man came running toward her.  It turned out he had been incredibly worried about her because the trip had taken so long, and he didn't have her name or phone number to reach out.  His parting words were "Claire, remember me.  My name is Maxwell, please remember.  Next time you see a petrol station think Maxwell, think fill your tank, fill your tank."  
Along side many stories of love and kindness, Claire also shared some of the adversity she faced on her trip. In the more remote parts of Egypt, she faced a long ride in the western desert where she found herself sometimes chased by men in cars, with long stops between small oasis, and absolutely no breaks from the desert in between.  "There wasn't a rock or a tree or a little dirt track to follow."  She reports a "few dodgy instances with elephants, but that's all part of the fun, really."  Some of her biggest challenges came from following the directions of natives.  They would send her down a road that was supposed to take her two hours, but it would take her four.  It was hot, and she would carefully allocate her water for the two hours she anticipated, only to find herself stretching that last little bit for an unknown distance, and starting to experience symptoms of dehydration and heat stroke. Overall she says her trip taught her how kind an generous people are, especially people who have barely anything.  "Nothing was ever stolen." Ironically, no long after her return to England, her motorcycle was stolen.
When Claire reached Cape Town, she had envisioned a time of peaceful, personal reflection, with waves crashing in the background. Claire says there were waves, but she hadn't realized what a tourist attraction Cape Town was. Even here, however, she experienced kindness.  A tour guide noticed her struggle to get to the Cape of Good Hope sign with her motorcycle.  He moved aside all of the tourists and took her photo.  It became another tourist attraction to then come up and get a photo with the woman who had ridden her motorbike all the way from the UK!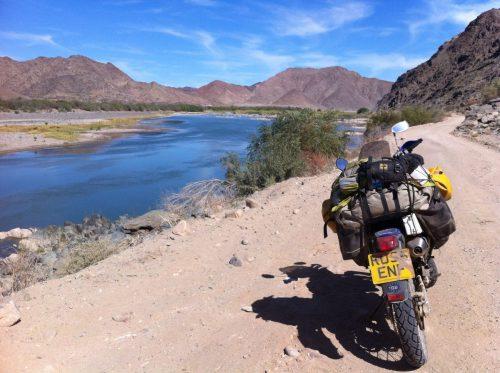 After the Big Trip
Before her trip, people advised "When you come back, you'll think everything has changed, but in six weeks, it'll be like nothing has happened."  Claire did not find this to be true at all.  She found herself with no plan, and thought she might go to Scotland for a while to write a book.  It had not occurred to her how challenging a transition from the warmth and community  of Africa to the grey, rainy, sparsely populated countryside of Scotland would be. She found herself returning to London frequently to visit family and friends, and when she saw a job opening for a stock broker. For a year and a half, she returned to that life, but "kept being drawn back to Africa". Even on holiday, she found herself involved with the midwives on motorbikes project.  She realized "Yes, this is what I really love.  In 2016, she quit her job and moved to Tanzania to start Pikilily.
The Birth of motorcycle ambulance – Pikilily
Upon her return, she was invited to meet with a medical officer in Sengerema. She learned there are 700,000 people living in Mwanza, mostly in rural areas. They have a fleet of 400 motorcycle ambulances, many of which are reportedly not running, and most of which are only 2-3 years old. This is not because they have been crashed, but because they have had a complete lack of maintenance. One of the leading causes of emergency hospital admissions in Tanzania is motorcycle crashes, as motorcycle taxis have become a major form of transportation. The lack of maintenance and safety knowledge leads to many fatalities, and often it is the passenger who is injured or killed. Additionally, preventable complications from labor kill 24 women per day. Motorcycle ambulance could carry these women to hospitals to give birth, enabling motorcycles to become part of the community's health solutions, rather than the cause.
The medical officer asked Claire for help. She reflected on this on her bus ride after the meeting. When she saw the boy having a seizure, she knew that she would take this on. Her current fundraising goals: $4300 to renovate, manage and run one motorcycle ambulance together with riders on a 60 day pilot basis in Sengerema, Tanzania. Ultimately, the goal is to raise $125,000 to refurbish all four motorcycle ambulances, recruit riders, and have them properly trained: this would enable Pikilily riders to make around 3,000 life saving calls per year.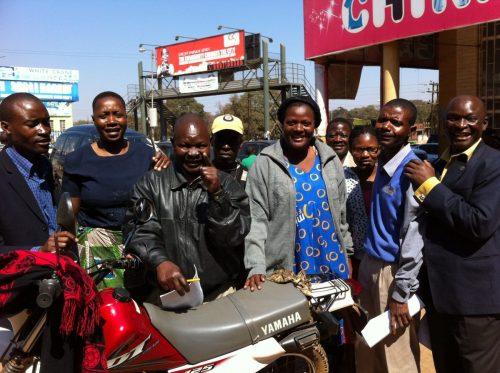 We asked Claire if she thought her gender had any influence on the project. "It is slightly easier doing this as a woman. People are surprised that it is a woman doing this, so you have their attention immediately. Because this will help mothers in labor, it feels slightly more like 'women's territory.'"  She has chosen to train women apprentices, "not because I hate men, but because I really believe in equal opportunity". Women in Tanzania work in many industries, but "anything engineering is considered impossible". The women in Tanzania have been asking her to help establish a taxi rank full of women; she reports that at times, the drivers of the motorcycle taxis are drunk or dangerous for female passengers. Because she is a woman riding and working on her motorcycle, it inspires the Tanzanian women to consider this possibility, and to think outside of their cultural norms.
Claire, a delightful and inspirational woman, now lives full time in Tanzania. She describes one of her thought processes that has been a huge asset and caused some challenges as "What's the worst that can happen?" She found the transition from traveling in Africa to living in Tanzania to be challenging at first.  "I didn't expect it, but it's different settling down."  She has found her people, though, and reflects "Time works out a lot of stuff." She has a small but growing team to facilitate this project. She is learning Swahili, and visits home about twice a year. She is focused on this project of getting four motorcycle ambulances up and running, but would ultimately like to get all 400 motorcycle ambulances running. Grants may be available, but they are a time consuming process, and Pikilily needs our help now!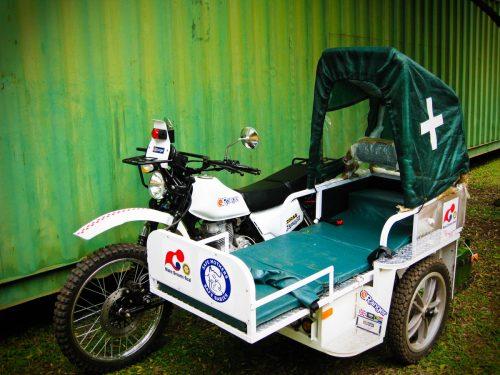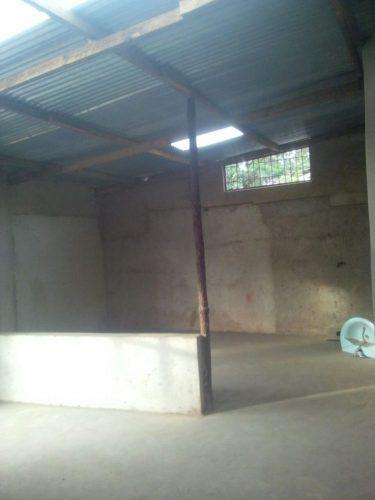 So, how can we help Claire?
Spread the word! Like and share Pikilily on Facebook and Twitter

Donate to the crowdfunding campaign HERE

Become a Pikilily ambassador

Claire will send you materials to share with other riders, to do a presentation, or however you think it could be useful.  You can find her here.

Do a Pikilily fundraising event

Volunteer – Claire has her first volunteer coming this spring. You can visit or help for any length of time; she has space for people to stay or camp. They are especially looking for people with a medical background to do first aid training, maintenance experts to help with bikes, or anyone who can help spread the word in any way.  

Recruit corporate support. If you are familiar with philanthropic organizations and processes, you can help Claire to raise funds for Pikilily.

If you are a business that would like to supply gear, tools, first aid supplies, or motorcycle parts, please contact Claire here, or email us at Women ADV Riders and we will help you connect!
Claire may not have pictured herself becoming a maintenance expert or helping improve the medical system in Africa, but she is clearly making a difference. And it all started with a travel dream.

*Pikilily:
Piki – swahili for 'motorcycle'
Lily – flower that symbolizes women and partnership; also a British Chutney