BY LIV SEURING
I didn't know much about motorcycle riding Vietnam when my boyfriend and I left the airport in Ho Chi Minh City in December 2015 for a four week vacation. I had been to Thailand once and loved it, but Vietnam seemed different and more pristine.
Two friends of ours had been to Vietnam earlier and made the spontaneous decision to buy two scooters and ride from Ho Chi Minh City up to Hanoi. My boyfriend was hooked right from the start when he listened to their stories and wanted us to do the same with motorcycles. I wasn't so sure, as I hadn't ridden in three years. And on the way to downtown Ho Chi Minh City my eyes caught the busy street life and I felt a little sick: motorcycles, scooters, busses, taxis and Tuk Tuks–everywhere. Scattered in between people with bicycles or on foot, shop owners hawked their goods. How this traffic worked without more accidents seemed like a total mystery; like a rehearsed scene that was going on and on and on. How were we supposed to ride a motorcycle here? I began to wonder if we could master the chaos.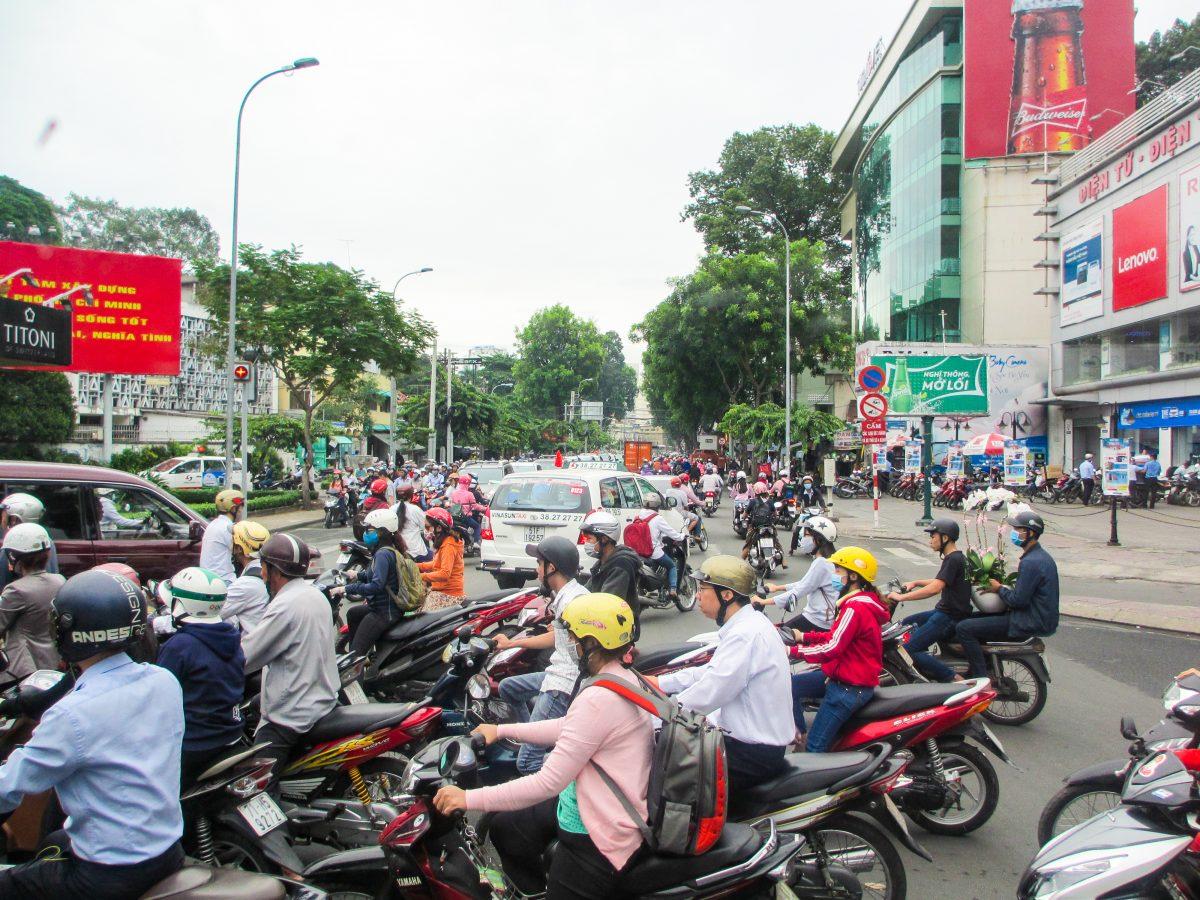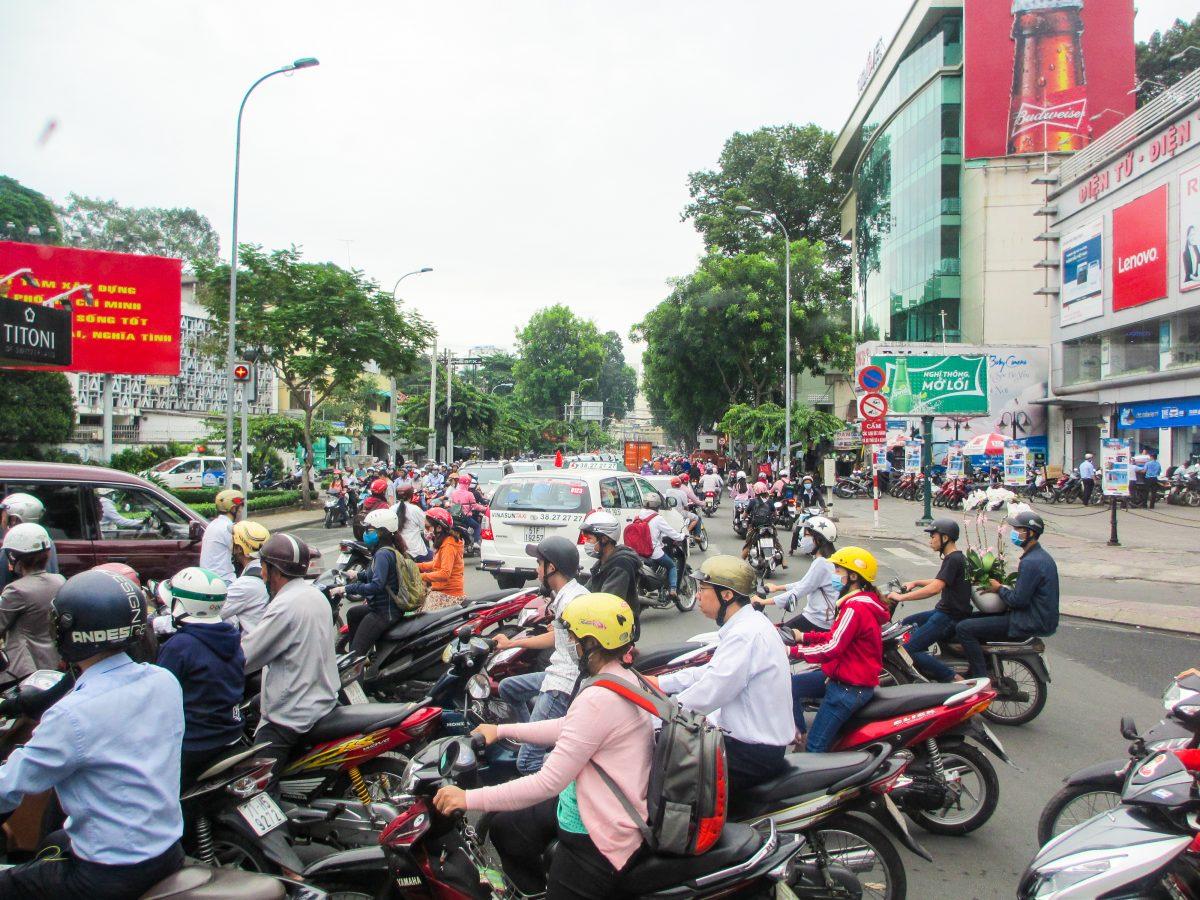 There are two ways for a backpacker to get a motorcycle in Vietnam: rent it, or buy it. We decided to purchase ours in Ho Chi Minh City, because our starting and finishing points would be nearly 1,500 miles apart. We used a sort of a Craigslist for tourists and travelers called Travelswop. Since we wanted to do the "real Vietnam thing" on real Vietnamese motorcycles, we settled on two Honda Wins. These little 100cc machines are a classic among backpackers, often being sold with a luggage rack. Prices are quite steady around $250USD. There are tons of motorcycles that are prettier, safer or faster than the Win, but we'd both fallen in love with them, despite Honda having never actually built a "Honda" Win. Ours cost 3 million Dong each from a German couple that had just finished their travels. The bikes were an adventure in themselves.
Nothing really worked; the speedometer was broken; my electric starter didn't work, leaving me with four weeks of kick-starting ahead of me.
The shock absorbers felt like pudding but we didn't care as long as the horn worked and we had the "papers" for the bike. We wouldn't be able to drive very fast anyway.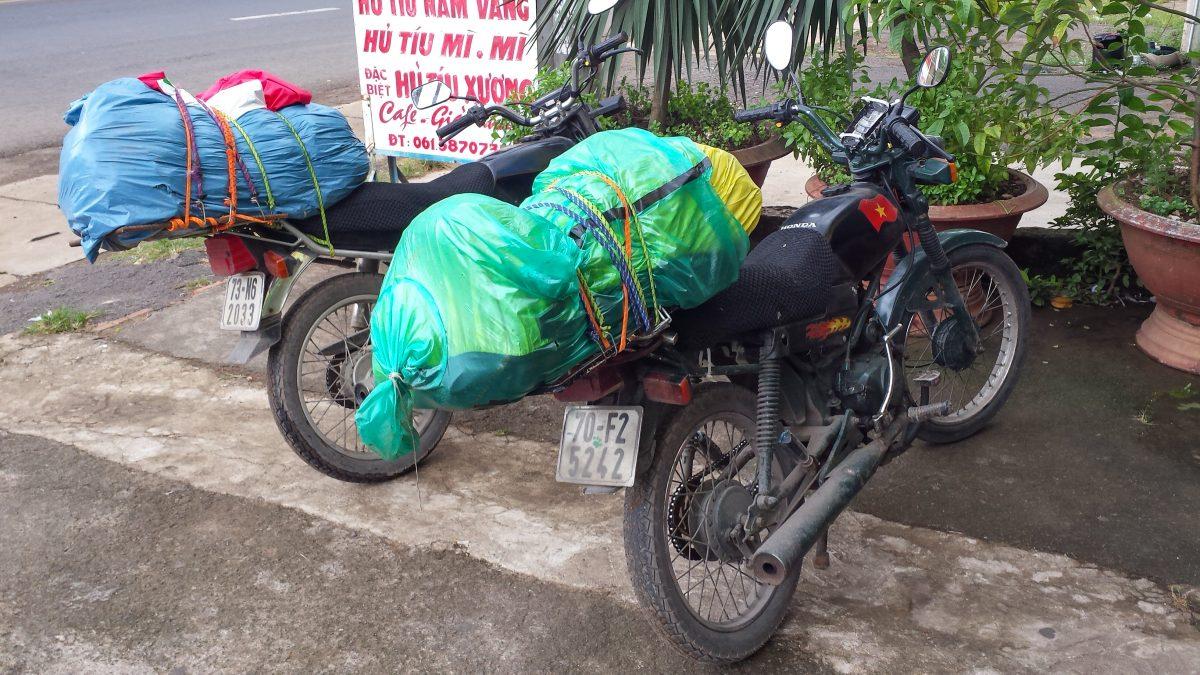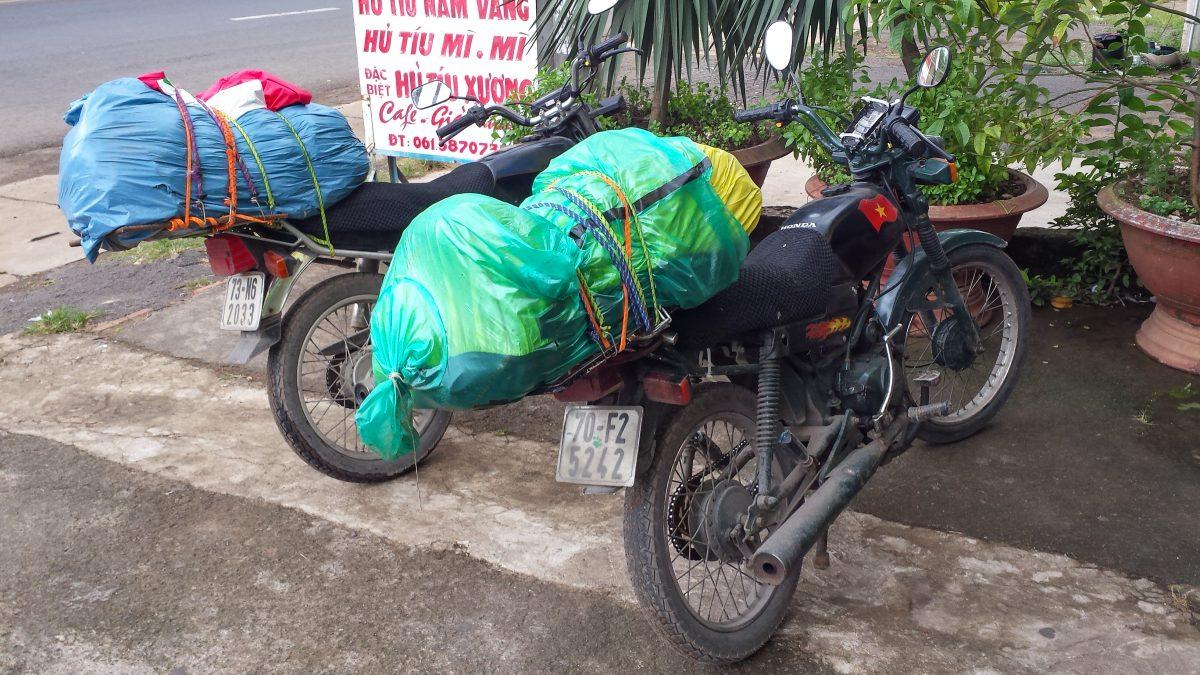 We left Ho Chi Minh City the next morning. Our plan to start early to get less traffic didn't work out. There's always traffic in Vietnam. But we realized early on that the street-chaos wasn't as bad as it seemed. People drive resolutely but more slowly and take care of each other. But we also learned to use caution around cars, taxis and busses, because they'd rarely brake for motorcycles. We learned quickly to adapt our driving behavior to the Vietnamese style and it didn't take long until other road users started to notice: The Vietnamese were cheering, laughing, honking and giving us countless thumbs up. It was amazing how happy people were just to see us on the road. After spending three hours in a traffic jam the highway split into smaller roads and we were finally out of Ho Chi Minh City's suburbs. With every kilometer driven our sensory overload abated and we started to enjoy the ride.
We began to notice that our scheduled route was planned a little too optimistically: On our first day we spent nearly 10 hours on the back of the bikes and were happy when we saw the first street signs for our first destination, Mui Ne. Despite it getting dark, we had no problem finding a hotel, as there were plenty available via online hotel reservation apps or advertised on the side of the road.
The next morning, we went to the market in the city centre to get some breakfast and find a garage for the bikes. It only took minutes to find one and we parked the motorcycles in front. "Xin chao! Oil change?" I asked a mechanic that was coming towards us wearing an old shirt, flip flops and whose hands were daubed with oil. "Ha?" he asked. "Oil change, we need new oil," Sebastian said, pointing to the motor and then doing a move that looked like a football-coach wanting a substitute player. The mechanic understood and offered us two small plastic stools. We gladly took the offer and began to eat fruit for breakfast.
We nearly choked witnessing the way Vietnamese mechanics undertake an oil change:
Tow the motorcycle on its main stand.

Put an old cooking pot, a cut up plastic bottle or another item that is usable as a collective tank under the motor, undo the oil screw, loosen the oil filler neck.

Let the oil run into the container and pour half of it out onto the street.

Start a compressor, place the "air-pistol" that is attached to the compressor into the oil filler neck (what is he doing?).

To get the last drop of old oil out of the motorcycle, use it a few times and blow some air in the motor (is he really doing that?), and tighten the oil screw.

Pour new oil into the motor and don´t forget to lose half of it. Tighten the oil filler neck.

Finally, stub out the cigarette with an inch of ash on it you´ve been holding squeezed between two fingers since the beginning of the procedure (I couldn't believe this).

Pay about 3 Euros/80.000 Dong/$3.50USD per motorcycle.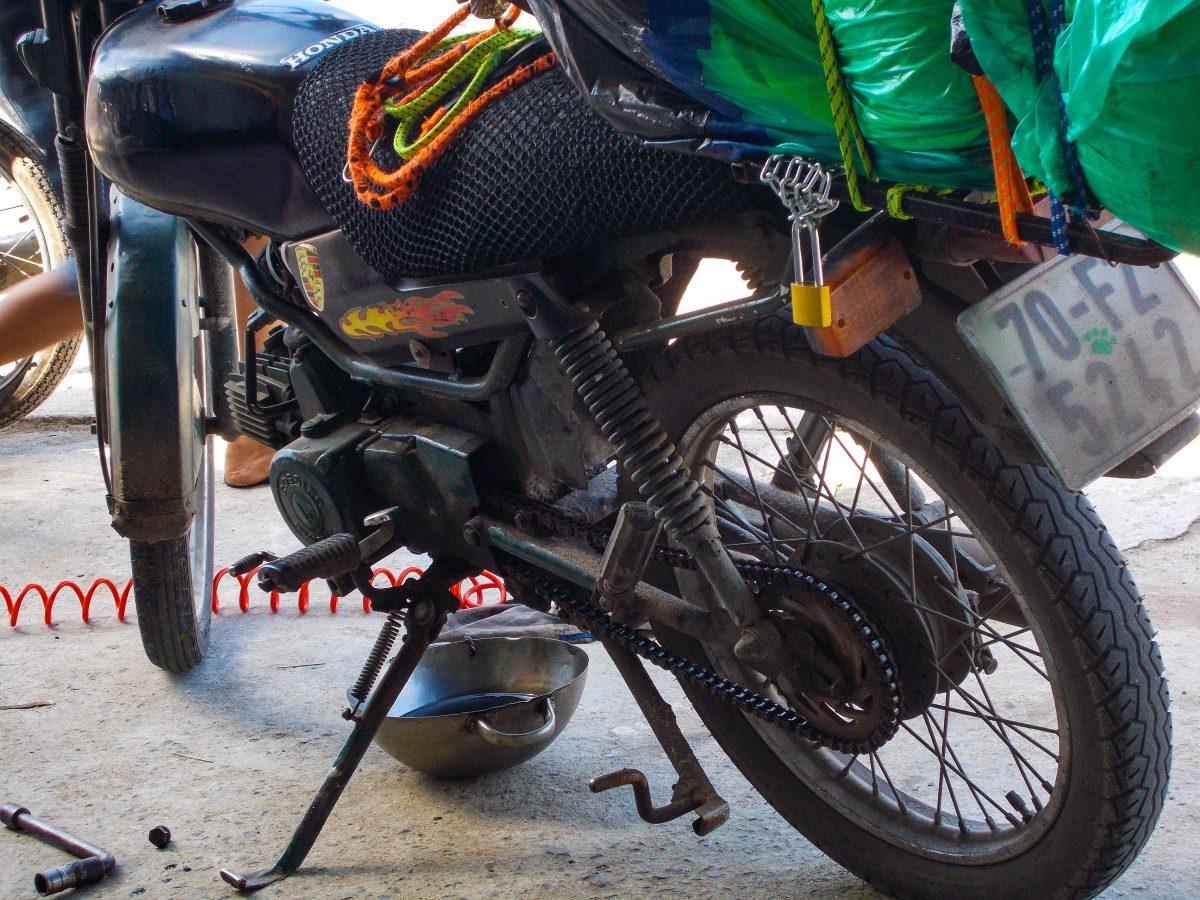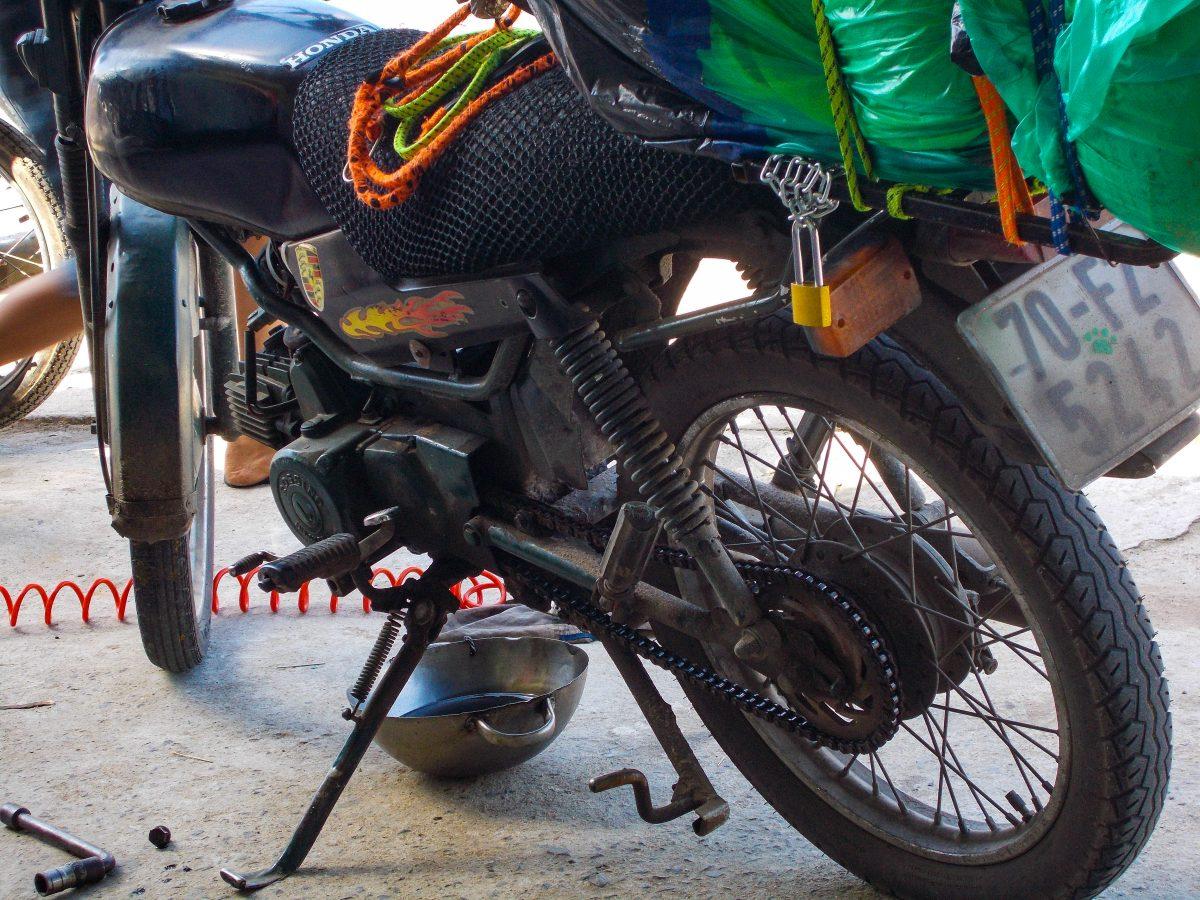 Both Honda Wins started up smoothly, a little smoke here and there, but they ran better than before.
"There's the ocean!" Sebastian shouted as he overtook me shortly after. I took a deep breath of the fumes, oil, tea, flowers, salt water, gasoline and grilled meat. I saw kids laughing and playing on the side of the street, elderly men drinking coffee, the crowded market. I pulled on the throttle. Goosebumps! My mind was totally clear. We were on the road again.
On our way to Dalat we had a short encounter with the police. Neither Sebo nor I were in the possession of an international driving license, so the policeman kindly demanded a fine of one million Dong, or about 40 Euros/$46USD.
Always keep your full amount of travel-money tucked away and a smaller sum in your pocket, so you can put on a sad face and say, "That's all I have…"
After paying the toll (we managed to convince the police that 500,000 Dong or 20 Euros was all we had) the interest of the officials faded and we were allowed to continue our journey.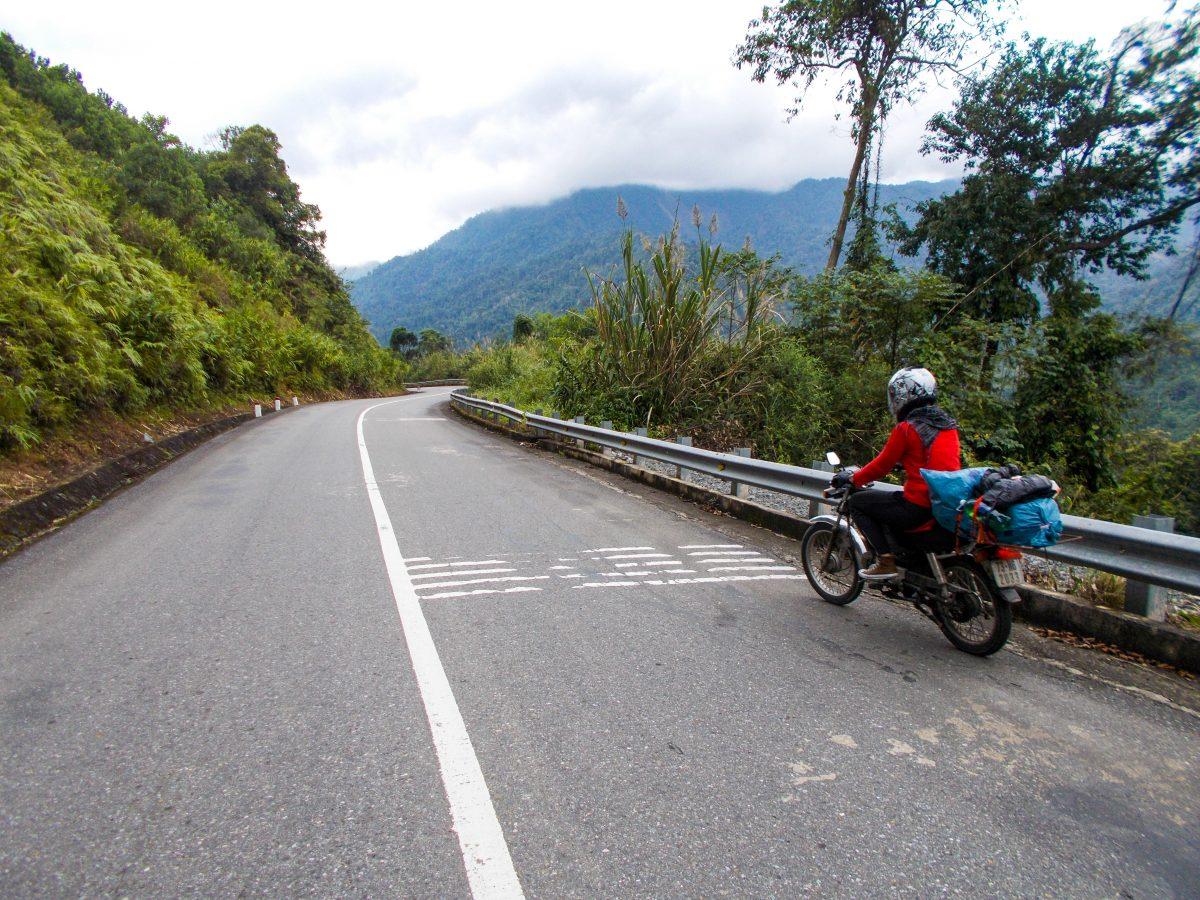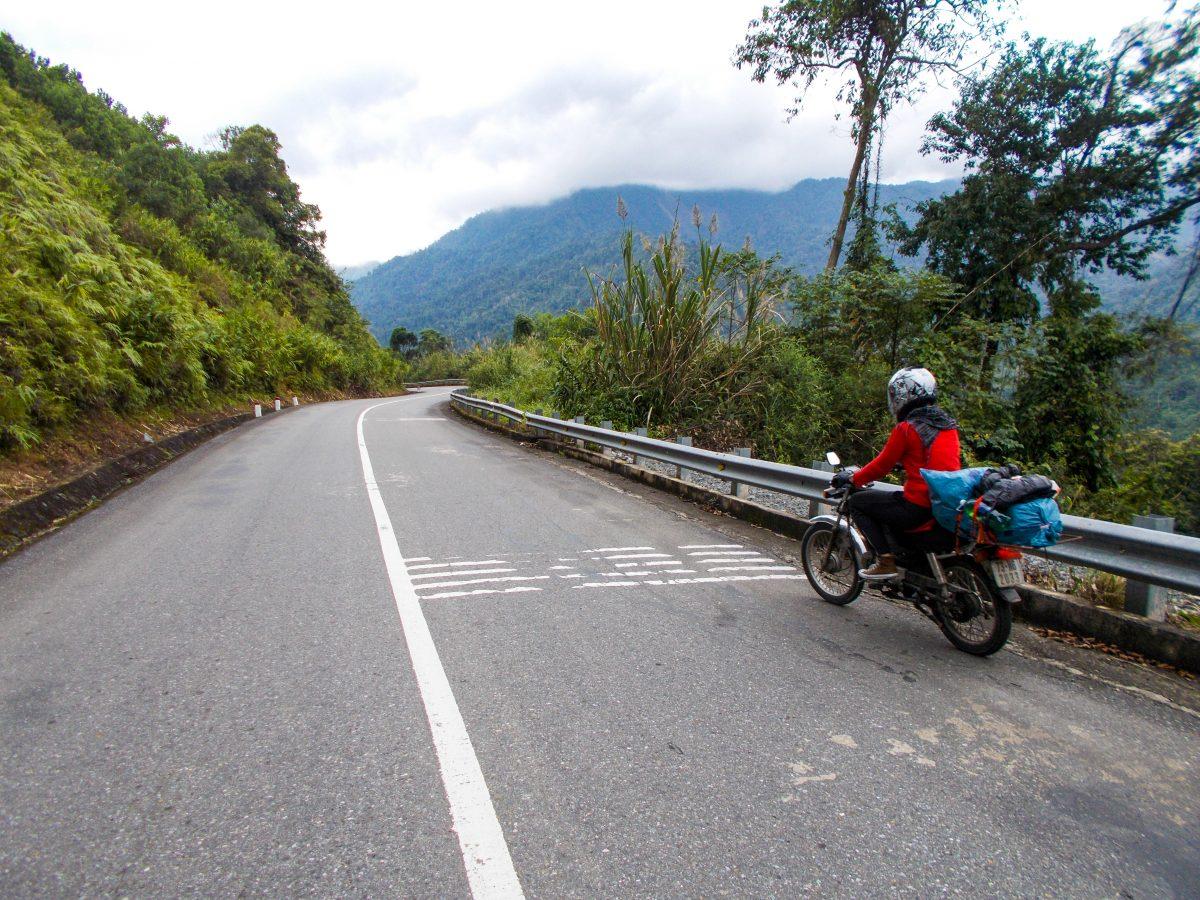 Still a bit bewildered we traveled further north and were blown away by the beauty and variety of the countryside. On our 100 mile stage to Dalat we left Mui Ne and the sea behind to find ourselves between lush green mountains with curvy roads that are every rider's dream. Multiple times I found myself having a lump in my throat and tears in my eyes while driving through the mountain range, just because it was so beautiful and I couldn't believe that I was actually here doing what we were doing: Riding my own motorcycle through an unbelievably impressive country after being so afraid just a few days before. Maybe I had been too prejudiced, maybe it was just my thoughts taking control over me? I began to understand that this would work out. There are garages on every corner (look out for signs with "xe" on it, like "sửa xe"), shops and restaurants beside the roads, and the people are helpful and some of the nicest and strongest I've met.
Nearly three weeks and 1,500 miles later we finally saw signs for Hanoi.
After being on the road almost every day we had mixed feelings. We stopped for a last break before diving into the chaotic and jammed streets of Hanoi. While eating, we reviewed our ride: roughly 23 days on the motorcycle, 19 different hotels, 25 beef noodle soups, 45 Vietnamese iced coffees, 11 oil changes, 2 new tires, 2 new sets of brake pads, one new piston and crankshaft, zero accidents, numerous ups and downs, tears, laughter, crowded cities, lonely beaches and roads, mountain passes, rice fields, sun, rain, thick fog, hurting butts and two hearts filled with loads of happiness and love for this country.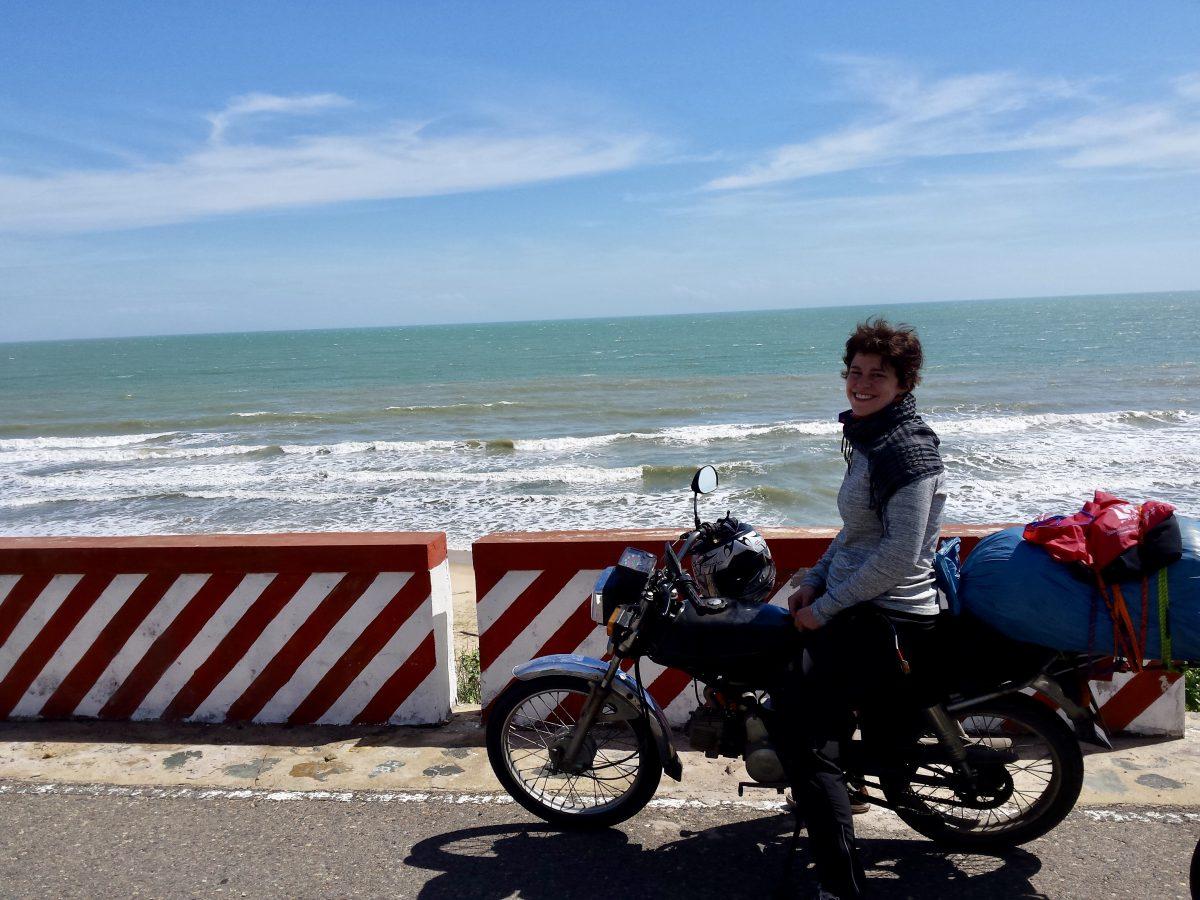 We stayed a few days in Hanoi and offered our Honda Wins for sale on the same internet platform where we bought them. I felt like crying. This little bike I called Black Beauty had been my travel companion for the last weeks and I didn't want to leave it. I still miss it today. But we were able to sell both Wins as a pair to two nice guys from Bavaria that wanted to do our road trip the other way around down to Ho Chi Minh City. Both motorcycles were sold for $230USD, or about 5.3 million Dong each, so there was no big financial loss… Though I'm sure I shed a tear when I saw them drive off.
Those four weeks in Vietnam were life changing. Despite all the pain and struggles we endured, and the good things prevailed. I learned a lot about motorcycles (you can always watch the mechanics working on your bike), about Vietnamese culture and humankind, but mostly, I learned about myself and about us as a couple. There isn't a day that goes by that I don't think about that trip and how it impacted us.
Hen gap lei Vietnam, we will definitely see you again!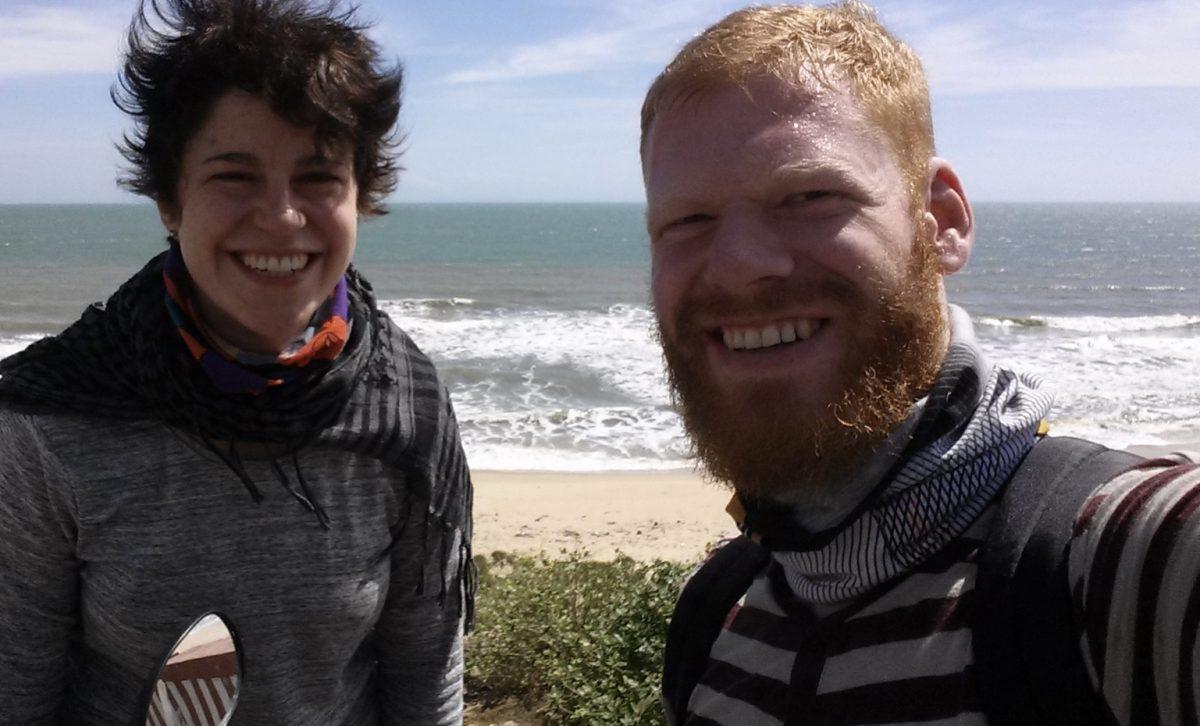 Travelling by motorcycles is now our passion, and we're planning to explore as much as possible from this world by motorbike! We've recently created a new blog to regail friends, family and fellow travelers with accounts of adventuring on two wheels. Have a read at myheartbeatsmotorbike.com, and look out for our upcoming article on How to Buy a Motorcycle in Vietnam on Women ADV Riders!