BY LIZ KEILY
I have tales aplenty about agonizingly long, unfriendly and outright frustrating border crossings that we had experienced on our motorcycle trip across Asia. "A country shows its true mettle in the manner it processes people across its borders", I always say.
Unexpectedly, crossing the border into Oman from UAE after overlanding across 14 countries of Asia was like riding into a beautiful sunrise.
It began rather messily where we had not expected to pay an exit tax from UAE. Before I had time to think about fumbling around for any dirhams we might have left, a local Omani, dressed in a crisp, white, floor-length traditional dishdashaand a beautifully embroidered turban leaned in front of me and paid our fees. "Thank you, thank you," I said, feeling somewhat embarrassed at our clumsiness. His only reply was a polite nod, and he was on his way.
Customs officials at the immaculate border post greeted us with smiles, road maps and suggestions about where we should go! Meanwhile, our paperwork was processed, and we were free to go.
Astounded by the ease of this entry into Oman, we both couldn't help but look at each other in disbelief and begin laughing at the absurdity of it all. After the likes of India and Pakistan that still cling to the paper shuffling, tea drinking British Colonial officialdom as if their identity depended upon it, we were in shock.
Armed with our trusty guidebook, 'Oman Off-road' we rode off into the quintessential sunrise excited to be in this refreshing country.
And it never disappointed. The January weather of this Gulf country was superb; the highways were beautiful and the countryside magnificent. Heading towards Muscat, its ancient capital we spent our first night camping, one of many under the magnificent starlit skies of the Middle East.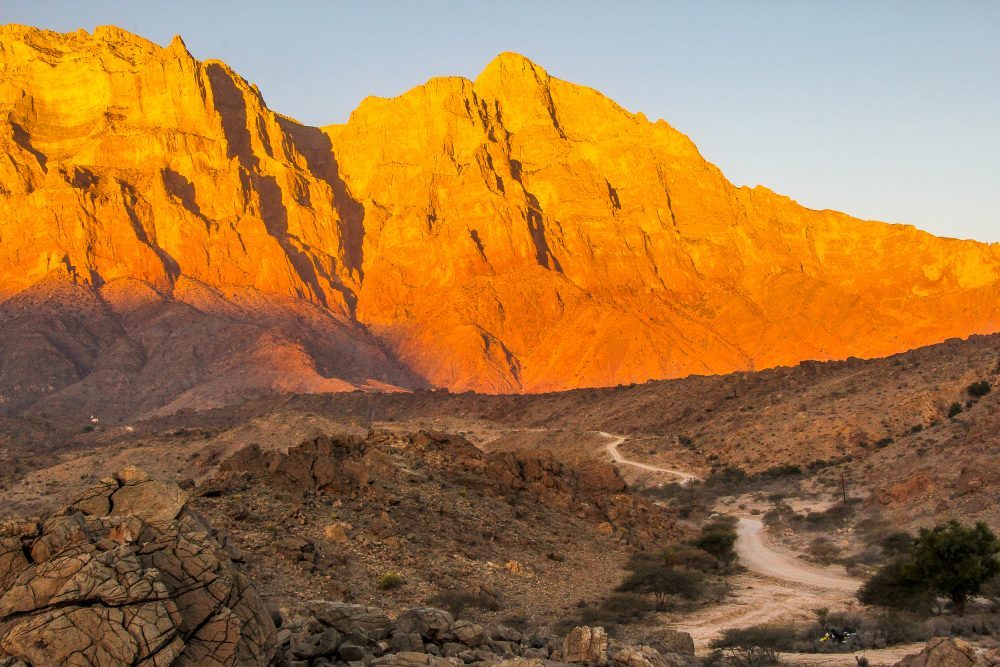 An Unexpected Love Affair
Our first ever Couchsurfing host was waiting for us in Muscat and how lucky we were to find him to be a true Omani. He had a welcoming feast of nuts, dried fruits, sweets, hot bread and a variety of local dishes. I will never forget the sight of his friend greeting us in a full length, elegant sheepskin coat, traditional, embroidered turban and the most amazing musk aroma following him into the room. I felt overwhelmed at this scene that was something out of Lawrence of Arabia.
And so began my love affair.
No, not with our host! With frankincense. Frankincense and myrrh were gifted to the baby Christ by the three wise men- one of whom was supposedly Omani. Mention Oman to me, and I conjure up the romantic smells of frankincense…
But enough of the romancing, and on to the motorcycling in Oman.
Following our suggested route into the Al Hajar Mountains, which are at the heart of the north, we were soon entwined in some of the most magnificent adventure riding of our trip so far. Wadis, which are valleys or dry riverbeds, provide the pathway between mountains, leading you through verdant valleys of dates, figs, almonds, and roses (for perfume making). Sometimes the wadis were like boulder riverbeds, other times well graded roads leading from village to village. Along the way, we were warmed by the hospitality of people who would stop their car and ask if we needed anything. "Do you need water?" they would always ask. I can only attribute this hospitality to the harsh environment and the need to look after each other. "The environment defines the man," I always say. Of course, there is also the common thread of hospitality we kept experiencing in all of the Muslim countries we had traveled through.
Winding our way up towards Jabal Shams, Oman's grand canyon, we found a perfect camping space looking down on the villages below and up at the orange hues of sunset over the magnificent mountains of Al Hajar. Sunrise was just as rewarding.
That morning, our road had warning signs everywhere that 4WD must be engaged, The guidebook had warned that during Summer, locals and even Emiratis favor these mountains for a cool retreat, but that police vet the vehicles to check they are suitable for the ascent. Loose gravel, steep inclines and off camber corners provided the most challenging road yet for me, especially with my tires purchased for European roads.
Tiring quickly, on a particularly steep ascent I finally dropped my motorcycle. You know the kind of steepness, combined with big drop offs which leaves you sweating at the thought of picking up the motorcycle and turning it around? Well, this was my moment.
Finally, with some assistance, I was facing downhill. Just below me, I noticed a school bus sign saying, please engage 4WD. You mean to say kids go to school on this road every day! I didn't have time to ponder on whether the school was at the top or the base of the mountain as before long I experienced another first for our trip and for me – boiling brake fluid – no brakes! Yes, it was definitely steep.
Completing a full loop over the mountains and back, we discovered some amazing villages, ancient forts, and more steep roads. One day, we encountered a tour group lead by westerners having tea on the side of the road. The leader ran out on to the road waving us down, exclaiming that the route ahead was the 'steepest' we have here. "I am not sure your motorcycles will be able to get up it. I am pretty sure it is a 37-degree ascent", she said. In my head, but still smiling confidently, I was wondering, "What the hell does a 37-degree slope look like?"
Now I had spent months obsessing over how dangerous the most dangerous roads of the world were going to be in Leh, India. I had worried about how the most populated roads in the world of Java were going to be. In fact, in the beginning, I worried about every road ahead. I wasn't that person anymore! "Please don't do this to me, lady!"I was thinking, trying to appear calm. Then I started to think about the red triangles on the map that marked dangerous corners on the road ahead.
I spent that night restlessly trying to work out just how steep 37 degrees was and how our 50/50 tires would cope, let alone me. She had me convinced I was heading up the steepest road in the whole wide world.
The next day, we climbed the numerous gravelly hairpins, one after another, but the views were magnificent. Still, I kept waiting for 'that' slope. After a few hours, we reached bitumen and a viewpoint, and we had done it! Somewhere down there, was some slope of 37 degrees that I somehow missed.
How many times do I have to learn this lesson to not to listen to naysayers!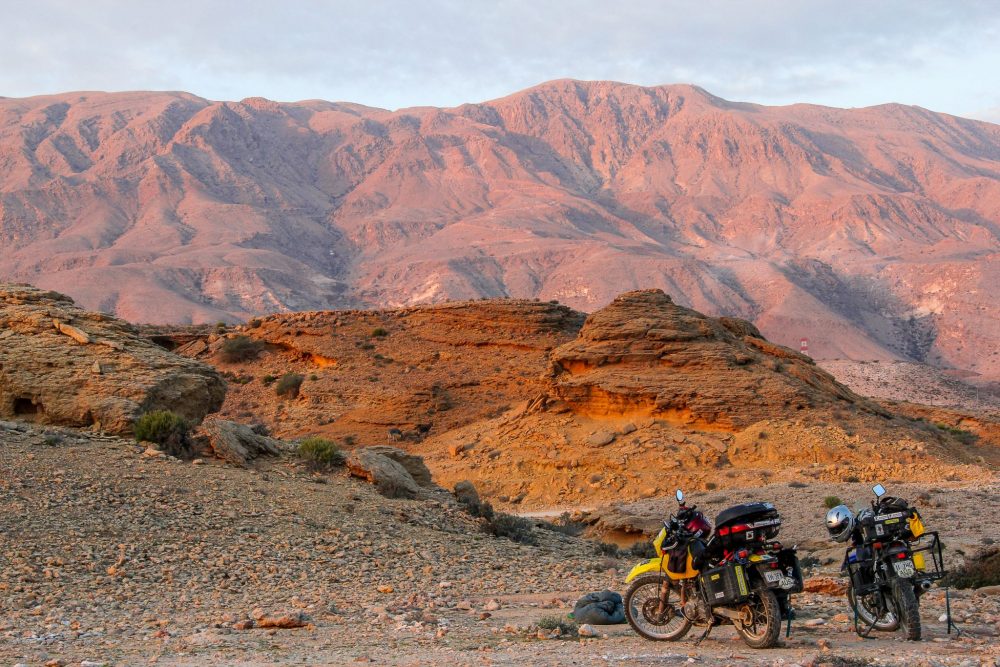 Sands of Time
Next, was our jaunt to the coastline to camp on the beach within meters of the Sea of Oman; total magic overlooking the ancient trade routes of spices and frankincense.
The allure of more coastline was difficult to resist, but there was just one difficulty. We only had a 10-day visa, and we still wanted to head into the vast sand dunes of Sharqiya Sands, the home of the Bedouins.
The red of the sand dunes was as vivid as the blue of the ocean we had just left. I should have been more worried about riding the sand dunes than the steep mountains. It was as fine a sand that we had seen, more like talcum powder.
Once again, we were waved down and told by a Bedouin looking man in a 4WD that our motorcycles couldn't possibly make it any further. "Come camp at my place on top of the dunes," he said. I can smell a rat when I see one, but it was late so up we went. Once we were up there, I wasn't going down again. Realizing quickly that he was selling us a 'dune experience' in his 4X4, in which we indulged him, we mustered enough energy to get down the monstrosity and find our own peace of heaven in the dunes amongst the camel dung. To sleep amongst these incredible dunes where Bedouins have lived for thousands of years was a gift.
We have often been asked which of the countries we visited over 18months from 'Australia to Iran' was our favorite. We have had many incredible experiences of overwhelming hospitality, we have ridden many spectacular roads, visited many remote areas and reached the highest altitudes you can ride in the world.
Oman was the one country I could truly say provided everything together and more – without discomfort or stress.
Element of Surprise
For two travel weary riders, Oman put the wow back into our trip. We had found peaceful camping sites with views unparalleled. We had met many, many friendly locals. We had eaten beautiful fresh local foods. We had stayed in a magnificent, lavish Omani home and walked the ancient souqs with him. We had ridden over mountains, to the ocean and into the Bedouin sand dunes; all in 10 days without feeling rushed.
And of course, there is the frankincense!
For your first taste of the Middle East motorcycling, Oman is definitely a good choice. The people are accustomed to tourists and welcome them with true Muslim hospitality. As a woman, I was not stared at in the streets nor on my motorcycle.
Would I ride solo through this country? I definitely would, but would be just as careful as in any other similar country. Our Omani Couchsurfing host has had solo female guests staying with him as a single male. It did not seem to be an issue for him. He was polite and inclusive of me in everything we did.
Heading to another border crossing and marveling at our exhilarating time in Oman and how blessed we had been, like an omen black storm clouds followed us into UAE and we rode into Dubai in a downpour.
OMAN FACTS AND TIPS:
The Sultanate of Oman is ruled by Sultan Qaboos who has, like UAE, ensured oil money has been used to modernize the country. Tourists are welcome and many adventure tour companies are thriving.
TAKING YOUR OWN MOTORCYCLE & GETTING THERE:
CARNET: To take your own motorcycle into Oman you need a Carnet De Passage available from your local Automobile Association.
We entered via Iran across The Persian Gulf. Shipping and port fees are very expensive.  Shipping directly to Oman is possible, but as always flying your motorcycle there would be cheaper. The cheapest option for a short trip is of course rental.
Flying into Dubai and renting there is also possible. Everything is possible in Dubai! It is then a short ride to the border with Oman.
SAFETY:
I did have one encounter with a lecherous old man in a village. I had a bad feeling about him when we went into his home. He actually groped me IN a photo! I should have heeded my instincts and we soon made a quick escape.
Sometimes, when you enter a home the woman will retreat to the kitchen. If this happens, I ask permission to enter to chat with her. Mostly, though, the women will join the chat. I recommend if a solo traveler, make sure you engage the woman and seek her out rather than sit alone with the man. (Lecherous men are opportunists no matter what the country.)
WOMEN:
Covering your head is not law, but advisable. The usual loose clothing covering arms and legs is also recommended.  I began my trip with a short black dress and leggings but swapped to a long black cotton dress which I felt blended in more. If you blend in you are less likely to be stared at. However, I must stress, in Oman staring was never an issue like it can be in other conservative countries.
I ride with a buffy under my helmet and felt that was enough when I removed my helmet. I felt OK with my motorcycle clothing, but mostly wore an oversized men's cotton shirt under my jacket.  The times I wore a t-shirt, I didn't feel comfortable, but nobody stared or cared really.
FOLLOW LIZ: ROOSTERS OVERLAND
ORIGINAL PHOTOS BY LIZ KEILY; EDITED BY WOMEN ADV RIDERS 
[Best_Wordpress_Gallery id="17″ gal_title="Oman"]