EGLE GERULAITYTE
I'm not very fussy about women's motorcycle gear: as long as it's durable, comfortable, and does what it promises, I'm happy.
Sure, if it looks great, that's an added bonus, and if it's got both function and style, that's fantastic. But as a rider who is on an indefinite round the world journey, I focus primarily on two things: durability and the maker's attitude towards customer service – even the best gear sometimes fails, so choosing a brand that will stand behind their product is extremely important.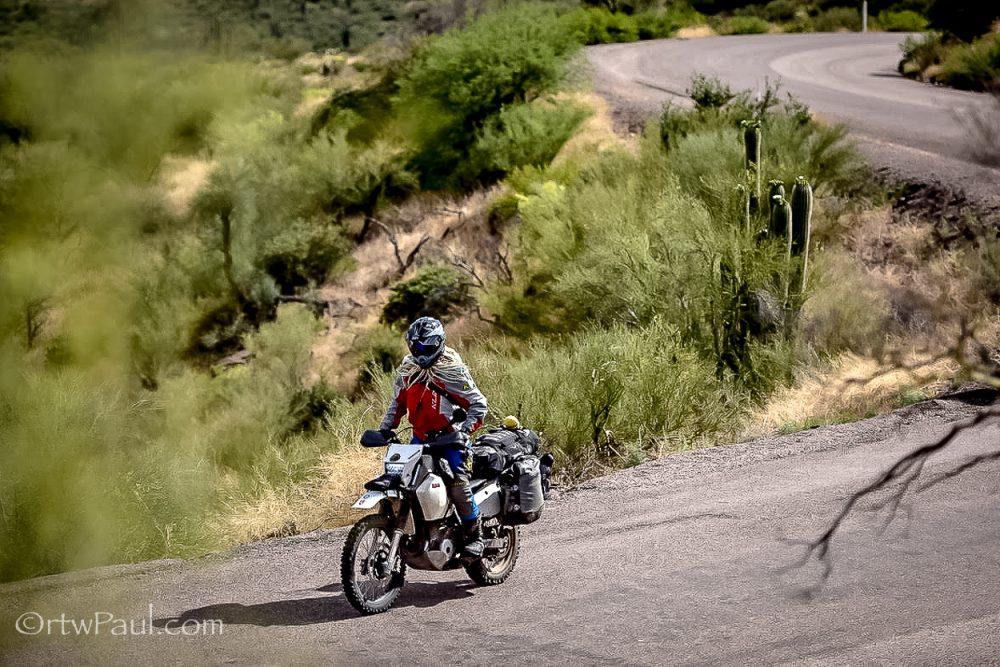 I'm of average height, weight, and shape, so my requirements for the right fit aren't very high: just give me pockets and make sure it's sturdy and waterproof, and I'm ready to go.
With that in mind, here's my honest review of what worked and what didn't during my 20,000-mile stint around the States and Canada this summer. For each piece of gear, I also added a comment of whether or not I would:
Ride around the world in it

Consider it a potential option

Or definitely not use it
Klim Mojave Pants
Because we planned to do as much dirt as possible and ride a lot of hot desert regions this summer, I opted for a semi-motocross pant that offered considerable protection, but was breathable. Klim Mojave pants seemed like a great choice: lightweight mesh mixed with sturdier fabric at the knees and leather reinforcement for better grip, plus breathable material around the calves, these pants felt like the perfect choice for the type of riding we were planning to do.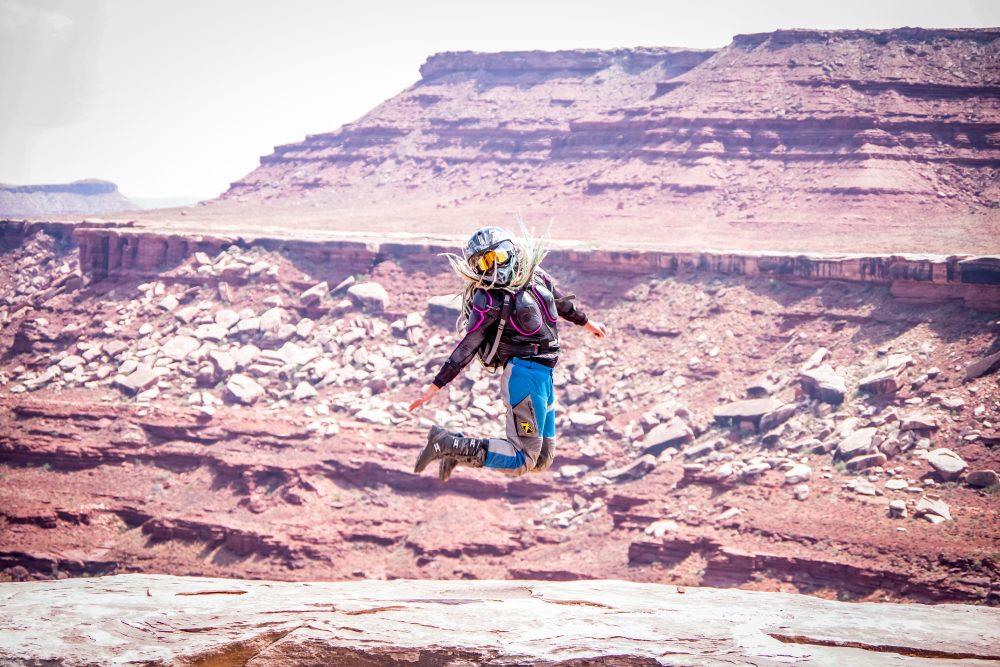 Five months, 20,000 miles and a few mild crashes later, the Mojave is still as good as new. Apart from slightly scuffed knees, the pants held up remarkably well, even after a few unexpected dismounts on gravel, pavement, and dirt. Comfy, flexible, but offering surprisingly great protection, the Mojave simply works.
Pros:
– Lightweight and breathable. For off-road riding, especially in hot conditions, Mojave offers a perfect balance between comfort and safety.
– Durable: daily abuse on the TAT, TCAT and several BDRs for five months straight barely made a dent.
– Stretchy: in colder temperatures, I had no trouble donning a pair of thermals underneath or a waterproof layer over the pants.
– Easy maintenance: a simple normal wash and a quick dry was sufficient to get rid of the grime without compromising the quality of the pants.
Cons:
– This was a men's version; for women who are shorter or have wider hips, Mojave might not be the best option.
– Great for hot weather, but needs layers when it's cold and/or raining: this is a purpose pant as opposed to an all-arounder, so if you're planning for all-season riding, make sure you have additional layers for warmth and rain protection.
Would I ride round the world in them? Absolutely. But because long-term travel requires something more universal and because I get cold very quickly, I'm choosing Klim Badlands (men's) for my Central and South America leg of the trip. Keep an eye out for reviews!
Abakus Body Armour
Abakus Body Armor is suspiciously similar to Alpinestar's Bionic. Trouble is, Alpinestars has discontinued the Bionic and now offer a different version which I don't like at all. The Abakus version were also much cheaper.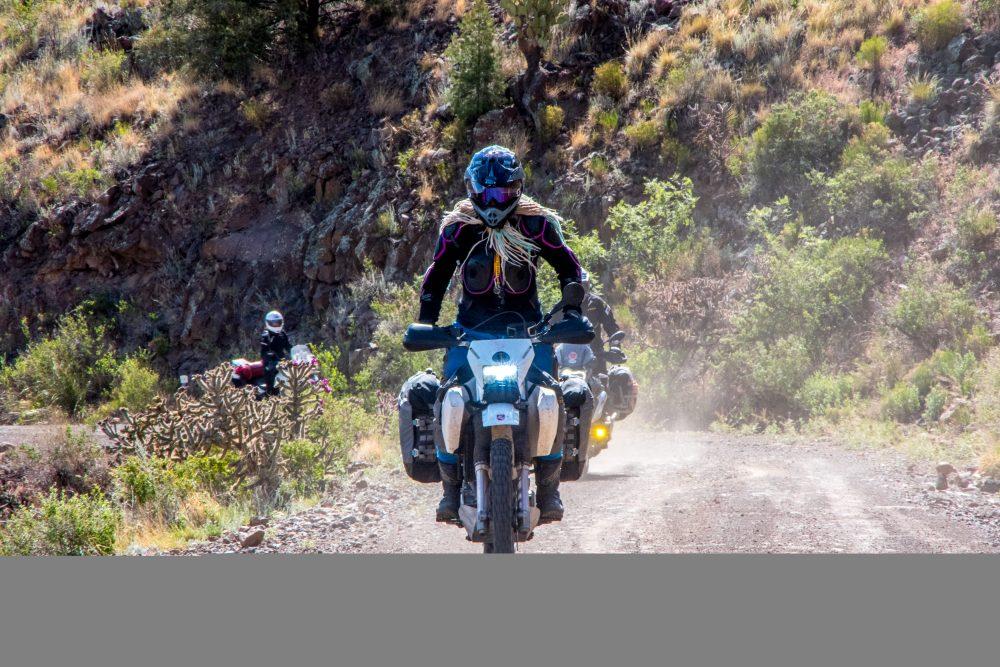 Regardless of the unoriginal design, the Abakus worked. Lightweight and comfortable, it did the job well: I had a couple of slow-speed falls, and my elbows, shoulders and back felt protected enough. Thankfully, I hadn't tested the armor in a high-speed crash, so I can't say whether the protection would be sufficient in such cases, but for me, it felt reliable enough.
Pros:
–  Lightweight and comfortable. Most of the time, I forgot I was wearing it at all.
–  Simple. I loved the one-piece mesh design: easy and simple to put on and get off, no fuss.
–  Budget-friendly! For what it was, the Abakus was very reasonably priced.
Cons:
– Rather simplistic take on the color – I don't mind pink per se, but when it's the only color option for women, I'm deeply unimpressed.
– Women's boobs don't grow out of their collarbones! It seems like the designer thought just that; however, all armor pieces are adjustable, so the poor design is easily remedied.
Would I ride round the world in it? Yes.
Klim Powerxross Jacket
Because I chose a light, wicking shirt and body armor for summer riding, I needed a reliable waterproof layer Just In Case. Klim Powerxcross isn't exactly a motorcycle jacket – this one is meant for snowmobile use, but that's precisely why I thought it would be a tougher waterproof option. And it was: all through snowstorms in the Rockies and torrential rain in the Eastern states, Newfoundland and Labrador, I remained bone dry.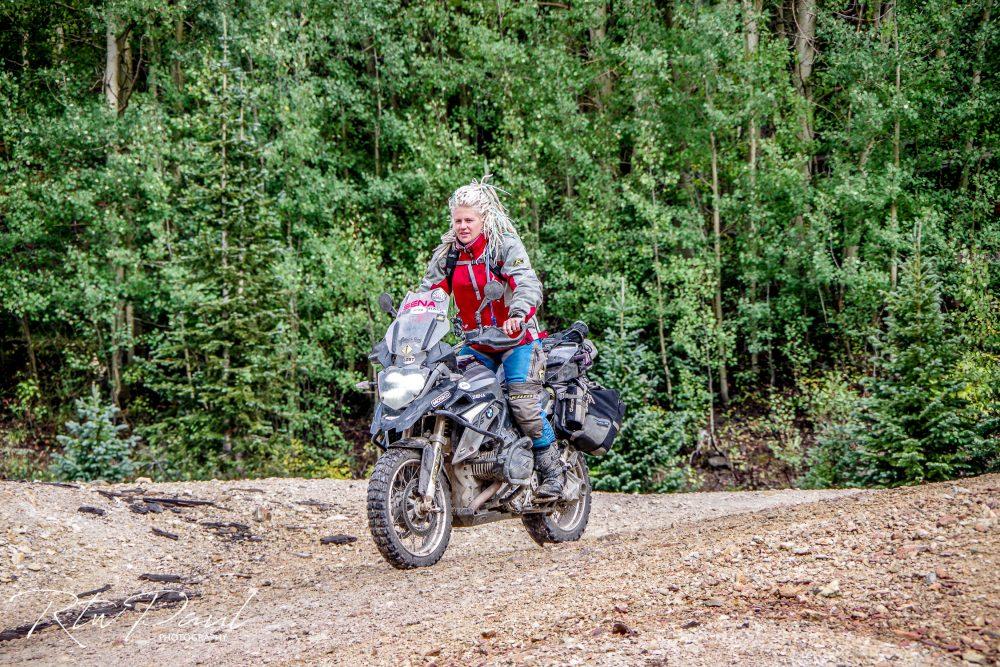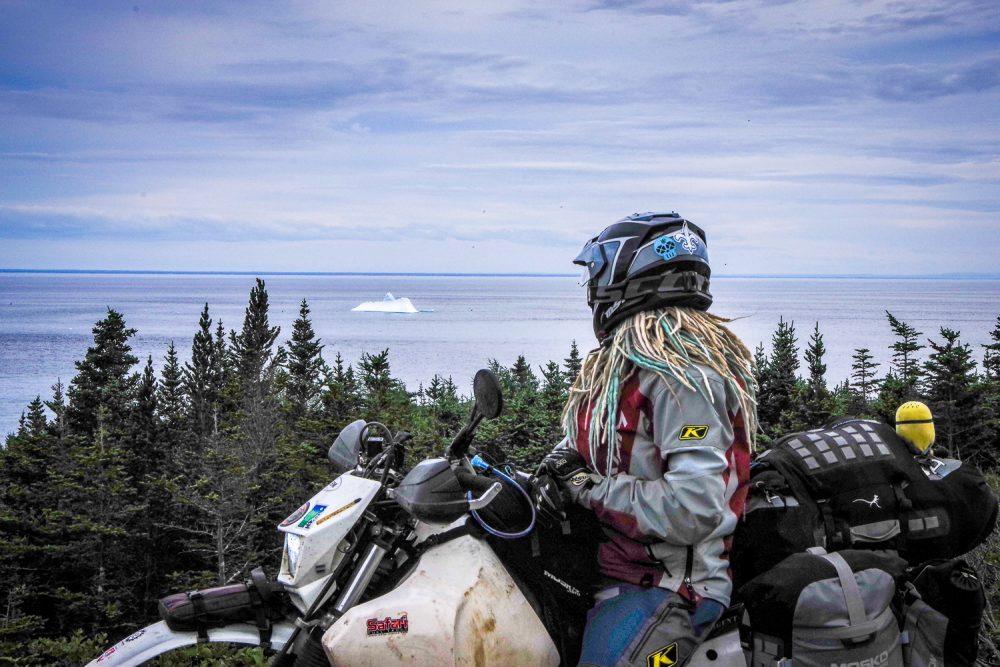 Pros:
-does what it promises: keeps you 100% dry.
-lightweight and packs relatively small.
– windproof.
Cons:
– Because this is a men's snowmobile jacket, I looked like I was wearing a colorful tent.
– The zipper on the side of the jacket was a nightmare to do up when wearing multiple layers; a more traditional approach of a frontal zipper would have made life easier.
Would I ride round the world in it? Yes.  I feel that an integrated Gore-Tex motorcycle jacket would work better for me long-term, though, so I chose Klim Altitude Women's Jacket for the next leg of the trip.
TCX X-Desert Gore-Tex Boots
I purchased my TCX X-Desert Gore-Tex boots last year in June, and for the first six months of easy European on-road riding as a pillion, they were great: comfortable to ride and walk in, 100% waterproof, fit me perfectly and looked great, too.
However, after only two months of adventure riding my own bike in the States and Canada, the TCX boots started leaking, quickly followed by busted seams and a large hole in soggy Newfoundland and Labrador, leaving my feet squelching around for weeks.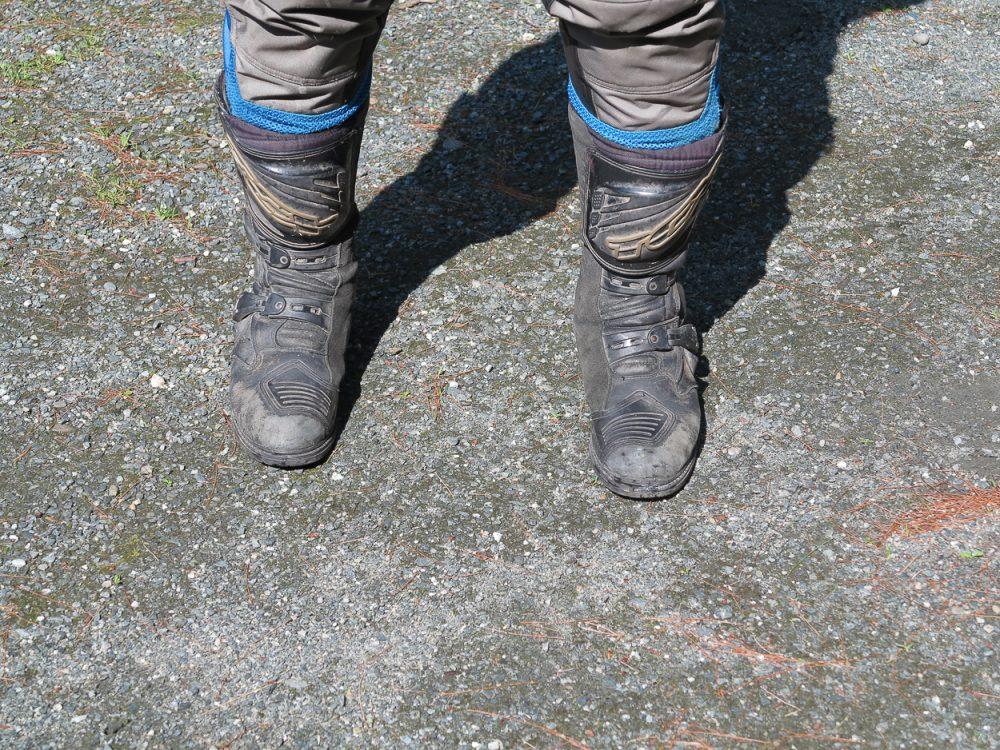 Upon initially contacting TCX, I received no response. Eventually, they vaguely advised I go back to the original dealership in England (thousands of miles away) and replace my boots there. Clearly, not an option. And then just when it looked like TCX Italy was going to replace the boots, they simply disappeared for a month! After more than eight weeks of pleading, TCX USA stepped in and finally replaced my boots, with a dismissive comment on my concerns of the possibility of a recurring failure later in my journey. The new pair is already showing signs of distress – the stitching is coming undone on the left boot; I haven't had a crash and only wore them for over a month, so our future together isn't looking too bright at the moment.
Pros:
– For the first six months, the boots were really comfortable and an excellent fit, as well as 100% waterproof.
–  The X-Desert model looks good.
Cons:
–  Boots only lasted eight months.
–  TCX's customer service was appalling.
Perhaps I just got unlucky, and I am not claiming that all TCX boots fail, or that all of their customer service people are unhelpful. But…
Would I ride round the world in them? No way. 
MSR Xpedition Helmet
Finding a helmet for me is always a gargantuan task: my fluffy mane requires an XXL, with some brands – even a 3XL helmet. Don't get me wrong, I love my extra padding, but finding a helmet that fits is usually a crusade.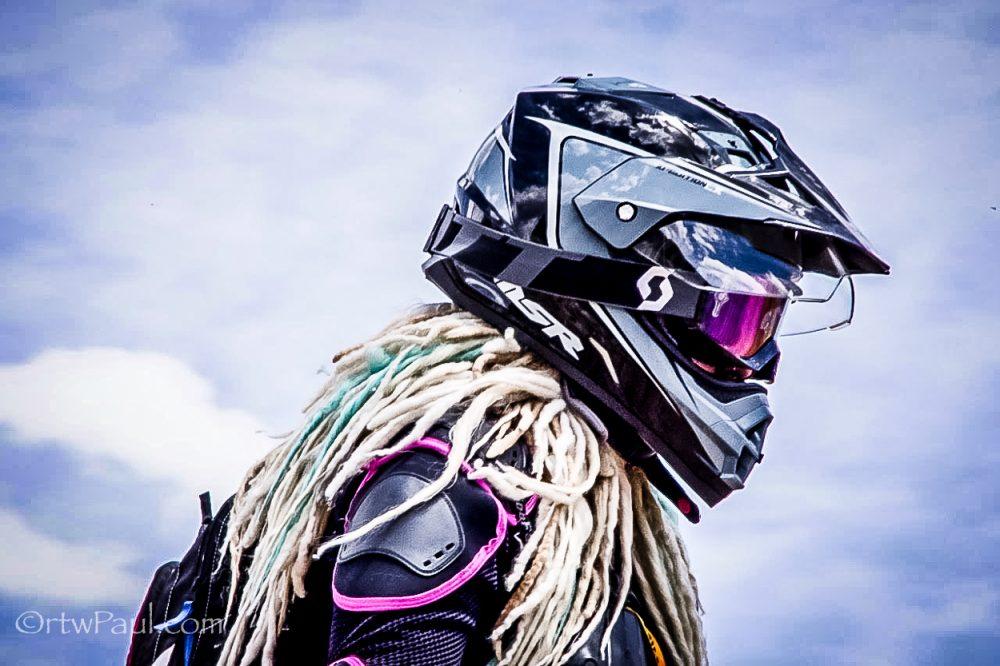 So when the MSR Xpedition fit my head perfectly, I was over the moon. Sure, it can always be a little lighter and perhaps, a bit more interesting color-wise, but I was primarily focusing on the fit – and fit it did!
Pros:
– great fit
– reasonable pricing
– unpretentious design
Cons:
– I wish it was a little lighter
– do they come in matte black?
Would I ride around the world in it? Yes.
What worked – or didn't work – for you? Let us know in the comments below!