Okay ladies – it's time to have a chat about the gear elephant in the room.
She's really just one of the gear elephants in the room, the small, spotty one hiding in the corner, but we think it's time she got her moment in the spotlight. You know what I'm talking about – functionality.
Let's talk about pockets.
Kris brought this article to our attention earlier in the week. It references a study that was done comparing 20 different men's and women's jeans in the US and a serious gap in pocket equality. Please go check it out; the graphics and info are very well done. It's humorous and sad at the same time.
We've talked about gear a good bit here on Women ADV Riders: what we like, what we don't, and we've covered some brands that we feel are making real strides in women's gear design. Even with the strides, I think this is still something that needs addressing in the moto industry.
The same and yet so very different.
My partner and I have the same relative 'level' of gear from the same manufacturer. We're in the same price point and have the same level of water protection, but that's where the similarities end. Oh wait – they're the same color. That's the same.
While my suit has an alluring feminine cut to the waist of the jacket and hip-line of the pants, his jacket has more vents and pockets and has better protection and armor (because my kidneys don't need a belt – they're fine – no really). His pant vents are several inches longer than mine, though decidedly not as cute. He has big, sturdy zippers, whereas I have smaller, presumably more feminine ones. His pockets are larger, and the bottom of his pants leg is fully adjustable – though mine do have a cute 'boot' cut to them (my hips don't need armor either though – they'll be okay). In their defense my pants do fit well over offroad boots, and the water-resistance is quite good.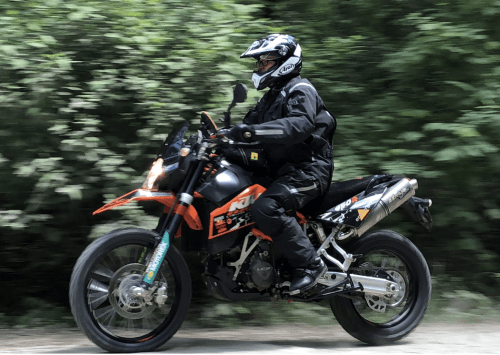 I'm consistently far too hot in the summer months and frustrated because I cannot keep anything on my person. The pockets I do have won't fit my iPhone comfortably – though they're handy for stuffing my gloves in when we stop for a pee break. They'd manage lip balm just fine I think, and possibly a very small wallet. Ooh! I could probably toss in a tube of mascara. That would fit. Sorry, now I'm just being spiteful.
However, in all honesty, after two years of trying, my four-season gear is simply not manageable in the Southeastern US from late spring to late fall. The first time I gave up and went out in my regular jeans while my partner was riding along warmly, though not miserably, and well-protected, I knew a second set of less expensive gear was a better solution than putting my skin at risk.  I ran out to my local Cycle Gear one Saturday, with our badass female manager, and bought some gear from another brand that's as not fussed with lady-cuts but keeps me cooler, though arguably much less dry and less protected.
The piece that's really irksome about all of this, besides it being 2018 and feeling like we're supposed to be past so much of this inequality crap, is that my current suit comes from a well-respected manufacturer. It's high end gear. They're known for outfitting adventure riders safely. But here we are.
It's all because we're lumpy.
This quote from the pudding.cool article says a lot "Toward the end of the 18th century, women's fashion changed: waistlines crept up, silhouettes slimmed, and pockets shrunk, sometimes becoming nonexistent. The London Spectator reported, that the common thought was that women 'had four external bulges already – two breasts and two hips – and a money pocket inside their dress would make an ungainly fifth.' Famed fashion designer Christian Dior further cemented the patriarchy of pockets in 1954 allegedly saying, 'Men have pockets to keep things in, women for decoration.'"
Right. We are already too lumpy – no need to be more lumpy – and desert lizards, loose gravel, mud, baby-heads and tree frogs really need to be enticed by our small waist and lady humps. It's why they like us and let us stay. Good grief. Yes, I'm being ridiculous, but you get my point.
What to do?
So what's a lady-rider to do? Swoon? Cry and hope that someone rescues us? Maybe I'll try dropping a hankie. Many of us resort to doing what our kickass, pioneer riding sisters did in the beginning – just buying men's gear in smaller sizes. It doesn't always fit quite right, but it's better than being ill-protected, over-hot or simply inconvenienced by less-than-functional gear. But that's not a solution for everyone. It's easy for me at 5'8", but what about our petite sisters? Should they just buy some little boys' motocross gear and call it a day? Or maybe they should just tape up the legs of their less-than-functional pants.
I'm personally in the process researching what is available for grown women  that's stretching the boundaries. I'm really liking Spidi's 4 Season Lady line for functional equality – though they don't have hip armor in their pants either. I'd love some feedback if anyone has it because I can't go put my hands on it locally.  Egle is loving Klim's Artemis suit as being some of the most functional women's gear she's come across to-date.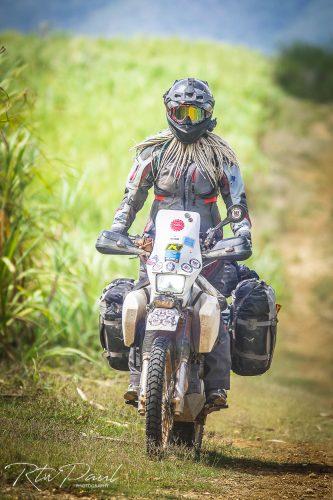 I said it earlier – some manufacturers are really making strides in the right direction. Most of them seem to realize that when it comes to ADV riding we're not so much worried about 'how our butt looks in these jeans' as we are about making sure our spine and limbs are protected both with armor and durability when we get cross rutted and launch off the bike.
Most still have a much smaller selection for women than men both in street gear and ADV-oriented pieces. And I get that, it's a smaller part of their market share. But it has amazed me to watch the gear postings on internet boards in which even the men are at a loss to find suitable protection for their partners in riding, whether co-riders or a loved one who rides on their own that they wanted to surprise with new gear.
And before the trolls start a'typing – I get it. There is no magic 4-season gear that's blissfully comfortable for men and women alike, made of rainbows and unicorns that's warm in the winter, cool in the summer, waterproof, bug proof and makes you look like a supermodel when you pull off your helmet and shake out your hair.
But I think that's really the point. That's not what we're looking for anyway. I expect and want to be dusty, hot, cold, wet, steamy, mud-covered and all else that comes with riding off-road or even on-road in uncomfortable weather. It's part of the adventure and experience. That's half of our stories-over-beer at the end of the day. All I'd really like is equivalent functionality for equivalent price. I don't want to not be hot – just not MORE hot than my male counterpart. Can that be new chant? Equivalent functionality for equivalent price!
Tell us what you want… what you really, really want.
As pudding.cool put it "What do we want? Functional pockets. When do we want it? NOW, but really like several centuries ago."
Now we'd like your help! Write please, tell us your favorite gear – help us make a list of gear you love that IS working well for you and manufacturers that ARE getting it right! Let's encourage them and help to continue to grow in the right directions to support female riders!