BY KRIS FANT
Rolling down hill, loose rocks bouncing me left and right, I suddenly veer off the trail, and my bike lands on its side, the clutch perch tearing from my handle bars. Darn it!  I forgot to adjust my mirrors before taking off down the trail. Having to get tools out to do that each time is such a pain. There must be a better way.
As it turns out there is a better way, and if you don't want this to happen to you, learn from my mistake; consider DOUBLE TAKE mirrors. 
Installation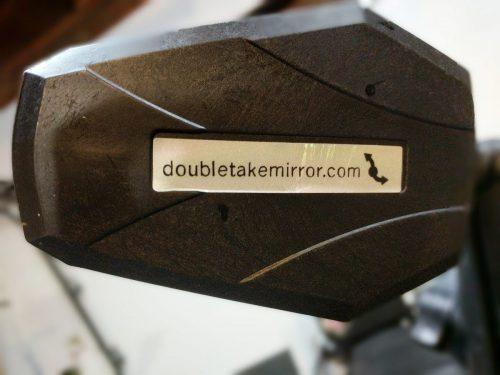 After receiving my Double Take Adventure mirrors, I popped open the box and in less than 10 minutes, they were mounted to my DR650. The ball stud ram mount base easily inserts  into the original mirror mount on your bike. The Ram Arm goes between the base and the ball on the mirror, and easily tightens into place, no tools necessary.  Just hop on the bike, adjust, and go!  
Street View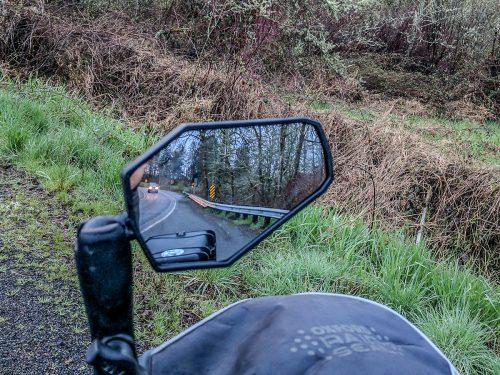 On the street, the Double Take Mirror allows for excellent vision behind you.  Larger than most stock mirrors, Double Take mirrors are well constructed with DOT spec glass.  The adventure model is most stable of the three models available, but if you prefer a slimmer profile and do mostly off road riding, the enduro model also uses DOT glass and is adjustable.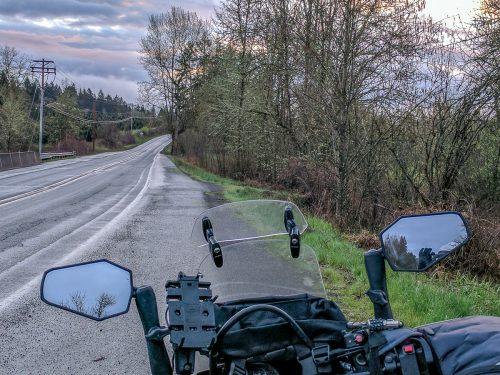 Off Road Advantage
With a quick twist of the handle, you can loosen the ram mount, and flip your mirrors in for off road riding.  The mirrors are sturdy, though that is hardly necessary because they are also out of the way for any crashing you may do.  I thoroughly tested these mirrors taking them through an off road training school where we were encouraged to push our limits and drop our bikes, and the mirrors simply stayed tucked away, ready to be flipped back out to enjoy a leisurely ride home.  I then took them trail riding, dumping my bike in a bed of river rock and later launching it off the trail and entangling it with a tree, and I faced zero consequences.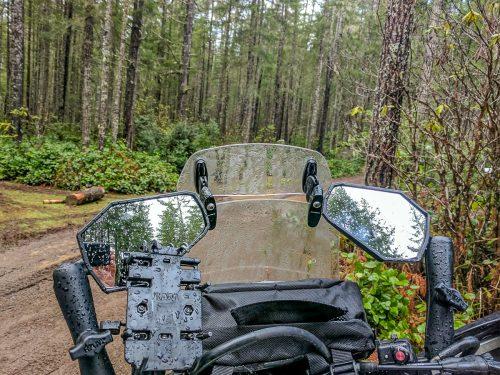 I'm Sold! Where do I Buy These  Double Take Mirrors?
You can purchase them at the Double Take WEBSITE. They offer a lifetime warranty on everything except the glass, which you can replace for only $10.  These mirrors were ingeniously engineered by a rider, for riders and I can honestly recommend them without any hesitation!