BY KRIS FANT
Hypothermia can strike unexpectedly. When I first started riding, I was on a day trip where the temperature dropped below 45 degrees.
This might not seem terribly cold to the uninitiated rider, but a lack of experience, muscle tension, fatigue, long days and wind chill can quickly lead to a drop in body temperature. I started riding slower, and felt uncoordinated and confused. My partner recognized that something was amiss, and we made our way indoors. Though sometimes difficult to recognize, the early stages of hypothermia can lead to dangerous situations. And while some motorcyclists prefer to avoid cold weather riding altogether, cold snaps and freak storms take us all by surprise every now and then. Since then, we have been on rides through snow, pouring rain, and sub-zero temps. Over time, I have built up a collection of gear that allows me to stay warm while riding in any conditions.
Base layers
Like all outdoor activities, a moisture wicking base layer is a must. Wool, fleece, and polyester are all great fabrics, and cotton should be avoided entirely.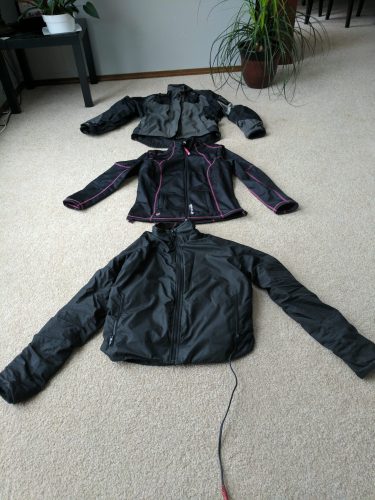 Keeping Warm
Your next layer can be something that preserves your own body heat, a layer of electric heat, or a mix of the two. Keeping your core warm will prevent your body temperature from dropping and keep you comfortable and safe while riding. If you use a layer of electric heat, us a thin thermal layer to hold the heat close to your body over the top of the heated liner.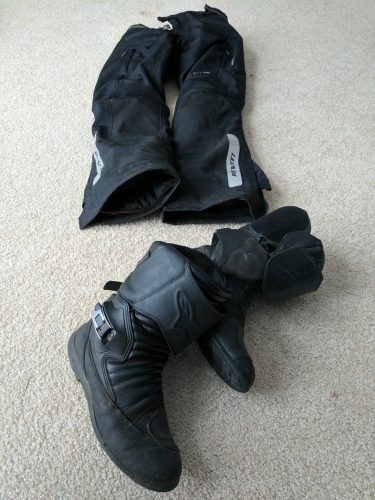 Outer Layers
As the outermost layer, you can use waterproof protective gear.  A more affordable option can also be to use standard protective gear with a waterproof suit over the top.  This offers the advantage of being able to travel with lighter gear, and being able to add a waterproof outer layer only when necessary.
Head and Helmet
There are dozens of balaclavas on the market.  Some offer significant neck protection, but don't fit under your waterproof jacket.  Others are thinner, but allow you to snap your jacket to the top.  For many, cold weather also means helmet fogging.  You can avoid this altogether with Pinlock, or other press in fog inserts, which create a protective barrier between the cold air and your warm breath, which creates helmet fogging.  There are a variety of fog sprays and rubs available as well.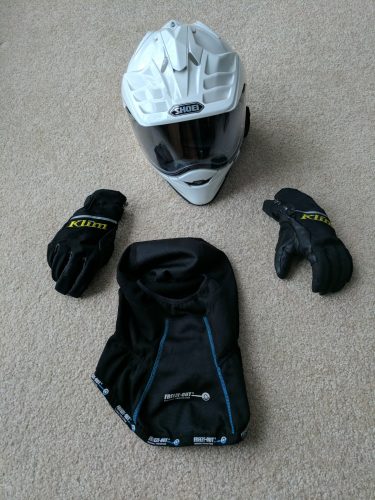 Hands
Heated Grips, gloves, or glove liners add external heat.  Adding a pair of mitts over your controls helps keep hands warm and dry.  Using this combination of heat and mitts, you can choose a pair of gloves that are thick enough to keep your hands warm, but not so thick they compromise dexterity on the controls.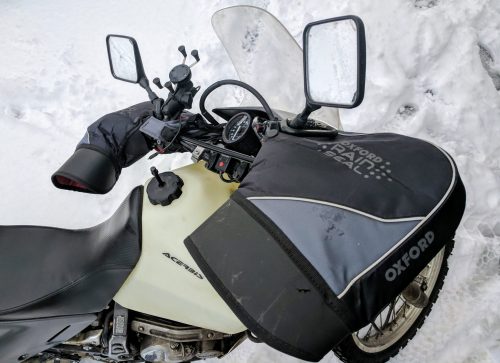 Setting Up Your Bike
Choosing winter tires that have the proper compound, siping, and tread gives you traction and channels water away from your contact patch. Check your tire pressure more frequently, as cold weather can affect your tire pressure. Know your stator limits for any heated accessories you add, so you do not end up with a dead battery. Keep emergency supplies such as a charged cell phone, water, food, and battery jump start on your bike at all times. Decreasing your chain maintenance intervals and greasing bearings and seals will help protect bike through the wet weather.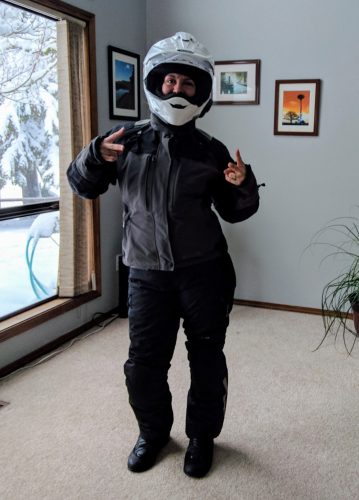 Warning Signs of Hypothermia
Know the early signs of hypothermia so you can stop riding before it becomes dangerous during cold weather riding.  You can see a complete list of symptoms here. Shivering, dizziness, fatigue, lack of coordination, and confusion are good indicators that you might be in the early stages of hypothermia.  An early test to see if you are entering hypothermia: touch the tip of the index finger to the tip of your thumb.  If this motion is challenging, you are likely developing hypothermia, and it is time to stop and warm up.  Also keep an eye on your riding partners, for signs of hypothermia. 
Arming yourself with knowledge, practice, and the right gear, gives you the ability to handle the most adventurous weather life can throw at you!