BY MARK CARRERA – GS GIANTS
ARTICLE SPONSORED BY OUTBACK MOTORTEK USA EAST
"Kelli and I were very inspired by the outback of Central Asia during our adventure. A couple of months later it turned into an adventure bike outfitting business and we named it Outback Motortek." Lorry Gombos—Founder and Owner
Several times, I tried to write a standard gear review, but Outback Motortek is so much more than their farkles. I felt our readers would appreciate their story. Consequently, this review is not only about quality products, but also about friendship and a rescued American Bulldog named Chief.
The backstory of Outback Motortek is as important as the products they make. The Gombos-Outback Motortek adventure story has inspired many people to look beyond normal paths, toward roads less traveled, to embrace the adventure, and to follow any dream no matter how extravagant or simple.
The seeds of Outback Motortek were sown in 2013 as Lorry (the Hungarian) and Kelli (the Canadian) crossed Central Asia on their beloved V-Strom 650. As world travelers, and like those of many of us overlanders, their lives were changed while wild camping and exploring the backroads from Taiwan to Canada.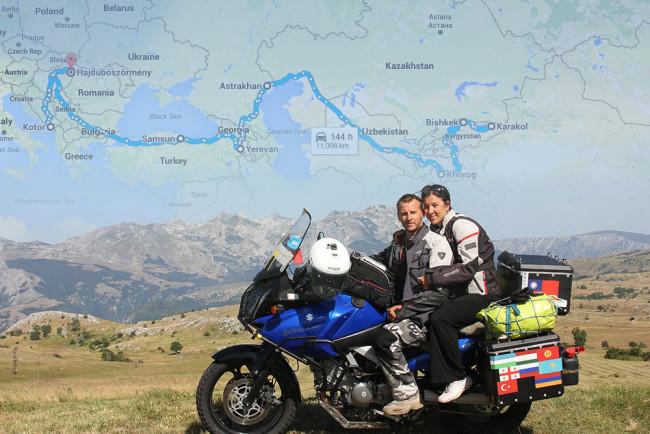 Lorry and Kelli Gombos own and operate Outback Motortek from their home in Ontario, Canada. As a Hungarian immigrant to Canada, Lorry Gombos used his home construction and landscaping talents to forge a life in Ontario until OM became a full-time responsibility in 2016. As the Canadian half, Kelli supports their small company's growth and development by being a voice of reason and calm in the wake of Lorry's high-energy enthusiasm, as well as taming the businesses taxes. Kelli's also a really tough young woman in spite of her youthful appearance and graceful charm – after all, she's crossed the whole Eurasian continent as a pillion rider! In a few short years, OM has gone from a basic start-up to a full-time job for Lorry. Currently, OM is partnered with MX 1 West (a Californian retail shop), Adventure Moto Australia, Dual Sport Canada, and I entered a franchise partnership, Outback Motortek USA East, in August 2016; that's fast development for the small company.
I met Lorry, Kelli, and the wonder-dog Chief (whom I nearly dog-napped) at the 2015 Horizons Unlimited Travelers Meeting in Ontario Canada and later at the HU-2015 in North Carolina where Chief was Kelli's constant companion and guardian. Chief is one more of the Gombos's 'special projects'. He was rescued from the icy streets of Montreal during a bitter winter of 2014, and is one of about 60 animals rehabilitated by Lorry and Kelli – it's a personal mission and passion they share. I have bonded with so few dogs in my lifetime that bonding with Chief was a personal milepost. Don't get me wrong, I always fall for the bright eyes, inquisitive nose, and wagging tails, but I've never been a dedicated dog lover. So, to say that I actually bonded with Chief is a big deal – he will always be in my heart.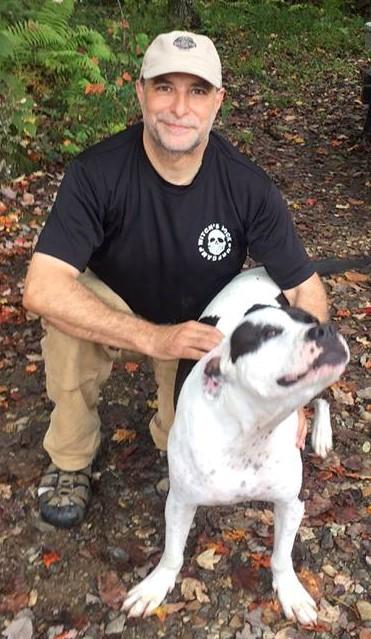 In the months to follow, the Gombos's and I would cross paths at the 2015 HU-Travelers Meeting and the 2015 Overland Expo in Ashville North Carolina. Over sips from a well-traveled flask of Vodka, continuous rain, copious amounts of mud, hatchet-cutting sod trenches, and continual banter about our adventures in Central Asia, we forged a strong friendship.
Outback Motortek is a family business that stretches across the Atlantic Ocean and two continents.It's located in both Canada and Hungary: Lorry's father's medical equipment factory in Hungary moonlights as a motorcycle parts factory churning out Outback Motortek designs. As a mechanical engineer-owner of the Hungarian factory, the Sr. Gombos personally oversees Outback Motortek's production while working closely with Lorry to produce his designs.
Outback Motortek is an inspirational small manufacturing company of the current ADV farkle world. Lorry Gombos is focused on creating some of the best and strongest farkles for the BMW F800GS, Suzuki V-Strom 650, Kawasaki 650 KLR, and more recently the new Honda CRF1000 Africa Twin. OM focuses on crash bars, skid plates, and luggage racks that are really meant to beat on. The vision and mission of Outback Motortek are to produce off-road products for hardcore abuse from very hard riders. So far, some of the OM Brand Ambassadors have names like Lawrence Hacking, Kinga Tanajewska and Oliver Solero. While I hope to never actually test the crash bars and skid plates, Lorry and Kinga have done some serious and personal product testing. In a recently published YouTube clip, you can watch Lorry purposefully dropping his F800GS on its crash bars at low speed onto the gravel and pavement, demonstrating OM's durability and quality! However, it's Kinga's personal reflections and the images of her high-speed head-on collision and Outback Motortek's crash bars and skid plate protecting the engine of her F800GS that seals the deal; a hard-hitting testimonial to OM's incredible products.
As a small company, Outback Motortek competes with giants in the industry, but pound for pound the OM products exceed expectations in quality and craftsmanship. As an example, at Outback Motortek USA East warehouse, we tested an F800GS skid plate by parking the front wheel of a 2011 Toyota Tundra 5.7L Extra Cab on top of the inverted skid plate! However, it's not all about the metal. Customer service and personal attention underpin Outback Motortek's business model, and it's where Lorry and Kelli really shine. Lorry's seemingly endless reserve of positive energy combined with a never ending smile that is infectious reflects his love for what he and Kelli are doing with Outback Motortek. This 'personality' component feeds the heart and soul of the organization. Outback Motortek is founded on family values, mutual respect, humble gratitude, and honor in a business world that often lacks these qualities. Their vision quickly transfers to the lucky customers that discover Outback Motortek – I experienced this first hand and through the feedback of their customers. They are very quick to correct any issues and will do whatever it takes to win over a customer when an issue develops.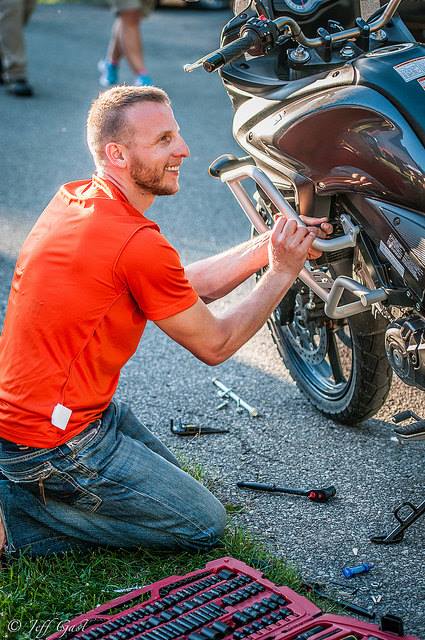 Outback Motortek products are always hand built, there are no robotics in the family-owned factory, and production is done with very little outsourcing. While the father and son collaborate across two continents and an enormous ocean, the attention to quality production is not diluted, and in fact, the international component seems to be the 'glue' that holds the company together. On one side is the energetic visionary son of an engineer and on the other continent are decades of quality craftsmanship and engineering: a perfect chemistry. The 'beef' off all OM's products is the pride of the designers and the craftsman. As an example, nearly all OM products are thicker or wider in critical areas such as impact zones and high-stress points. The near perfect welding beads, precision bends, and fantastic powder coating are a testament to years of professional training and experience on the factory floor. Hungarians, by the way, are legendary metal smiths with deep influence in the early era of the train-wheel industry.
The luggage racks appear robust enough to hang a bike from. There is a comfort knowing that your favorite tail bag or 48-count suitcase of beer will be secured to the bike as you navigate to the campground of the day. A quality tail-rack is a valuable peace of mind while Overlanding in harsh environments, or simply cutting across town to a backyard BBQ. Currently, all of the Outback Motortek products come either black or matte silver powder coat. Their matte silver rocks! The lighter color is not only an eye-catcher, it's also functional. As black surfaces collect heat from the sun the mate silver remains a little cooler to the touch; any heat reduction, in my opinion, is a bonus in the summer months.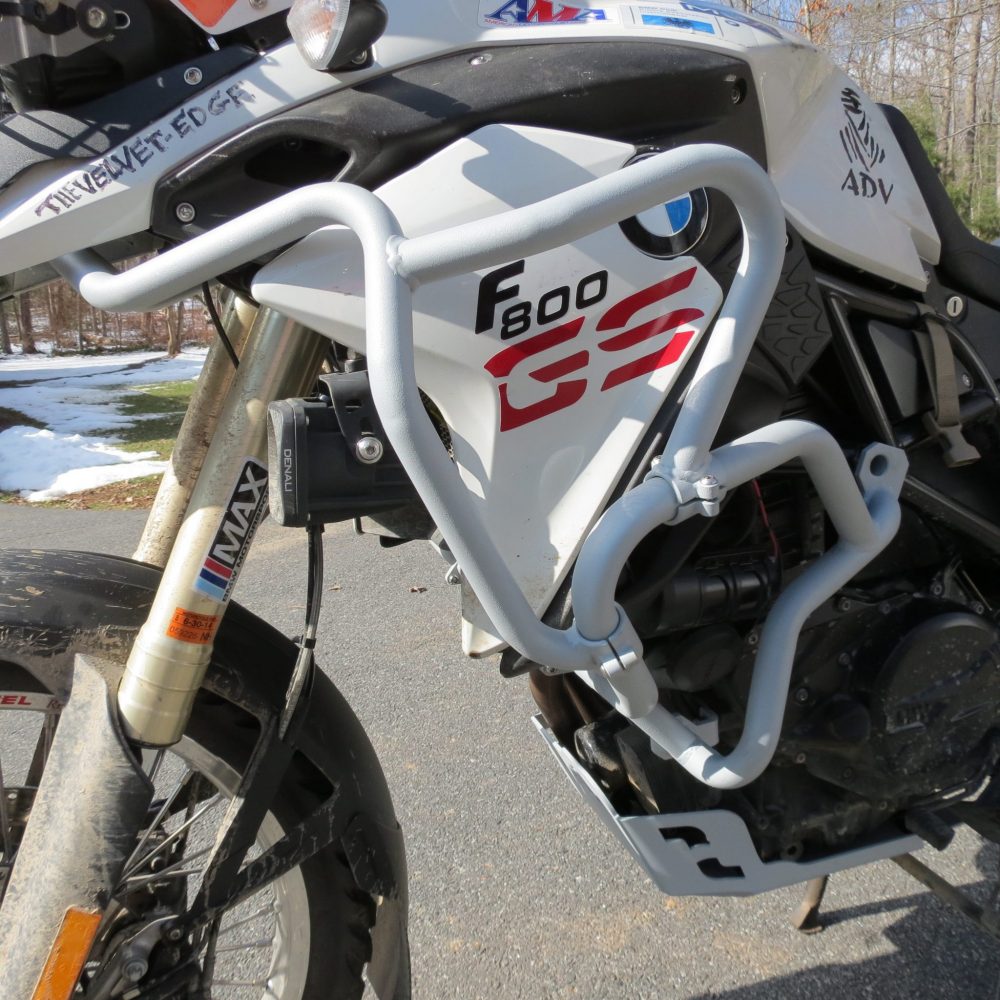 The crash bars are constructed using 27mm tubing with a 2mm wall that has become an industry standard of high-quality manufacturing. The bars come in two configurations of an upper and lower section for most bikes. The lowers bolt to the engine and frame mounts while the uppers bolt into the lowers and have a crossover support section that runs under the 'beak' on most models, especially the F800GS. A complete set of bars covers a large surface area on the side of the bike, enough to hang side pouches and comfort foot pegs for the longer journeys on the slab. The bars, in matte silver, not only look great, their functionality and durability have been tested: just ask Kinga!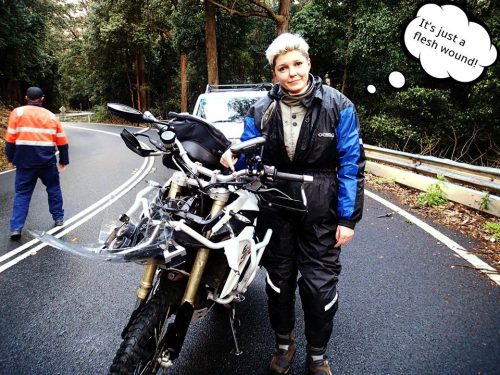 The skid plates are produced using 4mm aluminum and have unique 'ribs' embossed into the high impact area, that are forward-center of the glide surface while some competitor's use bolt-on-sliders that can break loose. The skid plate bolts onto the existing motor mounts, easing the installation, and the plate is quickly removed for oil changes. The design is essential to functionality – the 'Murghab' skid plate is designed to provide sufficient protection from the harsh effects of off-roading yet keep the engine well-ventilated. Consequently, the skid plates of OM are functioning as good as they look, and provide the rider the peace of mind for extreme off road riding. There are several promo clips of skid plates bashed on rocks, slide over logs, and intentionally tortured by big hits.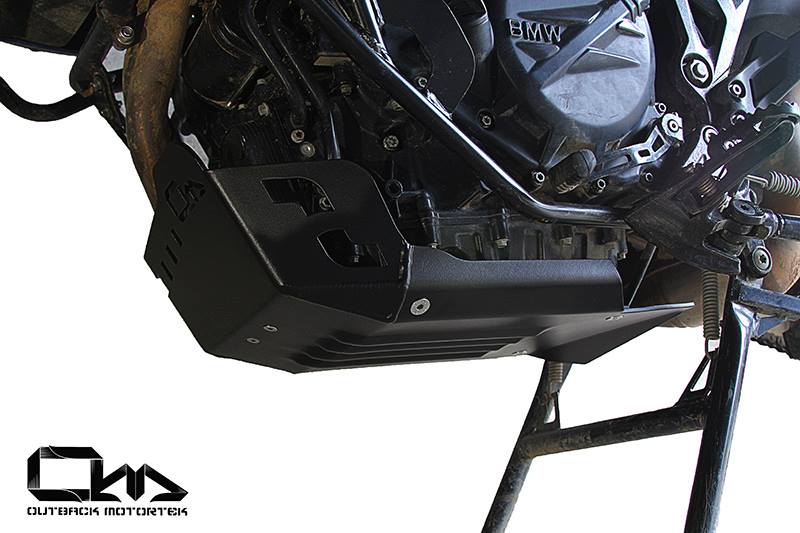 You will most likely encounterLorry and Keli at their Outback Motortek vendor's booth at one of the events or rallies in 2017; just look for the signature burnt orange and black banners and feathers as well as sleeping dogs. Stop by and say hello, pat a friendly pooch, and check out their OM products. You won't be disappointed.