by Joanne Donn, GearChic
If you're one of the many women who are getting into dual sport / adventure riding, hopefully you're searching for proper gear to go with your new lifestyle. When it comes to motorcycle apparel, the women's adventure gear segment is definitely growing. You have many more options now than there were 5-7 years ago.
But with boots, it can be more difficult because there aren't many brands that offer a women's specific adventure boot. Since we don't have many gender specific options, you have to look a little harder to find them. I would say the only group of women that will have an extremely difficult time are women like myself. I wear a size 6.5 US shoe, so most of my options are off road boots for children or women. Generally speaking, women have to shop within the men's adventure boot choices, and there are a lot that are offered all the way down to a women's US 7.5 – 8.
I'm going to give you some ideas as well as show you some of the differences between a 100% offroad boot and an adventure-style boot. I know that many riders prefer the ultimate protection of an off road race boot like this bright pair of X-3 boots from Sidi. This is currently the only pair of competitive, race level offroad boots offered for women.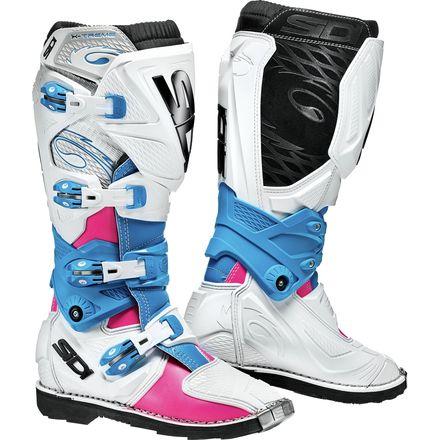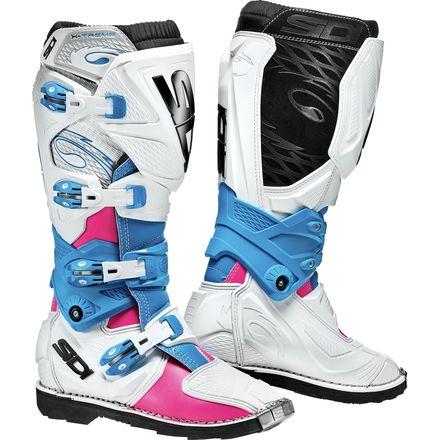 Many manufacturers make entry level offroad riding boots, but no one else is offering something that has proper ankle support for women who are racing at an amateur or professional level. You'll notice a few distinctive features:
Steel toecaps; these are to keep the boots from separating on impact

4 Full Buckles

Full gusset around the calves

Large Shin Protectors

Full Shaft Height to the Knee

Water resistant, not waterproof

Almost 100% synthetic with small patches of real leather
What you will probably notice the most is that when you put on offroad boots they're more cumbersome, sometimes heavier and less comfortable overall off the bike. Spending more than 5-10 minutes in them will seem like a bear.
When I asked my friend Michael Mawby (Director of Business Development at TCX Boots USA) about it, he gave me some very interesting insights into the differences between these two styles of boots:
"I'd say that the height of the boot is one aspect. MX 'off-road' style boots tend to be taller. Also, when we design a MX 'off road' boot we are designing them so they can work with many different knee braces. Our MX Boots, except the youth 'Comp Kid', are all designed with four buckles/straps, where our ADV boots have three buckles/straps. Our MX Boots don't have any versions with an aggressive Lug style sole."
He also told me that adventure boots are often lighter than their off road counterparts for overall comfort and utility. If we look at these TCX Drifter Boots and the features they offer, it's easy to just see how much more comfortable they would be to wear: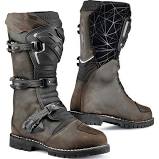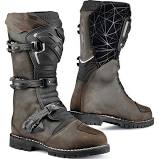 Fully waterproof

No steel caps

Sueded leather for comfort and style

Slight gusset at the calves, but not all the way around

Soft suede reinforcements on the inner leg

3 buckles, not 4

Shaft height is just above the calf

Textile fabric for comfort and flexibility while walking

Most of these features are taking into account the rider's comfort off the bike, rather than full protections and functionality on the bike. By the way, these Drifters are offered down to a Euro 36 which is about a US Women's 6.5!

They look like an off road boot, but subtle differences tell you that they are designed with the on road or off-the-bike rider mind:

No steel toecaps

Usually 2-3 buckles instead of 4

Pretty, distressed brown or grey suede leather (maybe to match the look of your new

Ducati Scrambler Desert Sled

) which give you a more flexible, relaxed fit

No external bracing, mostly reinforced areas for impact

But this is just one example, here are a few more with varying degrees of comfort in the form of walking comfort, lateral stiffness, width and fit.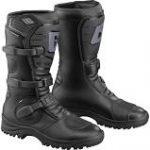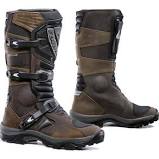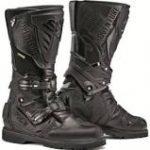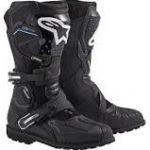 So what features should you look for? That can depend greatly on the rider, but Michael offers very useful feedback with regards to Safety and Comfort/Performance which are important to consider:
Safety
Having a CE rated boot is important. Not every boot offers CE rated toe, heel and ankle protection for the malleolus (the bony prominence on each side of the human ankle) area.

Transverse rigidity of the sole is also crucial.

Polyurethane shin plates are a must for impact protection.

Look for heat and abrasion guards and also a reinforced shift pad.
Comfort and Performance
Sole Tread pattern is important as there are many times that you will be off the bike walking around or off the bike pushing your motorcycle around.

High Quality metal buckles are important for better durability. Having good parts support for replacing buckles and straps is also important.

All ADV Boots should be waterproof…..and lucky for us all of them are.
Fit
After Safety and Performance, I think fitment is also key. Though I am a pavement rider, when my boots fit poorly, I find everything to feel unstable, and that takes away from my overall confidence level.
Here are a few of my fit tips:
European sizes start at 36 or 37 in many of the men's versions which will be ~US Women's 6.5-7. Most of the brands I've mentioned are going to run wide, since they're still men's boots. Generally speaking, men's boots can be looser than women's boots in the ankles, calves and instep. If you need a slimmer fit, you may want to use insoles and inserts to compensate in the footbed.

They should feel snug enough so your feet aren't moving inside the boot as you try to shift, stand on the pegs, put your foot down and use your controls

For added height, consider ordering a size up and adding increasing height insoles such as these on Amazon:

Remember to try your boots on and get a good feel for how they'll work on your bike. You might need to make some adjustments to your shifters to accommodate some of these boots.

If you're trying motorcycle boots like these for the first time, they will feel really stiff at first. They're totally different compared to what you're used to. Spend some time at home in them in your living room so your feet can get to know them a bit better before you two head out on your first adventure.
Finally, I've put together this list of various men's Dual Sport / Adventure Touring Boots in alphabetical order currently on the market and the starting Euro Sizes. You'll find that European sizes are often the most consistent. Almost of all of your shoes will have a US and Euro size, so I would suggest following that number to get the most accurate fit given these are sized specifically for men. Not included are boots that start at 41 or higher, as these sizes exist in practically every men's boot on the market.
| | |
| --- | --- |
| Name | Euro Size |
| ALPINESTARS | |
| Belize Drystar | 40.5 |
| Corozal Adventure Drystar | 40.5 |
| Oscar Super Victory | 38 |
| Toucan GTX | 40.5 |
| CORTECH | |
| Accelerate | 40 |
| DAINESE | |
| Centauri GTX | 39 |
| FALCO | |
| Mixto 2 ADV | 38 |
| Volt ADV | 39 |
| FORMA | |
| Adventure | 38 |
| Adventure Low | 38 |
| ADV Tourer | 38 |
| Cape Horn | 38 |
| Terra | 38 |
| GAERNE | |
| All Terrain GTX | 38 |
| Balance Oiled | 38 |
| G-Adventure | 38 |
| SIDI | |
| Adventure 2 GTX | 39 |
| Adventure Rain (closeout) | 40 |
| Discovery | 40 |
| Deep Rain | 40 |
| Stinger Youth **(Offroad boots; included because there are no ADV options below Euro 38 for women with US 6-7 size feet) | 31 |
| X-3 Lei **(these are off road MX boots, but they're the only women's competition level MX boot on the market so they are also included)** | 39 |
| TCX | |
| Drifter | 36 |
| Infinity Evo GTX (closeout) | 38 |
| Track Evo | 38 |
| X-Desert GTX (closeout) | 38 |
| X Helium | 38 |
No matter what you ride, how you ride, or when you ride, I hope you'll consider wearing appropriate protective gear. Leave your hiking boots, work boots and sneakers at home and get geared up so you can be safe, protected and comfortable.
For more practice advice about gear, check out Joanne's website HERE  and find her on Facebook HERE!
Was this helpful? Check out Kris's article about NECK BRACES!