BY EGLE GERULAITYTE
Tired of stuffing your face with gas station snacks, fast food meals, and deli sandwiches on the go? Here's a simple, cheap, and easy guide to going Paleo on the road!
Riding round the world (however slowly!) means doing without quite a few comforts – including a kitchen and a fridge. When all your cooking equipment and food needs to fit into one 25-liter pannier, you need a healthy amount of imagination to keep the menu interesting and, most importantly, healthy.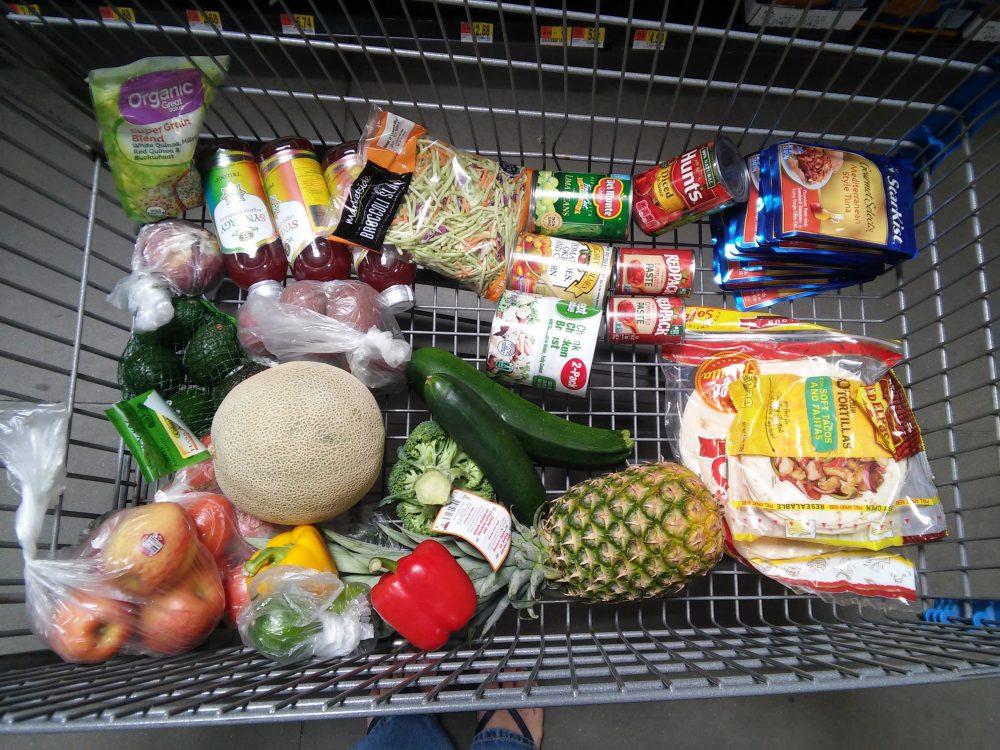 Elisa shared her cooking tips for vagabond vegetarians, and I highly recommend it! However, I'm an omnivore with an appetite, and my three requirements for food on the road are these:
–          Food must be Paleo, or as close to Paleo as possible: that is, it should mainly consist of meats, fish, eggs, fresh veggies and fruit. I avoid carbs like plague because I don't tolerate sugar very well. Plus, if I eat breads, pasta, cookies and fries, that very soon reflects in my diminished ability to do my pants' zipper up. Very, very soon.
–          Food must be real, raw, and unprocessed: no added sugar or high fructose corn syrup, no weird chemicals, and no MSG. I prefer my food as raw and organic as it's possible to find in a particular country or region.
–          Food must be affordable. What do I mean by 'affordable'? I'm happy to pay a little more for stuff like organic beef jerky or grass-fed ghee butter, but simple foods like dried apples, sugar snap peas or fresh broccoli can be found on the cheap.
Needless to say, food also needs to keep for a few days and not be squishy or bruise easily. Because we're riding as much off-road as we can find, lots of vibration and bumps – including a few spills – are inevitable. Finally, food needs to be prepared relatively quickly. Setting up camp at the end of the day is tiring enough; usually, all we want to do is have dinner, watch a movie or get work done, and go to sleep.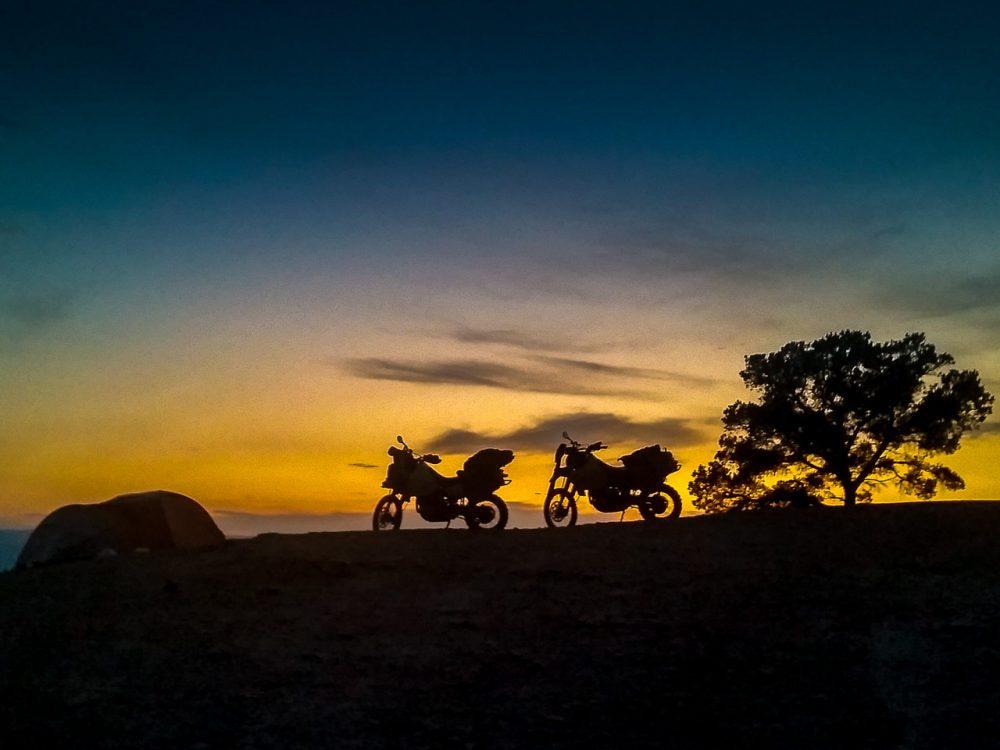 These conditions didn't leave me with much choice in North America – or so I thought at first. For the first month of our ride across the States, I drove my boyfriend nuts poring over labels and religiously studying ingredients of every single food item we considered for breakfast, lunch and dinner. It took me a while to figure out what's what; in Canada, I had to go through the entire process all over again. However, I finally got it all tuned just right – or at least, as best as I could.
Paleo on the Road: The Rule of One Fresh Ingredient
Because we ride a lot of back country roads and tracks, we often wild camp and avoid going into towns for days. So I have to make sure we have enough food for 2-3 days on end. But even then, I try to stick to my One Fresh Ingredient Rule: whatever I'm making for dinner, it has to include at least one item that is raw. Why? Because we often have to rely on canned food like chicken breast chunks, tuna, or pulled beef, accompanied by instant mashed potatoes or wild rice, it's important to keep the menu interesting. While spices matter, it's incredible what difference one yellow bell pepper can make to the same old chicken stew! Another reason is health: raw veggies are a great source of vitamins and fiber.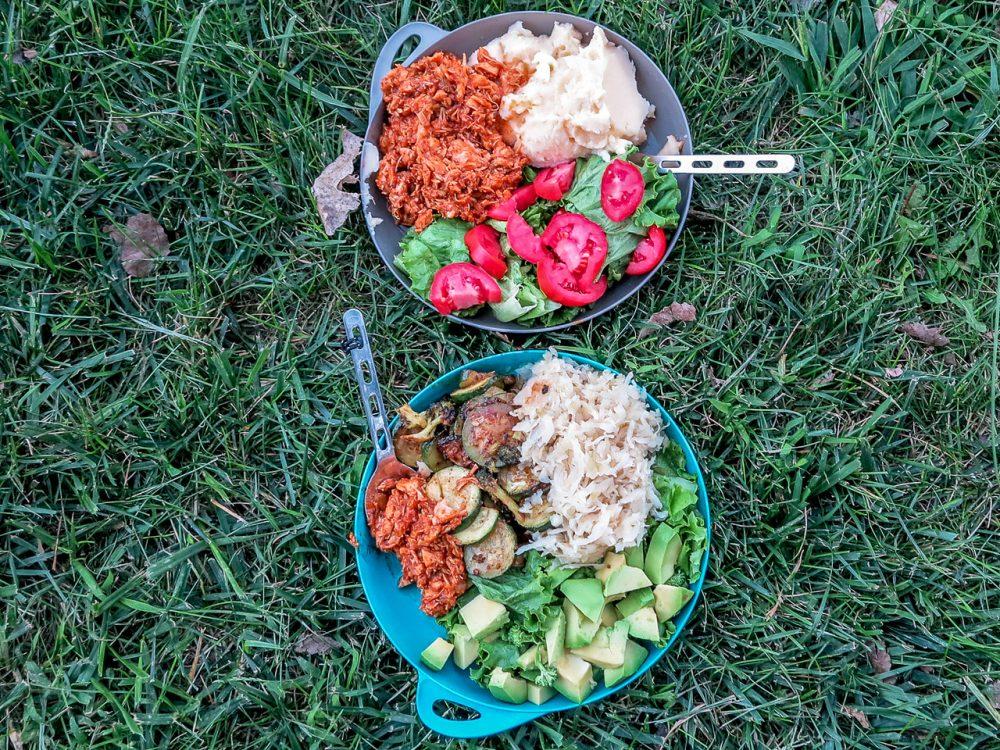 –          Bell peppers are usually my go-to: they keep for at least two days even when you're in hot climates; easy to prepare; easy to carry; can be eaten raw, fried, or added to stews.
–          Broccoli florets: keep well for 3 days and over; can be eaten raw, boiled, or fried; makes a great side salad or ingredient.
–          Radish: not everyone's favorite, but keeps well and is a great addition to lunch snacks and/or side salad.
–          Avocados: I have a little strategy: I'll buy a ripe avocado for that day's lunch, a firmer one for tomorrow and a very green one for the next few days. That way, they all ripen just about in time! Avocadoes are a healthy source of fats and make an excellent breakfast and lunch addition.
–          Fresh garlic and purple onion: fried or stewed, livens up any meal.
–          Carrots are cheap and keep well. I don't like the taste, but for those who do, they can be eaten raw, fried, or boiled, and are very easy to carry.
Eat Your Fruit
No, seriously: eat your fruit. Grabbing a Snickers bar or a sandwich for lunch is a quick and easy option – but it's not good for your health or your energy levels, and it's often out of reach if you're riding a remote region.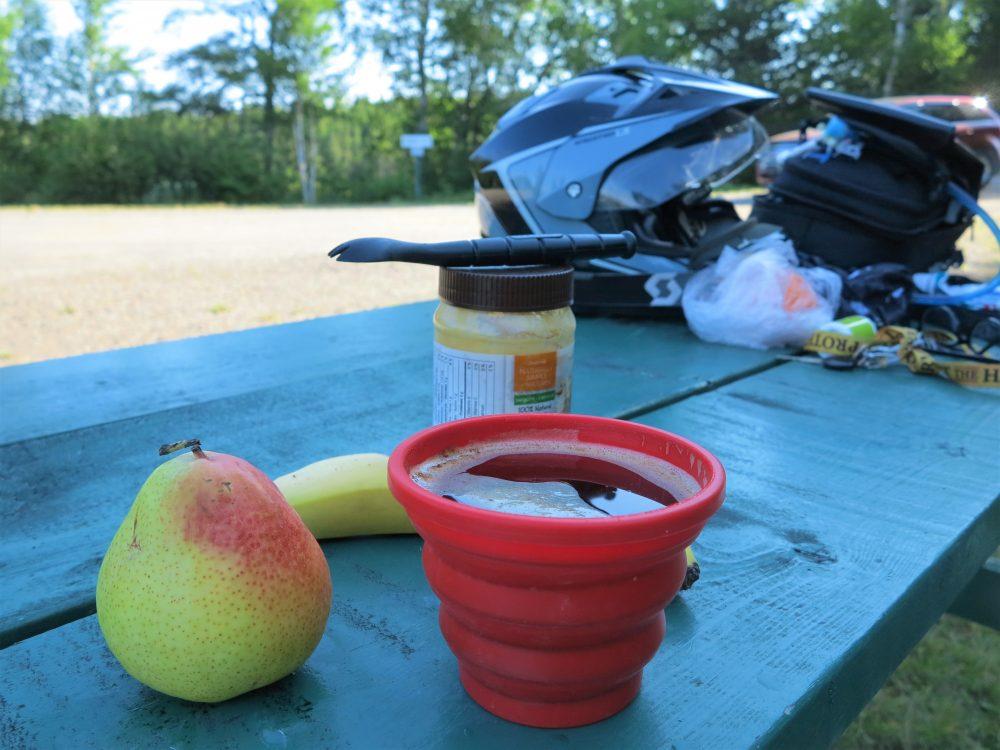 Fruit is still sugar, true, but a banana and a Milky Way were not created equal.
Here's a list of my favorite fruit snacks on the road:
–          Pears. They are usually a little more expensive than apples, but they don't cause your stomach to bloat and are delicious! Raw pears keep well, although they do bruise quite easily, so I'll usually keep them in the top of my pantry pannier.
–          Plums. Rich in antioxidants and packed with Vitamin C, they are also full of fiber which is great for digestion. The keep relatively well and usually are cheap.
–          Apples. Probably the cheapest and easiest snack option out there!
–          Pineapples. Great for balanced gut health and tastes fantastic! I usually buy canned pineapple (just make sure it doesn't have added sugar) for easier transportation. Perfect for after-dinner desserts and treats!
Breakfast and lunch: quick roadside recipes
As much as I'd love to have eggs and bacon for breakfast every day, it just isn't possible on the road. So here's a list of what works instead:
–          Oatmeal and avocado. I know, I know: oats aren't exactly Paleo, but with the steel cut variety instead of instant oatmeal, it's a slower carb intake so your sugar levels won't spike as much. Add avocado and a little salt, and you've got a healthy five-minute breakfast!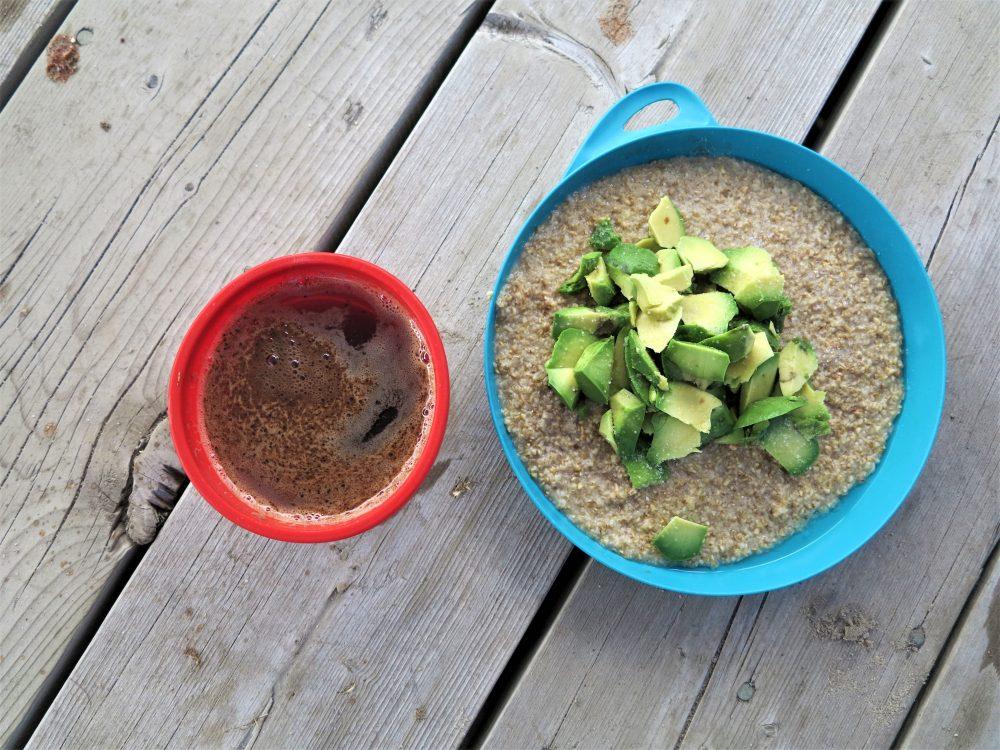 –          Pear, banana and peanut butter. If we need to pack camp and leave quickly, I'll make a cup of coffee and wolf down a pear and a banana – or chop the pear into slices and dip into peanut butter if I know a demanding ride is ahead.
–          Buckwheat, avocado and cucumber. Boil a cup of buckwheat, the only gluten-free grain out there, and add a little salt, chopped up avocado and cucumber. Don't like buckwheat? Improvise with quinoa instead.
–          Tuna, avocado, and cucumber. This is my lunch staple: a can or packet of plain tuna (or tuna with olive oil/sundried tomatoes) plus one avocado and some cucumber, broccoli florets, or raw kale 'slaw. Mix and match to find what tastes best!
–          Raw sugar snap peas make a great snack, or addition to either breakfast or lunch. They keep quite well and are easy to carry.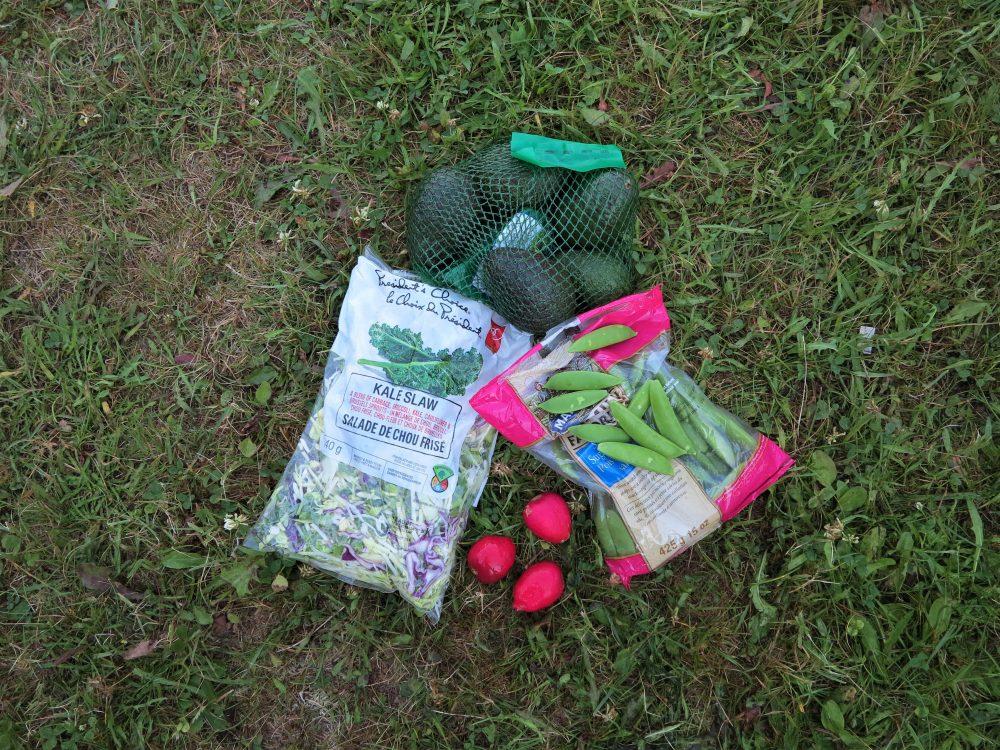 Fine dining on the road
Dinners are a bit of a headache for me. My boyfriend loves "meat 'n 'taters", whereas I try to eat as much raw and non-carb as possible. Sometimes I'll compromise… sometimes, and make two different meals. Here's a resulting combination:
–          Chicken and mashed potatoes: add boiling water to instant mashed potato mix and fry the (usually canned) chicken with bell pepper slices in ghee butter (or coconut or olive oil). Preparation time: less than 10 minutes; not strictly paleo, but a happy meal for the "meat 'n 'taters" part of the coalition. Opt for wild rice or quinoa for healthier carbs.
–          Befriend zucchini. Zucchini is usually very cheap, keeps very well, and is quite filling. Plus, it only takes 3-5 minutes to prepare. I'll usually add fried zucchini to…well, pretty much anything I'm cooking for dinner. Eggplant or squash also works, but zucchini just tastes best and is easiest for me.
–          A little fried garlic goes a long way! Add it to your meats and/or your veggies to perk up the taste.
–          Kale 'slaw (or beet or broccoli 'slaw) makes a fantastic addition to a stew or a side salad.
–          Split peas taste a little weird (for me, anyways), but it's a healthy choice of carbs, very cheap, and keeps forever. Add avocado and broccoli florets to make a green energy bomb, or add to a pan with pulled beef and bell pepper for a hearty stew or stir fry.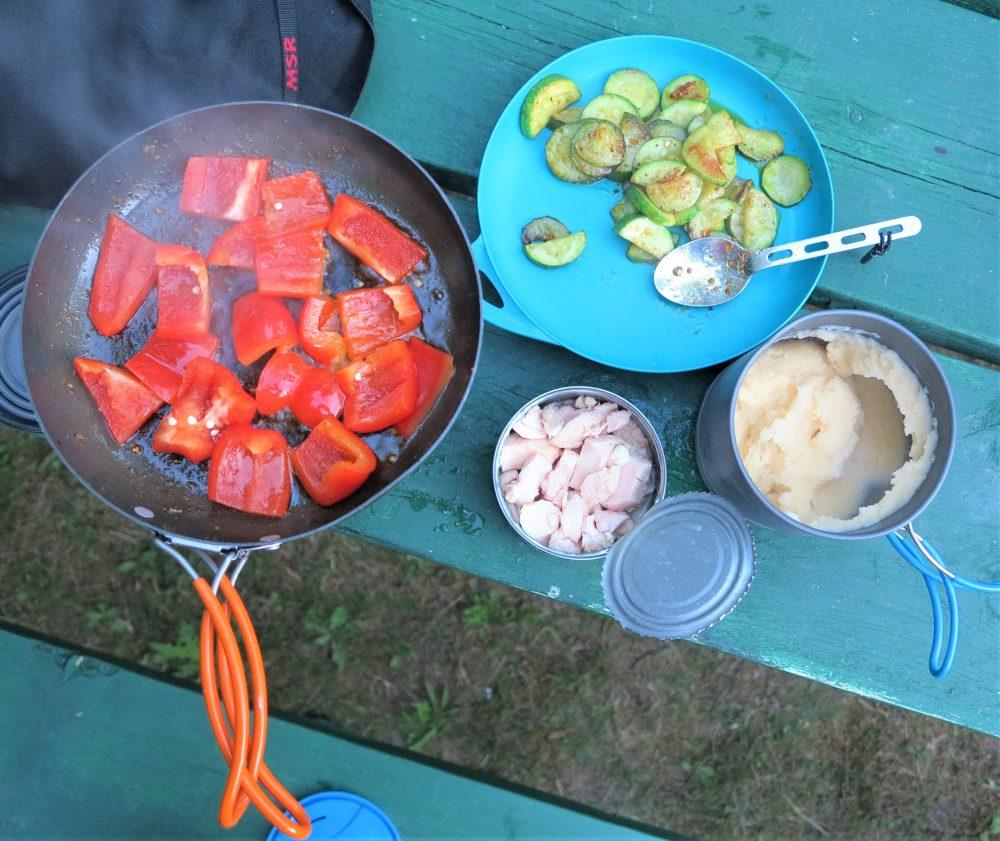 What are your top healthy roadside recipes? Share in the comments below!