BY ALEXANDRA REDDAWAY
For the first time in the 3 months we'd been on the road, I wondered if we'd overshot ourselves. Have we been too confident in our mileage and good fortune?
We'd been riding for over an hour on a steadily worsening road, making little progress. Our Maps.me app brightly (and slightly smugly) suggested that we'd reach Mocoa by 3pm. It was already past 1pm and we still had 80 km of road ahead of us.
That in itself doesn't sound like much, right? We'd been averaging a good 70km/h through most of South America (not counting the off-road adventure days which frequently involved sand. Deep sand) so we thought this was clearly over-stating the time it would take.
I stood on the narrow track wending through the mountains which pretended to be a main highway. The occasional sign propped up next to the sheer drops on corners would offer a two second warning of an impending piece of missing road. Victim to land slide, you could just about see the barrier, complete with sizable chunks of Colombian mountain, sitting about 50m too far below the road. The other signs would warn of "piedra" which I came to translate as loose uneven gravel rock waiting to slip your wheel.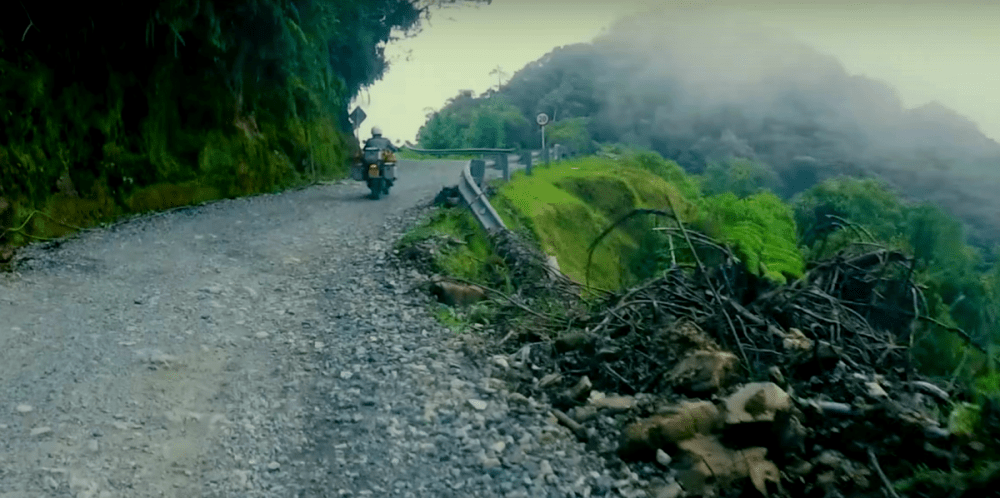 We'd just completed the last 20 km in about an hour. Initially we savored the challenging steep hairpins with their gravel traps. I'd feel elated with every one I managed to coax the bike around, feeling I'd mastered the clutch play needed to succeed. After an hour it became clear that this wasn't improving and the road steadily narrowed and had less and less barriers to catch ill-judged turns. Worse yet, kamikaze minibuses would throw themselves around the hairpins, not stopping even if they knocked you over. These buses were emblazoned with mottoes putting all responsibilities with regards to the safety of their passengers firmly in the hands of God and Jesus. We noted with sobering frequency the white crosses and shrines peppering the sheerest parts of the road.
I cleared a particularly sharp bend, probably classified as a 270 degree turn, and was just righting my bike for the small straight ahead when a minibus came clattering towards me, firmly in the centre of the road. I had no choice but to veer slightly right- into deep gravel. The bike slipped and I fell, sliding bike and all off the side of the precipice. Luckily, I'd found the only stretch which still had a barrier and my bike was saved from a 50-meter plunge by the back brake foot-peg snagging on the barrier. This was our second day in Colombia and my birthday eve. Our progress was made only slightly more stressful by the fact that we had a boat to catch in a mere 10 days from Cartagena.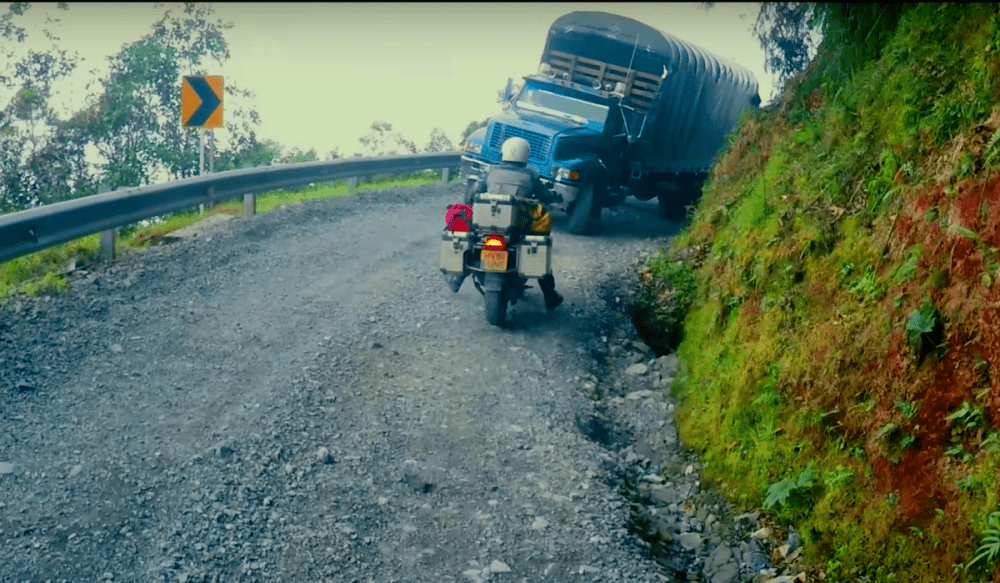 Unusually, a second minibus was following the first (which, naturally, hadn't stopped). I was blocking most of the road by not being able to free my foot from under the bike. Within minutes my boyfriend had come running up with the minibus driver he'd convinced to help and a couple of passengers. Between them, they hauled out the bike and righted it. I shook off the adrenaline and set myself into a more determined mood to not let the road win. The driver shook his head and told me how lucky I was; didn't I realize many people die on this road? Knowing we had to finish, as going back was not an option, we crawled on, hoping sunset would not come early in the mountains.
The following 60km saw me fall only twice more. Once on a steeply descending switchback when an ascending ambulance caught me off guard on a turn. The second was a near fall when I passed one of the many army outposts we'd crossed. Another steep, gravelly switchback had me stop mid-turn to let a vehicle ascend. I say 'near fall' as I was leaning precariously enough that a nice young soldier came running out to prop me back up. We couldn't believe that the road was worsening, with mossy rocks guiding a waterfall over the remains of what used to be the road on yet more hairpin bends. At one point, the road was so narrow that a lorry tried to turn, only to find that his back wheel was rolling on air as he completed the turn. At moments like this there was nowhere to hide and we had to maneuver up the rock face as he inched past. I would instinctively breathe in and hold my breath, hoping I'd saved him precious space to go past.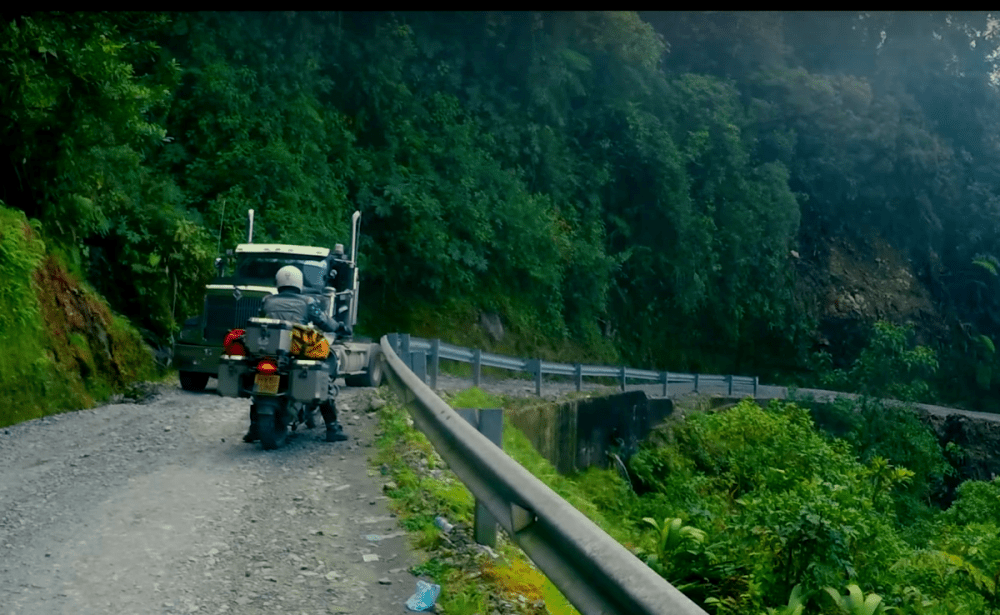 At 5pm we started to notice the road was becoming more like compressed dirt, with less stones and gravel. By sunset, the road had started to incorporate some tarmac in patches and we stopped by the side of the road to congratulate ourselves on completing the most draining and challenging ride to date. The adrenaline was beginning to dissipate and I was left feeling exhausted. We reached Mocoa at 7pm in a deep darkness, with no hotels in sight. Eventually, the town centre revealed a few small hotels with no parking. We were expected to park in the foyer as usual, but the doors were too narrow to let us through. The absurdity of this challenge after an afternoon of brushes with death clearly made me look slightly desperate or deranged and the third hotel we tried instead sent one of their employees with a scooter ahead of us to help find suitable lodging. He found us a hotel with secure parking adjoining the building and even negotiated a room for us when the receptionist was splitting hairs about whether we wanted a matrimonial bed or not. All I wanted was a hot shower and a cold beer and to pass out in bed, not to have to argue in Spanish about if twin beds or double beds were appropriate. She ended up giving us the bedroom at the top of the most stairs I'd seen in South America and at the end of the longest possible corridor. I caught sight of myself in the mirror and looked more like a coal miner than a tourist, with a face covered in sticky dark dirt complete with rivulets picked out by sweat. No wonder she hid us in the attic.
After a fitful night's sleep filled with dreams of gravely drops and hurtling trucks, we resumed our journey at 7am. We had 700km to cover on my birthday to stay on track. I remained preoccupied by the state of the road to come and so asked the man at the petrol station if the road towards Bogota was in good condition. He said it was excellent, but still not reassured, I explained my reference point: the road from Pasto to Mocoa. He went deadly still and said that the road was certainly better up ahead, as we'd just ridden the Trampolín de la Muerte – the Trampoline of Death! That would explain the shrines then…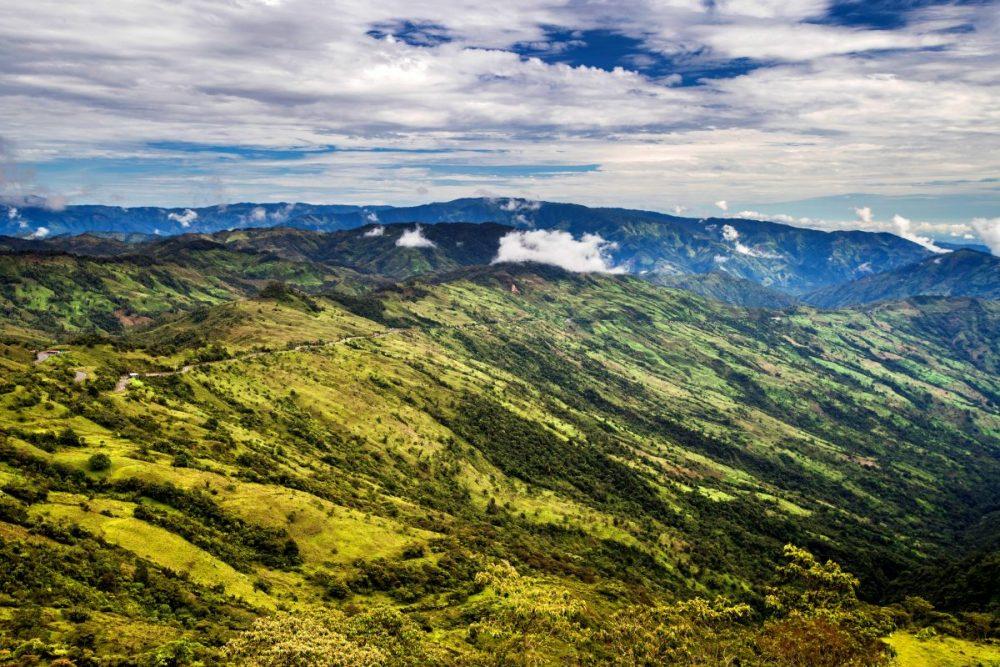 The interesting thing about the road was the number of mini army outposts we crossed. Sandbag towers intermittently appeared on the roadside with tripods set up, presumably ready to receive machine guns. Either side of the road was deep jungle across to the other mountains and as this was September 2016, the government had just proposed a peace deal with FARC. We figured that might explain the frequency of soldiers and defence fortifications but it didn't make us feel any more relaxed. At one point, after Mocoa, we were riding on a perfectly good highway towards Bogota when hundreds of soldiers jumped from trucks parked on the road and started setting up tripods and tanks all pointing towards us! They lined the road in the direction in which we were going so we slowed to see their reaction to us in particular but as we rode past, some waved at us with friendly smiles. We took some reassurance in knowing that as they were pointing their gun barrels in the way from which we'd come, we were protected from the immediate danger which was clearly behind us!
Funnily enough, from the soldier who propped me back up on the Trampolín de la Muerte, to the soldier waving over their machine guns in central Colombia, we felt quite safe riding across the country. Some of the roads provided gorgeous riding, green tunnels through swamped forests, gentle switchbacks through lush mountainside and hilly straights revealing a small village with every rise and fall. We eventually made it all the way to Canada and still, five months later, that road remains the most challenging. But like every obstacle overcome, it provided a memorable ride for us both.
PHOTOS: SIMON PRUCIAK
FOLLOW ALEXANDRA'S AND SIMON'S ADVENTURES: JOURNEY LIMITLESS