BY DUSTY WESSELS, WEST 38 MOTO
How do you make tight U-turns on gravel, especially uphill?
Making tight U-turns on gravel can be challenging, and this is one of the things we teach  in our beginner classes.
The major points here are body position on the bike, throttle and clutch control and where you are looking. First, your body is positioned with your weight on the outside peg and outside of the turn. So if you are turning left you are looking left through the turn but your body, from a standing position (center mass hips and rear end) are positioned on the opposite side (or in this case the right side). Your weight distribution depends on how sharp the turn is and your speed making the turn. Next is your head turning and looking where you are going. Just like cornering in the twisties, look through your turn – you will go where you look! And finally, there's clutch and throttle control. We all know entering a corner with the correct amount of speed is key, and this is no different. What is different here is the turn may be too sharp to just let the clutch out and coast through, so you may have to work engaging and disengaging the clutch to maintain proper speed.
On hills, what will change and be even more important is your body position. Since you now have gravity working with or against you, you must compensate. Flat ground is more predictable, whereas hills require a bit more patience and commitment to holding or changing your body position.
As far as turning goes, keeping the right momentum is key and controlling that takes a lot of practice, especially on gravel when traction is more limited. Remember: correct body position and throttle/clutch control are your friends!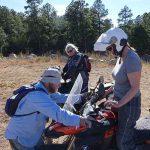 Dusty Wessels co-founded West 38 Moto after logging over 200,000 miles on a wide array of big-bike Dual Sport and Adventure motorcycles over the last 10 years. West 38 Moto provides participants everything from foundational riding skills to ultra-advanced riding techniques.
PHOTO: RTW PAUL