By: JESS STONE/Go Ruffly
I don't like riding off-road.
There, I've said it. It's not very ADV of me to admit, but there it is.
I ride an ADV bike – a BMW G650GS – and, while I like the idea of riding off the beaten path, I prefer that path to be neatly paved with ugly, black tarmac. But, while I don't much like the off-road part of adventure motorcycling, I absolutely love the riding and traveling part. In fact, I love both even more since I started bringing my German shepherd Moxie in a carrier on the back.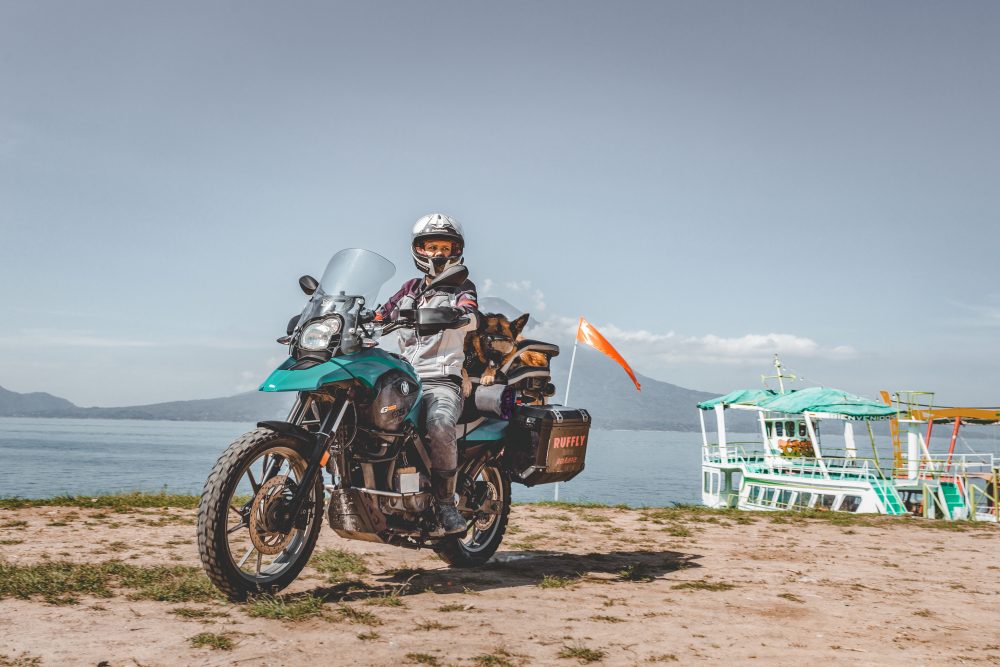 And yet, what makes my dislike for off-road ironic, or maybe tragi-comedic, is that I live and ride in the highlands of southern Guatemala. Here, even many of the primary roads are unpaved and wherever there's an unpaved road you can be sure it's steep, rocky, and poorly maintained. At least, that is the case during the dry season because, when the six-month rainy season begins, you can add mud, landslide rubble, and seasonal rivers to the list as well.
What it means for a motorcyclist is that, if you want to visit any of Guatemala's most spectacular natural sites, you have to do plenty of off-road riding. And so I do; not gladly and not confidently but I girl up, air down, disengage the ABS, and barrel into tragicomedy.
For example, on the first crash riding up to the Cenote de la Candelaria, I lost traction, went over, and found myself pinned between my bike and a tree. On the second crash, I hit a rock, launched the front end up like a rearing bronco, and then collapsed over and down like a humpback plunging back into the sea.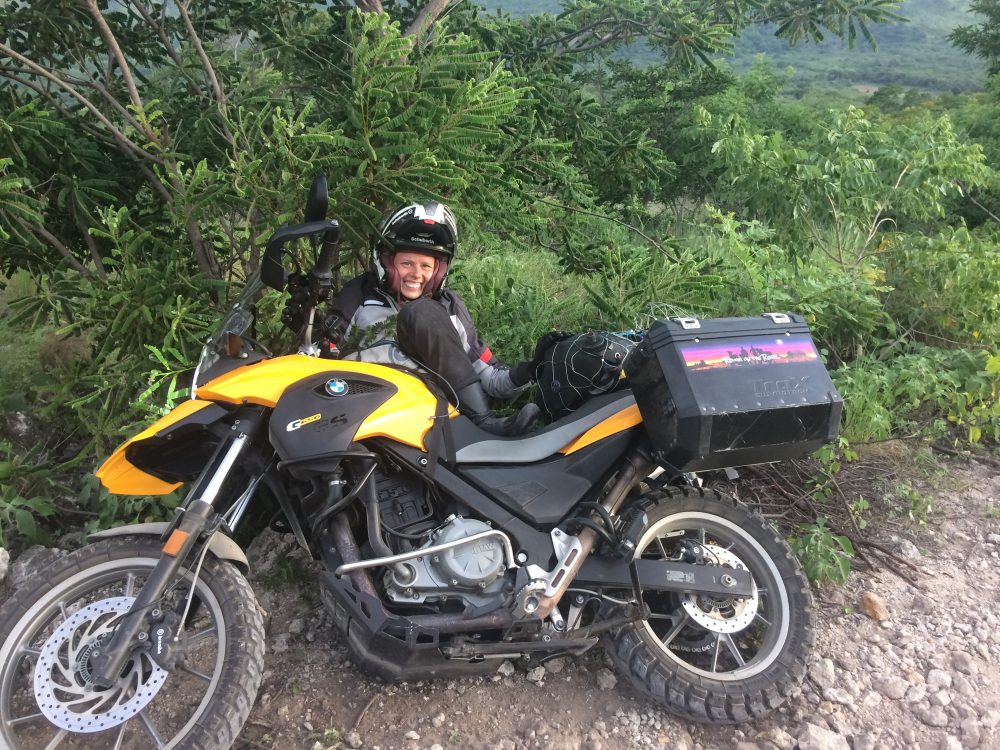 Then there was the time riding down to the turquoise pools at Semuc Champey. I was passing an oncoming vehicle on a narrow dip just a half kilometer from our destination. In the off-road rider's version of rock-paper-scissors, exhaustion beat skill and luck when I reduced the throttle too much and tipped over among the bushes.
Sure, my partner, Greg, crashes harder and more frequently than I do, but that's mostly because he enjoys the challenge and merrily pushes himself to the point of tip-overs, get-offs, and occasional hospital visits. Have I mentioned I don't like riding off-road?
Tip-overs are an unavoidable part of off-road riding, but that doesn't mean I haven't tried hard to avoid it. Even still, over the past few years, I have clocked several hundred kilometers of off-road riding. As a result, you would expect that my confidence and skill would have improved considerably. But it hasn't, and for one simple reason.
It turns out that when you do something half-heartedly or with the feeling that you're being pushed into it you usually accrue the experience without gaining any corresponding skill or confidence. That's why, despite the kilometers, the hard-knock lessons, and the triumphs of surviving and reaching my destinations, I have never acknowledged myself as an 'off-road rider'.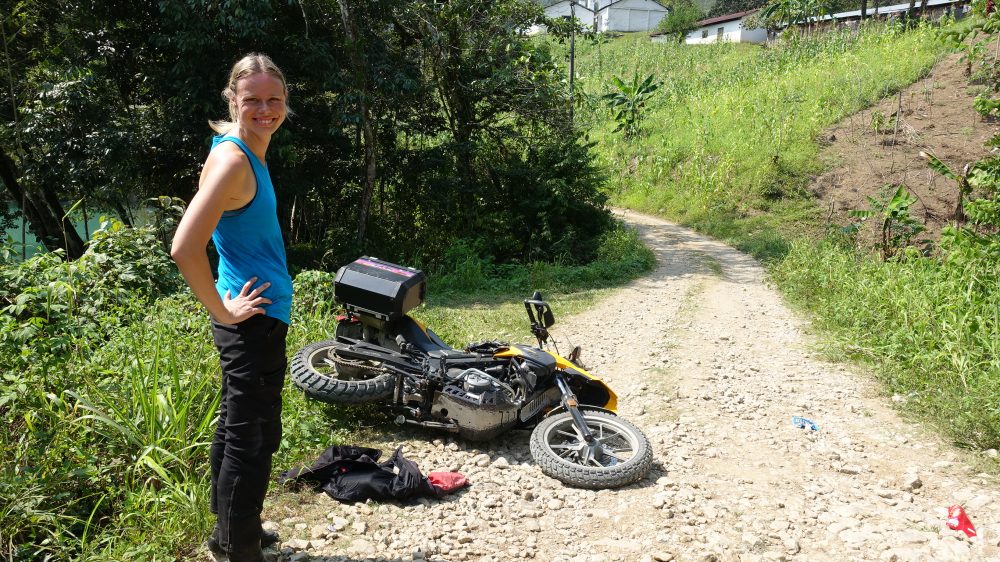 And, really, that's how I would have left it: forever doing my best to avoid it and then eking through it white-knuckled, heels dug in, and a resentful grimace on my face. Except, then I started riding with Moxie on the back of my motorcycle.
I adopted German shepherd Moxie several years ago and, after just one week-long motorcycle trip without her, I decided we weren't going to leave her behind again. So, we set ourselves to researching motorcycle dog carriers. Finding no suitable adventure carrier options for a big dog like Moxie, we designed our own – the K9 Moto Cockpit.
From the onset, I insisted on extreme caution. It was partly because I was concerned for Moxie's safety and partly because of my anxieties about riding with her. But Moxie took to it in minutes and, before an hour had elapsed, we were riding together through the Guatemalan twisties and a whole new world of adventure motorcycling had opened up to me.
There was no going back. From now on, Moxie would join us on all our motorcycle trips and that meant a whole lot more hiking, camping, and selfies with strangers. The trouble is that we still lived in Guatemala; we were still surrounded by mountains and the national road improvement campaign had made no progress whatsoever.
Riding Off-Road with a Dog
I tried avoidance but, again, this is riding in Guatemala we're talking about. I also tried letting Moxie down to run behind. She loves it, but she can only keep pace for a few kilometers. Greg is always happy to ride my bike through a technical section, but he can't be persuaded that by being 'unpaved' a road is by definition a 'technical section'.
In the plus column, the K9 Moto Cockpit carries Moxie's 75 pounds partly like a human passenger and partly like a travel duffle. That means Moxie's canine bulk is as well distributed as you can find for a dog traveling on two wheels. Nevertheless, any additional load makes your bike heavier, which means less nimble, which means more challenging off-road. That's just physics.
So, that's how I somehow found myself riding Guatemala's unpaved roads with the same bike, same dislike, and same inadequate skills as before, but now with a heavy, hyperalert German shepherd on board. That's also when and why I decided that white-knuckling my way through the off-road was no longer an acceptable non-strategy. Now I was responsible not just for myself and my bike, but for my precious K9 copilot as well.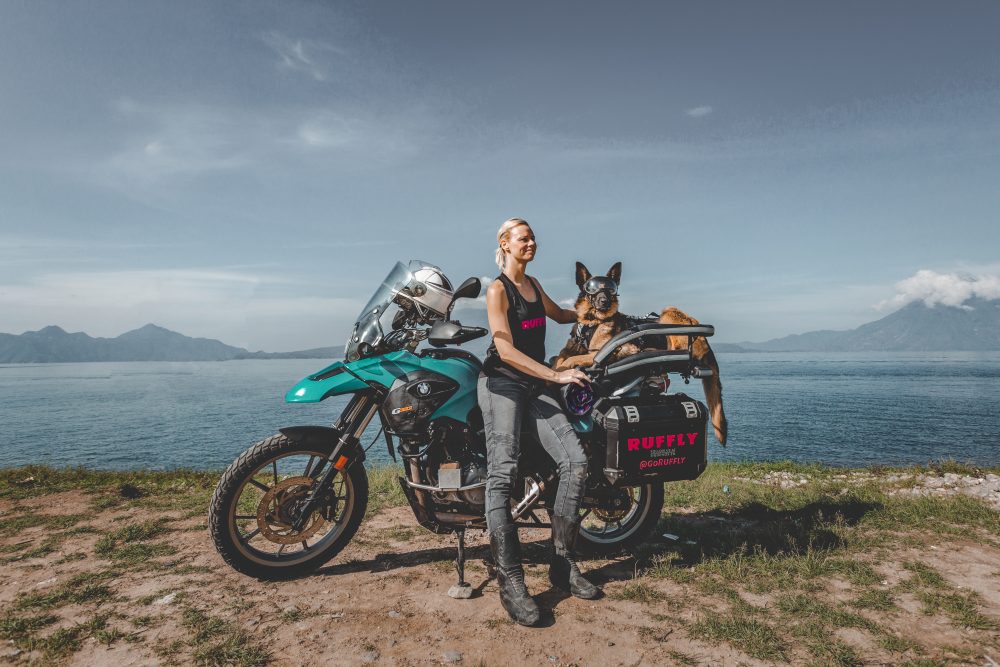 So, I signed up for Off-Road Level 1 with our local BMW instructor – for the second time. But this time I was paying full attention, my heels weren't dug in, and I was serious about learning the techniques for doing it right and safely.
At this point, I have been riding with Moxie for three years and we have traversed several hundred kilometers of off-road together. Sometimes I let her down to run behind and sometimes Greg rides my bike through the tough 'technical sections', which usually means that last washout or gully before we reach the campsite.
I wish I could say there was a moment when it suddenly clicked for me, and I discovered a joy in off-road riding that I never knew existed before. That moment hasn't come and probably never will. I'll still opt for blind, corkscrew twisties in the nighttime fog during a driving rain over even the most meticulously graded fire road. But I have learned to approach off-road riding with acceptance and even with cautious optimism.
It's not the kind of life-altering epiphany that you expect to find at the conclusion of an 'overcoming your fears' story. It doesn't end with me blasting through deep sand; crossing a wide river; or skirting a narrow, rocky trail. But, if my understanding of psychology is at all correct, it is how we begin to build confidence. By taking a deep breath; accepting a challenge rather than feeling forced into it; and by allowing yourself to think, talk, or write about it afterward as a way of debriefing and learning from the experience.
World Trip with Moxie
I still struggle to call myself an "off-road rider" because my self-perception is based more on how confident I feel about something rather than how much experience I have accrued. Still, and maybe most importantly, the incremental gaining of confidence by accepting the off-road as a challenge rather than avoiding and resenting it is how I know I am ready for something bigger.
And so that something bigger is this. In early 2022, Moxie and I are riding around the world together!
I'm anxious because thousands of miles of difficult off-road stand between us and this exciting goal. But I am excited, I am accepting this challenge, and I hope my struggles and successes will help inspire other women to face the things that most intimidate them.
Follow Jess' and Moxie's adventures on: