Thinking of hitting the road alone? More power to you: traveling on your own can be an incredibly rewarding experience, and we'll be cheering you on from the sidelines. However, solo female motorcycle travel isn't without risks. To help you prep and plan for your solo trip better, we chatted with other women riders who are traveling around the world alone and compiled a list of tips and hacks. Read on to find out how to map your journey – and how to overcome fears and doubts:
Solo Female Motorcycle Travel Inspiration
Women have been traveling alone for as long as their male counterparts, but when it comes to solo female motorcycle travel, British motorcyclist Elspeth Beard is our favorite source of inspiration. Elspeth set out to ride around the world alone in 1982, riding a BMW R60/6; her book, Lone Rider, is an amazing tale of determination and perseverance, and we highly recommend reading it.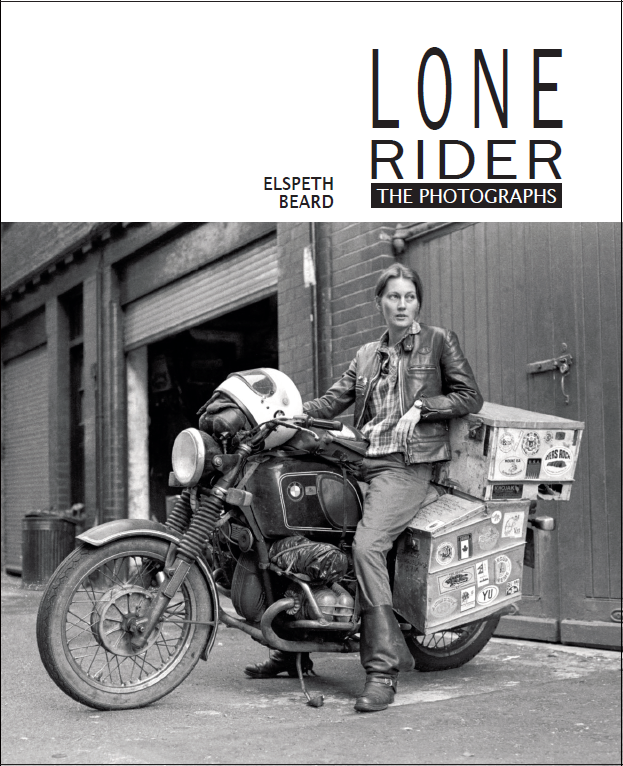 Image: Elspeth Beard
These days, more and more women ride around the world alone. Kinga "On Her Bike" Tanajewska has been on the road for years, covering Australia, Asia, Europe, and Africa. She's still traveling solo, and you can watch her progress on the On Her Bike YouTube channel.
Lea Rieck has ridden around the world solo traversing the Americas, Asia, Australia, and Europe, and she's currently doing shorter journeys on her own. Follow her adventures and get inspired on the Lea Rieck Got2Go YouTube channel and her Instagram.
Jessica Stone from Goruffly is on a mission to ride around the world solo with her dog; Tracy Charles, a Canadian rider, has been traveling North and South America for a while now; Henriette, aka "For the Love of Wheels", is now riding her bike around Africa.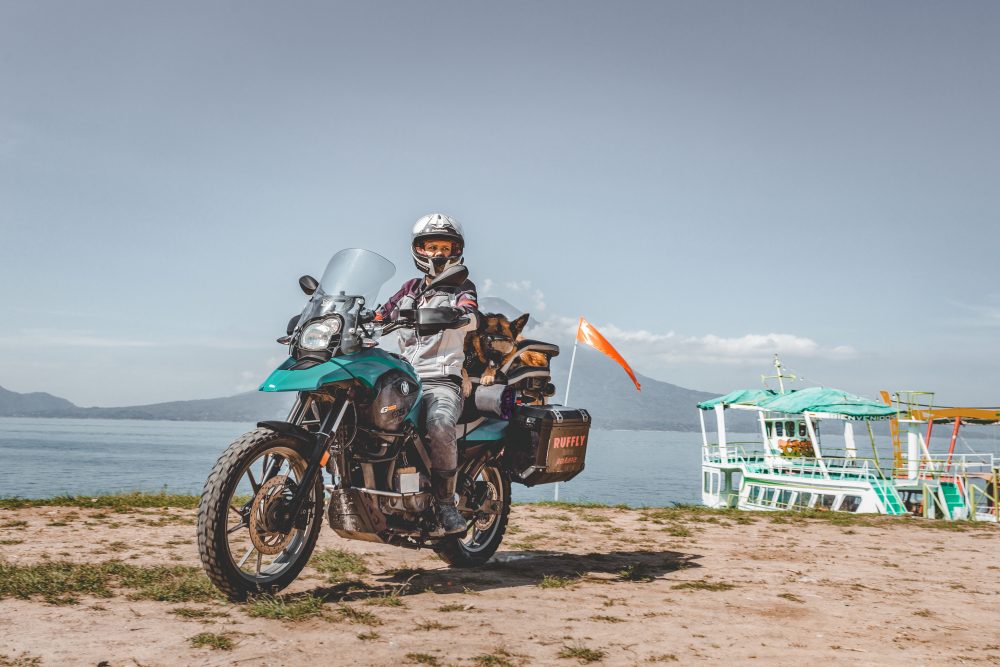 If you're thinking of traveling solo, check out these courageous moto ladies, or better yet, shoot them a message – we bet they'll be more than happy to connect with you and share their advice.
Before You Go: Gear Up
Solo female motorcycle travel inspiration part sorted, it's time to start prepping for your trip. And the first step is…gearing up: whether you're planning to ride around the world or just do a week-long trip, good gear is crucial to staying safe.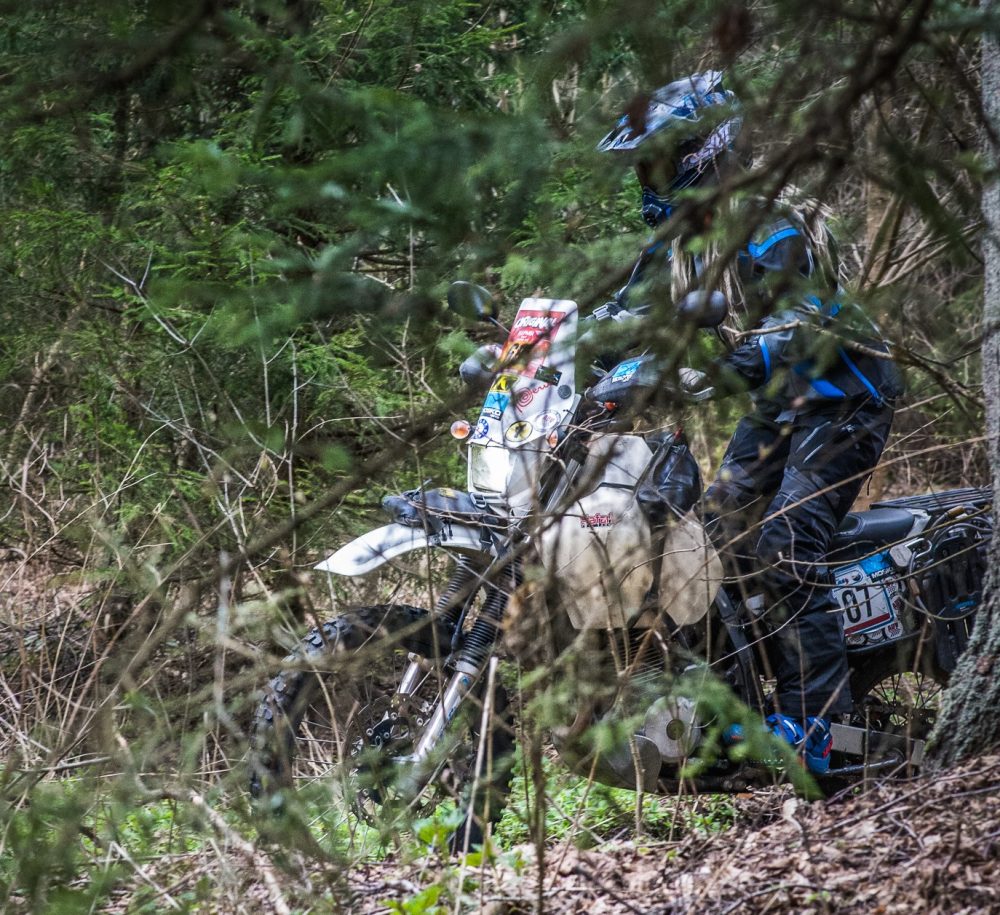 Luckily, gear manufacturers are now offering more women's gear solutions than ever. Depending on whether you'll be mostly riding tarmac, dirt, or both in equal measure, look for gear that's highly protective. You want sturdy, over-the-ankle motorcycle boots, good quality pants and jacket with knee, hip, elbow, and back armour, a helmet, and some gloves. If it's a longer trip, consider carrying two pairs of gloves – hot weather and winter – and adding a heated jacket if you know you'll be hitting high altitudes or dealing with bad weather. Rain gear comes in handy if your motorcycle pants and jacket aren't waterproof, and thin, merino wool base layers work great underneath the gear.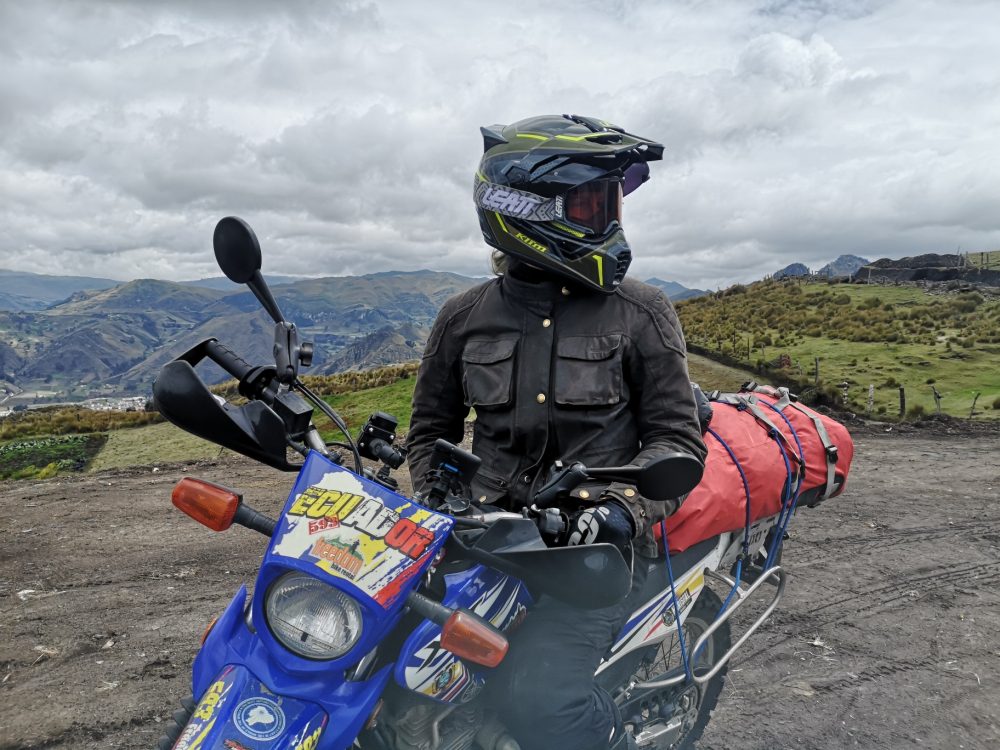 For more gear tips and advice, check out this article discussing what's the best women's motorcycle gear in more depth. The type of gear you'll need depends mostly on the type of riding you plan to do, but when all is said and done, four-season adventure riding gear is usually your best bet.
Pack Light
What bike are you riding?  You may be saddling up a BMW GS 1200 or traveling on a 250cc dirt bike, but whichever motorcycle you choose for the journey, pack it light. And, no, it's not just about being able to pick it up if you tip over: the less stuff you carry, the easier it is to travel light.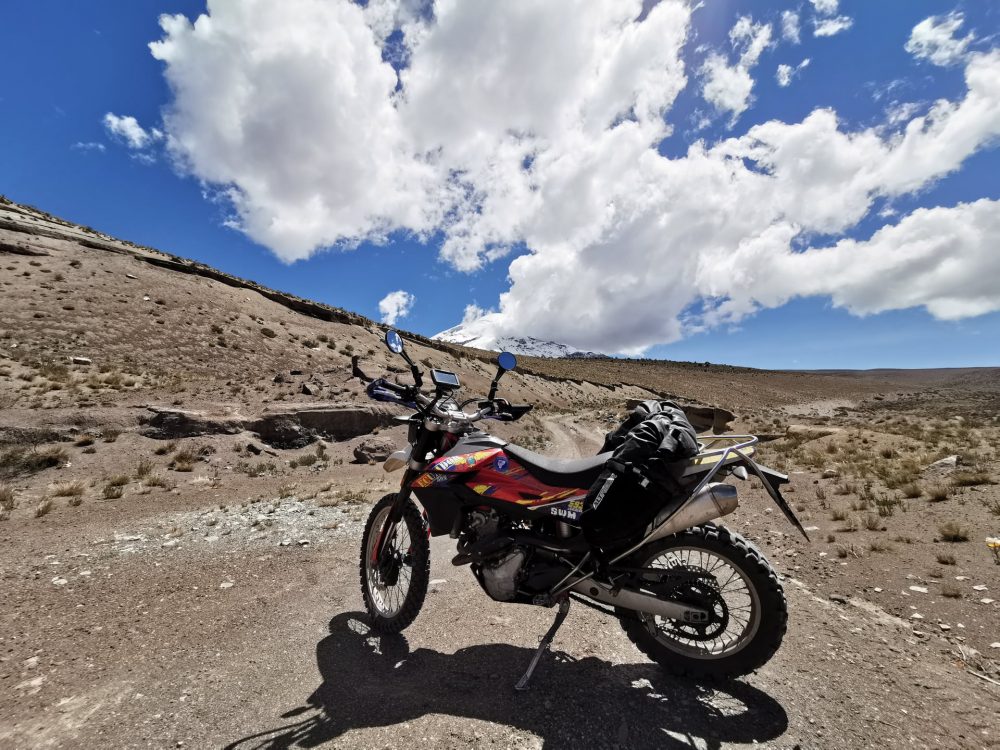 If you pack your panniers to the brim, there'll be more stuff to pack and unpack every time you check into a hotel or set up camp, more stuff to look after, and more stuff to clean. If you absolutely need several pairs of jeans or a duffel bag full of camera gear, by all means, pack it with you, but see if you can save space and clutter elsewhere.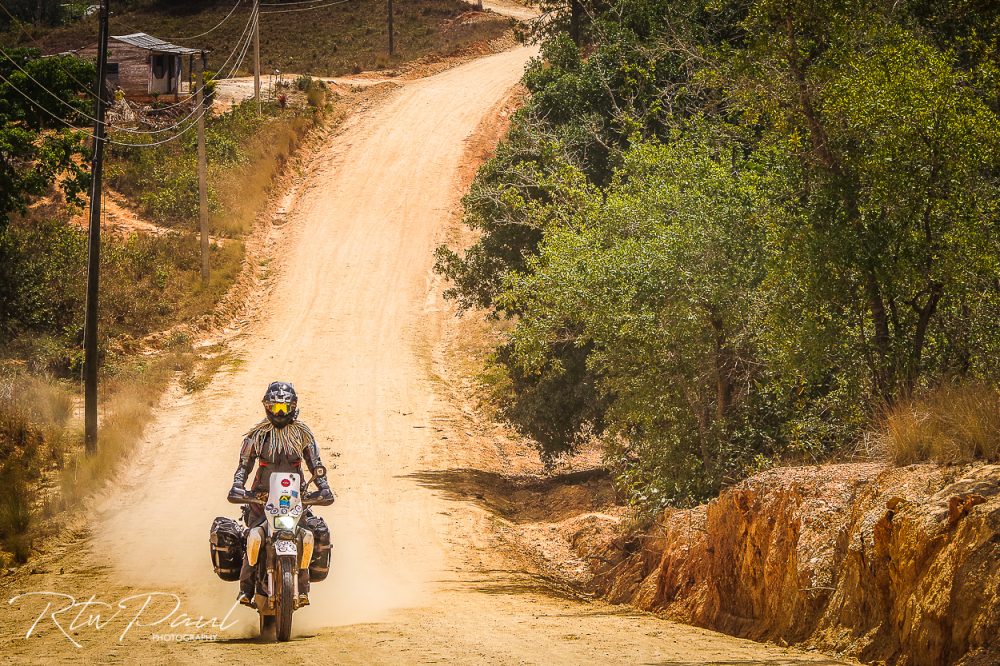 The less you pack, the lighter you travel.
And remember, there are shops everywhere (yes, even in the Peruvian Amazon or the Kahalari Desert), so if you find you really need something you forgot to bring (charging cables, spare tire tubes, extra set of socks), you can always find them on the go. The world is a lot more connected than you may think, and you'll find the equivalent of a Walmart or a Target in each major city along your route.
Prep Your Bike
One of the biggest worries of solo female motorcycle travelers is bike maintenance and potential breakdowns. What if your bike dies somewhere remote? What if you fall and just can't pick the bike up? What if…
All these "what ifs" are a valid concern, but here's the thing: it's impossible to plan for every single one of them. Even if you're riding a brand new bike and can maintain and fix it yourself, you can't foresee every potential eventuality. You may get a flat tire somewhere and find you forgot to pack a repair kit, or you may have to deal with burnt clutch plates smack in the middle of some remote mountain trail.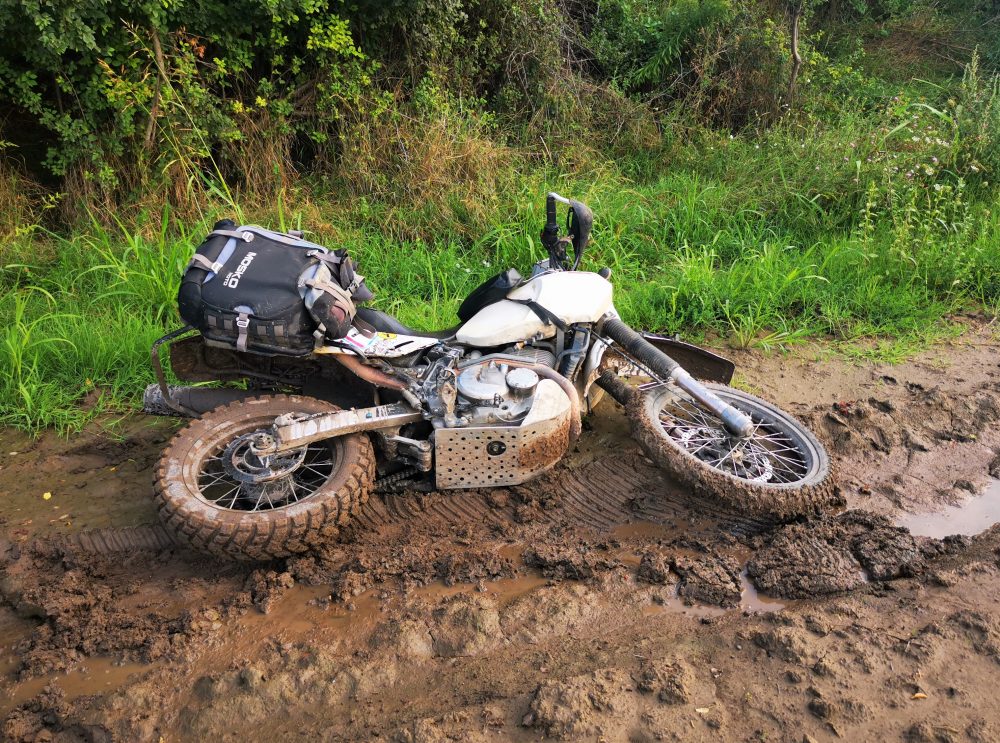 The best thing you can do is prep – and have the right mindset. Before you leave, make sure your motorcycle is in the best condition. If you wrench, go over the entire bike, check parts for wear, and replace them if necessary. If you're not mechanically minded, take your bike to a trusted garage and have them check everything and fix what needs to be fixed. Good prep is half of the job, so make an effort to get your bike road-ready before you head out.
And as for all those scary "what ifs", try to look at it this way: yes, bike trouble may happen somewhere along the way.
But as a healthy adult woman, you're more than capable of solving problems as they come. If you crash and your bike ends up in a ditch making it impossible to drag it out on your own, you'll find help. If your bike decides to run out of fuel on some remote stretch of road, locals will most likely have a can of gas somewhere, or another traveler may share their reserve. When you're traveling on a bike, you're never lost at sea – you're on land, on a road, on a trail, and where there are roads and trails, there are people. And where there are people…You get the gist.
Plan Your Route…Loosely
Where are you headed? Riding from Alaska to Ushuaia? Doing a solo cross-country trip? Traveling from Norway to South Africa?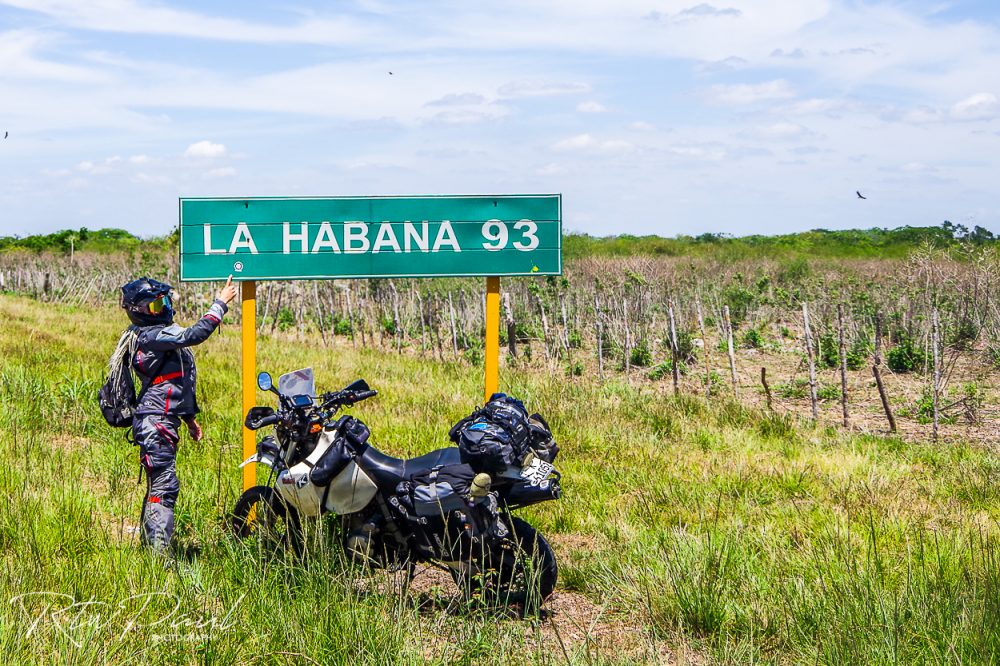 Wherever you're headed, doing a bit of planning helps – but don't attempt to map out the entire route and daily mileage for the entire journey. For one, you may discover you prefer doing shorter (or longer) daily distances than you planned for. For another, there may be roadblocks, delays, ferries that don't run anymore, and all sorts of other unexpected stuff. Leave some room for this: instead of planning out thirty days or three months in precise detail, have a destination and a rough idea of a route, then improvise as you go along.
In addition, lots of us realize we prefer to stop somewhere for a while and explore locally instead of covering distance each day. Others like to take shorter but more frequent breaks to recharge. Others still happily do 600-mile days for weeks to come. In other words, it's up to you how far you want to ride and which roads to take, but allow yourself room for changing or adapting your route. This way, you'll eliminate the stress of sticking to the plan or rushing to get somewhere.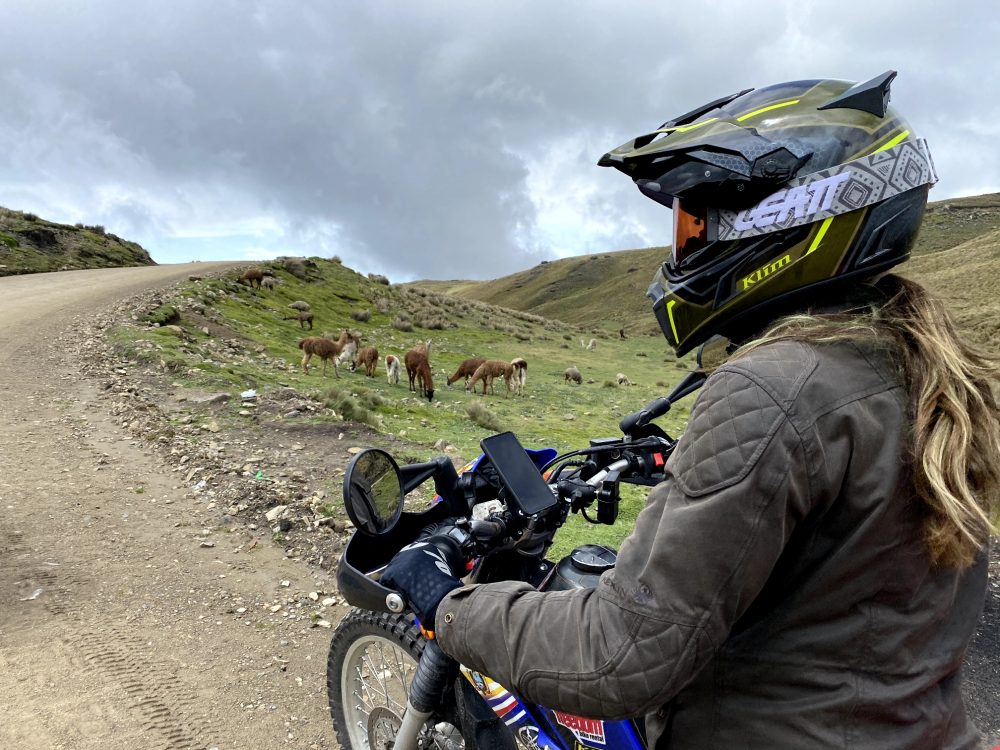 The only scenario where stricter planning pays off is when you cross countries with limited visa and vehicle permit time. If you know you've got five days to get out of a country before your entry permit runs out, don't play with a deadline like that – in some countries, failure to leave in time may result in your bike being impounded. Other than that, however, improvise to your heart's content – and get creative with Google Earth!
Pick Safe Accommodation
When you're on the road, you'll meet plenty of amazing people. most locals are happy to see travelers, and you're guaranteed to make connections and friendships. However, don't get overconfident – especially when it comes to accommodation. Always try to find places with secure parking for your bike, stick to all-female dorms in hostels, and make sure your hotel or AirBnB's door locks properly. Don't leave valuables on your bike, and if you can't find a safe spot to park it for the night, at least stick a disc lock on it.
When camping, there's a general rule of thumb to either camp where there are lots of people – or where there are none. If you wild camp, you want to find a spot that's a little off the beaten path and where you're not likely to be seen by anyone. Or, if you just can't find a good spot, look for organized campsites – this way, you'll be safe among other campers.
A nifty little bike safety gadget while traveling is a motorcycle GPS tracker and alarm by Monimoto. The way it works is this: you hide the tracker somewhere on your motorcycle – say, airbox – and activate your key fob that's connected with an app. If your motorcycle is being moved without the key fob present, the tracker will send an alarm to your phone.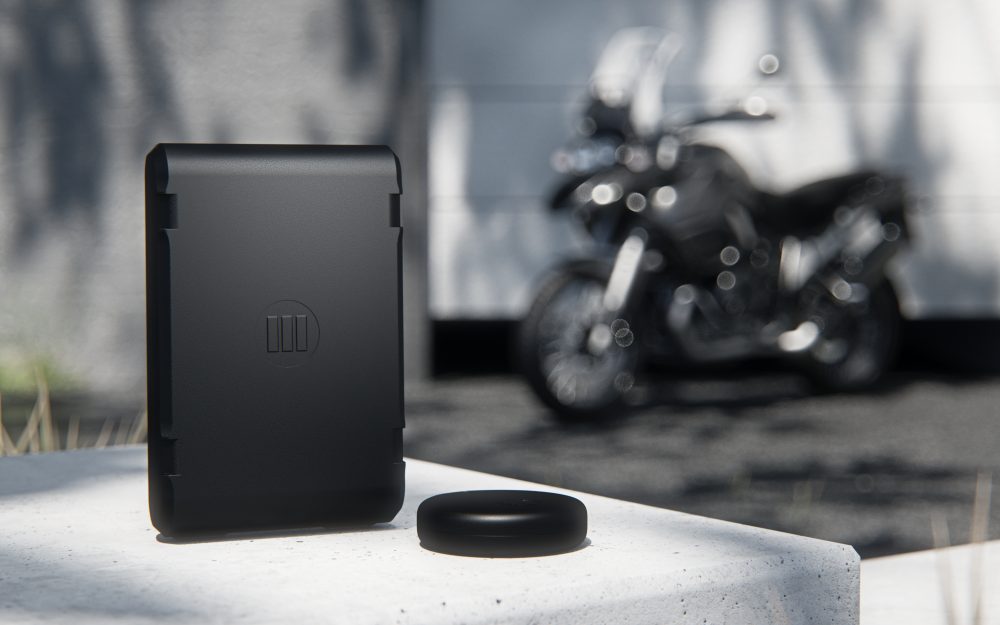 When you get the alert, you may still be able to prevent theft. If the bike is gone, the tracker will send out a live location – which is immensely helpful for the police to recover it. Monimoto works in North and South America and Europe, and it's a good little safety measure to add on when you're on the road.
Solo Female Motorcycle Travel Myths Debunked
"It's not safe to go alone".
"You don't have enough experience".
"What if you crash?"
What if you can't pick up your bike?"
Sound familiar? If you're planning a solo bike trip, chances are, there will be naysayers telling you not to go. There might even be a little fearful voice inside your own head, painting pictures of worst-case scenarios and untold dangers.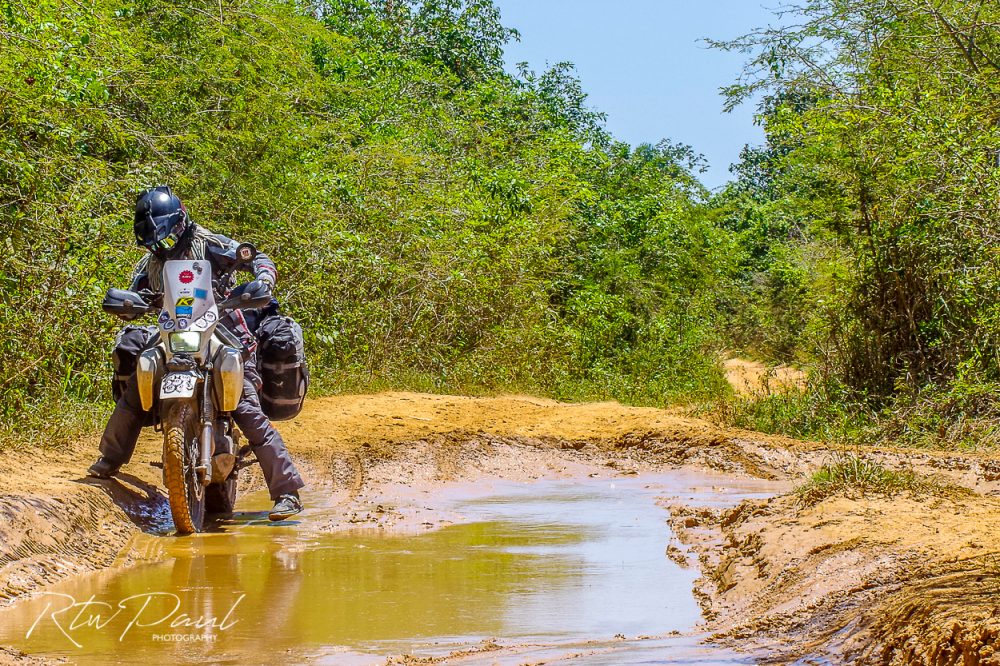 But the thing is, solo female motorcycle travel isn't anywhere near as dangerous as most people assume. If you can safely ride your motorcycle from your place to another city, or across your own country, you're already halfway there: sure, the landscapes elsewhere will be different. People will speak different languages and eat different foods, roads will be better or worse, mountains higher, off-road trails gnarlier… but the essence will stay the same: you'll get on your bike and put in some miles. Then, you'll stop for the night, unpack, and do it all again the next day; rinse and repeat until you get where you're going to. That's all there is to it – and sure, with time and thousands of miles behind you, you may get fatigued, you may feel lonely from time to time, and you may need to fix a flat in the middle of nowhere.
But you will.
Solo travel can be rough and tough sometimes, it can be unpredictable, and it can be challenging. But it will give you a sense of freedom and self like nothing else, build your confidence, and let you explore the world on your own terms. You'll learn that you're capable of a lot more than you thought, that you're unstoppable and that you have the courage to follow the women who came before you and inspire the little girls who look up to you.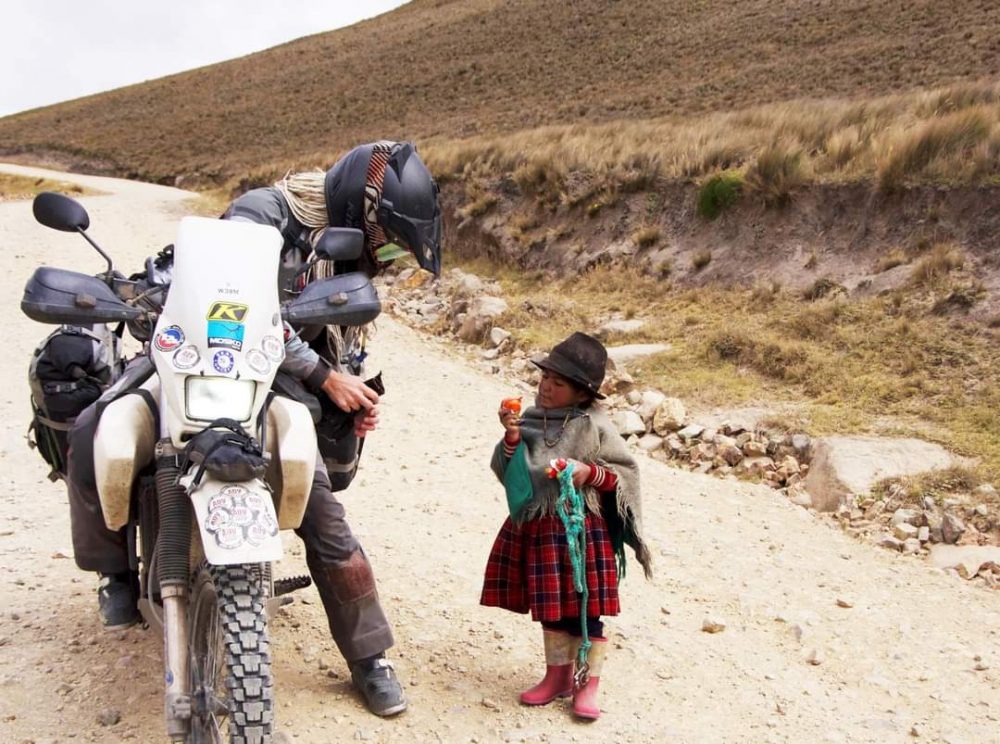 Oh, the places you'll go…
Images: @advtorally, @jurga_boatsandbikes, @rtwpaul