Marta, a 26 year old Polish business analyst and student, has ditched her office suit and set off on a motorcycle journey spanning from Poland to New Zealand with her husband. Catching up with Marta in Myanmar, we chatted about bikes, life on the road, and chasing your dreams.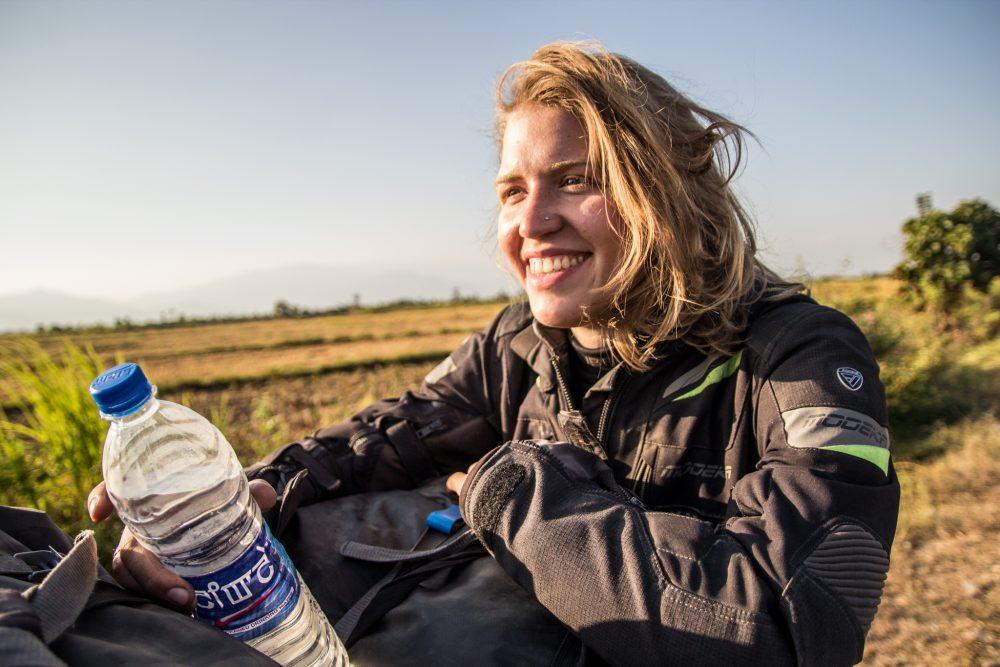 What was your adventure route like up til now, and where are you going next?
We set out from Warsaw in mid-June and headed south. Our route ran through Slovakia, Hungary, Romania, Serbia, Macedonia and Greece to Turkey. Then, from Turkey we moved east, traveled through the Caucasus mountains in Georgia, Azerbaijan, Iran, Turkmenistan and the rest of the "stans" – Uzbekistan, Tajikistan, and Kyrgyzstan. From there, along with a group of travelers with whom we shared the costs of a Chinese guide, we entered China, and went through the famous Khunjerab Pass to Pakistan.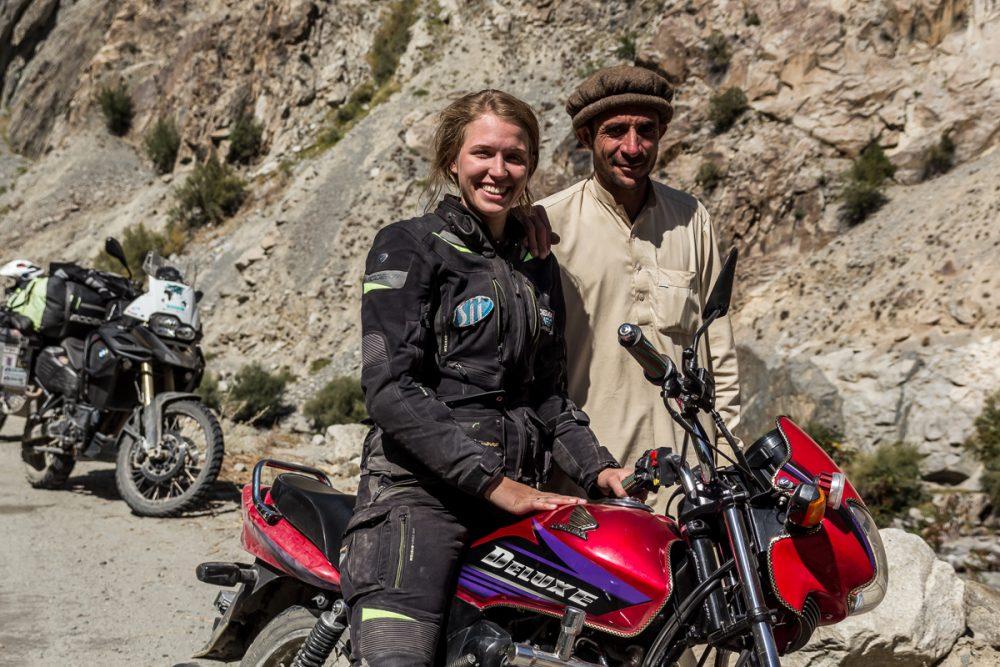 After Pakistan, the time came for India, Nepal, a small part of India again, this time the eastern part, until we finally arrived in Myanmar, where we are now. We are leaving Myanmar in a few days to enter Thailand, from there we are going to Laos, then again we are going to ride south, namely to Thailand, Malaysia, Indonesia, and finally New Zealand.
What has been the most challenging for you on this journey as a rider, as a person and as a wife?
As a rider, it would be easier to ask what was not challenging! I'm kidding, of course, I think that the most difficult for me so far was passing through the Bartang valley in Tajikistan.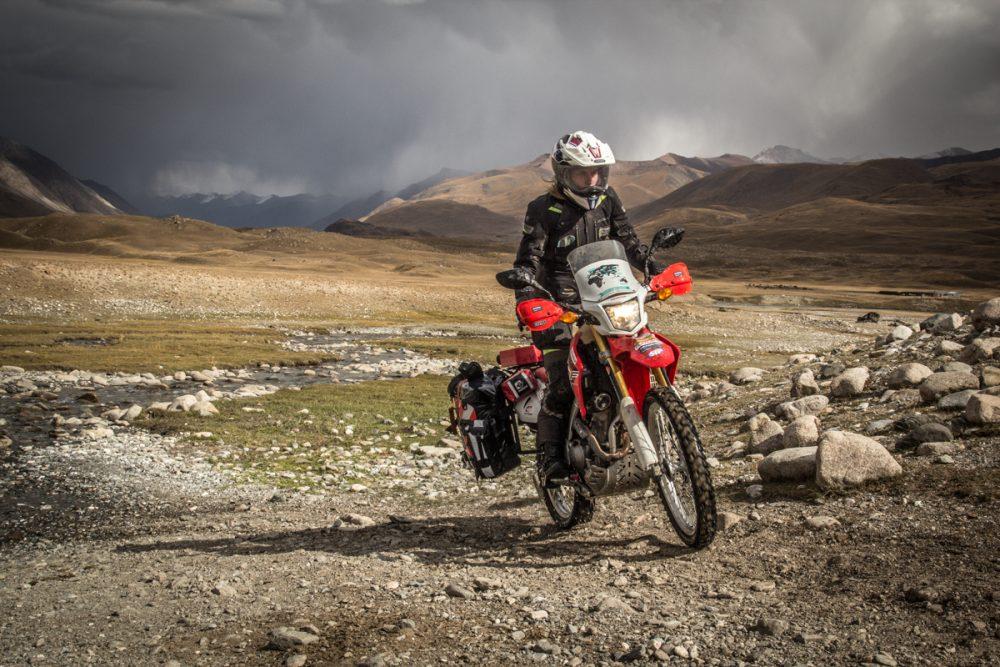 It is a rather wild and abandoned area in Tajikistan, with few people living in small villages located a dozen or more kilometers from each other. The route we took from the town of Rushon to Karakul involved riding about 350 km off road, with numerous crossings through rivers and other surprises, like loose stones, mud, sand, steep uphill climbs and downhills etc. The funniest thing was that we decided to go through the Bartang Valley completely spontaneously, because we met three other bikers in Rushon, who were determined to do so. We talked for a while, drank together, then the locals invited us to a Pamir wedding and in a moment, we made friends with each other and we became a team.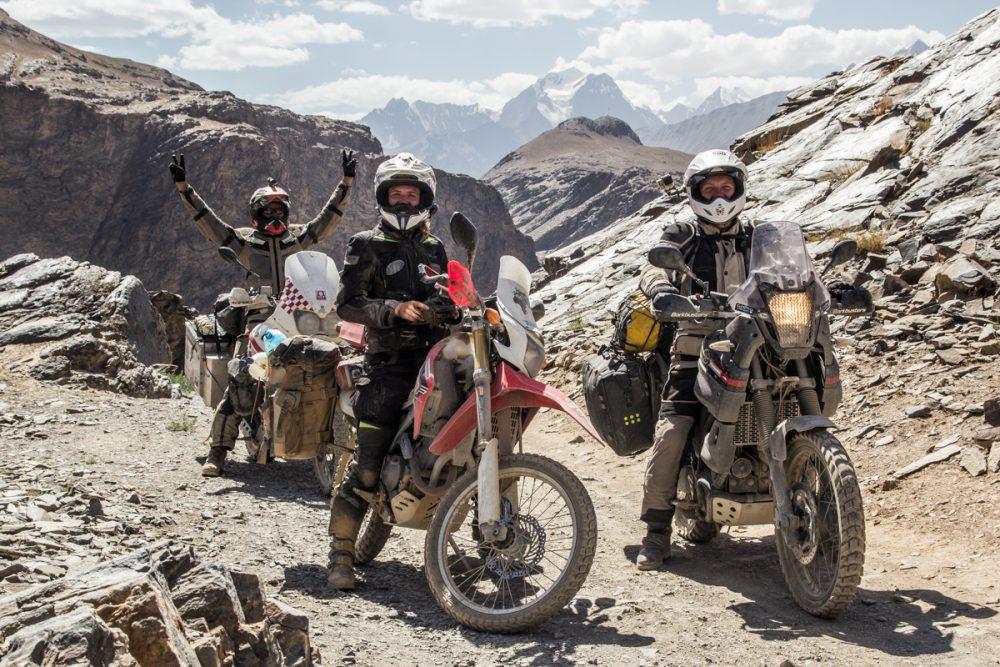 The journey took us three days, and the last one was the worst for me. We rode quickly up to a high altitude of about 4000 m above sea level, because, of course, it's really difficult to get proper acclimatization on the motorcycle. I got altitude sickness. I remember that our friend Willy comforted me, saying that "we will soon start riding down so you'll feel better", and of course we were all so 'well prepared' that nobody knew we came to the upland and there will be a downhill alright, but only when we leave for Kyrgyzstan! The last 70 km was really a huge fight for me, but I'm alive, so we made it! And we called our group Bartang Survivors, haha.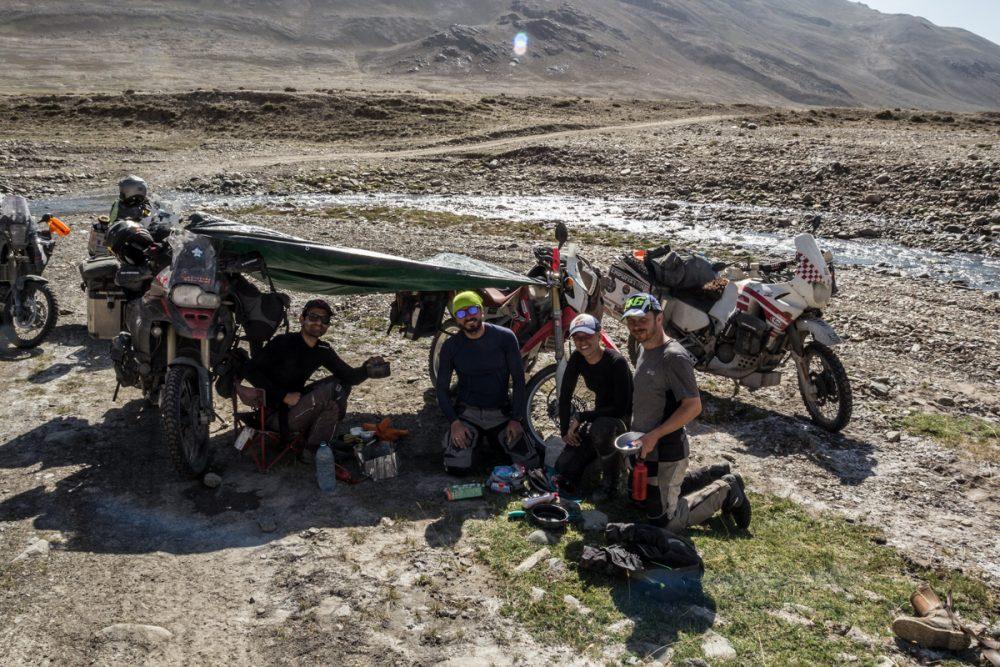 As a person, perhaps the hardest thing for me was to accept the fact that I'm in the spotlight and not to get angry about it. Riding through countries where a woman traveling on a motorbike is as common as a monkey riding a bicycle – so not at all – it was hard for me that wherever I stopped, people started taking photos of me. And it happened during such usual, mundane activities, for example in the queue to the toilet, on the side of the road, when I was drinking water, at gas stations, when I was buying bananas at a market … in McDonald's in Pakistan, when I was eating a BigMac, some 10 people took a photo of me. It was very strange and uncomfortable for me, it still is, but although I haven't gotten used to it, I've kinda become indifferent to it. Though the beginnings were difficult, for example I collapsed once in Iran, when at the station so many people with telephones surrounded us that it was difficult for me to go to the toilet. I remember that I cried then and said that "I want them to leave me alone, I just want to pee". It happens often, however, that people approach me curiously and ask if they can take a picture with me. That's okay, I never refuse, I often behave like that myself. But if you're surrounded by a crowd of nameless faces with telephones, it can really overwhelm you.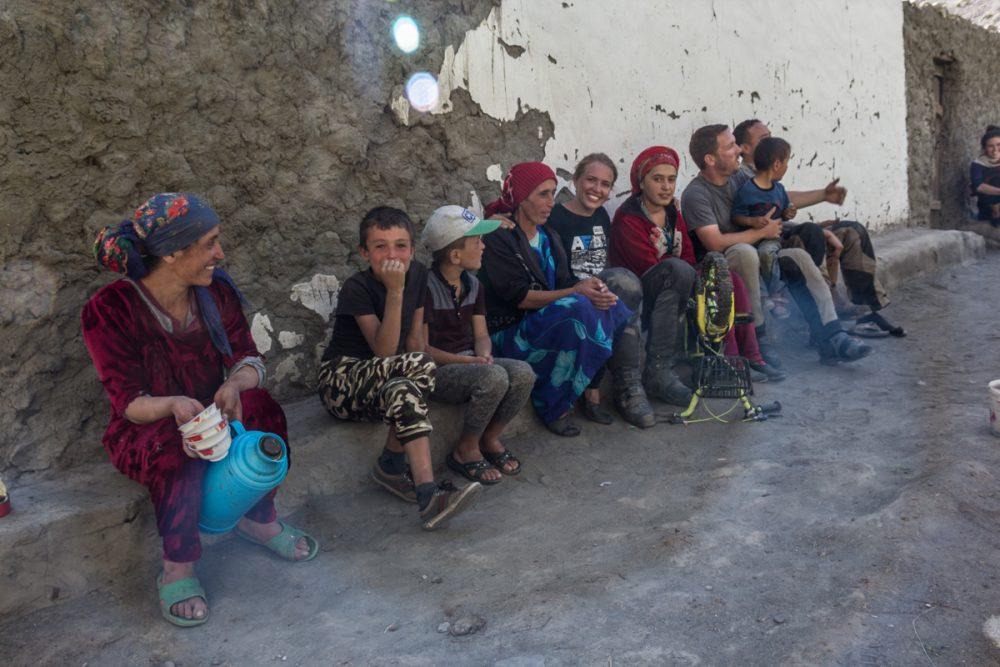 As a wife, the most difficult thing is being with your partner non-stop, 24 /7. This is, in my opinion, a big test for the relationship. In "normal" circumstances, assuming that something like "normality" exists at all, we would go to work in the morning, so we would spend most of the day separately. Each of us would also have their own space, time to do their own things, I could meet with a friend, go see my mother, go to the pool, my husband would meet with his friends, or he would go to a motocross or enduro race on the weekend. We haven't had that life for half a year, we do everything together, and in quite extreme conditions. There are quarrels, and it sometimes happens that I ostentatiously start packing and say that I'm going back home. I think, however, that we have gone through so much together that we are able to cope with everything now!
How has your riding improved, and were you a skilled rider before you left?
Before the expedition I rode two full seasons, and due to the weather, the season in Poland lasts about half a year, maybe a little longer. When we decided that we would leave as soon as I finish my master's studies and that I would go on my own motorbike, I had neither a driving license nor a motorcycle yet. I bought the motorcycle in January 2016, passed my driving test in March and basically started off-road training right away. Then I attended training aimed at improving the technique of riding on tarmac, which generally involved handling corners properly, because well… it's no big deal to go straight. I think I set off well-prepared. My skills have improved a lot during the expedition. Besides, it is often said that "if you can ride around India, you can ride everywhere", for me, however, Pakistan was worse, but I think that in general, I agree with this saying.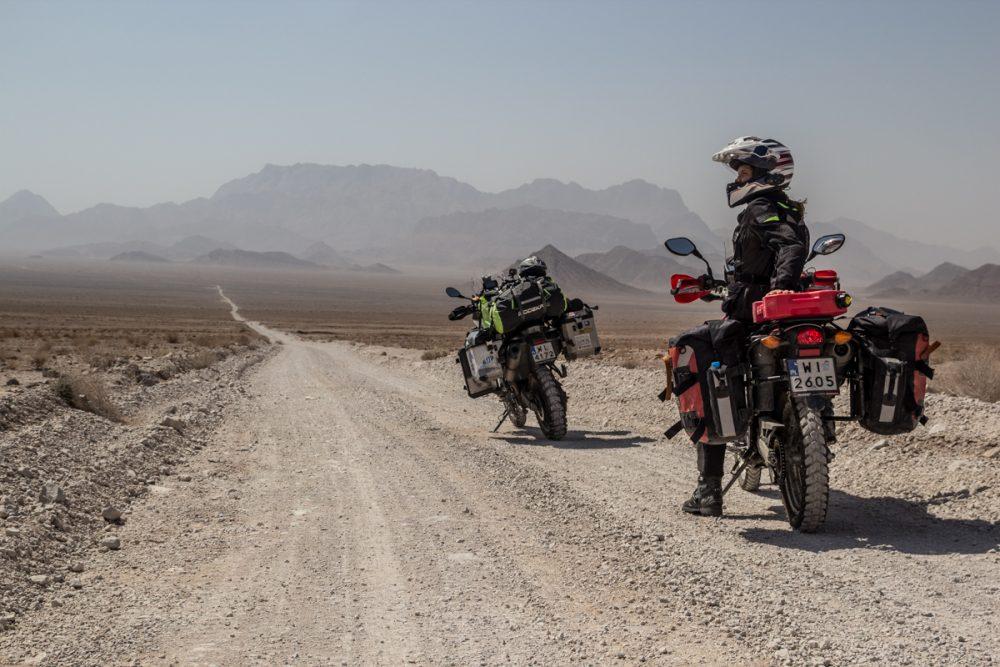 What has been the greatest lesson on the road so far?
I learned and understood that I was a really lucky person. I'm lucky because I can do what I want, I can ride a motorcycle around the world and nobody can stop me only because I'm a woman. I am lucky, because I have a husband whom I chose myself, whom I married for love, with whom I could go on dates before we became a married couple. I am lucky, because I can say what I want, I can wear shorts, I can learn languages, study, go on holidays. These are simple and obvious things for us, and the truth is that none of us can choose the family or the culture in which they are born in, for many people, especially women, it is out of reach. I'm grateful that I accidentally had so much luck in my life.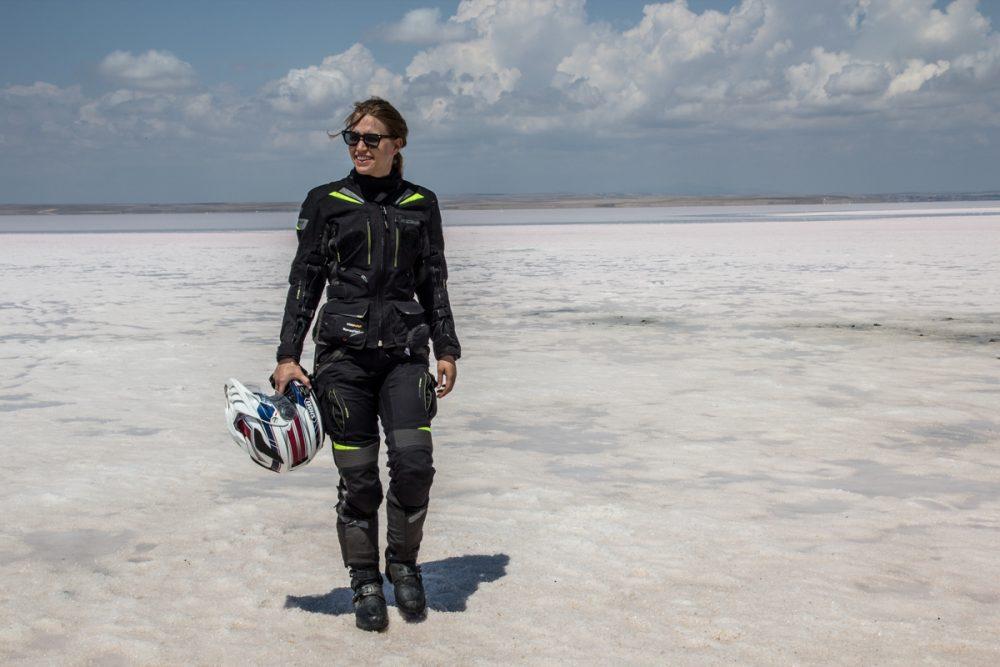 If you had to do it all again, would you change anything?
Nothing, except that I would take fewer clothes!
What are the top 5 items in your panniers that you just can't do without?
Flip flops – the first thing I do when we arrive somewhere is take off my motorcycle boots and change into flip-flops.
Kindle – I love reading, for me reading is the same as watching TV series for others. However, I wasn't able to take a trailer filled with traditional books, so I got a Kindle for Christmas.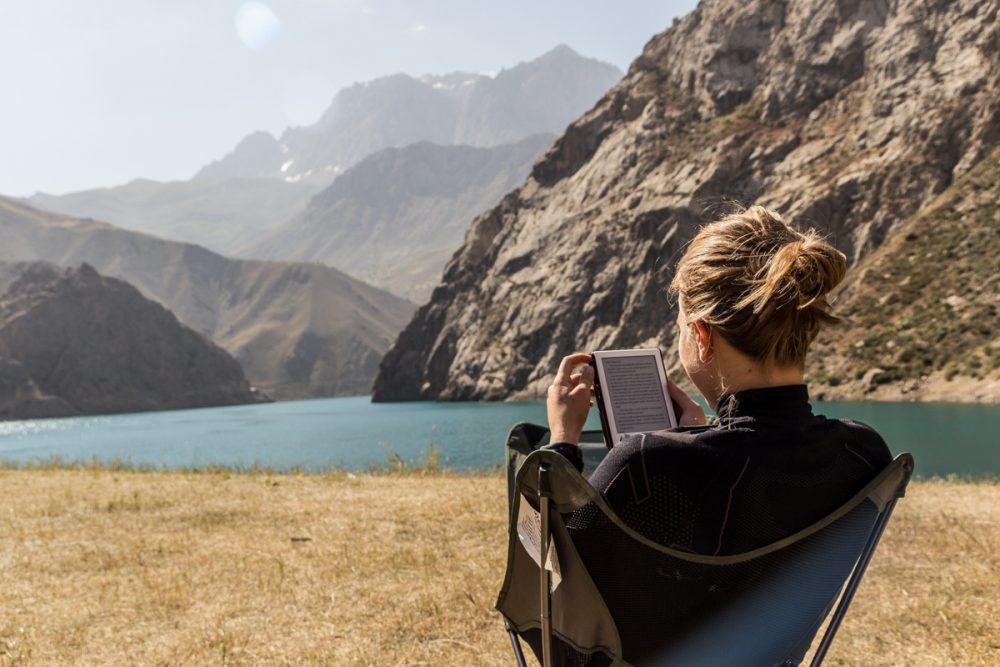 Toilet paper – during such a journey it's no use to ask "will you get diarrhea", the question is "when will you get it". Each of us had an emergency on the way, in the bushes, and I think that we are not the only ones.
Tuna and pasta – I always have food in case we have to stay in the wild, without a restaurant in sight.
Heated waistcoat – it saves my life when it's cold
What would you say to girls and women who dream to do a trip like yours?
Do it. We are stronger than we appear!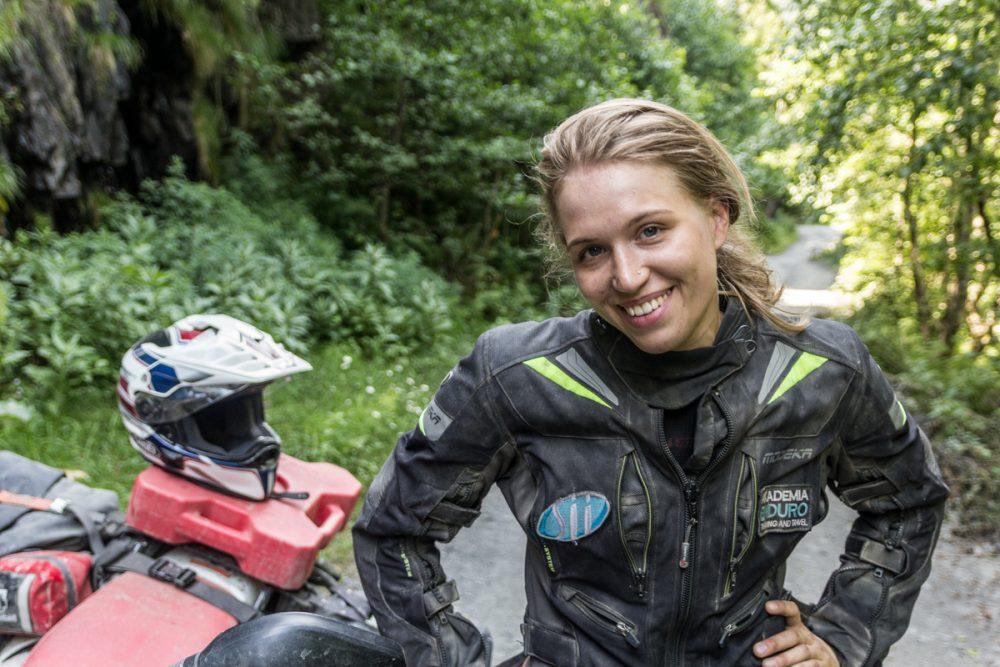 Loved this story? Follow Marta on Instagram and Facebook!