"Following your heart and living in the power and presence of love" is the message Ashley and Step are sharing as they travel the world by Ural.  
Four years ago, Ashley lost her dad to suicide. Three years ago, Steph lost her cousin to suicide. On opposite sides of the world, they quit their jobs to follow their hearts and travel. Two years ago, a yoga retreat brought Steph and Ashley to a yoga retreat on the Oaxacan Coast of Mexico, where they fell in love. Combining their lust for spreading love and adventure, they purchased a Ural, and with this union, exponentially increased the love they had to give. A month ago, Lulu the puppy joined their cadre, and the love continues to grow.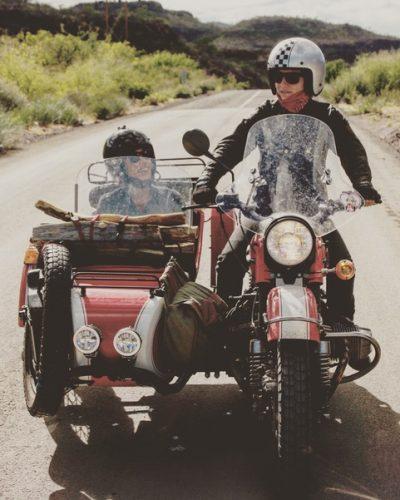 No one was more surprised than Ashley when she fell in love with Stephanie at first sight at that yoga retreat. She'd never been attracted to a woman before, but in one transformational moment, her value of love knowing no boundaries became her reality. While they talked on the beach, they reflected on their mutual love of travel, and an idea would not leave them alone. Why not travel the world by motorcycle and spread the love?
Spreading the love is a broad term for them. They had thought about volunteering and working to help local communities along the way, and then realized adding the realities of riding and maintaining a motorcycle on a budget while camping every night was actually a pretty big time commitment. For now, they are spreading love by being authentic, connecting with locals, supporting local business, and inspiring people to realize that they too can follow their dreams. They want to be living, breathing examples of not being afraid and believing in the goodness of the planet. In this process, they have had people bring them into their homes, feed them, and met families and fallen more in love with each other.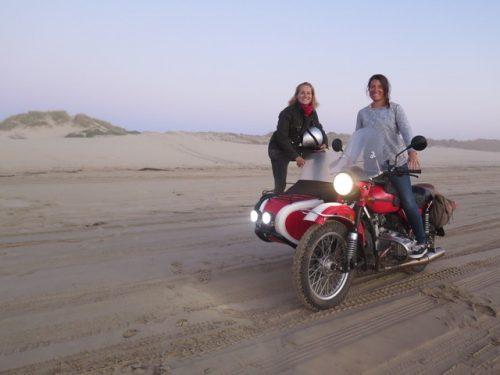 Motorcycles were much more familiar to Steph than Ashley. Stephanie's father used to race motorcycles in Holland, and operates a motorcycle campsite and boutique hotel in the countryside of Hungary, so she was born riding motorcycles. Ashley, on the other hand, had never piloted a motorcycle before this trip. Given this difference in experience, a Ural was chosen as the motorcycle of travel. Ashley describes it as reliable and easy to maintain, which the women do themselves along the way. Ashley has learned to pilot it, but still prefers to stay on the quieter roads. They both love the Ural's two wheel drive that lets them easily traverse beaches and forest roads. If you're looking for the thrill of speed and flying through the twisties, she'd recommend you look elsewhere, but filling the sidecar and journeying together makes the Ural a fantastic choice for these women and their new puppy, Lulu.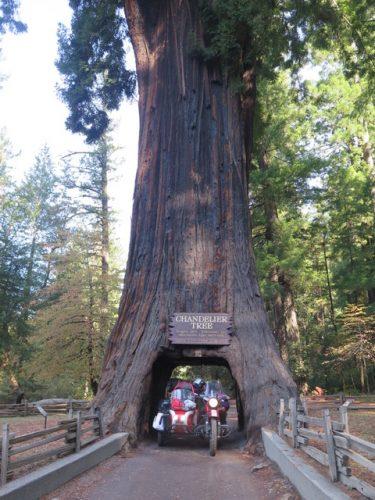 Speaking of Lulu, this little puppy demonstrates how committed Ashley and Steph are to following their heart and listening to the messages of the road. They never understood how or why people traveled with pets; it seemed it would add endless complications! However, as they rode outside of Cholula, Mexico, Lulu was alone by the side of the road, covered in fleas. They stopped, picked her up, and took her to the vet. Lulu got a clean bill of health and joined the adventure! They have a new set of challenges; they usually camp, and some campsites do not allow dogs. They have to be very vigilant of her with so many other, larger animals around. Luckily, she loves the sidecar and sleeps most of the time, so even though they are prepared with all the appropriate paperwork for border crossings, Lulu spent her first border crossing undetected, napping in the side car.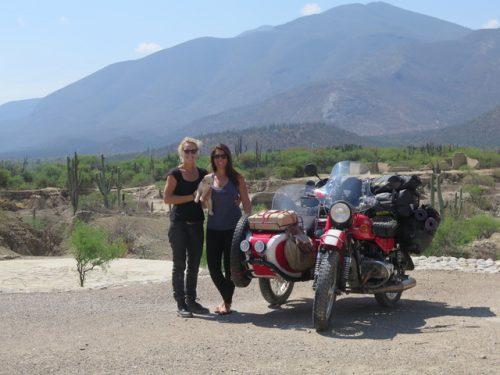 Their motorcycle journey started in Washington State with the purchase of their Ural, and has taken them down the west coast, into Baja and Central America. Their trip will continue to explore Central America, and they are both looking forward to Ashley's brothers meeting up with them in Nicaragua and spending some time on the beach surfing.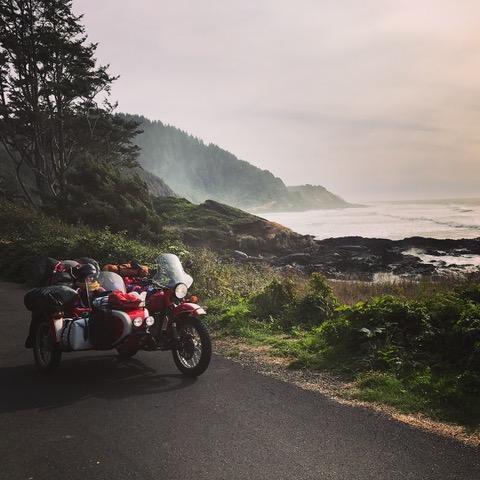 Being in a new relationship and traveling on a motorcycle is a test of character. Ashley and Steph have navigated the challenges of learning to be together 24/7. They've had to build a brand new routine of life on the road that included each other and the motorcycle. They've had to learn each other's strengths. Even more important, as two independent women who traveled solo before this, they have had to learn that they approach problems differently, and both solutions will work, "which is cool and kind of eye opening when you come to that realization." They also started the journey with a mutual love of healthy, fresh, vegetarian food and staying active, which keeps their desires congruent. One of the greatest benefits has been to share travel moments together, which they appreciate so much more after months of solo travel. They also have the same attitude of letting the road dictate their adventure, which makes them spontaneous, easy going, and ready for any adventure.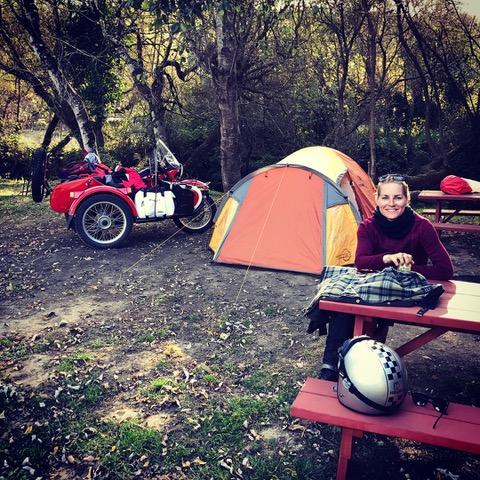 It is coming time for these women to pause their journey and replenish their funds. Steph saved for her trip working the ski season in Austria and Ashley funded her trip saving her earnings from a seafood restaurant. They sold everything to follow their hearts, and once they reach Panama, they will sell their three wheeled home and return to Europe to save up for their next adventure. They are leaning toward purchasing another Ural, "et, one never knows what the future holds!" Whatever the road brings to Steph and Ashley, they will be following their heart and spreading love to all they meet.
Check out their website HERE!
If you LOVED this article, you might love THIS ONE TOO!