BY ALEXANDRA REDDAWAY
"You're planning on doing what?", my parents said incredulously. I'd heard it before with a number of life choices.
This time, I had just broken the news that I was going on a RTW motorbike trip with my boyfriend of only 6 months.
They were dumbfounded, and their apprehension was not baseless. Here I was, a 32 year old woman in the infancy of a burgeoning engineering career. I'd worked hard for it, and had never touched a motorbike other than one ill fated attempt to learn to ride an ex's sport bike, ending with a broken gear lever and mirror. Not to mention I had only just met the man I was proposing to see the world with. From their point of view, their usually sensible daughter had lost her marbles.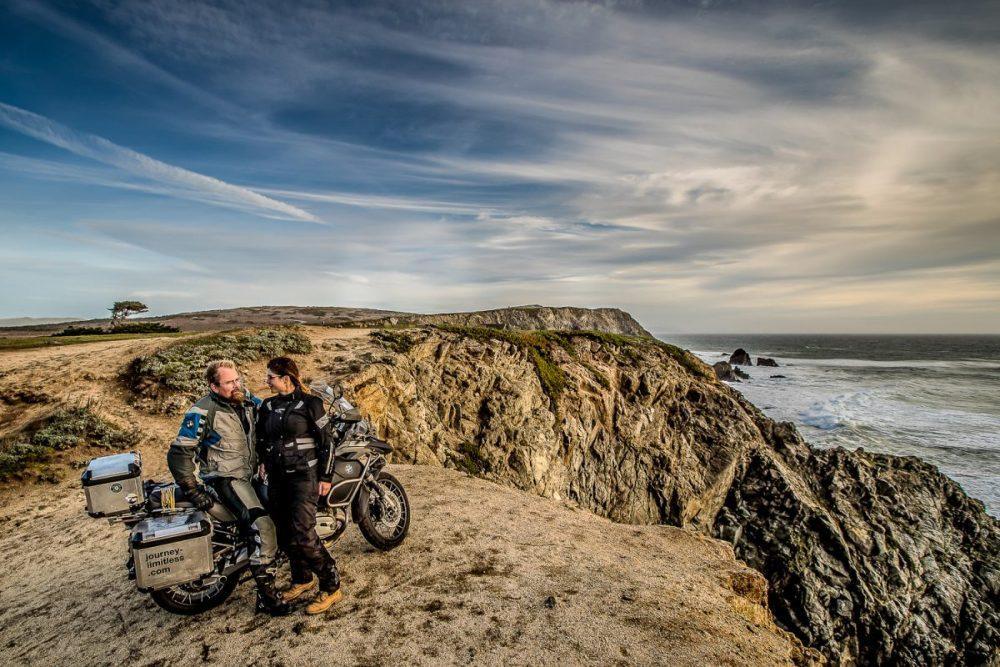 The Preparation
With a July, 2016 departure date, I was left with only half a year to get my licence and plan our journey. Author Chris Scott of The Adventure Motorcycling Handbook (an adventure rider's bible) advises taking a couple of years to plan for a year long overland journey. And with good reason; researching every country and eventuality takes time, and perhaps more than you'd expect.
The idea of being dragged around the world on the back of my boyfriend's bike was as appealing as an afternoon of watching paint dry. And as a bit of a control freak, I threw myself into learning to ride motorcycles. I threw myself into it: I booked courses and bought my first 125 cc bike, zooming around London traffic, heart constantly in throat. I'd set goals every week, like my first longer distance ride to Canterbury, 73 miles away and where my boyfriend lived. That first long ride took four hours. Exhausting targets were met, sometimes with tears, as I pushed myself to make riding as instinctive as possible. By April, 2016, I passed my licensing test, despite feeling extremely nervous. I was so proud of myself for not jeopardizing our journey that I immediately went out and bought BMW F700 GS which would become my home.
The next challenge was work. My industry was facing a crisis the magnitude of which hadn't been seen since the 80's, so my boss generously conceded to me taking a year sabbatical.
The last and most intriguing challenge was whether or not I could live with someone 24/7 through very trying circumstances. We'd find out on the road. I gleaned some reassurance from a family friend who had just met my boyfriend and knew me well, who said that he was precisely the type of man you'd want to travel the world with- creative enough to have a sense of spontaneity and adventure, yet pragmatic enough that he'd always be able to deal with challenges.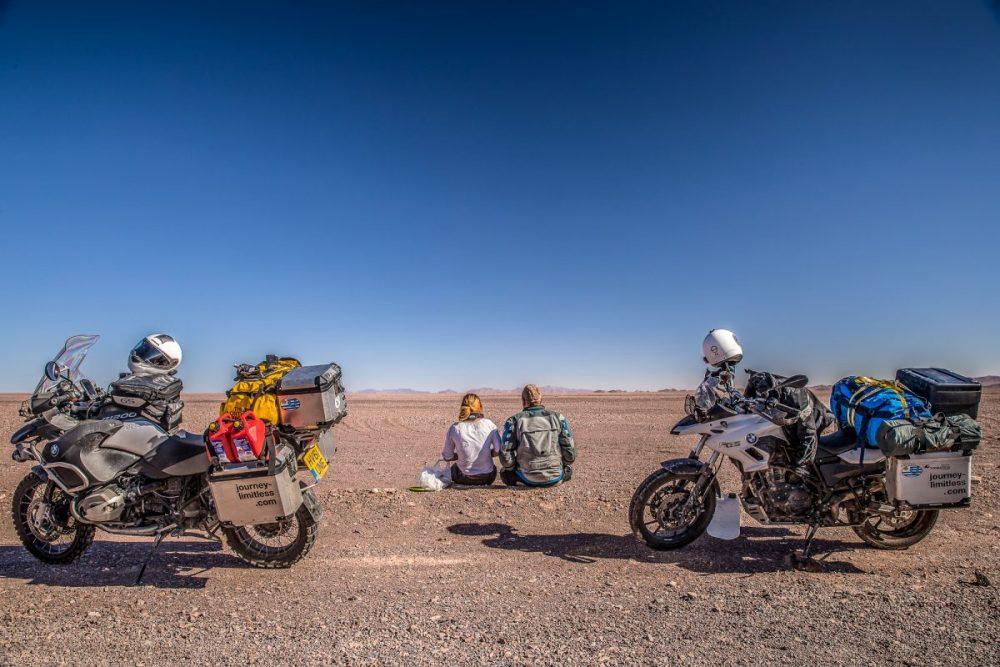 The Reality
We've now been on the road six months, and if anything, our together has strengthened us. Any worries of tired arguments or descending into chaos were quickly forgotten. We assessed our weaknesses early on, and as luck would have it, we get stressed by completely different scenarios: I found that I settled into monosyllabic anxiety if I didn't know where we'd be sleeping that night. I also felt stressed when the road was terrible as I hadn't yet built confidence in my abilities. Whereas my partner showed signs of anxiety only when modern technology let him down: phones dying, money transfers transferring to oblivion, cards being declined. All of this was tested within the first week on the road when the camera he needed was impossible to buy in South America, and when I was faced with every form of terrible weather in the first three days on the road.
Knowing each other's trigger points has made it easier to be together. We know when each other's change of mood isn't personal, and we know how to divide the responsibilities. Making sure that duties are divided evenly ensures that no resentment builds up. When there are only two of you, it's much harder to shirk your chores.
The five points to surviving adventure travel with a partner
Limit the drama (i.e. don't be a wimp!)
Traveling for long periods of time is tiring, but also exhilarating, liberating and rewarding. Occasionally, things will go wrong. This is especially true when you throw in motorbikes, culture shock and weary moments. Understanding that you're in it together and being patient with your partner is integral to success. Facing challenges head-on and agreeing to an action plan in stressful situations will make them easier to deal with. Accepting these challenges with grace and sometimes a bit of courage will reward you with respect from a travel companion, rather than resentment.
Make time for special moments
Take a holiday from the ride by treating yourself to a meal out or a special experience. On a strict budget, these are rare luxuries that help remind us we're in a unique new place. Days on the road can often merge, particularly when you're travelling for an extended period of time. The journey itself is magical, but the unique moments punctuating it will be the pearls in the chain of memory.
Practice mindfulness together
Making time daily for active mindfulness allows balancing and re-grouping of thoughts. It's a way to ensure a daily moment of peace in what is a constantly changing and potentially stressful environment. Step back from the journey and enjoy a small oasis of calm together. It's important to do this together as it brings you closer and keeps you in the same frame of mind.
Laugh it off
Whether it's turning up to a voided hotel reservation or regretting trying out an unpalatable new food, things go wrong. Accept that with all the magic moments you will share, there will be small disasters along the way. Your approach to them is what makes the difference. We found that most places in South and Central America hate reneging on promises and instead of explaining that the WiFi just isn't working or that there is no hot water available, they may say, "It just broke 2 minutes ago/this morning/last night". This became an inside joke for us and as frustrating as it was to not receive what we'd paid for, it made for some unforgettable hilarity.
Money management – All's fair in love and war
You're both independent and you've had time to organize and plan your journey together. Knowing the budget you've set yourselves is a strength, and making sure you're both contributing fairly limits the potential for blazing rows. Making clear what the budget does and doesn't cover is key. Daily food, petrol and accommodation is easy, but what if only one of you wants to zip-line through the jungle or scuba dive in a coral reef? It's important to agree on how the money will be spent upfront.
It may take some work, but it's worth the effort. Seeing the world as an overlander is such a unique and nomadic experience to share with your significant other. The challenges help you learn about your partner and yourself and it creates a deeper bond between you. In many ways, it's a good test for compatibility. Sometimes it works better than you could imagine. In my case, my boyfriend admitted that everything now seems possible; that traveling the world has made him realize we belong together.
On a starlit night at the six month mark of our round the world journey, his declaration morphed into a proposal. We're looking forward to this next phase in our journey, more a team than ever.
PHOTOS: SIMON PRUCIAK
Follow Alex and Simon's adventures: JOURNEY LIMITLESS