By Trang Nguyen (Click for details!*), Riding Vietnam.
I was born in one of the most famous cities in South East Asia, a historical city – Sai Gon. And we, the Southern people, feel proud of it due to the history of the city.
But to be honest, some of us have found it difficult to communicate with the Northern people after the Vietnam War. Accent might be one of the barriers between the two regions, and of course the differences in lifestyle and traditions. It made Southern people like me afraid of getting involved with the Northerners and motorcycle riding Northeast Vietnam, especially because of the reputation they had about being more aggressive than our Southern folk. I did not have – and did not want to have – any friends from the North, from the time I was a child until I was in my mid-twenties.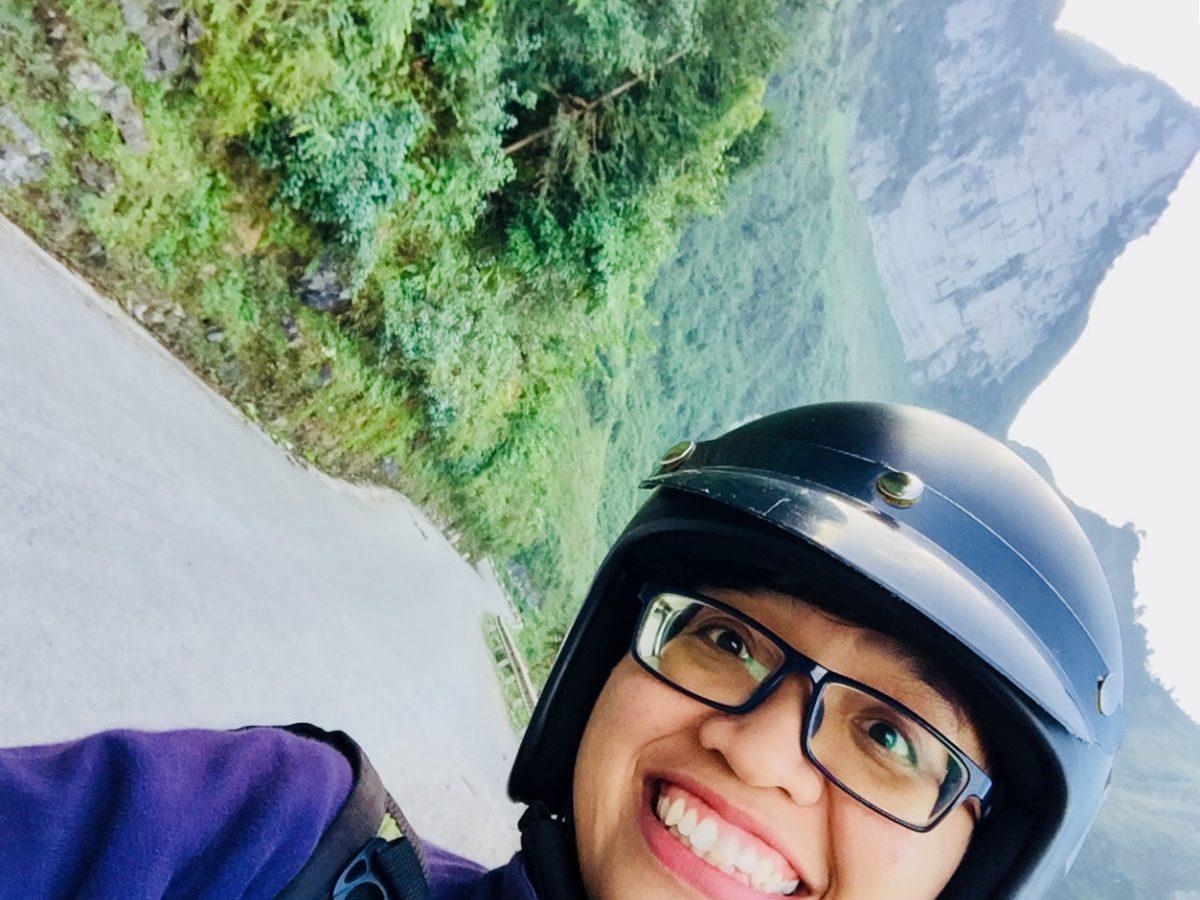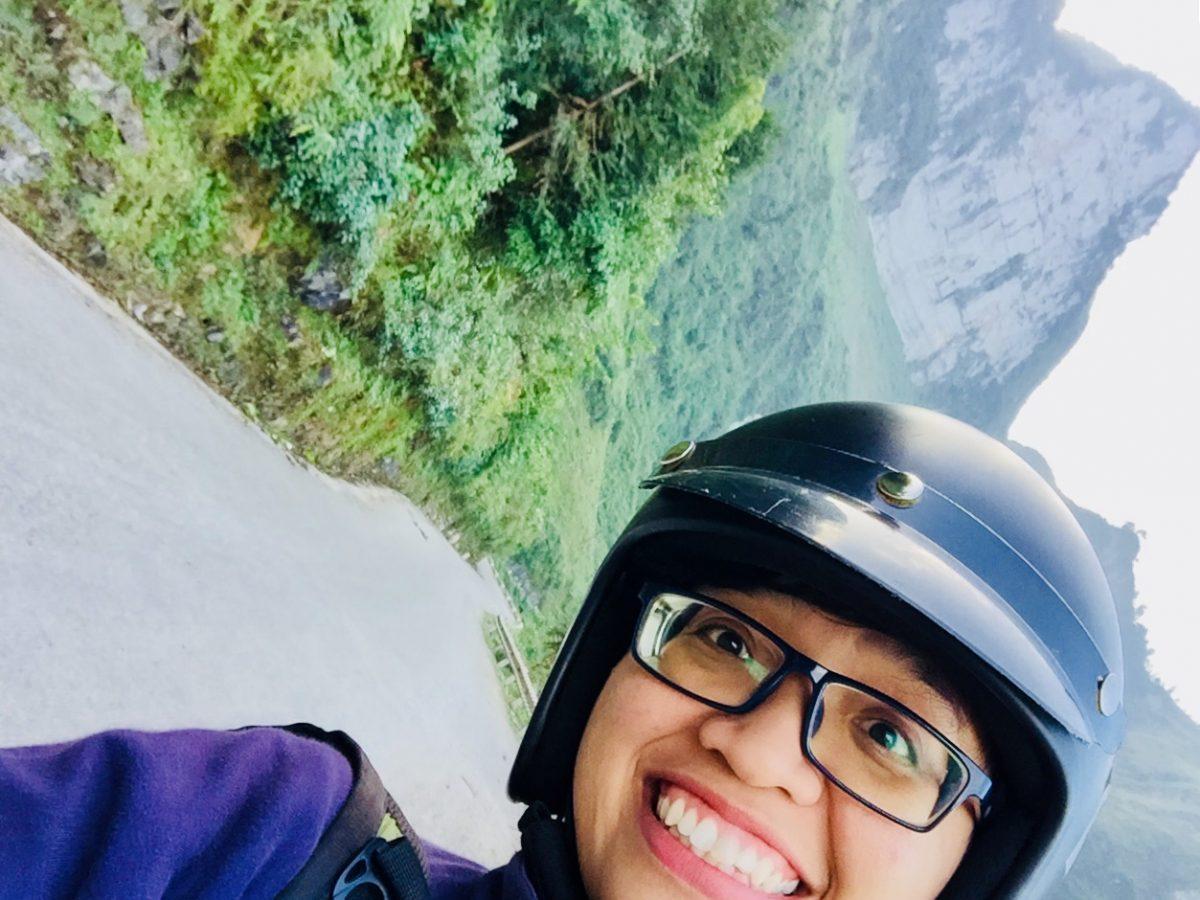 But when I arrived in Ha Noi (in the North of Vietnam) for the first time in 2013, I fell in love with it the minute I left the airport. And now, it's funny to read the things I just said, because if you ask me now where the best place or region to visit is on your first trip to Vietnam, I would definitely recommend you to please, go to the North.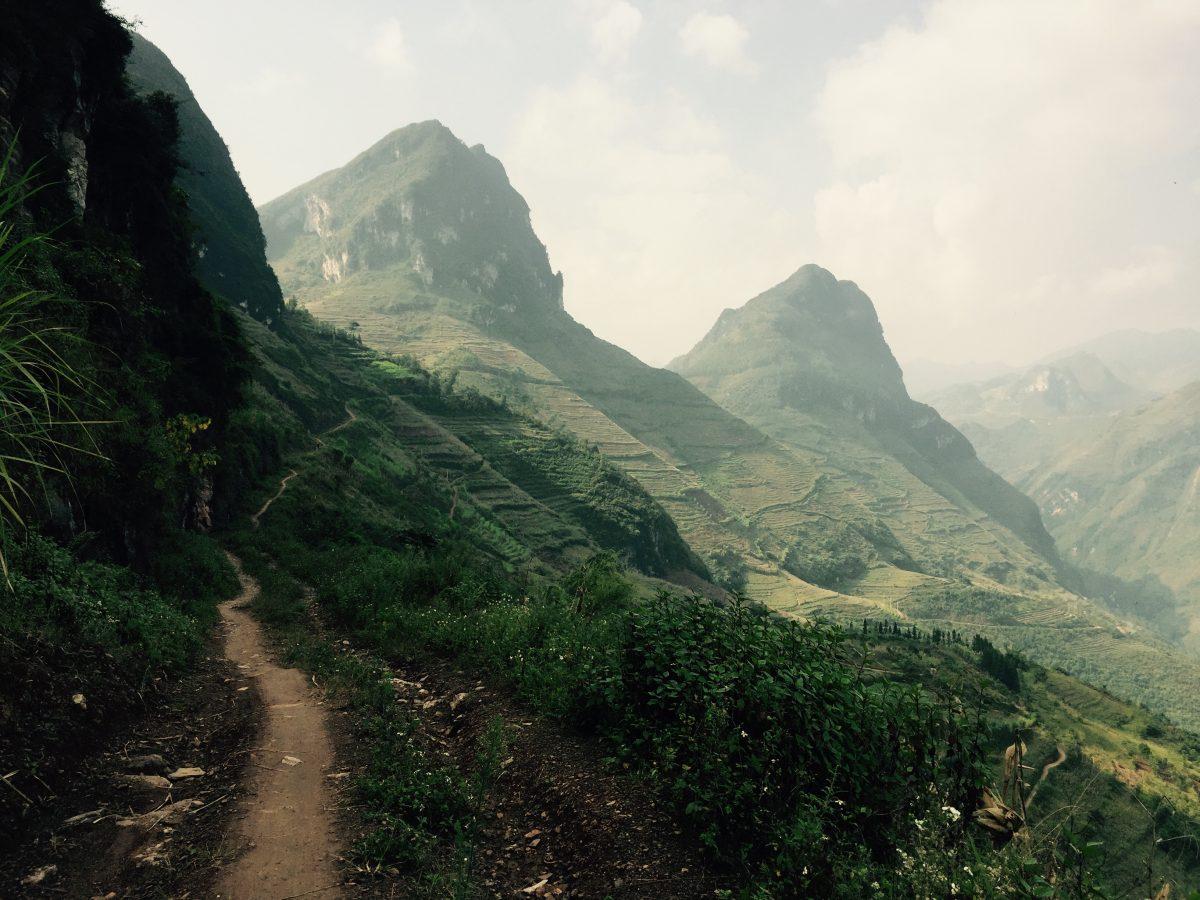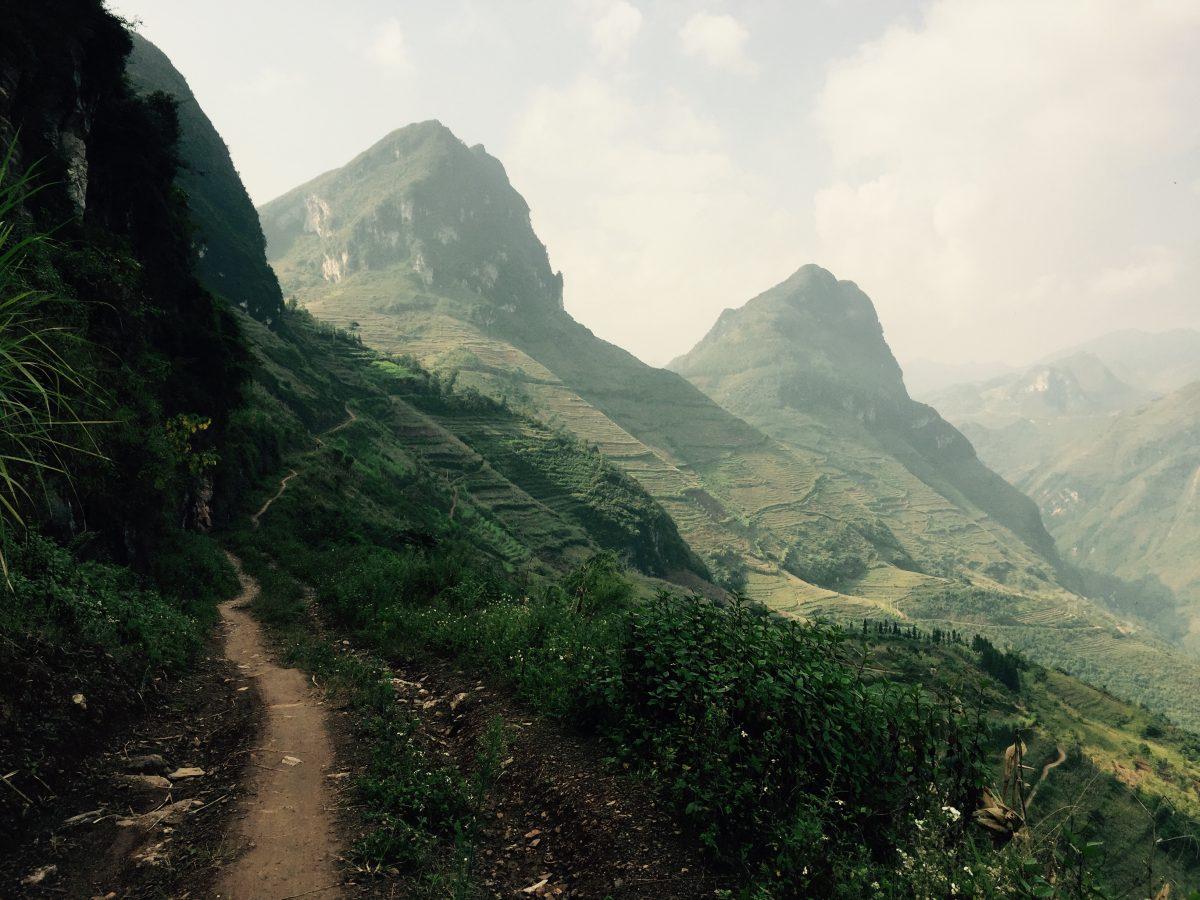 If you ask me where the most beautiful province or city in Vietnam is, I would say Ninh Bình. And if you ask me where the most beautiful place in Vietnam is, it would have to be Ma Pi Leng pass – And both of them are in the North. I've been lucky to have had great opportunities to visit almost 95% of the cities in the North on two motorcycle trips, in 2015 and in 2017. I have been to Ha Noi a few times and I still love it as much as the first time I saw it. If you ask me why, I can just tell you that it's amazingly unique, although I still have a few problems communicating with the Northern people. However, on both road trips around the North, I met friendly local people and I truly liked them because they were so kind.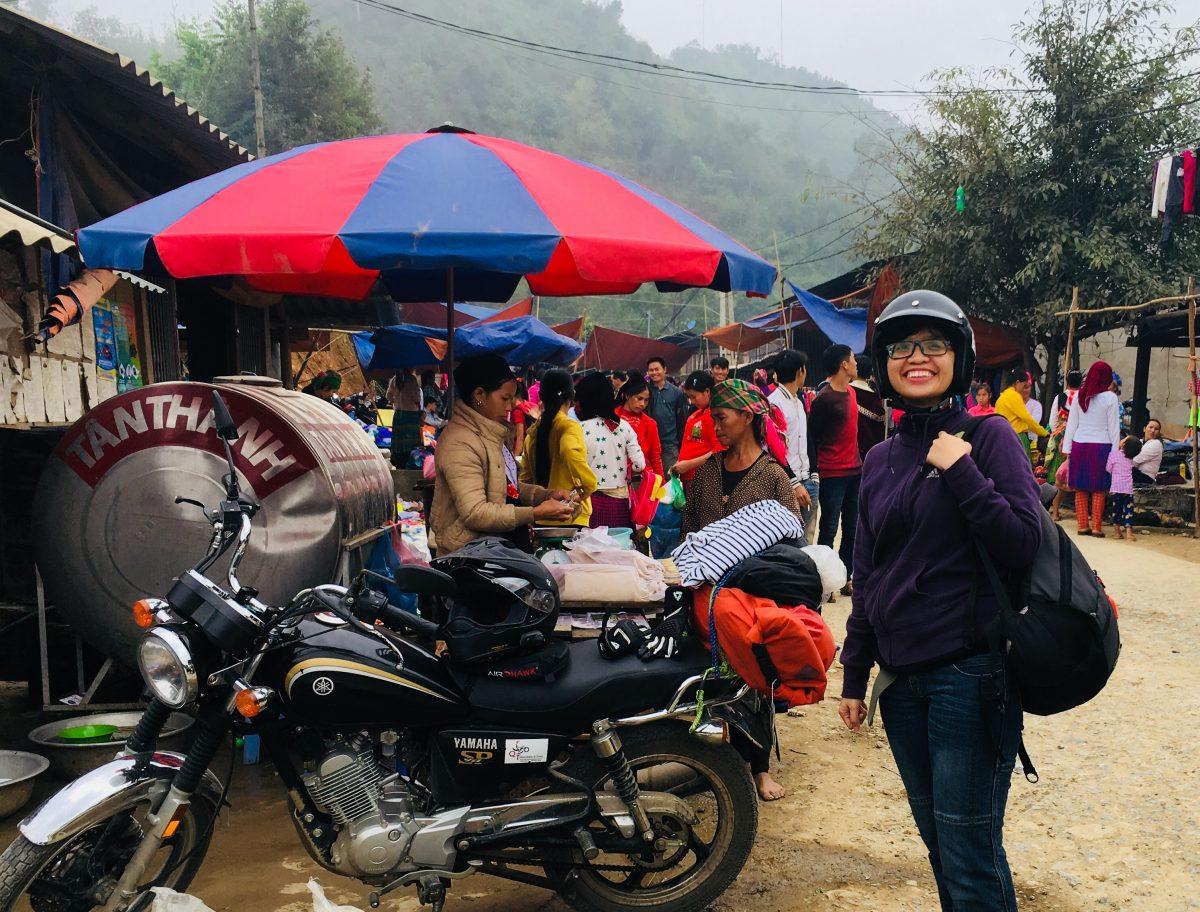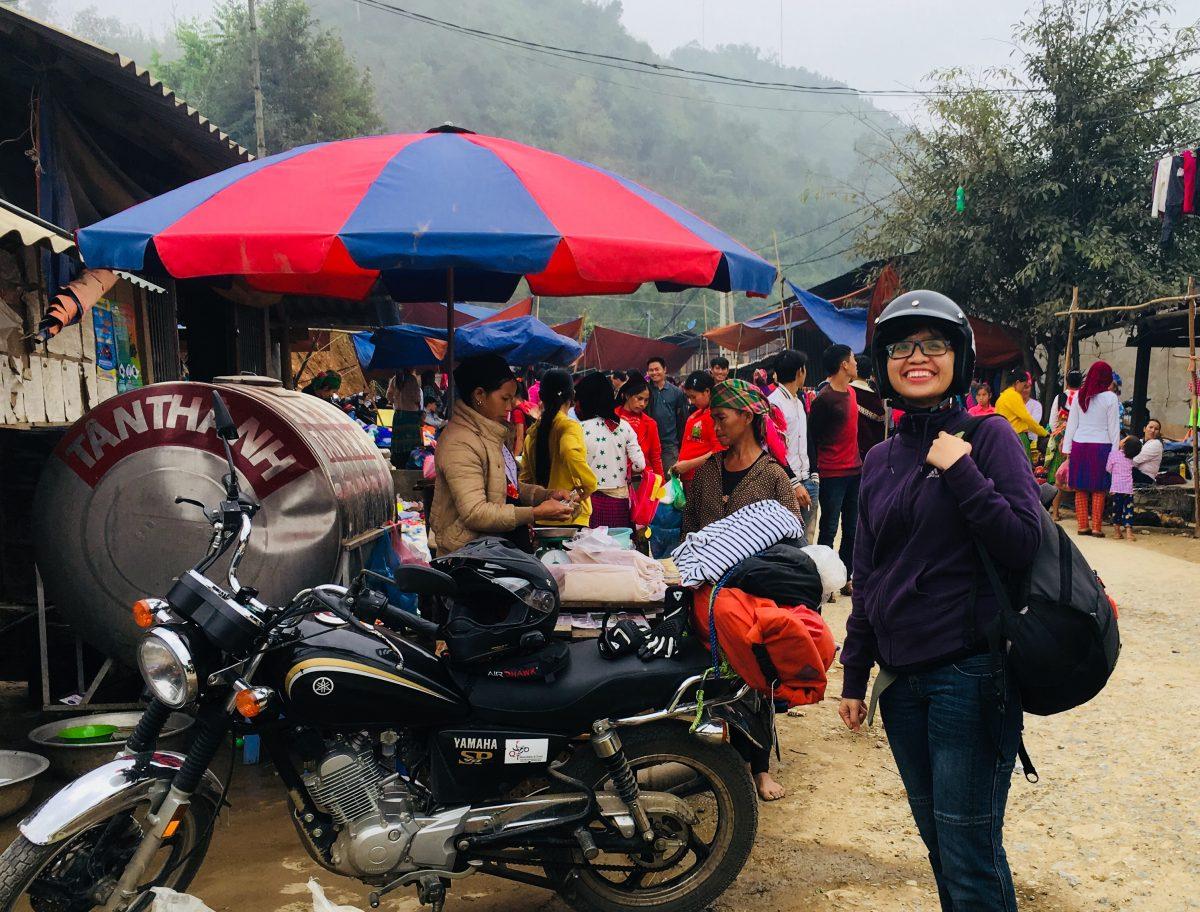 Let me tell you a bit about my road trip around the North in 2017. It was more special to me because the rider was a wonderful woman – my friend Elisa from Seattle. So you can imagine how great the motorbike looked with two young women, and the people on the road looked at it, and us, with such surprise when they saw us on such a giant motorbike! They must have thought we were crazy. I have to say a big thank you to my dear friend Elisa because she brought me on such an amazing trip, and one I had wanted to do since 2015. And actually, without her, I do not think I could have fulfilled that dream because it would have been very hard for me to do that road trip alone. No words can express my happiness when Elisa told me she was coming to Vietnam, and we'd do the road trip to the North together – a bit like we'd done in Australia in 2015. And both of us had the same destinations in mind before we even discussed it.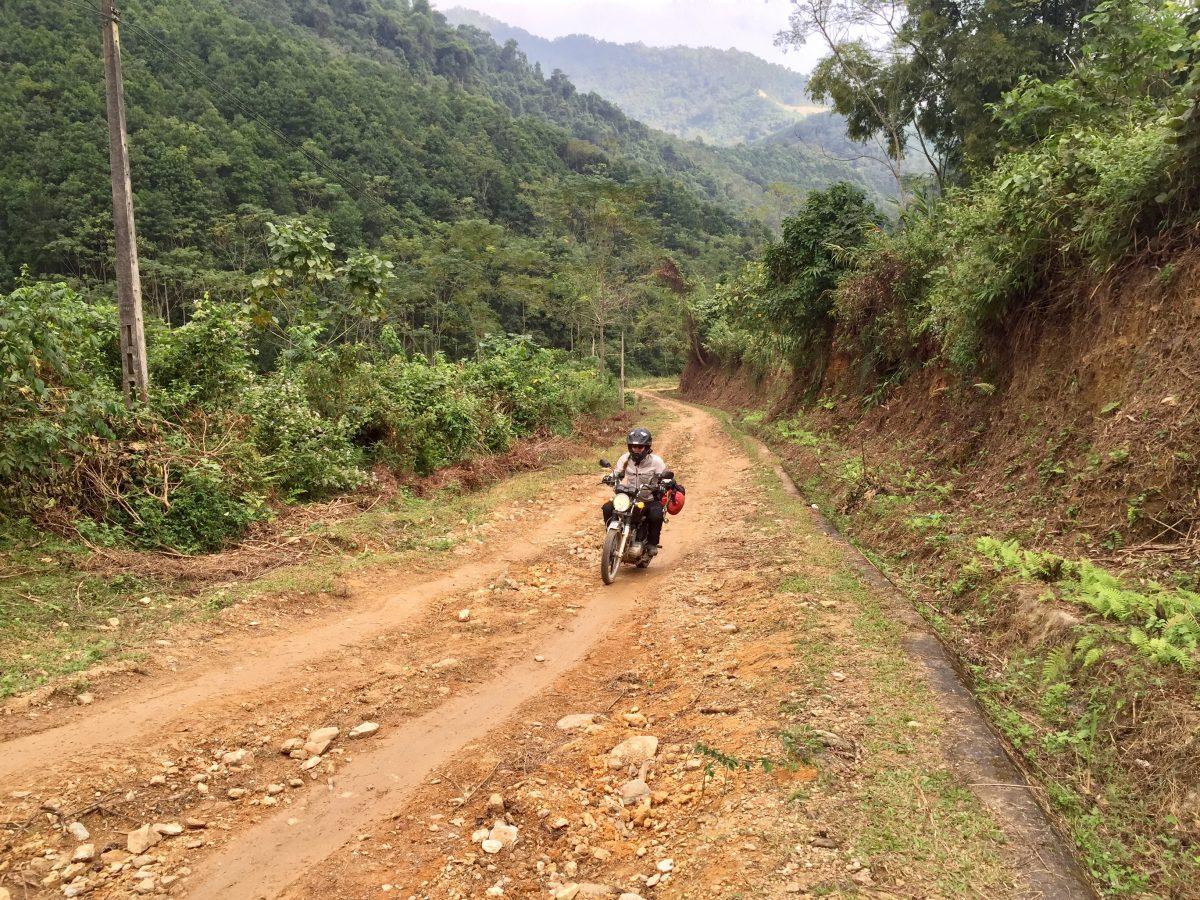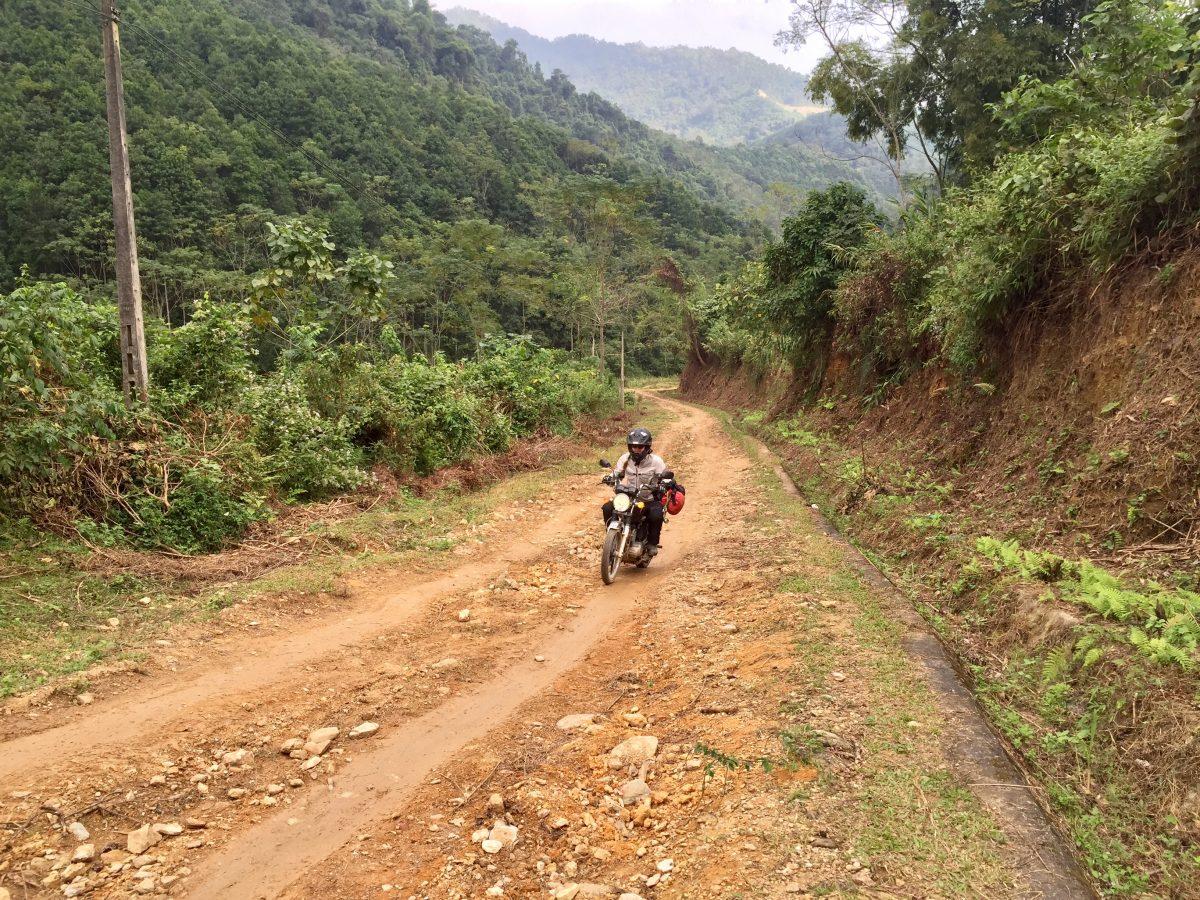 (A slippery mountain road!)
We chose Hà Nội- Hà Giang- Đồng Văn- Ba Bể loop in the far northeastern corner of Vietnam, for 10 days and with a motorbike ridden by one of the most professional female riders in the world – Elisa Wirkala – and the best navigator in the world – Trang Nguyen! (Although… twice we took a wrong turn, one time we almost drove across the border illegally into China, and another time, I pointed the wrong direction and it took us 40km out of our way… at night… in crazy traffic after a full 10 hours of riding that day.)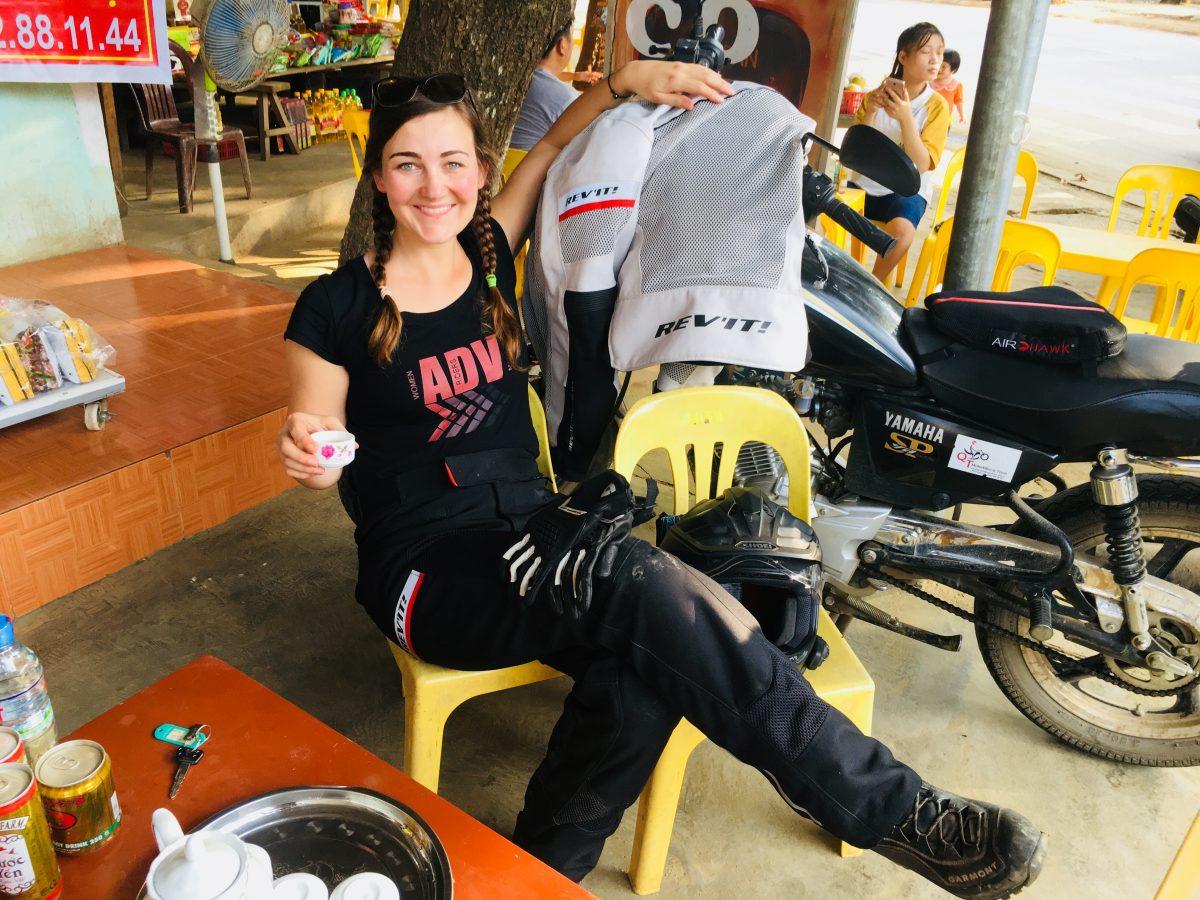 (Elisa and our giant – by Vietnamese standards – 125cc motorcycle)
I am sorry that I cannot describe how amazingly beautiful the natural landscape is because there are no words to describe that beauty adequately. Elisa asked me to be our photographer while we rode, but sometimes I forgot to take photos because I was hypnotized by the gorgeous views. The mountainous scenery was incredible. High blue skies and mountain ranges lengthened my view infinitely. But, at the same time, I wondered how the local people lived there, in such poor living conditions. We saw many ethnic minority groups working hard on the farms, or walking slowly on the road with so much stuff in buckets hanging on their shoulders. Some walked barefoot. Wooden houses on both sides looked very poor, old, and dirty. I imagine a strong wind could blow them away (But I hope it never happens). I wondered if the people there had ever seen the beaches. I wondered if they would like to move to the plains. I wondered if they were happy to live there, in the middle of nowhere, with giant mountains surrounding them and the beautiful terraced rice paddies. I did not know the answers, but I saw their smile whenever they saw us, and heard their calls of " hello!" in a funny, friendly way. There was a little girl who opened her door and from inside her house, shouted to us "hi!" and waved happily. I will never forget the smile of a tiny girl carrying a ton of cut grass on her back, walking on the road and smiling sweetly to us. Her smile was beautiful. Those kids were beautiful. They do not have any modern devices, no smartphones, no books even, but they know each plant in their land, they cuddle with their puppies, they have fun together in front of their house simply and peacefully.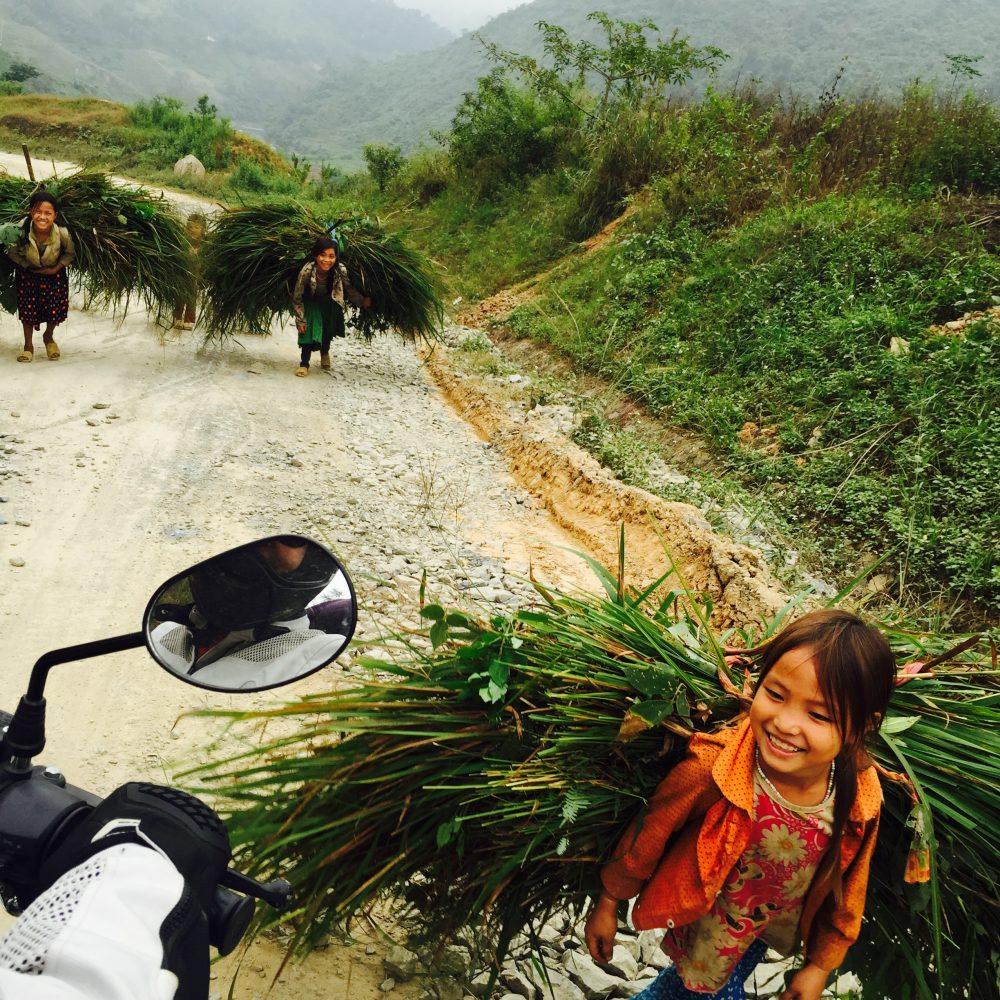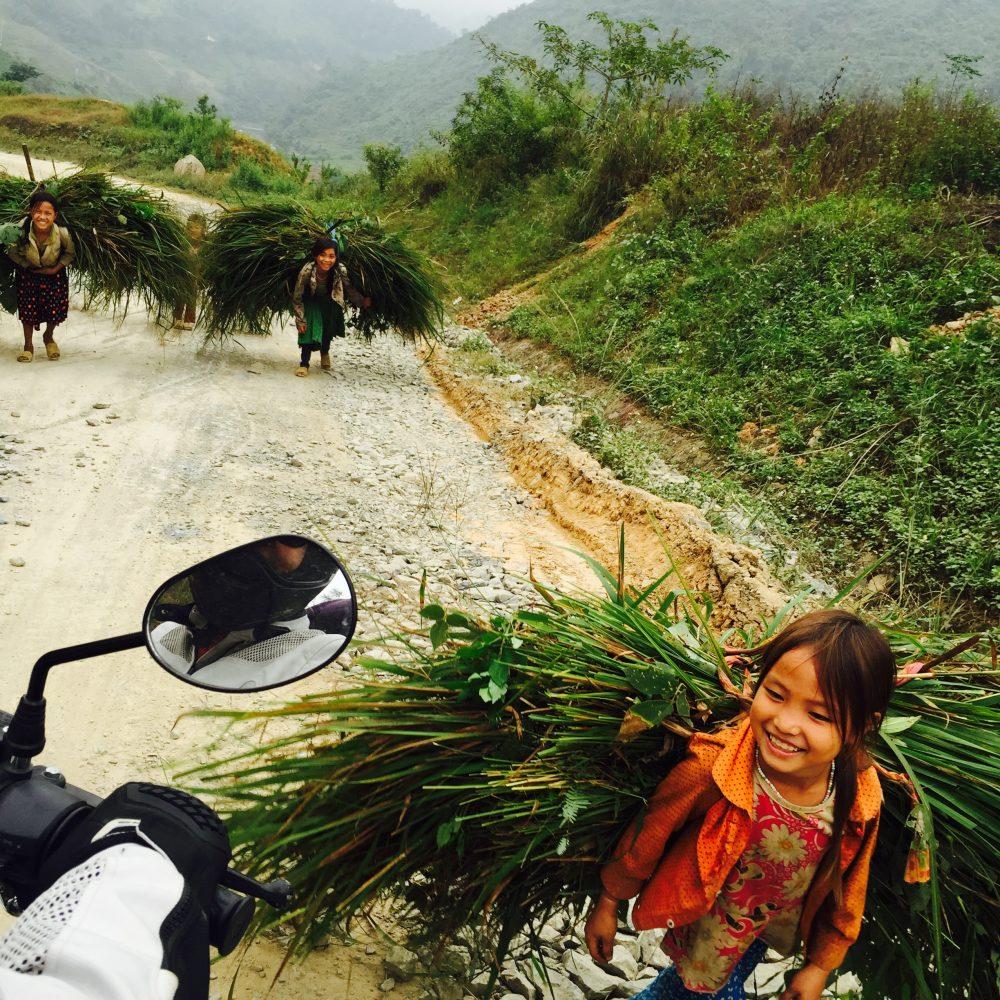 ( I loved it so much)
On the road, we saw dozens of rivers, many of them bright green. Elisa asked me why they were so green, and I did not know. It looked pretty in the space of mountain and forest, and the green color of the water just made me want to jump in. But behind that beauty was a sad story. Later, I found out why; it was due to the algae in the water, and can lead to very bad ecological conditions in those rivers. So why is there too much algae? The dams, which we saw so many of. It's such a sad truth that humans are destroying our nature. But I have to admit, the green river in the middle of giant mountains created the most incredibly stunning picture of nature I have ever seen.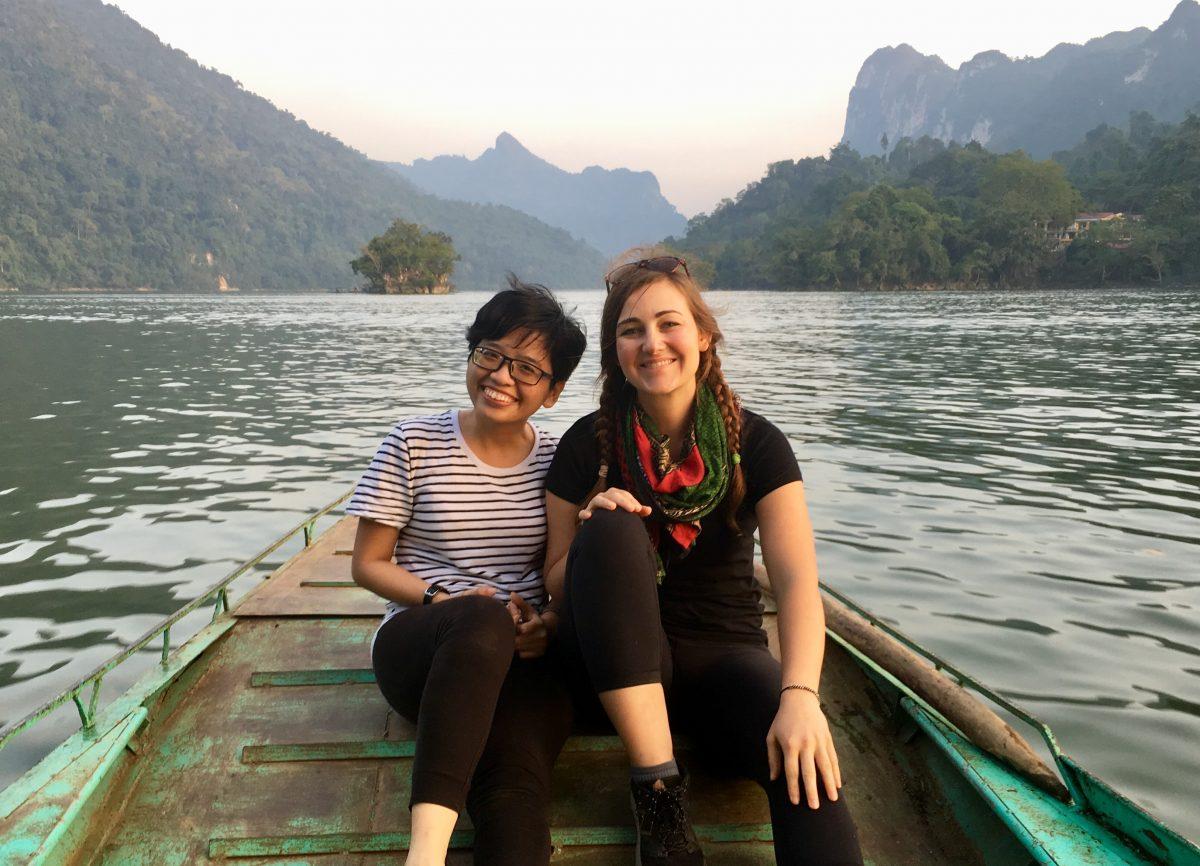 (Enjoying a couple days at Ba Bể Lake)
This writing cannot tell you all my feelings on that trip, nor the details. It would take a book to write everything down. Thanks to the trip, thanks to Elisa, I had a great time enjoying the precious beauty of nature given to my country. I understand more about the different aspects of life that lead some people to choose to move to big towns, big cities, to have a better life with good jobs, good living conditions. But still, there are many people who choose to live in the middle of the nature with a simple life, and it is just beautiful when you can see those colorful aspects of that life first-hand. You know the name of the national highway that took us from place to place in this trip? Its name is Happy Road, made 6 years ago to connect the plain and the mountainous areas.
When you do a road trip like this one, you'll feel grateful to the people who made the road, and I was truly happy when I was there.
*A note about Trang: 
Trang has just been accepted into the Masters of Chemistry and Molecular Science at a prestigious university in Finland! — Congratulations, Trang! This is one of her dreams, but in order to accept, she's required to have enough money to see her through the first year. And with the help of her family and friends, she's almost there! We hope the motorcycle community will help support this intrepid traveler to accomplish her next big goal: To become a scientist. Your support would be most appreciated.
Donations can be made via Go Fund Me, here!