BY MARY CREIGHTON
The first bit of light starts to dry the dew off of the tent. It's 7am and it's already warm. The fuzzy outline of a thought emerges: Coffee.
Elisa unzips her tent and emerges to make some. As she leafs through her equipment, she notices the donkey that has wandered absentmindedly into her camp. The donkey continues to take slow steps as it watches her watching it. She washes her face and makes a little breakfast before re-packing her tent and stove and putting on her kevlar jeans, gloves and helmet. She re-fastens the Motonaut straps on her Honda CGL125 and prepares for day 106 of a motorcycle trip across the Americas. When she's completed this trip, she will continue to Asia and then Africa.
According to the Adventure Rider (ADV) community, a "Round the World" (RTW) motorcycle trip consists of a rider traversing all non-ice covered continents including the Americas, Australia, Asia, Europe and Africa, on a motorbike. Elisa, age 33, has successfully traversed 44,000 miles across Australia, Europe and the Americas. Remaining are the Asia and Africa segments, which are each easily about 10,000 miles each.
Elisa is a contributing editor for WomenADVRiders.com, the first ever women's adventure motorcycle magazine. Drawing on years of experience, there are few people that can give good budget moto travel advice like Elisa. But it wasn't long ago that she too was a novice, curious about what the next step in her life would be after graduate school and totally clueless to the nuances of world travel on a motorcycle.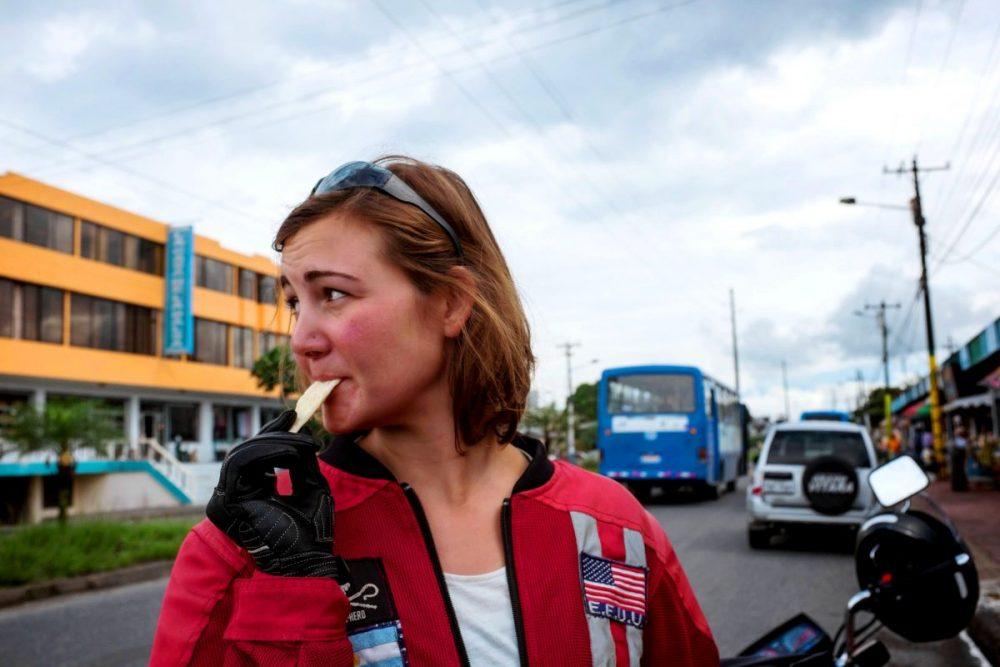 With $30,000 in student loan debt, bills and a mortgage on a teacher's salary, Elisa found herself sweating at the collar, wondering how she was going to manage her finances and her future.
"Having debt on your shoulders is a major psychological burden, dictating what you feel you can and can't do," Elisa admits, "forcing you to stay in a job you don't like and sometimes thwarting dreams and plans." With debt, Elisa felt imprisoned by her own financial limitations. But she was lucky. In just under a year, she managed to pay off $30,000 of debt, quit her job and start what, unbeknownst to her, would become phase one of a Round the World motorcycle adventure.
Student loan debt can be a harrowing and Sisyphean undertaking. Graduates often spend a disproportionate amount of their regular income paying off loans. Often these payments are to the interest and not the principal amount borrowed. This means they are simply putting off the bulk of their debt into the future. The "pay off" date of the debt then recedes further into the future as you approach it, like a horizon line. Because most of the graduate's income goes to paying student loan debt, little is left over for retirement savings. Little goes to 401(k) plans or life experiences like travel. With the decrease of pension options, particularly in the private labor sector, more and more people have to rely on putting money away early and consistently until retirement. Thus, they rely on traditional options like 401(k)-type plans in order to secure financial returns after retirement. But once rent, bills and loans are paid for, very few graduates are able to chip off another piece of their paycheck for forty years in the future.  Even if student debt payments are made, it can often push graduates to rely heavily on credit cards for the remainder of monthly needs. With credit card debt on top of student loan debt, recent graduates are starting out in the world with financial anxiety, which often damages quality of life. Graduates are forced to take a more conservative evaluation of what accomplishments are possible, and what are not. Between 2007 and 2014, student loan debt increased by 60% with average debt falling in the $25,525 range for undergraduate degrees alone. Elisa, with $30,000 of student loan debt and approaching her thirties, decided she wanted to reduce her loan debt to zero. Inspired by the financial blog "Mr. Money Mustache," she retells her financial story in precise detail on her blog. Though seemingly impossible, Elisa paid off all $30,000 of student loan debt in under one year.  
The previous year, Elisa "had looked into buying a one bedroom condo for $155,000-175,000, but had a nagging feeling it wasn't the best idea, and went with a much more expensive and larger townhouse instead, maxing out [her] loan capacity."
While this may have seemed like a bad idea at first glance, Elisa knew that buying a home with more bedrooms and more space meant that she could rent out more rooms. It was among these tenants, that she divided the cost of the mortgage. When she traveled, she rented out her entire house.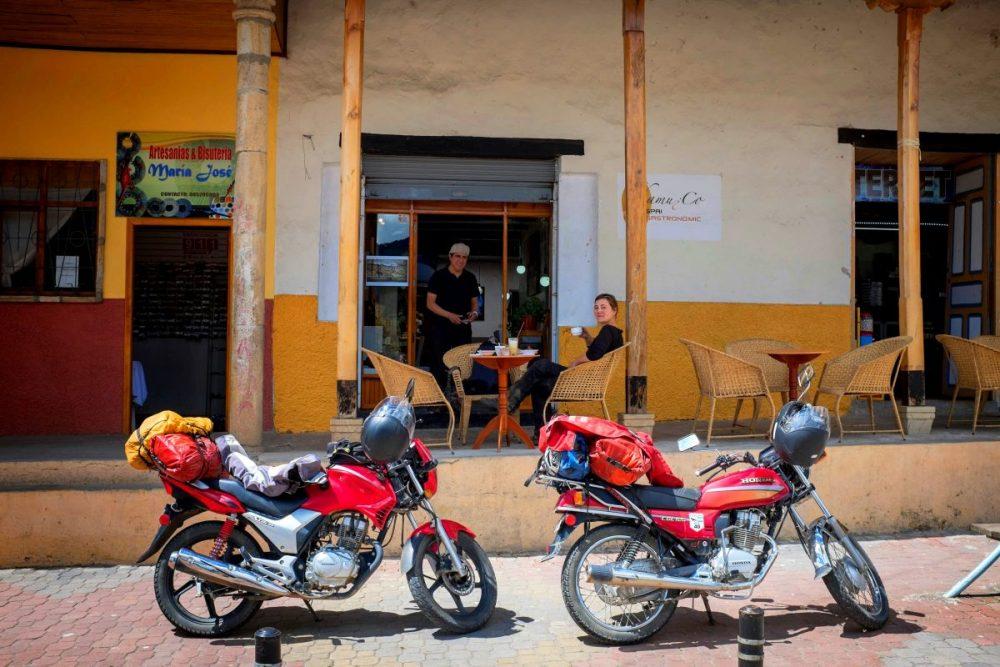 In June of 2012, Elisa paid $8,000, her entire life savings, toward her debt. She started a second job teaching an after-school Spanish class and decided to rent out the spare bedroom in her house, cutting her mortgage in half.
Next, Elisa used the income she earned from renting out her second room to convert her garage into a bonus room. After all, it seemed silly to have an entire room just for a car. This conversion paid for itself in just 6 months and increased the home's value.
"I was the proud owner of a beautiful townhouse and only had to pay $1,000 a month for it, and I was building great equity at the same time," Elisa wrote in an entry on her blog.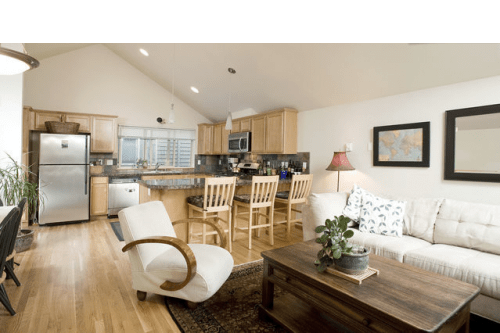 When the new room was finished she moved in, renting out the remaining bedroom. At this point, she was paying nothing in mortgage and utilities, as the rent she collected went to pay them directly. The only thing she was responsible for were insurance and property taxes. So she sold her car, saving her $275 in gas and insurance (not to mention maintenance) and got used to riding a bike everywhere in wet Seattle weather.
She continued to tutor after work, only buying the bare minimum in groceries, and spending nothing on luxuries. She dropped her cell phone plan down to a $25 monthly plan with no data. EVERYTHING else went to pay off her debt. Elisa established strict priorities. She collected free furniture from Craigslist and she almost never went out for dinner or had drinks at a bar.
On her best friends' birthdays, she'd splurge for a couple cups of coffee or invite them over for a bottle of wine or a home cooked meal. Or better yet, maybe share an experience and go for a hike.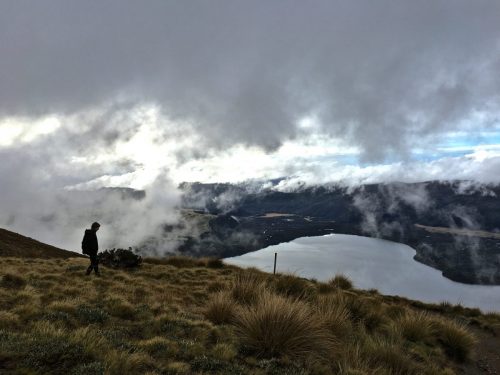 She didn't buy makeup or new shoes or books. "I started watching my daily spending very closely, especially my grocery and coffee bills. I got a free bread machine and used it religiously, instead of buying the expensive bread I was used to. I lived off a portion of my salary and the extra cash I was making by private tutoring after school," she says. In less than one year, $30,000 of debt was paid for.
While this may all sound like a lot of work, to Elisa the struggle was well worth it. To this day, she is confident that with certain sacrifices, anyone can get out of debt, within reason of course.
After she paid off her student loan debt, Elisa found herself gripped with the travel bug, an incessant craving to travel and see new places. The year before, Elisa had bought a plane ticket to Europe with the intent of spending a summer there. She had no real plans for the trip other than hiking another section of a famous trail called the Camino de Santiago. One April evening, two months before her flight, she listened to a speaker, Austin Vince, who talked, in exhilarating detail, about an adventurous motorcycle trip around the world. Elisa and her travel friend, Ashley, both had motorcycle licenses due to a "flash of brilliance and irrationality while tromping across the volcanoes of Hawaii together" the year before. While listening to the speaker, it occurred to her to try something radically unfamiliar. She sent a message to Ashley, "You ready for this? I'm about to blow your mind. WE'RE GOING TO BUY A MOTORCYCLE IN EUROPE THIS SUMMER! I'll take you back to Paris after, and will continue on my trip. Then, I'll sell the bike. We can get one for cheap and I met the speaker tonight who said he'd help!"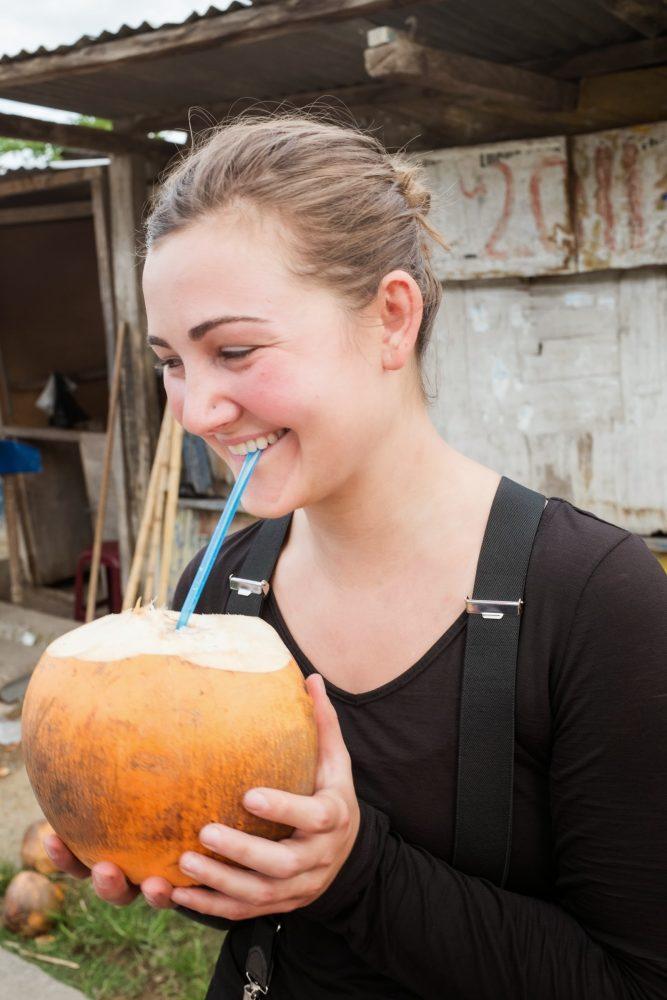 Still new to riding a motorcycle, Elisa began to practice on a bike so tall she could barely touch the ground. It took some getting used to. She had never ridden with much gear, let alone with a passenger. Nevertheless, Elisa and Ashley arrived in Heathfield, England and spent 3 hours in the dealer's parking lot surrounded by a sea of backpacks, camping gear and tools they didn't really know how to use. After an afternoon of sorting and strapping things down, re-sorting and re-strapping, they teetered out onto the highway. Ashley had to remind Elisa to ride on the left, as is customary in England. They rode from town to town via country road, couchsurfing along the way.
Elisa learned a lot about motorbikes on the trip. She sent occasional messages to parents explaining her struggles along the road: "Motorcycle shifter thing fell off yesterday in Loire Valley," one said, "while touring around castles. Twice, actually."
Over the course of thousands of miles, Elisa navigated cityscapes to country-scapes, wound through the Alps' scenic highway, met strangers, read maps in foreign languages and finally ended the bike portion of her trip in London. Her trip took two and a half months.
Elisa soon found herself back in her Seattle home, working and meditating on the previous year's adventure in Europe. Once again, she was was itching to get out of the house and see the world. She had an Australian partner who had to move back due to visa issues. Elisa decided to go with him.
"In a matter of a few short weeks, I resigned from a great job, said goodbye to my family, sold my pet chickens, refinanced my house to secure a lower mortgage loan, purged possessions, found renters, packed my bags, and boarded the plane," Elisa says.
Elisa traversed 11,000 miles of the country by foot and on a bike. It was on this trip that it occurred to her that she had already traversed two continents by bike. What if she attempted a third?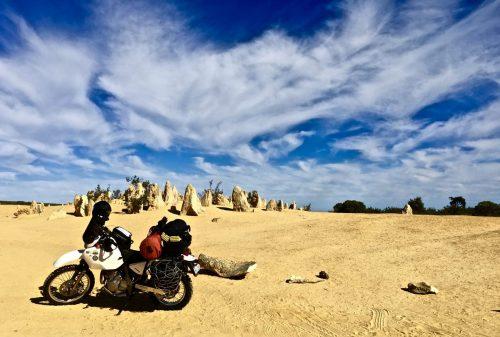 After a hard breakup with her Australian partner, she ended up flying home at Christmas, not knowing what to do next. It occurred to Elisa that instead of laying around her folks' house crying, she should get out for some adventure. She floated the idea to her mother. "Mom, should I go ride a motorcycle around Patagonia?" A week later, she was on a plane.  Elisa rode a whopping 20,000-miles across the Americas, from the country of Chile all the back to her home in Seattle, Washington and then later on to Quebec, Canada. She was transported by the thought and elated by the prospect of foreign vistas.  
Elisa has since traversed the Americas, finalizing the third leg in her goal. Currently, she is preparing for the next two adventures: Africa and Asia, each 10,000 miles minimum. These trips will include 10,000 miles of a foreign language echoing in her mind; 10,000 miles of unpredicted mechanical setbacks; 10,000 miles of pavement, dirt, gravel, and water crossings. There will be months of sunrises, sunsets, dawn and dusk and previously unseen wildlife. These trips will include 10,000 miles of Elisa as operator in command, not only of her bike, but of her own time: a luxury she could not have imagined while working her day job and chipping away at loan debt at agonizingly low increments.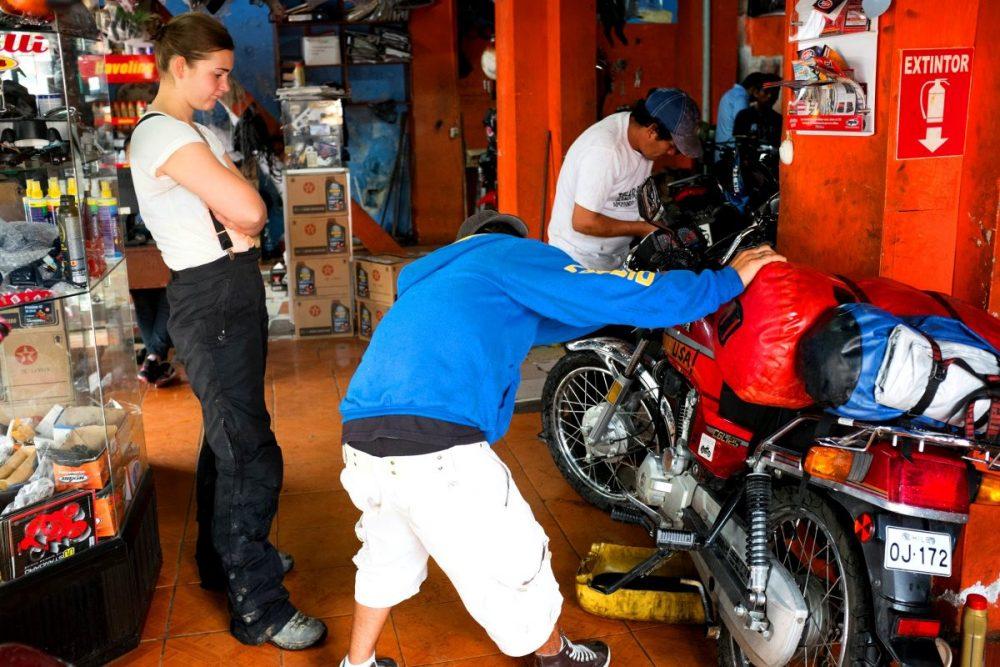 It seems, for Elisa, this RTW moto project doesn't present itself as merely an accomplishment. Reading her descriptions of the Ecuadorian women with European style bowler hats with babies strapped on their backs, or the way she describes how an animal would saunter or pirouette across her path, you get the sense that when on the road, she is somehow at rest on a balancing point: neither leaning forward to the trip's completion nor outriding a piece of herself she wishes to leave behind. Or perhaps it is both of these things with such exacting equality, that her daily countenance becomes like that of a person standing in the center of a fulcrum that neither pulls nor pushes her.
Either way, life after debt is possible. According to Elisa, an adventurous year of travel around the world is attainable too. She says around  $10,000 a year could do it. And she should know, because she's done it. Over the years of frugal travel, Elisa has volunteered with children in Argentina, hiked 130 miles across the bogs of Tasmania, ridden camels in the Gobi desert, fallen in love with the Icelandic moonscapes, spent a month skiing across North America's biggest glaciers, visited friends in Brazil, ridden horses bareback with nomads on the border of Siberia and Mongolia, and much, much more. By the time she was 28, she'd been to 30 countries.
In many ways, Elisa's is not a traditional RTW trip. She often ditches the bike in order to ski, camp, explore on foot, and visit relatives and friends. While preparing for the next phase of her trip, we sought Elisa for an exclusive conversation to ask her the many questions we had as inspired and awestruck fans. Below, Elisa tells us, in a way only her poetic words can, all about the relationship between depression and wonder; which bikes are good for international travel; the beasts of loneliness and boredom; what to pack and how to choose your routes.
Interview with Elisa Wirkala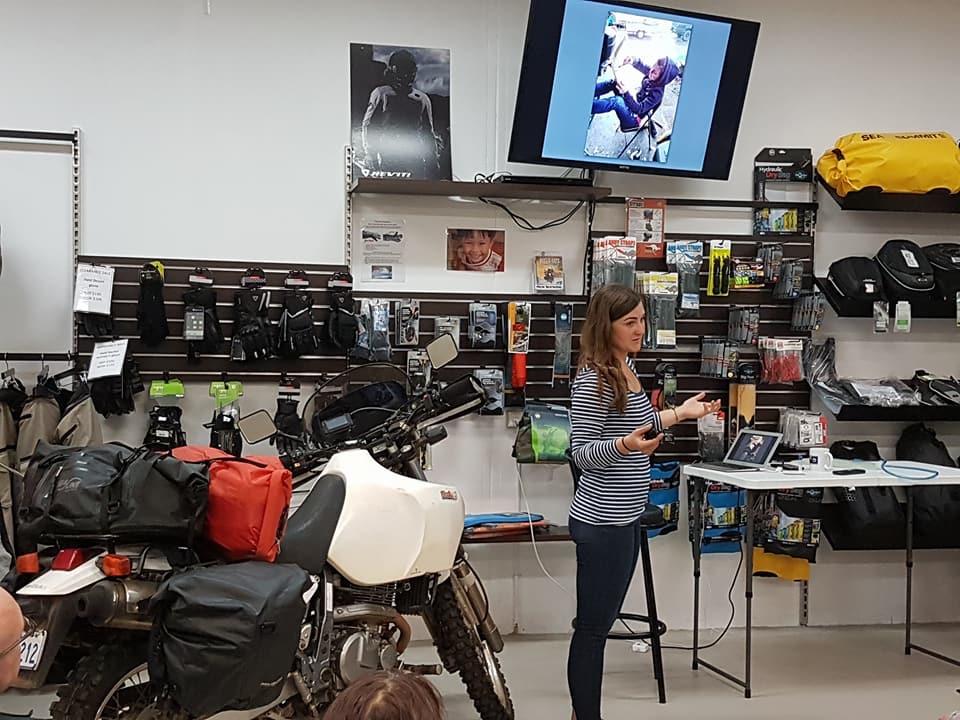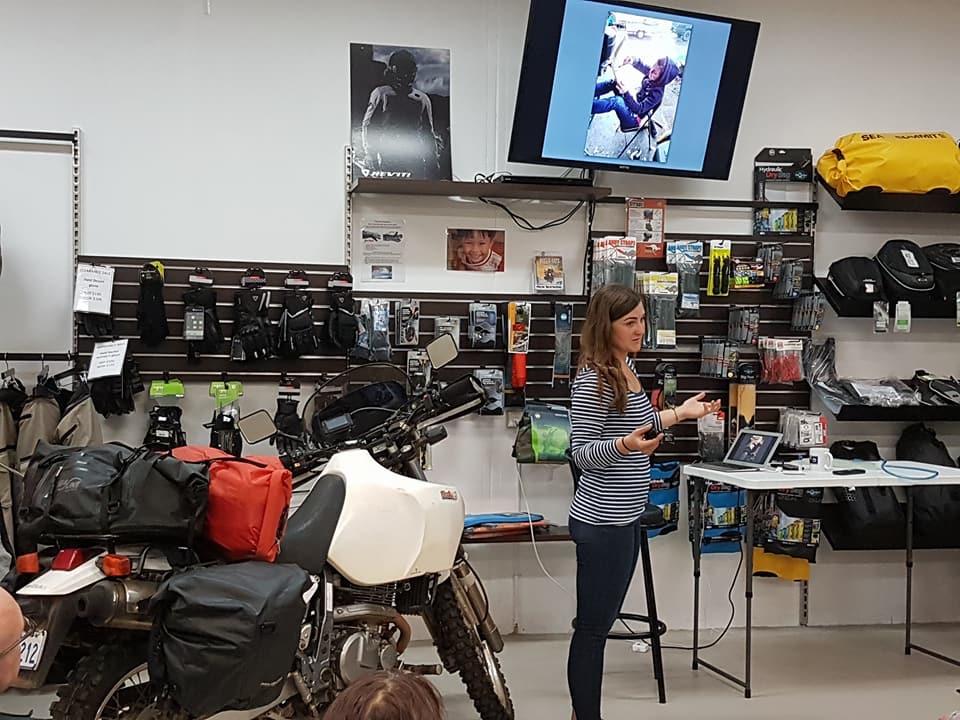 M: Can you explain in a few sentences what the around the world motorcycle project is?  
The RTW motorcycle journey didn't start as an around the world at all. It started as a slow meander across Spain on foot, which turned into 1,000 miles of blistered, aching feet across Western Europe. When I realized I was hooked on point A to B journeys, I decided to pick up the pace and try something new: Cruise Europe on two wheels, with a bike so tall I could barely touch the ground. Then it was off to Australia, to ride, drive and hike 11,000 miles across the continent. Then 20,000 miles up the Americas from Chile to Seattle, and eventually to Quebec.
Things snowballed, and I found I couldn't stop. What was once a 500 mile amble across Spain morphed into this ever-expanding desire to trace my little line across the globe and philosophize (to mis-quote Ted Simon from his Jupiter's Travels book). To see the world, the faces of its people, to experience awe, and utter freedom, joy, solitude and pain. To explore and scrape at the depths of my strength, my psyche, and my wallet.
The ADV community (adventure rider) stipulates that an around the world motorcycle journey must traverse all non-ice covered continents (Americas, Australia, Asia, Europe and Africa). But my RTW will take me far and wide, and sometimes pry me off the bike. A slow month-long ski expedition across the world' biggest non-polar ice cap in an attempt to get back to true wilderness; an ice covered place ready to swallow a little traveler whole down gaping crevasses, to be made one with the earth, ground up and returned to the sea from whence we came. My RTW will make me spend weeks traversing the leech infested bogs of Tasmania, stumbling up the Iron Bound mountains in exhaustion and exaltation. My RTW will guide me to always seek new challenges, on bike and off, and then to take a long rest at grandma's house with coffee, cookies, and love.
"It is not a trick to go round these days . . . but to know it, to smell it and feel it between your toes you have to crawl. There is no other way . . . You have to stay on the ground and swallow the bugs as you go. Then the world is immense. The best you can do is to trace your long, infinitesimally thin line through the dust and extrapolate."
– Ted Simon, author of Jupiter's Travels
Why is this around the world moto project important to you personally?
Depression was a long time and sometimes even dangerous companion, especially in my teen years. I didn't know how to address the questions of my purpose, my identity, my place in the cosmos. At eighteen, I went to Argentina for three months of volunteering in an impoverished retirement home, hearing the stories of those ancianos, elderly folk, and trying to bring a little joy to their lives. Seeing the way they lived, hearing their stories, shook me to my core. I realized the intrinsic value of a human life, of their lives, and of my own life, and the unique strengths we each have within us to make these global connections and show love and tenderness. I realized how lucky I was. And I experienced something else in those months: Awe. I was filled with this unique sense of wonder, and with it, joy. I felt infinitesimally small in the universe, but part of it in a way I hadn't experienced before.
In those months, I learned that in exploration, we make these connections easily and freely, whether with a person or with nature. And while we can experience awe at home, it's found mostly in places in which we aren't familiar. Though it might sometimes seem like a hedonistic pursuit (and sometimes it is), I ride to experience the world, the wonder, and meet its people. And to remember that we all have our little place amongst it all. I ride to experience the joy and the hardships, to collect these stories and be part of something greater.
Was your ass sore the whole time or did you get used to it?
Your ass gets used to it! But my shoulders often feel like there's a hot knife-blade jammed in tight, and that's a feeling that's been hard to shake.
When and how did you first learn to ride?
I decided to learn to ride when I was beginning a year-long intensive masters degree, while teaching full time. It was going to be a rough year, without the ability to leave Seattle to explore. I knew I needed a city bound adventure, and for some unknown reason, motorcycling popped into my mind. Having been the first on the scene of a horrific motorcycle accident at seventeen, the idea of motorcycling always made me shudder. And then something changed. I don't know if I was trying to face my fears, or just legitimately thought it would be an adventure, but I very quickly made the decision to do it. I had a friend- the only person I knew who rode- to show me the basics, and then signed up for a basic rider safety course.
What kind of bike do you intend to use for the future segments?
Whatever is cheap and easy to fix. I don't believe you have to have the biggest, best bikes, like you often see on the ADV circuit. Small bikes do the job, are fuel efficient, and often easier to find parts for. You run greater risks on smaller bikes due to the low power capabilities, but there's something to be said for being able to pick your own bike up out of the sand when you've just dumped it in the Bolivian altiplano.
What first bike do you recommend for a gal who wants to start riding on longer on and off-road trips?
While hard to find in the United States, I love the KL250 Super Sherpa that Kawasaki makes. They have a pretty good cult-following in this country for being such cool, efficient and easy to ride bikes. Good fuel economy, not too tall, and comfortable enough for longer trips that take you on and off road. I used one to ride 3,000 miles around southeastern Australia, and loved it.
Another good choice, although more expensive, would be the DR650 if someone's looking for a larger, more easy to find bike with great on and off road riding capabilities. They're also easy to lower, for shorter women riders, and are known as really durable, well-made machines.
The two segments you have left in your around the world bike tour are South Africa to Spain and Spain to Asia. What will be different about these two segments from the previous ones?
Latin America wasn't totally new to me, as I'd already traveled so much of it in my backpacking years. Having family in Argentina to visit helped, and I was already very familiar with places like Mexico and Guatemala. It was intimidating, but nothing like Africa will be. The fact that I haven't been to Africa makes the whole thing more challenging, psychologically. And while I was basically "riding home" on my America's trip, both these upcoming sections will be taking me to mostly knew places, and at least in my mind, more exotic. And though I've already traveled through Mongolia, it's not exactly a place I know well, and I certainly won't be able to easily communicate with people. As an English and Spanish speaker, I had the benefit of being able to easily communicate with people in Australia and the Americas. Central Asia? Africa? Not so much.
What is the mileage of these two sections?
Both sections will probably end up being around 10,000 miles each.
What is your basic packing list?
I'm a minimalist, so as little as I can bring. A small sack of clothing, my Motonaut straps to make sure I can easily and safely attach stuff to my bike, iPhone and charger, spare tube, lights, basic tool kit, tire levers, bicycle air pump, camping gear, hiking shoes, a good knife, flip flops, and armored motorcycle jacket and pants, Draggin kevlar jeans, gloves and helmet. Some small coffee-making device. Basic toiletries, including a Diva Cup, as feminine hygiene products can sometimes be hard to find. Maybe my nicer camera, but maybe not. A few odds and ends!
How do you choose what route you take?
If it's a country that's known as more dangerous (Mexico, Guatemala, El Salvador, Honduras), I usually ask local motorcycle riders via Facebook, or locals I meet once on the road. I don't usually ask people about neighboring countries, as I've found that most locals think the next country is the more dangerous one! In places like the Andes, I basically looked at a map and tried to follow the mountains as closely as I could, and took roads that looked windy.  
Where do you choose to sleep/camp and what is your ideal setup?
I camp in countries that are deemed safer, like Australia, and many places in South America. If I can find a local (and cheap) campground, I'll go that route. When wild camping, I try to find remote roads that people aren't likely to drive at night, or try and get my bike and tent totally hidden behind a mound, a hill, or in the bushes. The more discrete, the better. That, or in the middle of everyone, as there's safety in numbers.
Was there ever a time when this idea sounded crazy or impossible to you? What was life like then and what changed?
I distinctly remember hearing about people who rode across the Americas. I was floored. In my mind, I had this image of these big, strong, really self-possessed and intimidating looking dudes. Pretty much the opposite of how I identified. Once on the road, I quickly realized it was something most people can do. Does it still sound crazy sometimes? Absolutely! The only difference is that now 'crazy' doesn't sound like such a foreign concept, and I know it's all about taking things day by day. If you can break up this big, intimidating concept into smaller, manageable pieces, suddenly you find it isn't such a challenge. These days, I can see myself making the decisions to go for it- getting someone to rent out my house, buying that plane ticket, making local contacts in Europe or in South Africa to help facilitate buying a bike. While the overall concept is still overwhelming, I now have a handle on how to make it less intimidating.
Do you ever get lonely and how do you handle it?
I've recently started getting quite lonely. When that happens, I try and make plans to stay with Couchsurfers, which definitely helps. In 2015, in Australia, I became so lonely that I ended up buying a $1,700 Hyundai Accent and inviting a Couchsurfer (a twenty six year old Vietnamese school teacher from Ho Chi Minh) to join me on my road-trip from Sydney to Cairns and back (5,000 miles r/t). She'd never sat in the front seat of a car before. She'd never gone camping, or made a fire, or seen snow, or prepared dinner outside. She'd never hiked, or gone swimming in the ocean, or seen the bright night stars or the sunrise over the Pacific Ocean. It was her first time in a Western country, and her first time for dozens of other things. We became great friends, and the month she was with me was such a rewarding, positive experience for us both. While she had the opportunity to explore in a way she never thought possible, I was given the opportunity to see the world with new eyes- an incredible, welcomed experience.
What piece of advice would you give someone starting a similar project?
My advice? Take things day by day. Don't dwell on the long-term goal of getting to your final destination, weeks or months away. When things are feeling tough, it's bad for morale. Instead, think about tomorrow's destination. Think about the friends you'll be making just around the bend. Reflect on the good moments you've had, and have faith that while everything won't be easy, it's sometimes the tough experiences that are the most rewarding. The realization that you can get through so much, with a little determination and belief in yourself.
How do you start your day on any given day of the trip?
With coffee! I like to wake up pretty leisurely. I can do an alpine start if need be, but why rush things? Enjoying the woods with a hot cup of coffee is one of the best ways to start any day. I'll mosey around camp, wash my face (always, at a minimum), chat with people if any are present, or with whatever local donkey or dog has just wandered into camp. Make food if I can, and if I don't have anything, pack up and ride for an hour before looking for something to eat. Sometimes, if I've camped somewhere not very nice, I'll pack up right away, ride somewhere scenic, and have my morning coffee there.
What do you do to stay motivated while traveling?
In my younger years, this was always a bit trickier. I would often get very homesick, which doesn't happen too much anymore. Being a good, competent, happy traveler takes practice, like anything else. It's not always easy, despite the smiles and infinite fun photos people post to their Facebook pages. Most people don't show the reality: the sweat, the tears, the physical, mental and financial pain. But these days, I've had my fair share of practice. If I'm losing motivation, losing steam, it's usually a sure sign it's time to wind things down and take a break, or just head home. There's no shame in calling a trip quits, unless it's a goal that's really truly meaningful to you. In those cases, thinking day by day is the key to success. Taking the hard days one at a time, sometimes even hour by hour when it's really bad. There have definitely been terribly difficult sections, or plain old mind-numbingly boring ones, where my brain literally felt it would melt out of my skull. In some of those moments, I was ready to be done. Ready to roll into a nice mountain town and relax, sipping coffee from a cozy chair. But the hard stuff's memorable. Those are moments where you prove your own tenacity and build some real character.
If you had to provide a personal motto for this project, what would it be?
Hiking across Spain, my first true adventure, was physically pretty rough. I was hiking 30 mile days, back to back in blistering heat, until my feet and shins could no longer take it. It was hard, yet I loved it. And when the going got really rough? I'd just tell myself, over and over, "Sleep when you die, girl. Sleep when you die". Maybe not the healthiest attitude, but I was hooked.
What is morale or mood like on day 100 of a trip like this?
After three months on the road, you're really in the swing of things. Spirits are high, and you're confident in your own abilities. At this point, you've almost reached the point where things seem pretty normal and routine- but not quite. You're still very impressed by the mountainscapes you're cruising by, the guanacos pirouetting gracefully across fences in Patagonia, or Quichua women with European-style bowler hats with babies strapped to their backs. You're full of wonder of the beauty in the world, and generally feel happy, strong, and part of something greater than yourself.  
I read an article of yours that of the 8 month journey in Chile, the hardest part was deciding to book the ticket. What made you finally decide to do it?
Nothing tipped the scale, except the knowledge it was a worthy goal. I just decided that if I became miserable, I could always come home. There shouldn't be any shame in that. Some things work out, and some don't. Figuring out what's worthwhile and what isn't is something you learn with experience. Ultimately, my fingers made the decision by clicking the 'purchase' button for the plane ticket. After that was done, the rest of me had to fall in line and just do it.
What do you read, watch or listen to for inspiration (particularly regarding this project)?
Bill Bryson's A Walk in the Woods really inspired me to take a closer look at my own experiences, and start writing my own story on my blog, Travelbugblues.com. Jupiter's Travels by Ted Simon was another one that truly inspired world exploration, and is considered a true classic in the motorcycle adventure riding community.
What technical resources did you use?
Horizonsunlimited.com is one of the best resources to get real facts about places you're traveling, and to connect with people who've done similar things. WomenAdvRiders.com is an excellent resource for women riders, too, as it's written by women, for women, and deals with a huge range of relevant adventure rider topics. It's a free online publication dedicated to giving women the inspiration and tools they need to hit the road.  
Name a quality about yourself that has come in handy on this project.
Good god, I must be a masochist of some sort. Sometimes I wonder… What's up with this desire to put myself through such physical and mental strain, or downright pain? Why do I love it so much? There's just something about grit and determination that makes a girl feel good! Good, strong and capable, qualities all women should let themselves discover.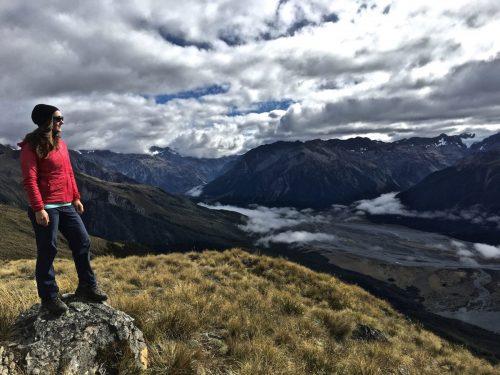 Originally published on Mythogynist.
Mary Creighton Bio: Mary Creighton is an outdoor enthusiast and story-teller. She is founder of Mythogynist, an online journal featuring articles and exclusive interviews with women innovators around the world. Mythogynist's goal is to tell the stories of women who are making powerful changes in the world by way of adventure or advancement. @mythogynist