By Kris Fant
Reading motorcycle adventures is a favorite pastime of mine when I am not adventuring on my own. Sometimes I get double the adventure by listening to motorcycle adventure audiobooks while I ride!   If you are looking for great stocking stuffers, here is my list of adventures not to be missed.
Ghost Rider: Travels on the Healing Road
By Neil Peart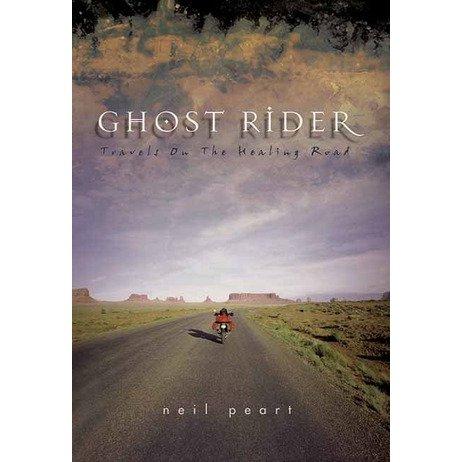 Most of us know Neil Peart as the drummer for Rush.  What you may not know is that in less than one year, he lost his daughter and his wife.  Distraught, he used a coping skill that will resonate with all of our readers; he spent the next few years traveling North and Central America, healing his heart.  As you accompany him on his journey, you will shed your own tears hearing his genuine, raw emotions, and at the same time, you will root for his healing and recovery as he reengages in life.
https://www.amazon.com/Ghost-Rider-Travels-Healing-Road-ebook/dp/B00466HQVA/ref=dp_kinw_strp_1
Motorcycle Therapy
By Jeremy Kroeker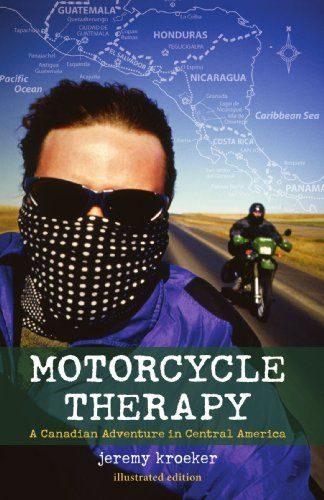 The words motorcycle and therapy are each meaningful to me on their own, but combine them and you pique my interest. This tale by Jeremy Kroeker had me in stitches while riding my motorcycle and listening to his adventure. The catalyst for his adventure he refers to as his "tripod of misery": injury, boredom and loneliness.  "With loneliness comes a certain freedom.  Freedom enables mobility and independence. There. I had a new tripod. And what embodies these three elements better than a motorcycle?" Join Jeremy as he and a fellow broken hearted friend embark on an enthusiastic if poorly planned adventure of healing and quest for happiness.  
https://www.amazon.com/Motorcycle-Therapy-Canadian-Adventure-Central/dp/0991825004
Lois on the Loose
by Lois Pryce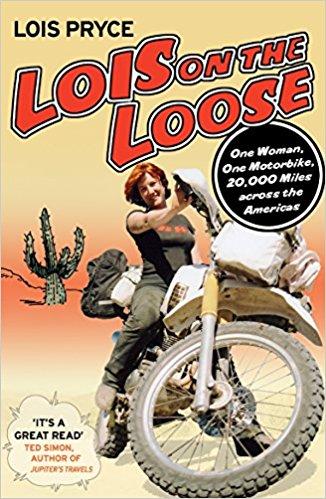 I'm a sucker for a gal who moonlights as an adventure traveler, while holding down a day job.  Especially when that gal quits her job and embarks on a solo journey from Alaska to Ushuaia on an XT225!  Lois's extraordinary wit is evident in every aspect of her journey.  I'll share just one, and you'll realize why this book is a must read… Imagine a border crossing, with an all male audience, who had offered Lois a refreshing piece of watermelon. "I lifted the melon to my lips and took a generous bite from the middle, feeling the sweet juice dribble on to my tongue. But as my teeth sank into the succulent flesh, a bite sized chunk broke away and plummeted earthwards, landing with a resounding SPLAT! To my horror, I felt the sensation of sticky fruit against warm flesh and glancing down, I confirmed my worst fears The piece of melon had come to rest slap bang in my cleavage, and was lying there for all to see, pink, glistening, and firmly wedged in position."
https://www.amazon.com/Lois-Loose-Pryce/dp/009949356X
The Mom Who Took Off on her Motorcycle
By Diane Bletter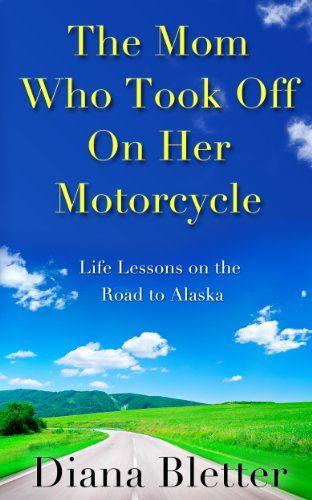 As a nearly empty nester, I understand the question Diane faced as her final child left home.  She was a driven woman who worked, raised children, wrote and had hobbies. She'd wanted to learn to ride a motorcycle, but children and family intervened, and at 52, she mentioned to her husband she'd like to take a motorcycle trip of, oh, about 10,000 miles. She barely finished the sentence before he'd purchased two BMW's. As she looked at her enormous bike, Diane thought "I had received a message to ride to Alaska, but now I knew that God must have dialed the wrong number." I'm grateful that her husband Johnny bought her that bike and she dug deep within herself to complete this character building, life changing journey, because reading her story when I was learning to ride most certainly inspired me.
https://www.amazon.com/Mom-Who-Took-Off-Motorcycle/dp/0985343206
Favorite Motorcycle Reads for Kids of All Ages
Don't leave the kids out of the adventures! These are great for us grown up kids too.
How to Build a Motorcycle
By Saskia Lacey (author)  and Martin Sodomka (illustrator)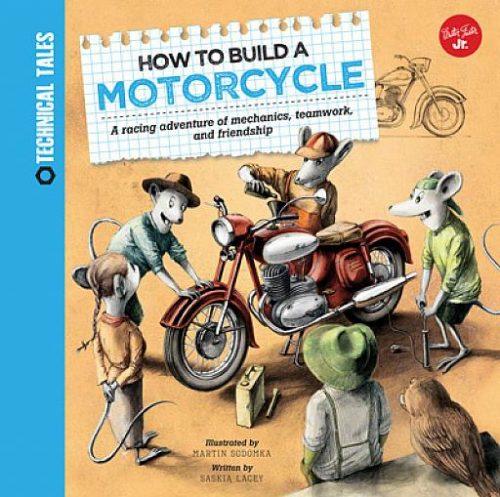 A blend of story and mechanics, in this book three unlikely friends come together to build a motorcycle! Overcoming obstacles along the way, these three animals learn how a motorcycle works, and the blend of story, explanations, and illustrations are illuminating for kids of all ages!  
https://www.amazon.com/How-Build-Motorcycle-adventure-friendship/dp/1633220575
The Mouse and the Motorcycle
By Beverly Cleary
I admit, this book may be solely responsible for both my love of motorcycles and my love of mice. In this long adored children's book, Ralph S. Mouse is a dreamer of adventure.  When a young boy named Keith moves in to Ralph's apartment with a toy motorcycle, a beautiful friendship is born and Ralph gets to have bigger adventures than he ever dreamed.
https://www.amazon.com/Mouse-Motorcycle-Beverly-Cleary/dp/0380709244/
Kris's Book of the Year
Lone Rider
by Elspeth Beard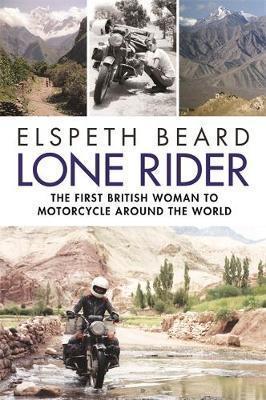 This book was born after years of reflection.  For a full review, click HERE!