Book by Antonia Bolingbrook-Kent
Review By Kris Fant
Land of the Dawn Lit Mountains is the third book I've read by this author, affectionately known as Ants. Ants takes us to Arunachal Pradesh, India, using words with as much skill as Van Gogh used a paintbrush.
This journey was born of panic attacks; she dreamed of getting a book contract to explore this mysterious Indian landscape, but Ants was dealing with the fallout of her driven nature. She'd been burning the candle at both ends for so long she was plagued by inconsiderate and randomly-timed panic attacks. Arunachal Pradesh is little known, geographically isolated, and geologically extreme. Yet there was the offer, on the table. How could she explore this remote location when she couldn't contain her rapidly beating heart?
With support and encouragement our heroine took the contract and made a plan. Two years later, Ants arrived in India. She acquired a 150cc Hero Impulse and wobbled through the intensity of city traffic until the road thinned and civilization waned.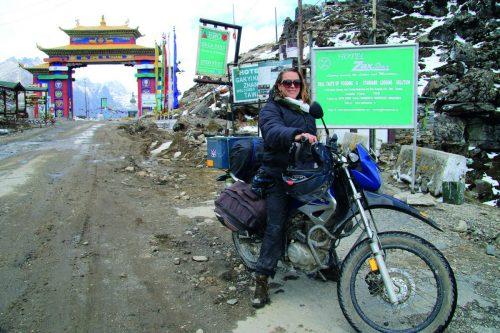 "In the village, life carried on as normal: children shouted, dogs barked, geese honked, and bony men yelled at bony cows as they beat and drove them home. They'd lived cheek by jowl with claw, fang, horn and tusk for countless millennia; it was as normal for them as having a cup of chai. For the first of many times over the next few months, I thought how lily-livered we are in England; how removed from the real wild our mollycoddled, sanitized, urban existences have become. Maybe it would do us good to throw the odd tiger into the mix."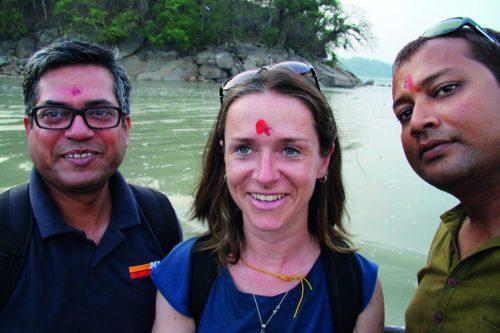 There are many times Ants faces challenges of slick mud, swirling rivers, unfathomable deluges, unknown customs, and mysterious policies. She repeats the phrase "keep going, keep going, keep going", creating an incredibly relatable heroine. After one intense downpour, Ants thinks, "as wet and horrid and filthy as today had been, I felt stronger for having endured it." You'll find yourself feeling her fear, facing it, and cheering with each success that becomes a step in regaining her confidence.
As with all journeys, Ants meets incredible people along the way. She paints people, towns, and customs so vividly, you feel as though you are there with her, whether it is a lone rider appearing in her mirror in a torrential downpour or the smell of slaughter in a small village. A carpenter in Maio summed it up: "though he was black and I was white, we were all the same – all just human beings."
This book is more than a travelogue; It is a journey with heart and soul, that happens to take place on the back of a motorcycle, through the small villages with huge hearts in Arunachal Pradesh.