There aren't enough options for women's motorcycle gear. We know! Women need more sizes and shapes, more function and protection, and more pockets.
Although gear manufacturers have been a little slow to respond, they are responding. Brands are reacting to women riders' needs, and slowly but surely, women's motorcycle gear is catching up.
So far, Klim seems to have taken women's requests the most seriously. This Spring, Klim is coming out with a brand new women's adventure riding suit, Artemis, said to be the toughest women's riding jacket and pant combo out there.
We sat down with Kelsey Runge, head gear designer at Klim, to find out more.
Kelsey started designing motorcycle gear for Klim in September of 2016. "I have been able to go through two design seasons, so my first was the Spring 2018 line and then now I am currently in the process of designing the Spring 2019 line", – says Kelsey. She's Klim's secret weapon – but will she be able to start a revolution in women's motorcycle gear?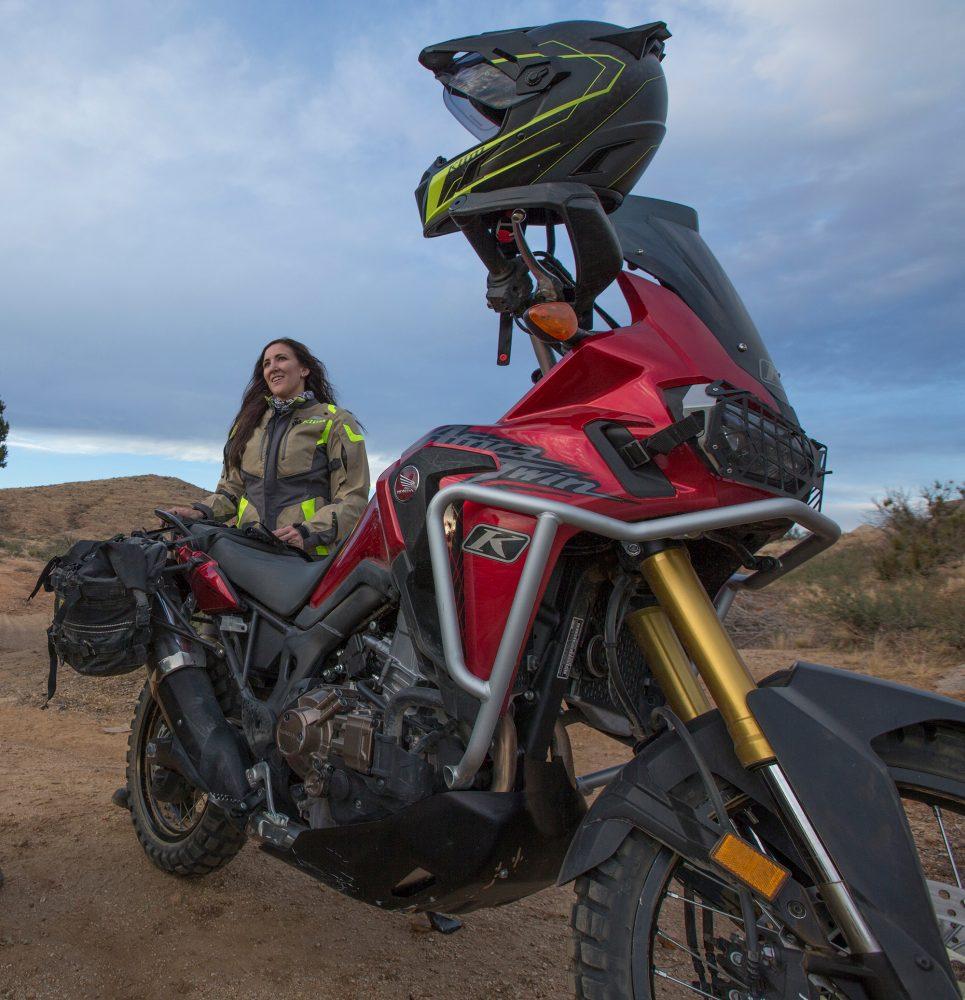 Kelsey, women's gear is still a very niche market. Why is that?
Women make up a much smaller amount of the market than men do in the motorcycle community. That's just the way it is, but don't get me wrong, I know the number of women riders is growing and they are becoming more of a force in the community than ever before. I think the previous process for developing women's motorcycle gear was a lot like the women's hunting market in earlier years. Men make what they want to wear, and then there is a "shrink it and pink it" mentality when it comes to the women's gear, which just doesn't work. It becomes an after-thought, it doesn't fit right, and women don't want to buy it, which then turns around and shows that women's gear isn't selling. Well DUH?! We don't like it! There needs to be women's gear that is more heavily influenced by what a women's needs and wants actually are, which is what I am trying to accomplish here at Klim with the new women's gear coming out.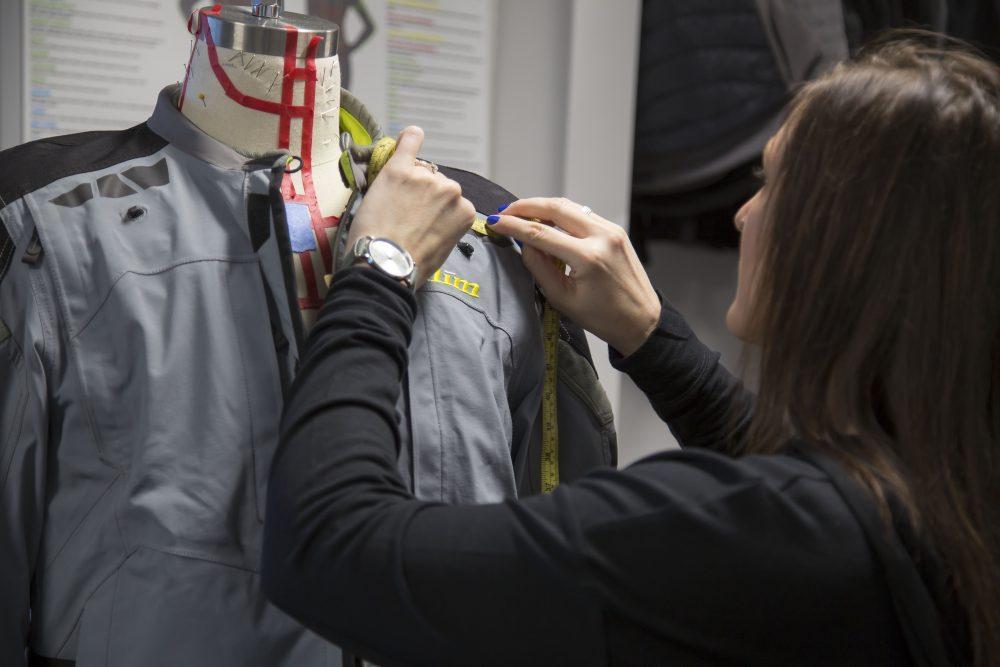 Women often complain that there aren't enough sizing options. What would you tell them?
It follows closely to my answer in the previous comment. Women are picky about their fit, (which they should be!), because we all want to look good. To look good and feel good in what you are wearing, it MUST fit right. The problem lies in the reality of volumes sold when it comes to women's gear. The market just isn't big enough to support making every size that would need to be available to fit every women's body type. We are trying very hard to accommodate the complaints we hear about the amount of sizes available for our women's gear. We have a new women's adventure kit called the Artemis coming out next spring that will be offered in SM-3XL in the jacket and sizes 4-16 and 4-12 TALL in the pants and the fit is spectacular. My developers worked extra hard to get her the most perfect fit based on a plethora of feedback we have been receiving from women riders.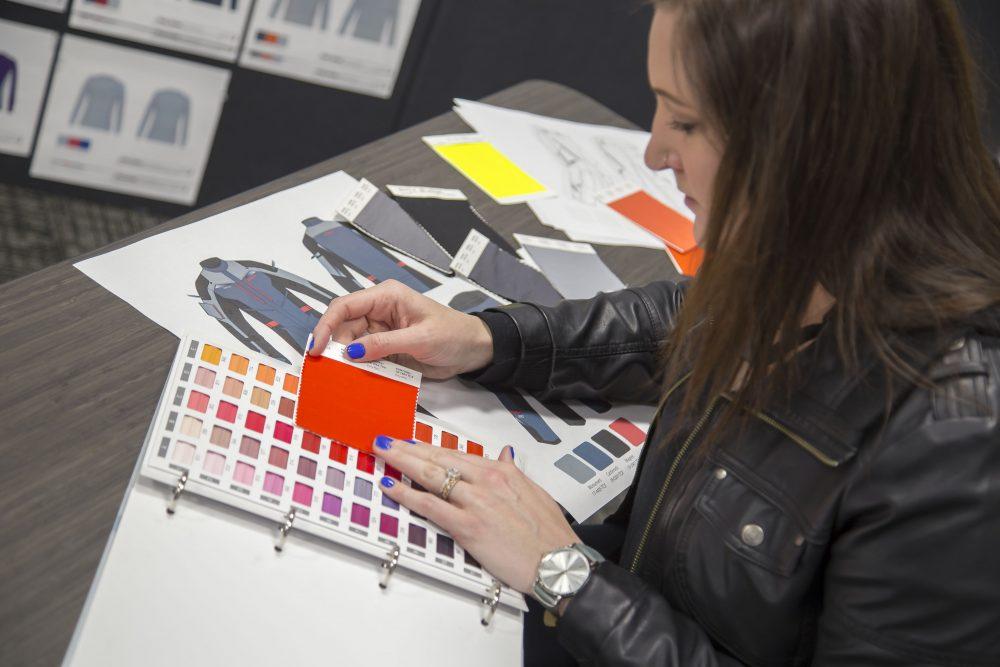 What's up with women's pants having no pockets?
Haha! The infamous comment on no pockets… To be honest, I can't really answer this question. I have a full understanding that there are existing women's motorcycle pants in the market that do not have pockets, but have no fear, all of our women's jackets and pants will have ample amount of storage to accommodate the style of riding she is doing going forward. The new Artemis kit I spoke of has 11 pocket options in the jacket, 7 of which are on the exterior, 4 of which are internal, one of those being a hidden passport pocket, and the pants have 2 external zippered cargo pockets. Don't worry ladies, you are being heard!
Why does women's motorcycle gear usually have less protection, thinner material, less vents?
When speaking specifically to Klim gear, this is another area that there isn't so much of a gap in, at least not anymore. Let's start with protection in reference to our D30 pad system we use. We do put level one protection in the US women's gear, which is the same as our entry level price point of men's gear, and I can't see this changing too much. The reason for that is, I did a consumer insights study with multiple women riders around the world and one of the questions revolved around the use of higher level protection. The consensus was that they preferred using level one because it is less bulky and doesn't make them look like the hulk. I understand that this is a comment relating more to the vanity of the garment, but for us to increase the level of protection in women's gear, we would also have to increase the price and we just couldn't justify doing it because it wasn't want they wanted. It is a better solution based on the feedback to continue putting level one protection in our women's gear, and then offer the level two on our website to purchase for those women that want more protection.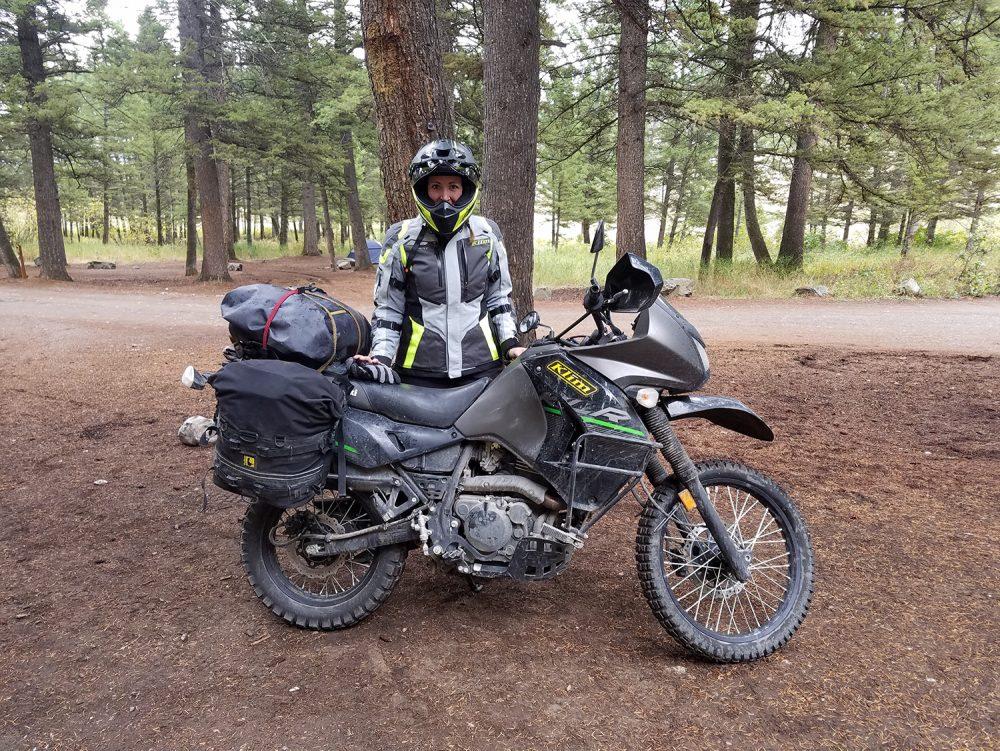 It was the same result when I asked about certain fabrics, for instance, the super fabric we use on the Badlands. The consensus was that putting such a fabric on women's gear, which has a much smaller real estate to work with than men's, made it too stiff and bulky looking. We would never use a fabric or level of protection on women's gear that we didn't believe in fully, so all of the fabric we do use still meets our standards, it just might not be the same fabric that we use on men's because it might not be right for her.
For venting, sometimes it is just more a matter of the size of the vents. Women's jackets just have less space to work with because once you get all the pockets, vents, adjustment straps, and gussets on the jacket/pant, it doesn't leave a lot of room for the ample amount of venting that is necessary to have a comfortable ride. Again, this is something I addressed in the new Artemis. I was able to reconfigure a lot of vents and constructions to allow for the right amount of storage and venting that she needs. The Artemis jacket even has a "women's specific" cross core vent under the breasts to help with the sweat that only women experience if you catch my drift. This vent allows airflow to the core, but also helps circulate it around to the underarm and then exhaust out of the back vents. It feels like you're in an ice chest on hot sweaty days when you take off on the open roads. In total, there are 10 vents on the jacket and 4 on the pant. Again, I just think in previous years, women's gear just wasn't getting the attention it deserved, but I am determined to fix that!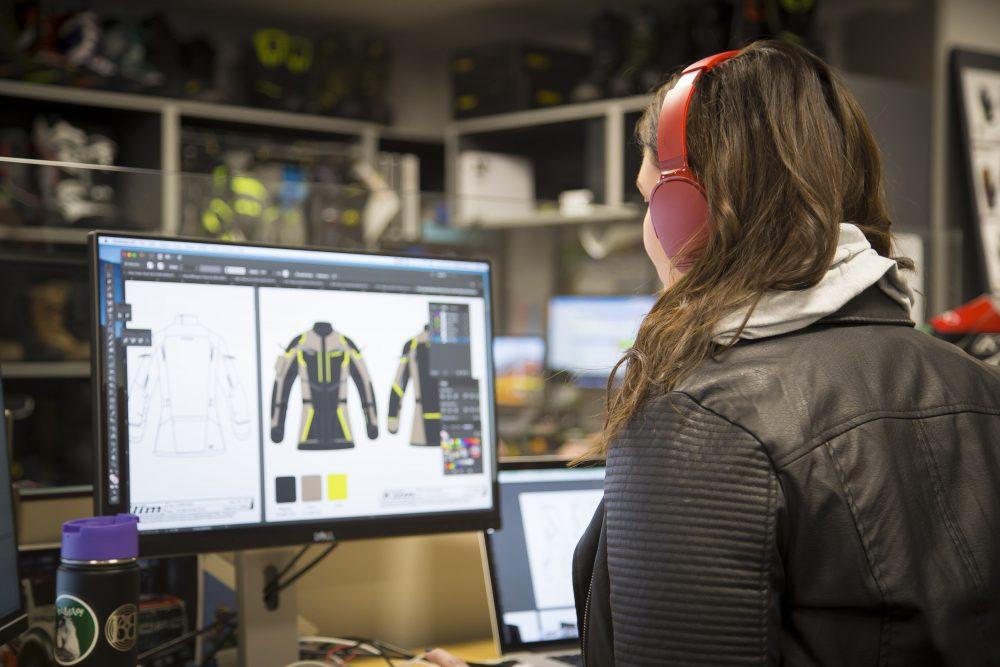 How do you do the research for women's gear? Do you welcome feedback from riders?
We definitely welcome all feedback! Most of our feedback goes to customer service first, and that team will send it off to the prospective party that it relates to. Design will see all things related to product, so most likely it will land in my lap. Chances are, we may have heard it already from someone else if there is a complaint or worry about our gear, because we get a LOT of feedback, but we do encourage you to let us know when you have something to say, and it will get heard! I also do some consumer insights studies with women riders and I am constantly expanding to new riders and new women who want to be involved so that I continue to get the most relevant information I can. Without you ladies telling me your thoughts, it would be nearly impossible for me to make sure I am meeting as many practical needs as I can in the designing of new product. Please let me know what you think! And be patient, because the women's products I have been and am currently working on will solve a lot of the problems you are facing. I promise!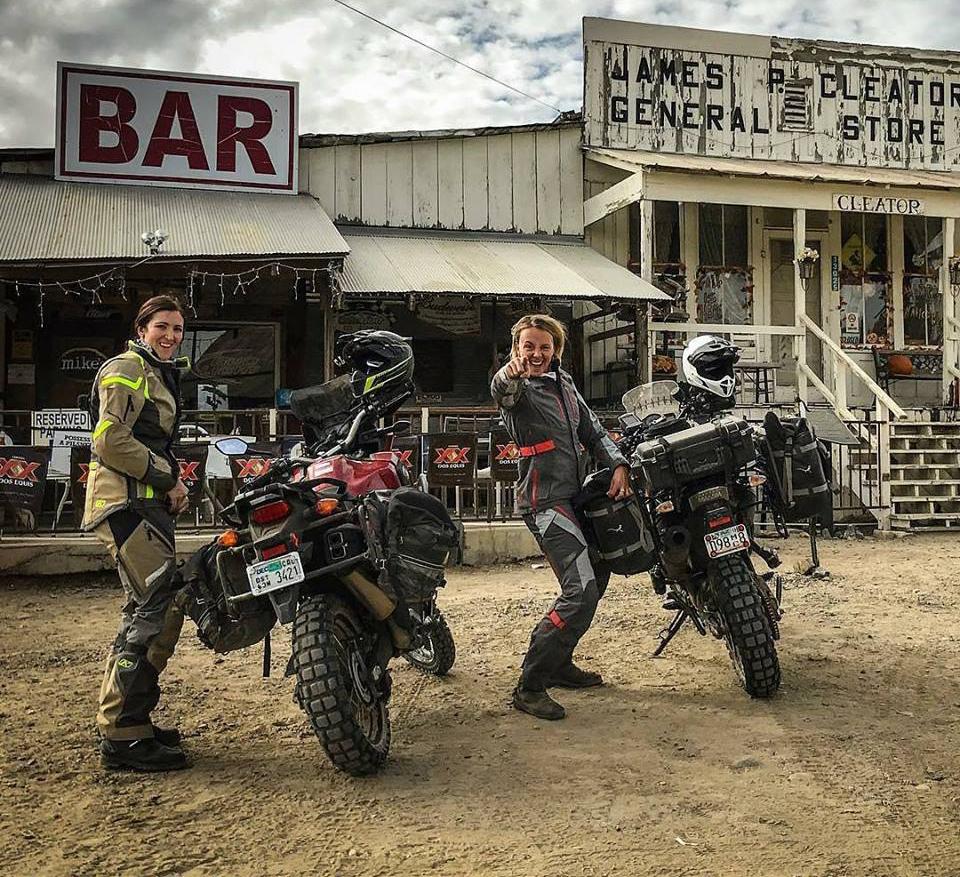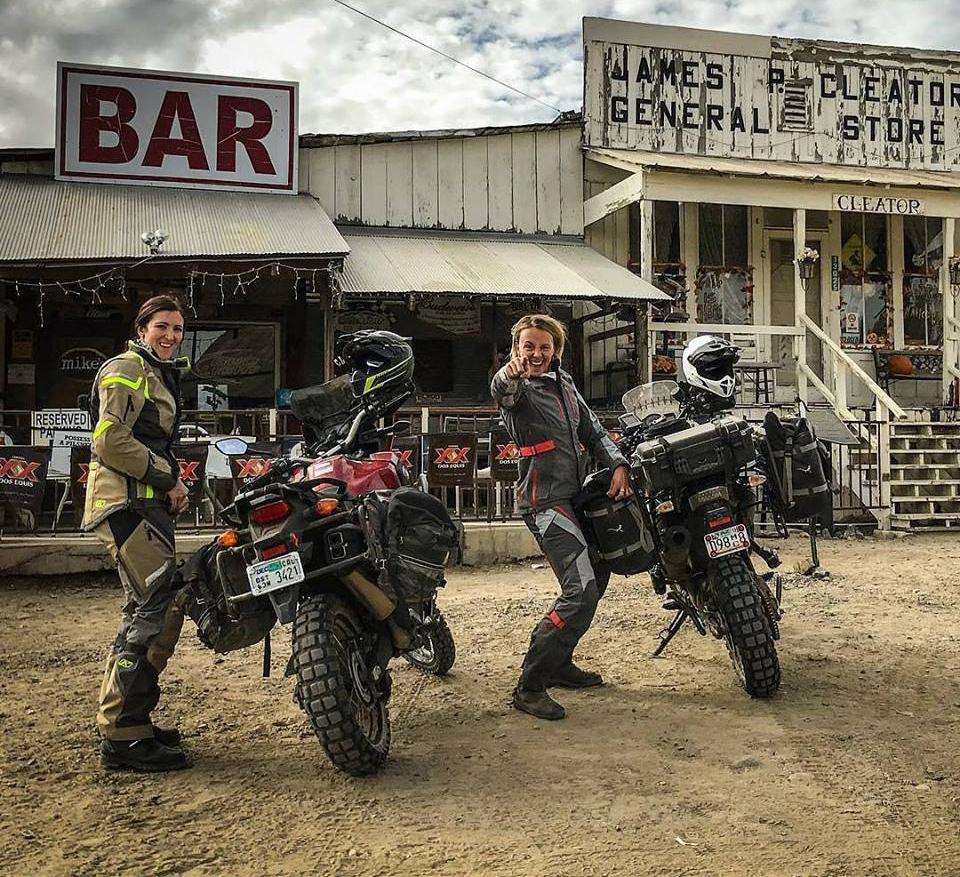 You mentioned that less protection and less durable fabrics in women's gear are due to women wanting to look better. While there are definitely a lot of female riders out there who appreciate the aesthetics, some may perceive such decision as somewhat condescending as a lot of women do ride some of the toughest regions of the world and require the toughest gear there is.
I think what that the women that perceive it as condescending need to remember is that there just aren't as many kits out there for women so the suits they are having these feelings about maybe weren't intended for the type of riding they are doing, which we are trying to fix with the introduction of the Artemis, meant for those riders hitting the toughest regions in the world.
I would like to repeat though that we would never use "less protective" or "less durable" materials than we do on men's. I can't speak for other brands, but for Klim we kit our men's and women's equally. For instance, the Altitude is the women's pair up to the men's Latitude and they are both made for touring, so the designs are simplified and have a "cleaner" aesthetic, slightly lighter fabrics, and a different fit. They will have the same material map and use the exact same materials.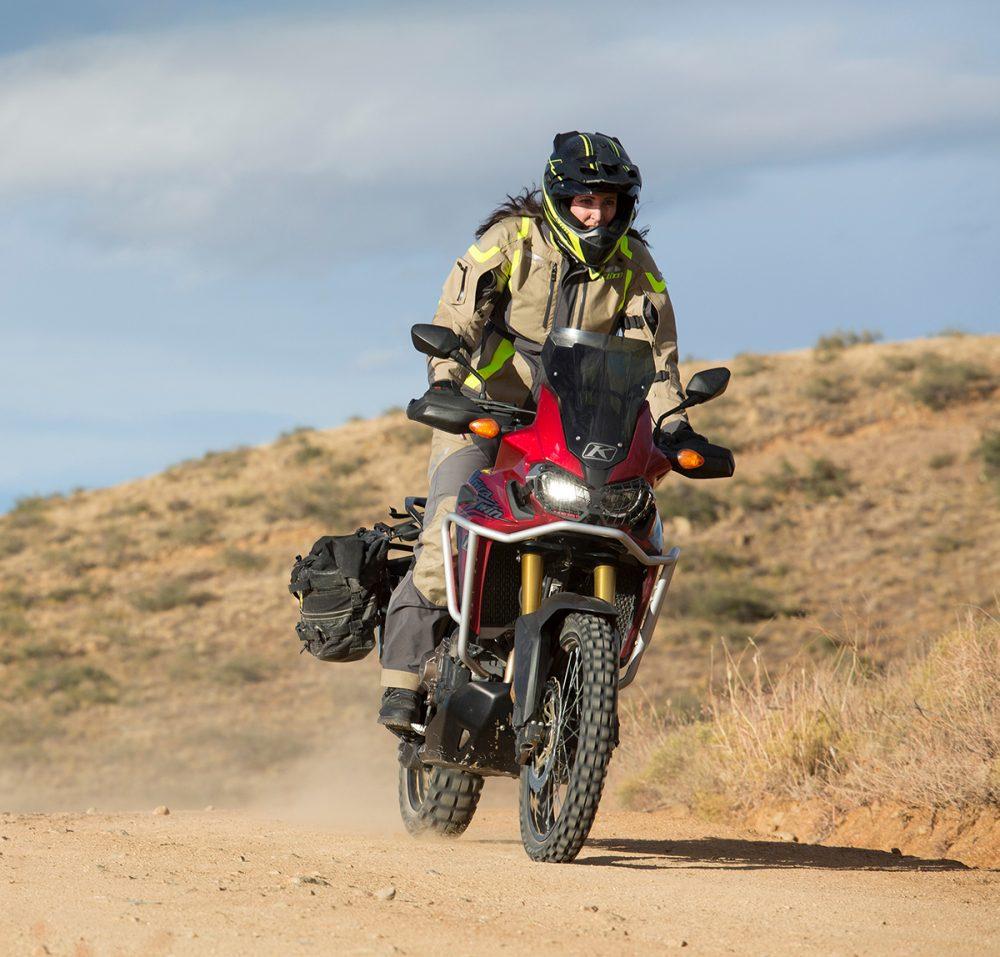 The new Artemis I referenced is the women's pair up to our new men's Badlands. They have the same material map, and are made for adventure riding, so they have slightly more durable materials and more feature sets than the touring pieces. Fit and comfort are definitely important to us, so we have to consider this in making these decisions. Ultimately, we make the smartest decisions based on the market needs and the wants of the rider. If we went the alternative route and put the bulkiest and "toughest" materials on the touring piece, we would lose those consumers that want that type of function out of their gear.
It would be unfair to compare the material maps of women's Altitude to the men's Badlands, because they are built differently for different purposes. Unfortunately, we are in a market where it is practically impossible to please every single rider in the world, but we definitely don't make "lesser" gear for women, we are just more strategic about the build of a women's piece.
We aim to make great fitting gear for women that look good, yes, but functionality is our first and foremost priority, so we would never sacrifice that for looks, we just have to trust our sources and the feedback we get to gain the knowledge necessary to make good business decisions.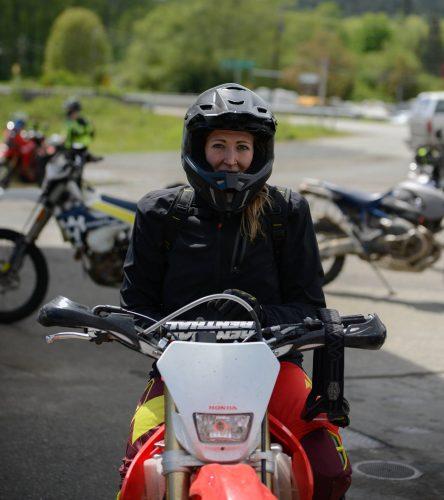 Kelsey Runge graduated from Buffalo State College as a college volleyball athlete and with a bachelor's degree in Apparel Design and Textile Technologies. She immediately started working at Under Armour Inc. headquarters in Baltimore, Maryland in their Outdoor department as a designer for men's hunting and fishing gear. Kelsey grew up hunting, fishing, and riding dirt bikes with her dad and brother of whom both raced motocross. She loved the outdoors and any adrenaline filling activity that got her there, so she was hopeful that she'd do well at designing for those same activities.
"I then decided I wanted to move out West and explore the outdoors even more, so I took the design position at Klim and moved to Idaho. I immediately bought my dirt bike after escaping the city life in Baltimore, and started hitting the trails once again. It felt so good to be back on a dirt bike after taking such a long hiatus! I ride the trails on my Honda CRF 250X of which I have also taken on some dual sport rides around the area and up into Washington. I soon after got my motorcycle license and started riding adventure. I am still trying to figure out the right bike for me, but I have been riding around on a KLR 650 and an Africa Twin 1000 to get my bearings and figure out the best fit for me!
There is such a thrill with adventure riding. I love that I can load up my bike in my garage, hit the country roads to the highway, and then exit the highway onto the dirt and gravel roads in the mountains until I can hit a spot to set up camp and do it all over again the next day. I am still a little fresh to riding adventure, but I have done it enough to know that I love it. I love the technicality behind trail riding on a big bike and the places that your adventure bike can take you that others can't", – says Kelsey.
For more "behind the scenes" information about how Klim gear is made, read THIS ADVTRACKS.ONLINE ARTICLE
Questions? Comments? Post them below!