BY EGLE GERULAITYTE
Asta Dovydėnaitė (29) has been riding motorcycles for eight years now, and she's taking the two – wheeled passion seriously: her short holiday trips in Europe and Northern Africa have now evolved into a two – year adventure around the world.
As she and her boyfriend Linas backpack across Brazil and Argentina while their motorcycles (BMW F650GS and F800GSA) are being shipped to Valparaiso, Chile, we've sat Asta down and grilled her about her impulse to travel, her bike choices, and favorite gear.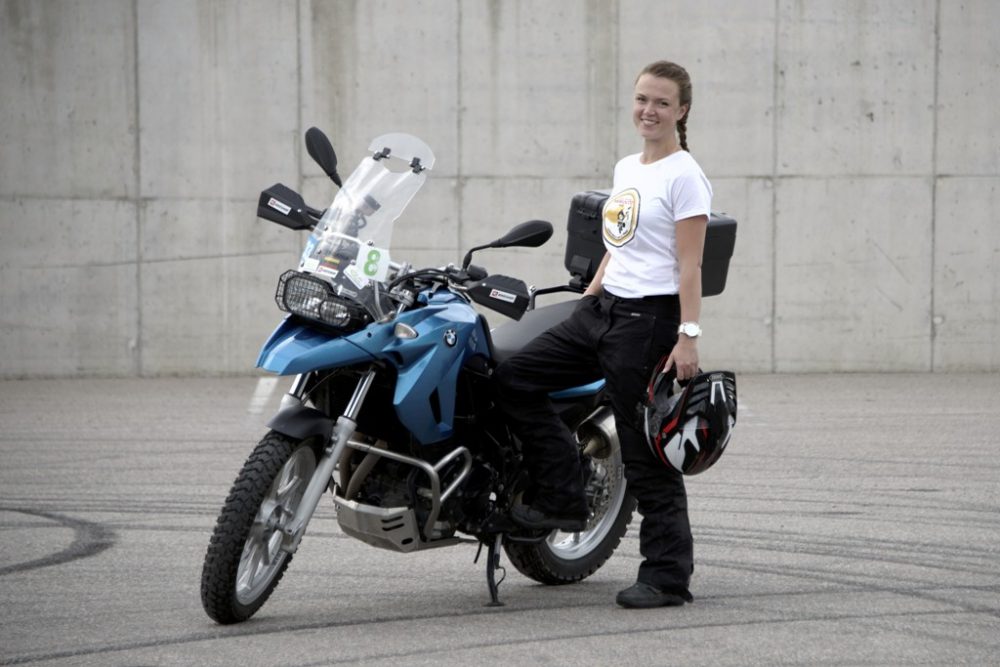 – Most popular riding destinations in Europe usually include the Alps, Northern Spain, or the fjords of Norway. How come you favor places like Azerbaijan, Armenia, and Georgia?
– I'm originally from Lithuania, so as a post – Soviet kid, I enjoyed riding the Caucasian region – it felt like time-travel! Those countries are a kaleidoscope of images from the 1980's for us, Eastern Europeans.
One moment you're riding through a big modern city, and the next, you suddenly find yourself in a tiny village where people still use donkeys for transport, and cows lay in the middle of a back road leisurely ignoring the chaos of traffic around them.
Despite their existence being simple and rather basic, the people in those villages seemed really happy with their life. They were very kind and hospitable, too – I remember rolling into a small car wash to get our bikes cleaned after a hard day's riding in the dirt tracks up the mountains; the car wash employees double – checked if it was OK to get the seats wet. I must have shocked them when I asked them to rinse me in my riding gear – I figured the high – pressure water stream was the best way to get the dirt and mud off!
Azerbaijan, Armenia, and Georgia are an absolute paradise for adventure riding – I found three weeks too short to enjoy both tarmac and dirt roads there thoroughly. Oh, and did I mention the glorious food?
By the way, if you plan to ride the Caucasus, make sure to explore Azerbaijan first – because of their deep – rooted conflicts, the Azerbaijani border officers may refuse to let you enter the country if you have an Armenian stamp in your passport.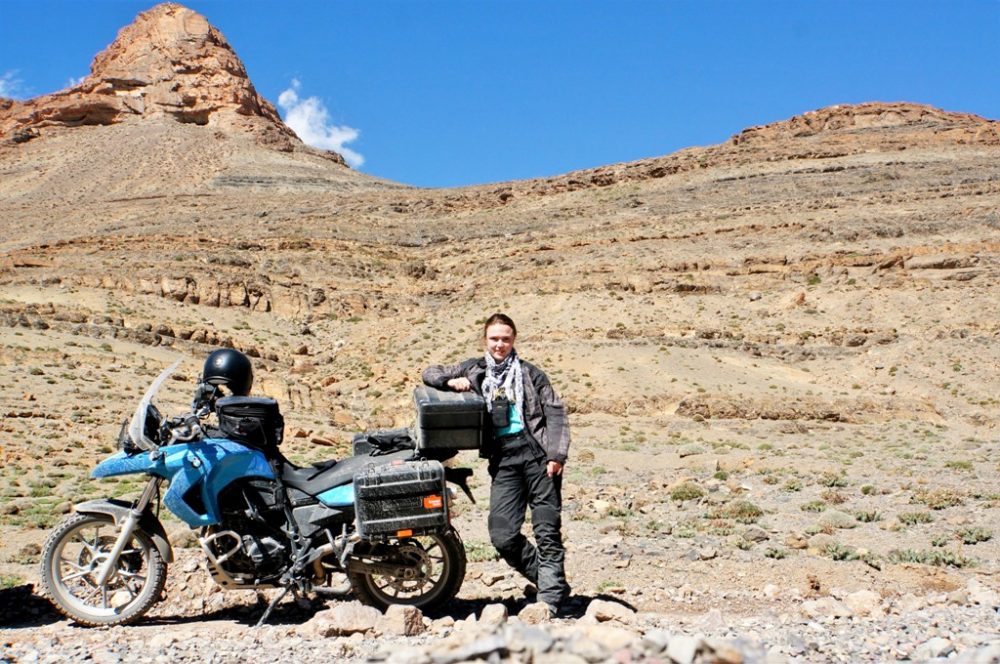 – What about Morocco? It seems to have become a favorite playground for Western riders. Can you still have a 'proper' adventure riding there?
– Absolutely! Riding gravel tracks in the Atlas Mountains with plenty of river crossings and meeting locals riding their horses and small motorcycles was certainly something. I remember talking to a local kid on a bicycle – he was very chatty and happy to help, but when we asked him how far it was to a paved road he didn't know how to answer – he has never been that far away from his village…
If you're looking for a thrill, you can always just switch your GPS unit off and run out of fuel in the middle of nowhere!
Morocco is a fantastic playground for motorcyclists, and with good reason: regardless of what kind of riding you prefer, there's something out there for everyone. You can explore Morocco on a sport-touring machine without ever leaving the well-maintained tarmac roads, or you can find yourself the middle of the desert in Southern Morocco having a blast in the dunes on a lightweight dirtbike.
– Is the BMW F650GS the right bike for that part of the world, or would you recommend something lighter and potentially more fun off – road?
– I think it's a very comfortable and agile bike. For me, it's perfect in any scenario: whether it's 700 miles on a highway in cold and rain or a sunny dirt track adventure in the mountains involving mud, puddles, rocks and sometimes even snow. I think the BMW's standard single cylinder F650GS (now a G650GS) and the newer F800GS is a perfect choice for those who prefer to have a universal machine ready for long distance traveling. I have ridden a total of more than 32 000 miles on both single cylinder and a twin GS and never had any problems with these engines, so based on my experience these bikes are comfortable in different situations as well as very reliable for traveling.
Fort short, fun rides in dirt and gravel, sure, I'd get myself a much lighter dirt bike and go play in the mud; for an eighteen-month journey, though, I'll stick with my GS!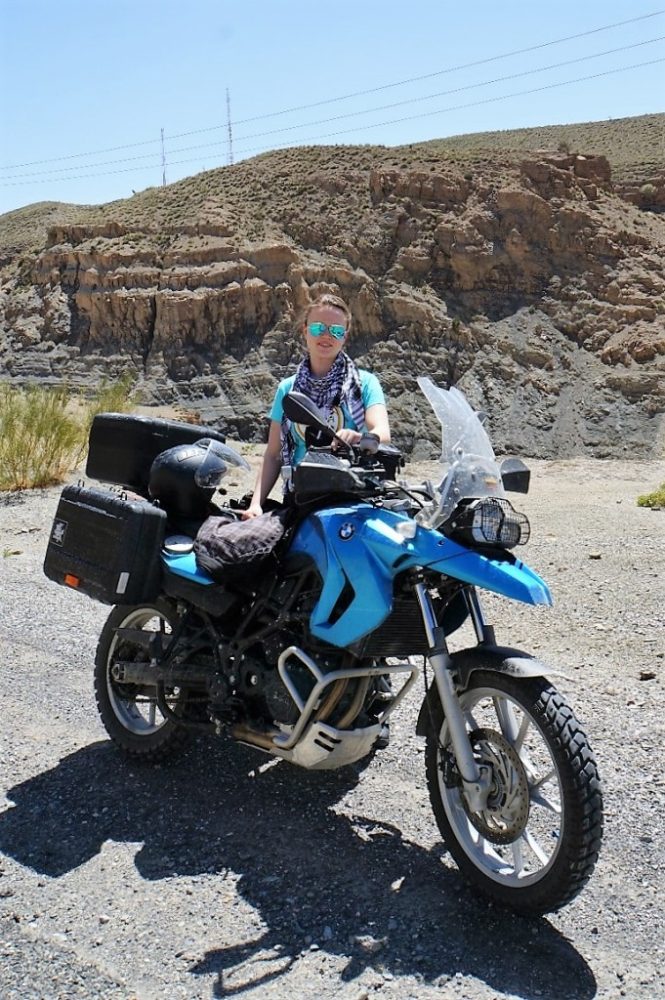 – Can you fix your bike?
– Define 'fix'! It depends, really, on how serious the problem is.
I'll confess, though, my partner in crime – Linas – is the enthusiastic mechanic in our team. In a case of a breakdown, I usually keep our spirits up, take photos, and assist him. Luckily, though, we have never had any serious incident while traveling.
If we do work on our bikes, it's usually minor adjustments, regular maintenance, and some modifications or improvements at the most.
– What are the three top items you never leave home without?
– I always have my Midland BT Next audio device on my helmet – either to chat with Linas if we're riding together or to switch my "perfect ride" tunes if I'm on my own. I always have a soft cloth and a visor cleaner (I like my visor to be clean and clear at all times instead of reminding of a fly cemetery); and a camera to capture the perfect moments of riding.
– You're currently on a round the world journey. Have you spent a lot of time and effort on planning and getting ready?
– It took several years to come up with this decision. Once we made up our minds, the preparation took about five months before we took the final step and left. On the one hand, it's impossible to prepare for the unexpected – the only preparation you can have is common sense. However, being all set for the foreseeable is a whole other story. When Linas and I were planning the journey, we did our due diligence in laying the groundwork: we made an estimation of the distances and costs in the countries we intended to visit, the correlation of our route and the seasons of the year, and researched visa and border crossing information. We got vaccinated against the most common tropical diseases and got our camping gear together. Everything else? We'll sort that out as we go!
 – Does traveling change you as a rider and as a person?
– Absolutely. For example, when I first traveled the Balkans on a motorcycle I got into a situation where we had to ride a few miles on a curvy mountain serpentine with big, loose rocks. I was terrified – I wanted to be rescued from there by a helicopter, pronto! But I did it, and when we got home, I was surprised to realize that the Lithuanian gravel roads which used to seem so tricky and unstable were now suddenly incredibly easy.
It's the same with my personality: the problems in life appear to become smaller; the things that were important before seem to lose their significance, and other, bigger, more fundamental things take their place. You know, as they say – the only thing you can buy that will make you richer is travel. I totally agree with that.
– How would you define adventure?
– It's anything unexpected that gets my pulse rate up. It can be as small as a gnarly loose sand section of a track I'm riding not far from home; or, it can be as severe as an armed robbery in a dark backstreet in a Brazilian village. In other words, an adventure is anything that takes my breath away at least for a fraction of a second and adds colors to my life!
– What's your #1 tip for women who want to overland on a motorcycle but are afraid to take the first step?
– I love this famous quote by Lewis Carroll that I use to motivate myself: "In the end, we only regret the chances we didn't take, the relationships we were afraid to have, and the decisions we waited too long to make." So I say – be your version of Alice in Wonderland, and just go for whatever makes you feel alive and gets your blood pumping!
More about Asta and Linas and their round the world adventure: www.2wheeledAdventures.com
Follow Asta on Instagram:@2wheeled_Asta
[Best_Wordpress_Gallery id="7″ gal_title="Asta Dovydenaite"]