BY PAT JACQUES, ADV WOMAN on water crossings
– What's the safest way to cross a river?  water crossings
For many off road riders, water crossings are especially intimidating. There can be many "unknowns." How deep is it? What's under the water? What if I fall?
I'll share the water crossing techniques I teach in the ADVWoman Advanced Class, "Backcountry Discovery Essentials."
We start with a general set of "rules" for approaching all obstacles.
1. When learning any new skill, start relatively easy. As you develop skill and confidence, increase the challenge and complexity of the skill.
2. If possible, approach obstacles in a straight line.
3. For better balance and control, ride obstacles standing up.
4. Don't rely on speed and momentum to clear obstacles, use proper technique.
5. It's helpful for the most skilled riders to attempt obstacles first. This gives new riders visual reinforcement and confidence, "OK I get it. Now I see how she did it."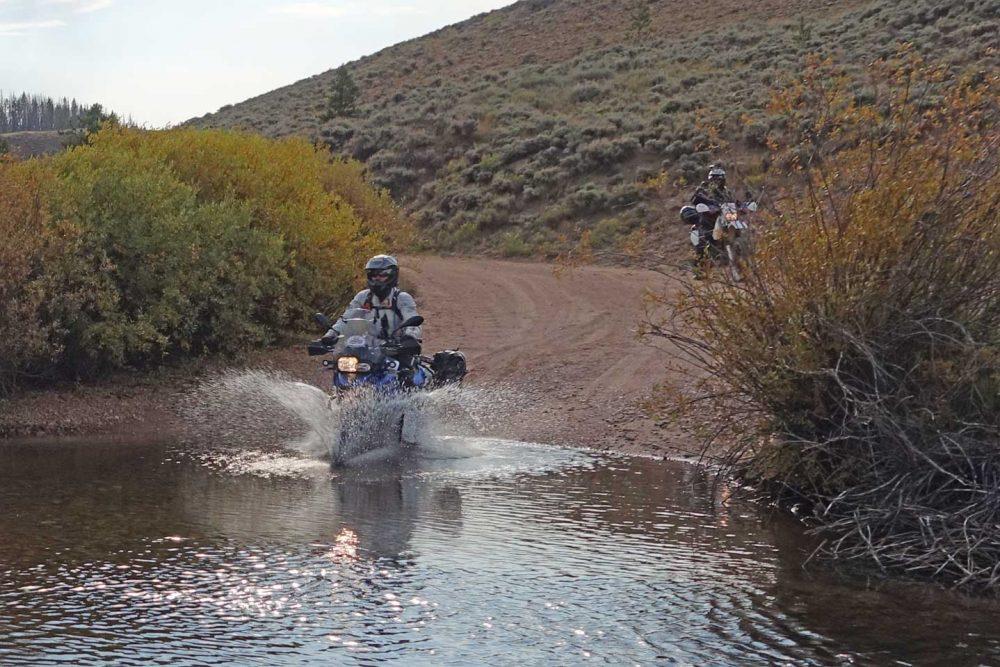 It's imperative for riders to learn to "read terrain". What have the trail conditions been leading up to the water crossing? Hard pack? Rocky? Slick? Sandy? That might give a clue as to what the underwater surface is.
What do the entrance and exit points look like? Gradual slopes at entrance and exit points might mean shallow and flat below the surface. Sharp drop offs in and out of the water might mean deeper water.
Is the water clear or muddy? Clear water can mean a gravelly, rocky, or sandy bottom. Muddy water usually means softer dirt with possible ruts and muck.
Are there "double track" jeep ruts leading in or out of the water crossing? Riding in the jeep track can mean more compact, stable conditions. Ruts can be really helpful because they keep our wheels centered. The downside is, some ruts can be much deeper. Trying to ride the middle between the ruts in wet conditions often spells disaster as wheels slip to one side or the other.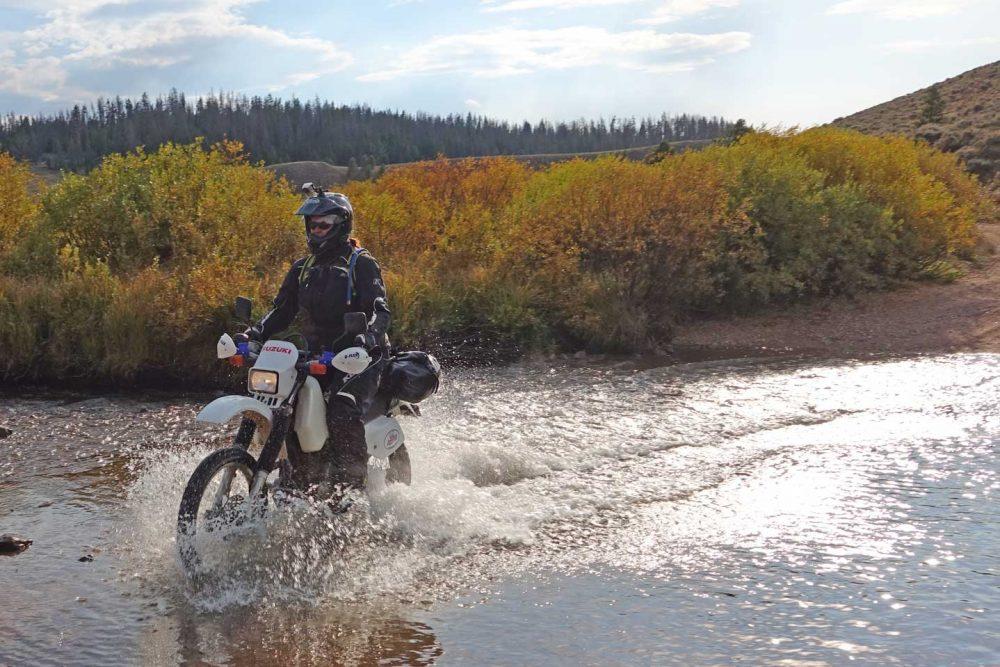 What time of year is it? Monsoon season? Spring time mountain snow melt means deeper, faster water. Riding water always means some kind of "rolling resistance." There will be some water resistance to moving forward, and there may be current pushing you downstream. If the current is fast, you might consider approaching slightly upstream allowing some room for being pushed slightly down stream.
Is this water crossing regularly travelled? If lots of other riders have successfully ridden this water crossing, there's a better chance of success. If this is a "one off" or infrequently ridden area, there may be higher risk.
Stopping and evaluating conditions is a great idea! Do not stop at the very edge of the water. Pull over far enough away, that riders have a bit of run up to get balanced on the bike before entering the water. Take the time to look at the water crossing. Walk the water crossing. Wet feet and boots dry out a lot quicker than a drowned motorcycle!
This may seem like a lot of questions. But, with practice, riders can evaluate conditions in a matter of seconds. If you determine the water crossing is not safe, do not attempt to ride this. Find a "Plan B" even if it means backtracking and regrouping.
Now that you've scouted the water crossing and have an line picked out, it's time to ride it! The great news is you ride water crossings with the same slow standing technique as riding dirt. Water crossings are all about balance, clutch and throttle control.
Approach the water standing BALANCED over the foot pegs. Look ahead. Make sure you are covering the clutch so you can feather clutch and finesse the throttle. The bike should be in 1st gear, you should be riding with enough pace to balance comfortably, yet slowly enough that you don't make a massive splash. Relax and breathe!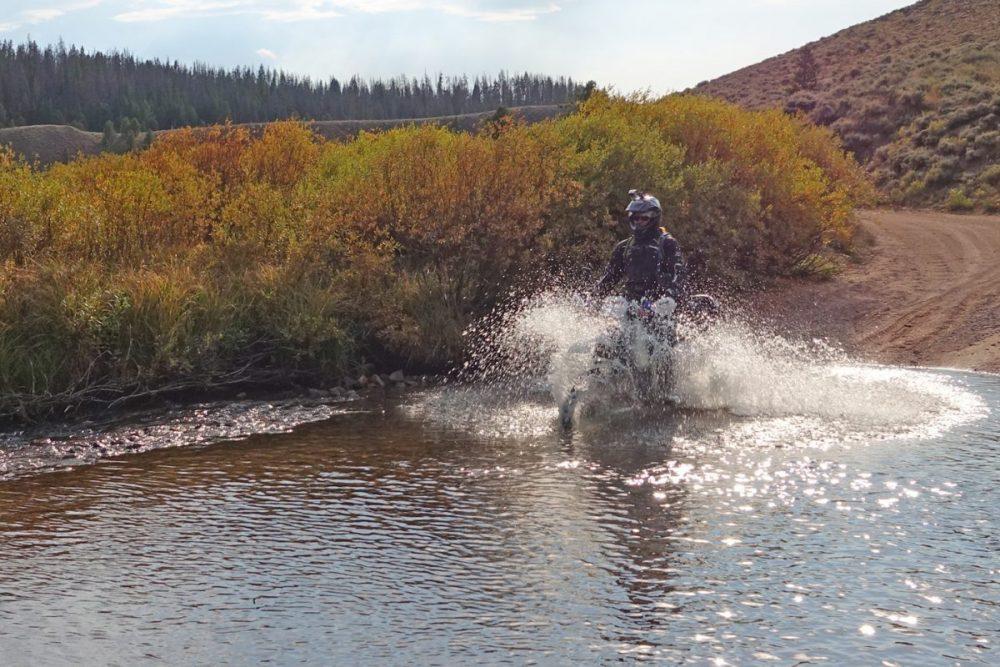 As long as you keep moving, motorcycles can be ridden through surprisingly deep water! Generally speaking they do not suck water in and drown unless the water is up to the gas tank or you drop the motorcycle.
Try to keep a controlled, steady pace through the water. If there is current, anticipate balancing into that (kind of like riding a cross wind) or slightly steering into the current. If the motorcycle drops into a rut, don't fight it. You will lose! Stay in the middle of the rut, give it a little extra throttle and keep riding steady and straight through that rut. Balanced and controlled is key. Stopping usually makes things harder, but it you do stop, just breath and relax. Ride as if the water isn't there. Slip the clutch out while applying controlled throttle, move into a standing position as quickly as possible.
I will reiterate the most important tip. Start small and work your way up as you develop skill and confidence. In my "BDR Essentials" class, we start riding a clear water crossing over a concrete spillway. Riders will get to feel the "rolling resistance of water" on solid, smooth ground. Next we move to a shallow, short water crossing on a solid dirt road. Then we will progress to deeper, wider water crossings.
In no time at all you'll be riding water crossings with skill and confidence, which is when the fun begins. There's nothing that makes me laugh louder and smile bigger than blasting through a shallow water crossing on a hot day!
Braaap on, Awesome Adventure Sisters!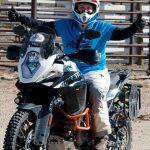 On and off her motorcycle Pat Jacques is a genuine, courageous, authentic BadAss! She's a pioneer woman who raced men's motocross, successful entrepreneur, and founder of ADV Woman. In 2016 she hosted the first ever Adventure Rally for Women, by Women emphasizing on range and classroom training. All ADV Woman coaches are women.
Pat's passion is empowering women through personal and motorcycle coaching. She's been riding, racing and teaching motorcycling over 40 years. She has a unique talent for breaking skills into teachable pieces, inspiring confidence, and helping riders to achieve tremendous success.
TRAIN AND RIDE WITH PAT: ADV WOMAN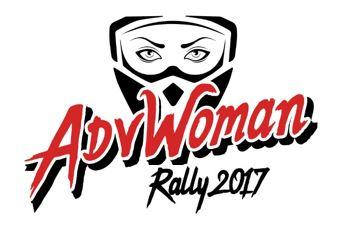 water crossings, ADVwoman, adventure motorcycle, adv motorcycle, adventure riding, women adventure riders, female rider, Pat Jacques, riding tips, ADV riding tips