BY EGLE GERULAITYTE
Chantal Simons has just completed one hell of a journey. She rode her Yamaha XT250 all the way from East Timor to the Netherlands, spending fifteen months on the road and covering over 28,000 miles overland. Yet, she insists it's not really a big deal.
'Anyone with the right attitude can do this', – says Chantal. 'Regardless of gender, riding experience, and budget, such a journey, while definitely a challenge, can be accomplished'. And she speaks with authority: crossing the entire Asian continent on the 'chook chaser*' is no weekend ride.
According to Chantal, she has always been a passionate motorcyclist – she's dreamed of bikes since she was a child, and she was always passionate about traveling, too. So when she finally got her license a few years back it was only natural she immediately hit the road.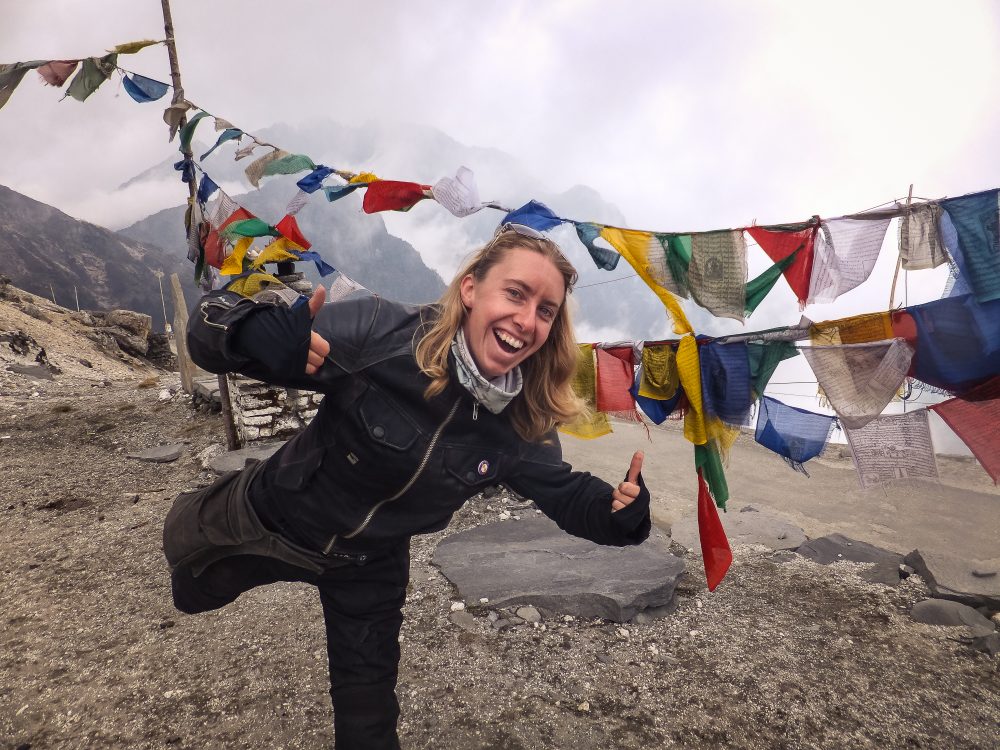 'Two months after getting my license I went on a "9 countries in 10 days" trip in Europe with a good friend. Now I was seriously infected with the bike travel bug. Two months later I flew to New Zealand, bought a 31-year-old Suzuki GS550, and traveled solo half of the country on it before the thing broke down for the fourth time and I didn't have money to repair it anymore. When I went to Australia for my studies, initially I thought the country was too big to do on a bike. But when I learned you really need your own transport to see the best parts, the decision was easily made. The XT250 was love at first sight. I'm only 160cm/ 5'3 tall, so any of the usual suspects, KTM's, DR's, and GS's are literally beyond my reach! Riding around Australia was amazing, so when I decided to travel to Asia next, there was only one form of transport I could think of: my beloved XT250'.
Take it Slowly, Take it Easy
A lot of riders feel anxious thinking of a long overland journey solo. The idea of having no one but yourself to turn for help and companionship to can be terrifying. Chantal says it's easier if you start small and build up from there: practice does wonders for boosting confidence.
'I started off with smaller trips, and slowly ramped it up to a crazy dash across the largest continent out there. I started in countries that have roadside assistance in case of a breakdown. My first journey wasn't solo, and large parts of my Australia trip were with my dad or a good friend. I've never been scared to do things on my own, though, and gained confidence to ride long distances doing trips with others'.
Chantal admits that while she was not scared when preparing for the journey, she made sure to take precautions and not take unnecessary risks.
'In all honesty, I never felt scared to make this journey on my own. It just didn't occur to me to be terrified; I knew I could do this. However, during the trip, I was quite careful not to travel solo on risky gravel roads in very remote areas. When the chances are high that you might fall off and injure yourself badly, I prefer to stick to the roads where you can at least expect passers-by to help you out in case of emergency,' – says Chantal.
Overcoming Yourself
Loneliness is one of the main complaints of overlanders who ride solo. But, according to Chantal, helmet time helps you to know yourself better, whereas modern technology allows you to stay connected.
'Yes, you spend a lot of time alone, but very rarely did I feel lonely. I relish being alone and spending time in my helmet. Also, what helped a lot for me was keeping the blog and the Facebook page. With so many supportive comments it felt like people were always there for me. On top of that, with 21st-century technology your family and friends are never really far away'.
Chantal confesses that not everything was always rosy, though.
'I did have a moment where I seriously considered turning back. I've been traveling for 4 months, flew to Australia for a short while and then went back to Malaysia where I'd left the bike. I thought, what the hell was I doing? I was missing my friends, missing being part of a community and giving back. But I decided to find a way I could give back in other ways, so I started blogging, and connecting with other people out there helped a lot'.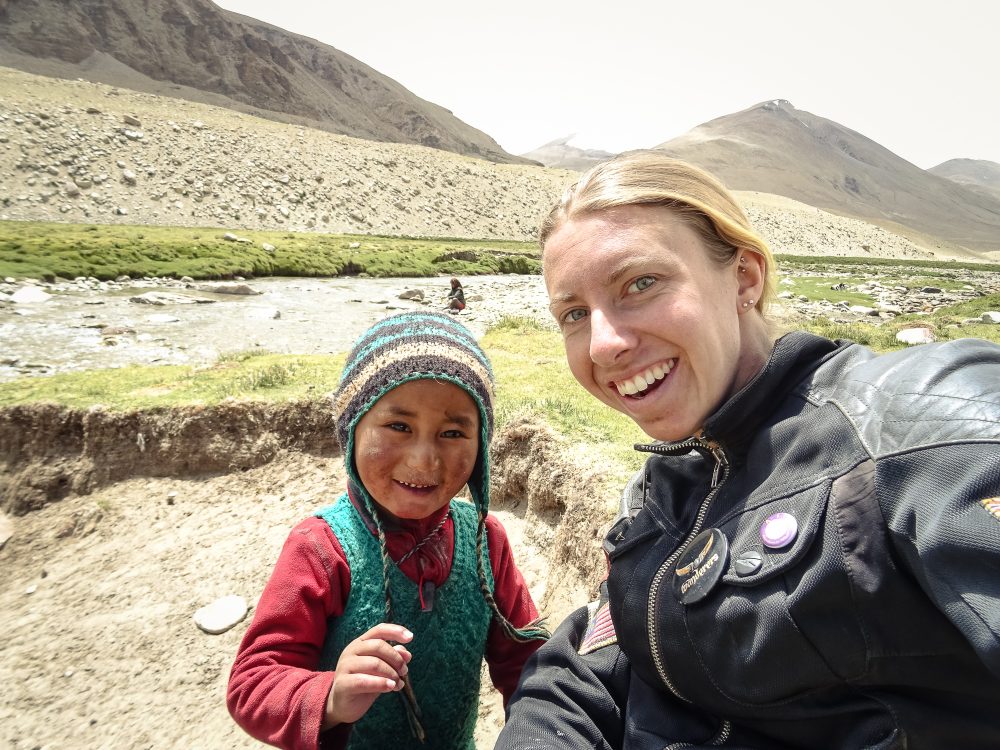 Volcanoes, Alligators, and Transformations
Chantal's journey was filled with adventure: she says crossing a crocodile—infested river in the Australian outback, riding China and breaking down in Islamabad only to find out so many locals were willing to help were just a few of the highlights. One of the most memorable rides, according to her, happened during a lonely mountain climb in a dense fog.
'I was riding up a volcano in Indonesia. Usually, there are people everywhere, but this particular short stretch was totally deserted. I started the climb at dusk, in a drizzling rain. Soon the rain turned into the worst fog imaginable. I couldn't see more than a few feet ahead. Still, I had no other choice but to continue through the deserted rainforest. Every mile, I was fighting the demons in my head. I literally talked myself up that mountain, eyes glued to the barely visible white lines marking the side of the road. After doing that climb I truly realized what you are capable of when you really set your mind to something!'.
Chantal says the journey has changed her both as a motorcyclist and a person.
'I'm literally writing a book about it. My view on the world is so much more positive, I gained so many communication and people skills, I'm more confident and driven, and I simply know myself better. As a motorcyclist, I gained off-road skills and traffic skills. But it didn't change my driving style much. I've always been a careful, defensive driver and will continue to be that way'.
Life After Adventure
Coming home after spending fifteen months on the road can be quite a shock, but Chantal says she's keeping busy and planning another big trip.
'I guess ten days is not enough to answer a question about 'the matrix' properly. But I have so many plans and goals related to the trip that I mainly just feel driven and excited to make them become a reality. During the trip, my coping mechanism for loneliness was being busy with the blog, social media, and writing the book. Now, I think keeping busy with my goals will be my strategy to cope with the matrix. What I can say, however, is that I easily get frustrated with the excessive amount of rules and regulations in a Western country compared to Asia! The amount of paperwork it takes to have the right to simply exist drives me nuts', – says Chantal.
As she rests up at home writing her second book and planning her next escapade, Chantal says authenticity and positivity are what matter most, and hopes more women will hit the road. 'I haven't met a single solo female rider during my journey, but frankly, it didn't bother me too much – I'm happy to have been able to complete this trip, and start thinking of another regardless of whether there are other women out there doing the same or not. But I think it's definitely important to show that women can ride. Simply by doing what we're doing, we can already make a positive change. For example, In Indonesia and India, when people see a woman rider, they get so curious and inquisitive. And not just the women, but men also. They look at you and maybe they get to thinking, wow, if this is possible, maybe my daughter can do this, too? It's wonderful to see young girls' eyes light up when they see a woman rider traveling on her own. So while it's great that many travelers choose to raise funds for charities or volunteer, I think sometimes, just sparking ideas in people's heads can be enough'.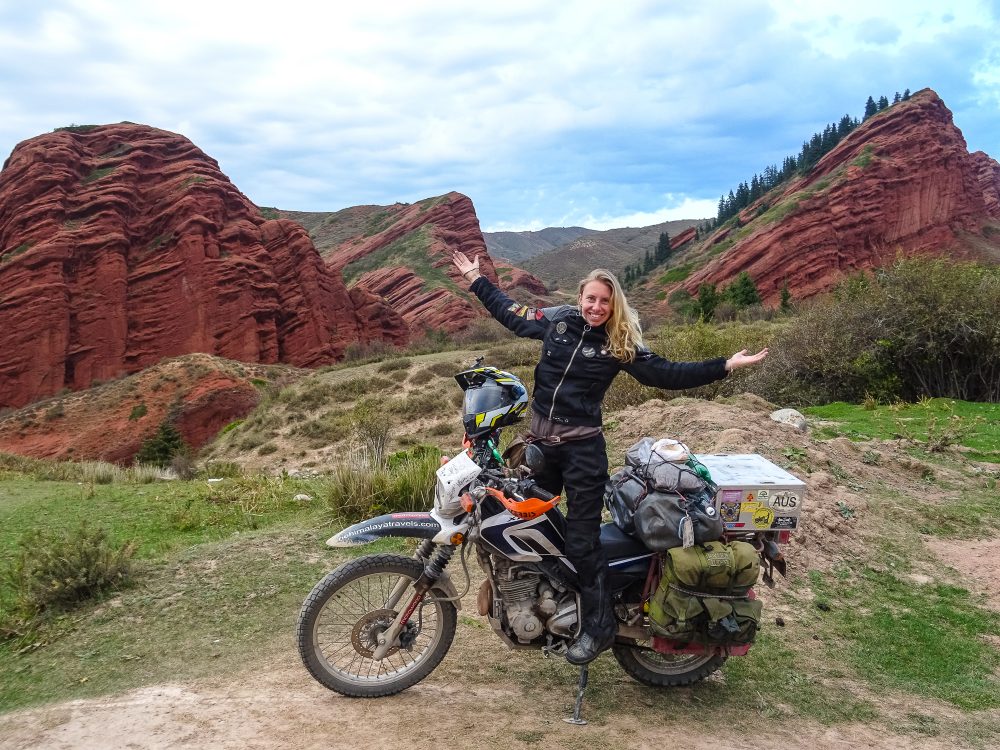 * According to Chantal, an XT250 and similar trail motorcycles are the type of bikes often used around Australia for farm work, to chase the chickens around the farm. Therefore it's often jokingly named a chook chaser.
PHOTOS: CHANTAL SIMONS AND PETER AND LEONIE
FOLLOW CHANTAL'S ADVENTURES: CHICK ON THE CHOOK CHASER
[Best_Wordpress_Gallery id="25″ gal_title="Chantal"]