BY EGLE GERULAITYTE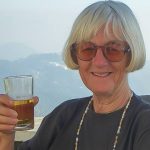 Linda Bootherstone – Bick, a British – Australian motorcyclist, is a legendary figure in the ADV riding world. She's completed a solo motorcycle journey across Africa in 1974, traveled North America, Europe, and Northern Africa, and rode from Germany to Indonesia in 2005 -2007. She's written three wonderful books on her travels; today, Linda is 70 – and she still rides!
We asked her to share her insights, experiences, and observations about motorcycles and the world.
– Linda, how has the riding changed from the 70's and 80's compared to today?
– Riding today compared with the '70s and 90's is very different apart from the obvious – that there is more traffic!
In the 60's and 70's many people used their motorcycles for daily transport as they couldn't afford cars. Bike mechanics were simpler and nearly all riders could and, for financial reasons did, fix their own machines. Breakdowns en route were more frequent and riders would stop and help one another on the roadside. This was less frequent in the '90s when the Japanese bikes had become more popular and reliable but here was still a strong feeling of comradeship amongst motorcyclists of all makes.
Motorcycle clubs then were usually a mix of all makes of bike and types of motorcycle sport. i.e. my original club in  the UK, the Saltbox MCC had its meeting place in a café (no alcohol) and had members who rode trials, scrambles (now called motocross), road racing and touring. Today most clubs are one make or one interest.
Motorcycles now are more reliable but, if they do go wrong, then it is almost impossible to fix them yourself as they need specialized equipment.
Bikes are also bigger, heavier and taller and more specialized for use ie on or off road, lowrider, adventure etc. When I began riding there were few that were built specially for one type of sport. If you wanted to go road racing, scrambling or trials riding you would change the tires, handlebars and gearing on your standard Triumph or BSA to suit. BMWs were renowned for touring but not many people could afford them. There is now much more choice in motorcycles and equipment both for bike and rider. When I began there was only the choice of Belstaff or Barbour waxed cotton jackets and over-trousers and boys used firemen's boots and girls horse-riding boots. We used newspaper padding for warmth as then thermal vests were unheard of. Barbour mitts were the best way of keeping hands warm and dry when worn over normal leather gloves. These are unavailable now but I have a 30 – year old pair which is my prized possession.
To summarize: there is more variety in bikes and gear.
At the same time, there is too much specialization in bikes and clubs and bikers don't automatically wave at one another on the road anymore let alone stop to help.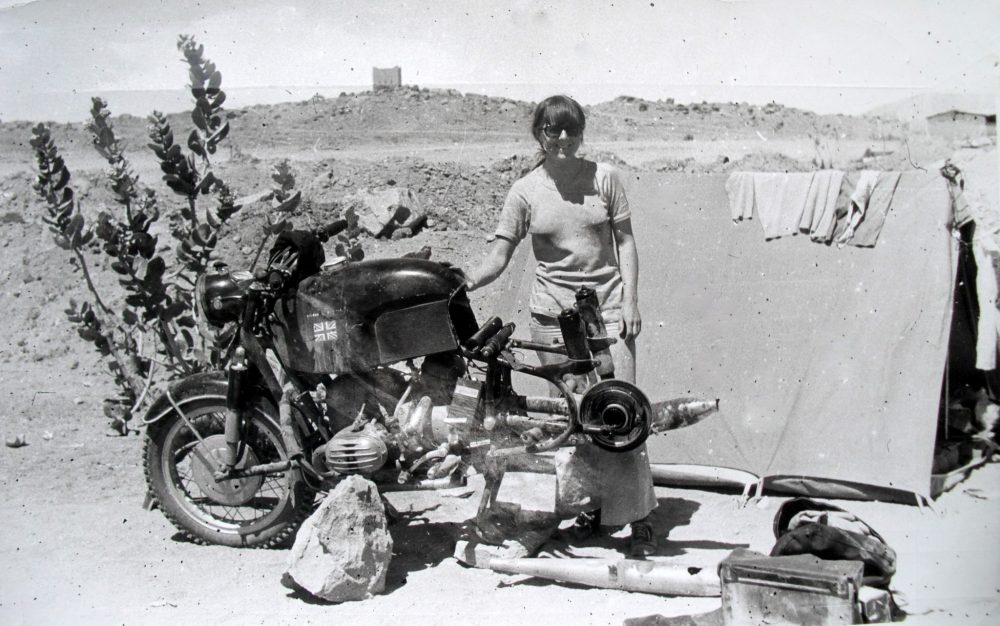 – More women and more women are choosing to ride around the world every day. Yet, we still have less gear and bike choices than men do, the world is still less safe for us, and we're still looked at as extremely rare beings rather than the norm. Do you see this changing any time soon?
– I think that women now have sufficient choice in bike gear. I don't have any specialized clothing, apart from normal motorcycle jacket and waterproofs. I wear what is safe, strong denim trousers and boots. I find what I want in 2nd hand clothes shops usually.
Bike choices for women may be fewer if they are small, like me but still sufficient for most women who are young and strong. We are seen as unusual but I think most men and women over-landers enjoy being seen as unusual. It helps in meeting people and with our egos. I don't see this image of being a rare being changing any time soon.
– Riding around Africa pre-Google and pre – GPS…what was that like?
– You need to read the book or see one of my presentations!
It was very hard to get information on travel in Africa as not many people had done it. Most were going overland to Australia in those days. I had to ask people who ran overland truck trips as the Automobile Association said 'Don't" and the only maps available were Michelin which gave info on terrain and borders but not on political or other obstacles. In some ways not knowing anything was good because I had no preconceived ideas or worries. I just heard there was sand in the Sahara and mud in the Congo. Getting letters at various Poste Restantesen route was a treat and life was 'take it as it comes.'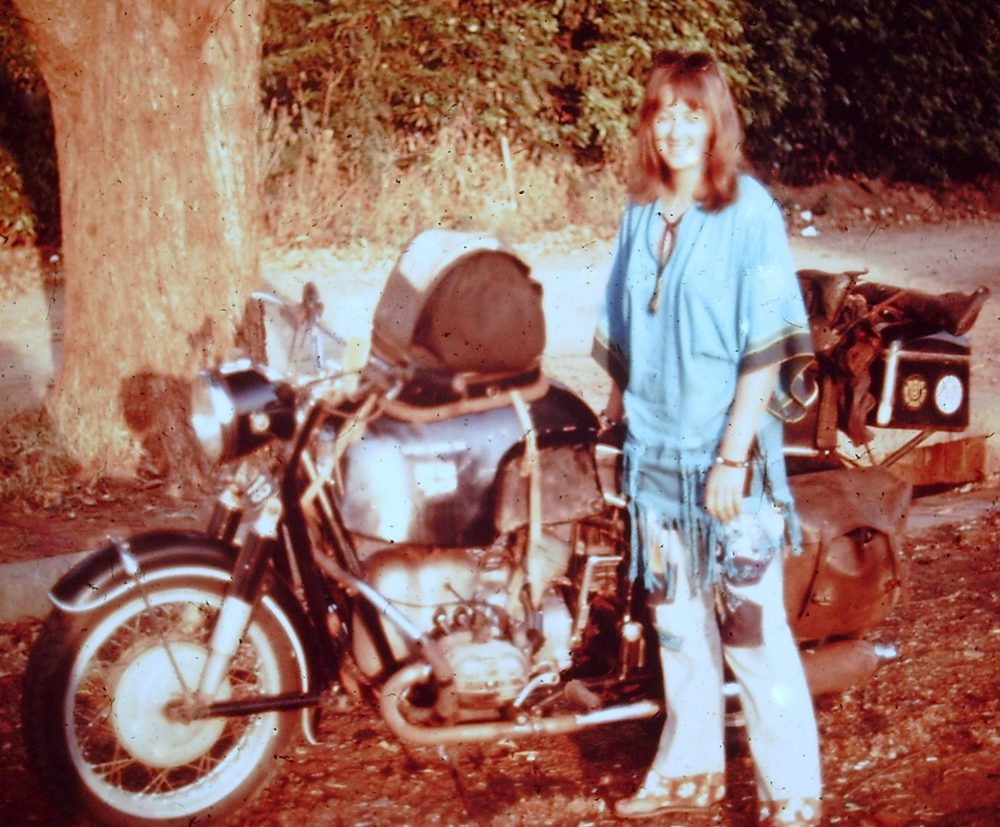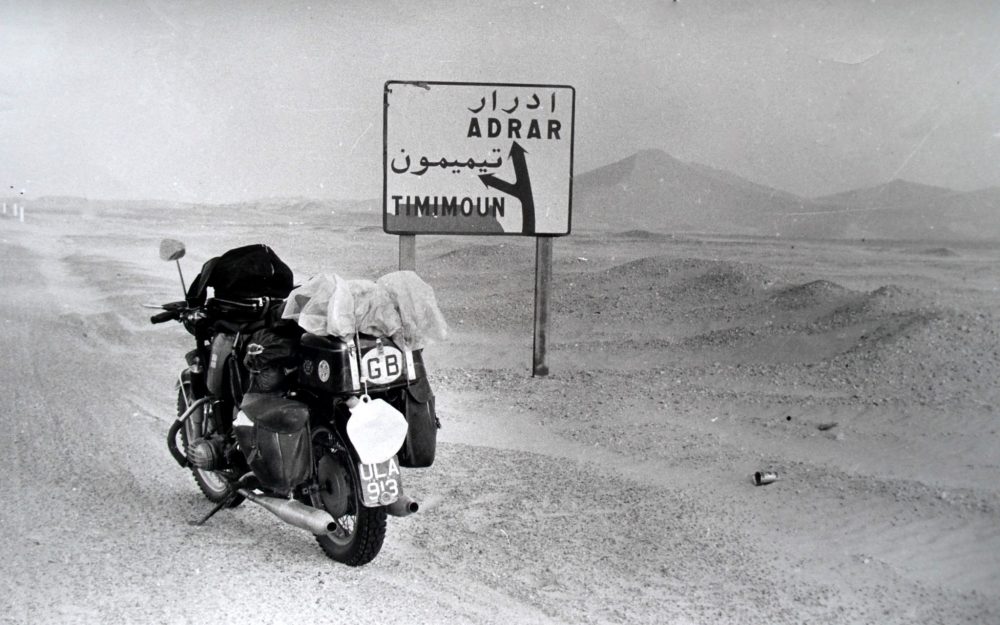 – What was your most memorable ride in Africa?
The whole of the Africa ride was memorable. It took me 15 months which included stopping to work for a while in Salisbury, Rhodesia, and Durban. It was too fast but controlled by visa lengths and weather patterns, which is what limits most overland journeys, as well as money.
– Compared to the Africa journey, how did you feel on your Asian adventure? Was it easier?
My Asian journey was done 30 years after the African one and on a more modern and younger bike. It was easier in many ways, mainly the road conditions but I was older and not so strong and the 21-month journey took a lot out of me both physically and mentally, being age 59-60 rather than 29-30. Of course, I could contact people easier by internet and get info with 'Lonely Planet" and through meeting other motorcyclists along the way which I didn't do in Africa.
The two journeys were entirely different really so it is hard to compare them.
– You have been adventure riding for 50 years now. What's your advice for other women out there who are just starting out?
– Choose a bike that you feel comfortable with, in height and weight and general ease of handling and, if possible go on and off road rider course (I never have and feel it would have been useful). If there is a local women's rider group like WIMA (Women's International Motorcycle Association) or Women's Adventure Riders go and join and get some firsthand advice. If you are planning to go overseas don't be worried about not knowing the language, though it does help if you can get a phrase book or learn a few words in each language. Enough to say please and thanks.( I needed to be able to say my age for my last long trip in Asia!) Normally a smile and body language is sufficient. I have never carried any weapons and haven't needed them. Maybe it would be good to do a course in martial arts. I think I did once but can't remember any of it and never had to use it anyway. If I don't feel comfortable in a situation I just get on my bike and ride off.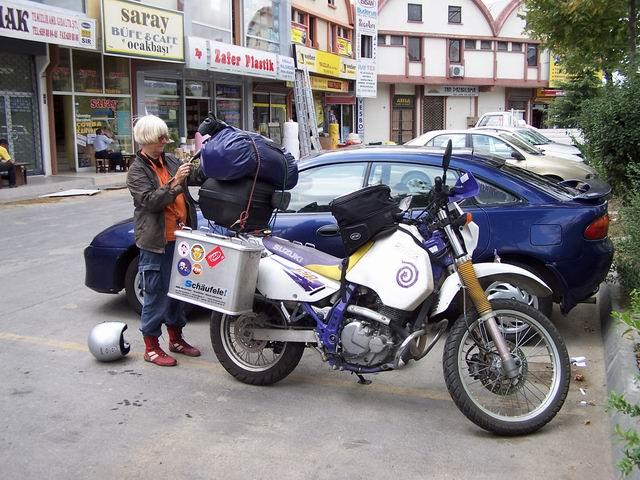 – Have you ever met anybody on the road that you were in total awe of? Who were they, and why?
– I haven't met anyone, anywhere that I have been totally in awe of. One woman I met last year in Chile who I liked and admired was Michelle Collyer who had been a great success in motocross when she was 16 but had to give up the sport due to finance , marriage and children. However she always wanted to get back and finally , in her mid-forties, as well as with family obligations she re-entered the sport, was racing against much younger women and still came out the Women's Motocross champion last year. I believe that there is a Spanish woman who wins at the Dakar rally.
As a completely useless off-road rider I admire anyone who can control bikes at speed in the dirt!
Another woman who I like and admire is Nicolletta Pereirra in India who was the first woman to own a 500 Royal Enfield and who went with Gaurav Jani and friends to make the film ' One Crazy Ride" in northern India. She rides despite opposition from both her husband and parents.
I met Louise Scherbyn, the founder of WIMA, when I was in America in 1983. She had the foresight to contact women riders all over the world to set up an international network. She used to ride an Indian but by the time I met her she was in her 80's and no longer riding but still keeping the network going.
She and Theresa Wallach were founder members of WIMA and Theresa Wallach and Florence Blenkiron went down through Africa prior to that in 1934 on a single cylinder Panther.What heroes!!! They must have been the first women to do this.
– If you could describe your perfect ADV motorcycle, what would it be?
Last year in South America I bought a Yamaha YBR125 for touring. It was perfect in all but one respect- it needed stronger suspension for off –road riding.
It was small, light and very economical. It had two 18" wheels thus requiring only one size spare inner tube. It had a side stand and a center stand and a back rack. It was low and had a comfortable seat and good riding position and it could cruise at 100kph. Unfortunately, this model is not brought into Australia or I would get one as I have lost height and strength now and prefer smaller bikes. I don't think you need all this fancy gear, just a bike strong enough to carry you and the things you really need. I have found most people carry many unnecessary things anyway.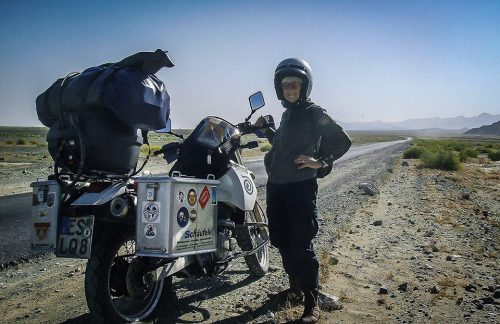 – What was the worst, the craziest, or the funniest place or situation where you ran out of fuel?
– I ran out of fuel on a freeway just out of Detroit in 2010. I knew I still had fuel on the other side of the tank and that, if I laid the bike over, I could swish the fuel over to the side with the tap.I took off the pannier and laid the bike down to do that but then I found I couldn't pick it up. In the evening rush hour even the motorcyclists were zooming by, ignoring me. Finally I stepped out into the stream of traffic and waved down a car with three young men in it. They reluctantly stopped and got out looking terrified.
"Have you had an accident?"
"No, I just need you to help me pick up my bike!"
They rushed over, picked up the bike,then hurried back to the safety of their car and drove away. Obviously a little grey haired old lady alone on a motorbike is a possible terrorist!
– A lot of travelers say that adventure begins when you break down. Do you agree, and what was your most memorable breakdown so far?
– A breakdown usually initiates contact with locals which leads to new adventures. I have had so many over 50+ years it is hard to say which is the most memorable. All of them entailed interesting interactions. One that springs to mind is that of when the clutch cable broke on my DR650 on the Karakoram highway in Pakistan in 2005. I had a spare, of course, but was not familiar with changing it as I had been on my previous BMWs.I got out my tools and was in the process of removing the seat etc to get access to the run of the cable when two small motorcycles drew up with four Pakistani men aboard. They asked what was wrong and I indicated the cable. They snatched the tools out of my hands and began attacking the bolts. I had to restrain their enthusiasm as they hadn't any idea of the correct procedure but they were trying to help and, about ½ hour later the job was done. They asked me for whisky but I didn't have any- only water. They accepted my apologies and rode with me to the next village where we parted company and I continued on to camp by a helipad.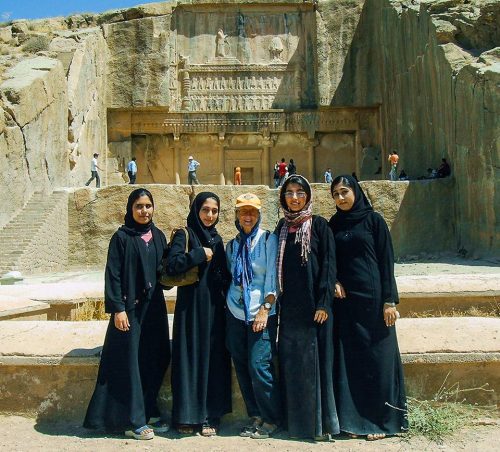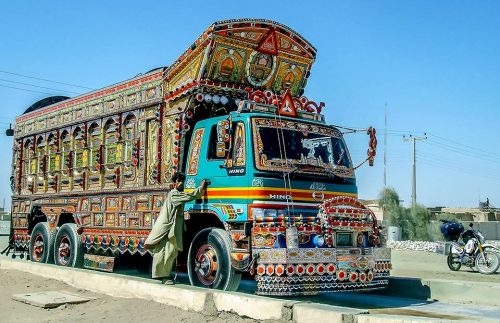 – What are the top three items you always have in your panniers?
– Tools and spares, wet weather gear and water.
– What are your thoughts on adventure motorcycling today?
– Adventure motorcycling is made easier today with bikes, equipment, information, technology and meetings such as Horizons Unlimited where you can get firsthand knowledge from experienced riders. But in the end it is up to the individual to go out into the world with a sense of curiosity to find out about other countries and cultures – not to be the big hero but to look and learn. I think journeys should be done slowly with maximum interaction with the local. I have given talks in schools and societies en route and I know others have done the same and helped in situations requiring it whenever they can. Being able to sing and play a musical instrument ( I carry a tin whistle and lagerphone -percussion instrument- with me and sometimes a ukulele) always helps and leads to new friends.
Having travelled in most of the continents by bike now I don't know if I will do many other long trips but I am still interested in shorter ones where I can hire or buy a small bike in the country I want to visit. I am not interested in shipping a bike around the world – it is too expensive and too much paperwork.
Overall I think I preferred riding in the 'old days' where people were less paranoid and there weren't so many rules and regulations. It is still fun in Asia where anything goes on the road and I have a lot of fun in Thailand or Indonesia.
I have written three books about my travels- all available on Amazon– and I have enough memories to write several more so that will keep me busy. I now just have a 110cc Honda Postie bike and am happy with that for now (though I wish it was a bit faster!).
Good luck to all fellow adventurers and remember to take it easy and keep a positive attitude!
MORE ABOUT LINDA'S ADVENTURES: LINDA PLAYING UP
https://vimeo.com/50946883