Motorcycling is about mastery, camaraderie, and exploration. One event is designed to challenge non-professional riders to perform at their absolute best.That event is the BMW GS Trophy Challenge.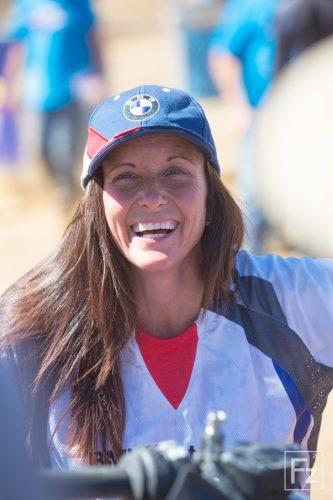 Jocelin Snow will be competing in the 2018 BMW GS Trophy Challenge with women and men who have competed and won qualifying events from around the world.
Growing up, there were no riders in her family, but at 12, she had saved enough paper route money to buy a Kawasaki KDX80.  Since then, she has owned over 40 motorcycles, and participated in road racing, flat track, hare scrambles, motocross, and supermoto. She rides street, dual sport, and adventure.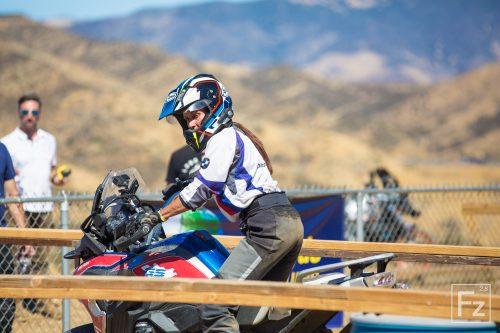 The BMW GS Trophy drew Jocelin because women compete directly against men, and are scored equally. When she started riding, she was frequently the only woman in the group, and that was even more prevalent when she started racing. "Before long, turning heads and shocking bystanders became somewhat boring, and what I really wanted was to see more women discover the joy of motorcycling. One of the most motorcycle-related rewarding things I have done in my life is coaching."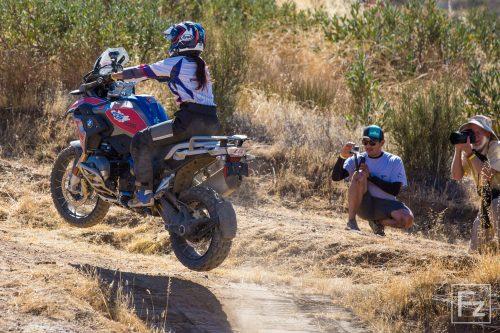 Jocelin's influence extends well beyond racing. She has owned and operated an off road riding school. She volunteered at Monte Vista Christian School teaching riding, and she enjoys organizing, leading, and participating in group rides. Given that no one in her family rode, she started her journey as a motorcycle mechanic at age 12 with her KDX, and grew up to spend a year as Chief AMA mechanic, assisting her team to win the national championship. She worked with Zero motorcycles to showcase their electric bike on a TV show called Ride to Adventure. She's also worked with Alpinestars, helping them research, design, and develop a motocross racing boot and road racing gloves for women.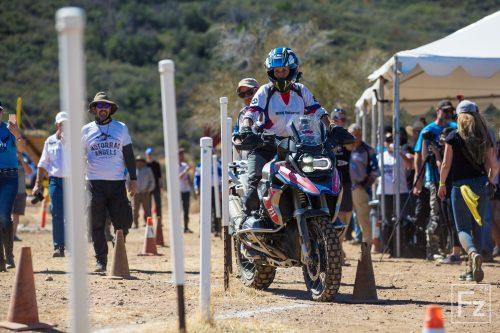 Unsurprisingly, Jocelin says some of her favorite trips have been on a motorcycle. She has toured Germany, Switzerland, Austria, France, Italy, Greece, Mexico, Canada and all 50 states on two wheels. She adventured Baja with Malcolm Smith, who regaled her with stories, and who she describes as "one of the most compassionate, caring, and generous individuals I have ever known." She recently took her BMW on a trip to Alaska and back, traveling 12,000 miles of paved and dirt roads in 30 days. Jocelin is skills-focused, and has attended Rawhyde Adventure Riding Academy in Castaic, CA.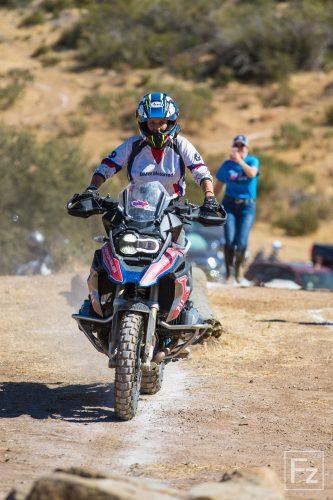 She's in the fast lane on the bike and off.  Her day job is owner and operator of a sign company and vehicle wrap business.  She also hosts a bed and breakfast and volunteers with foster youth! She is an active member of her local Rotary club, and helps them fund raise. On top of all that, she enjoys cooking, traveling, photography and art.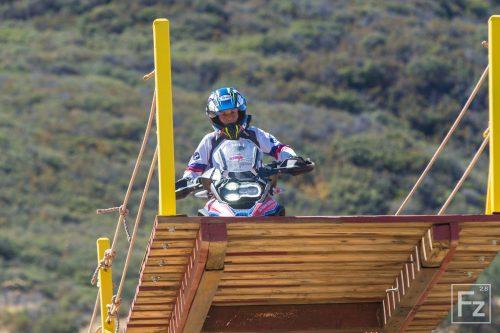 With such a full life, it's hard to imagine how she fits in training for the BMW GS Trophy.  She states "training for the qualifier meant little-to-no more free time.  I juggled my time the best I could between running my business and training. I'm fortunate to have a strong and dedicated staff, which allowed me to leave work early most week days to train. Weekends leading up to the qualifier were spent training eight hours a day. I set up a piece of property with obstacles for slow maneuvering techniques to practice balance and control."  Now that Jocelin is on the International Women's Team, she will be dedicating even more time to training.  "I'll be riding every opportunity I get."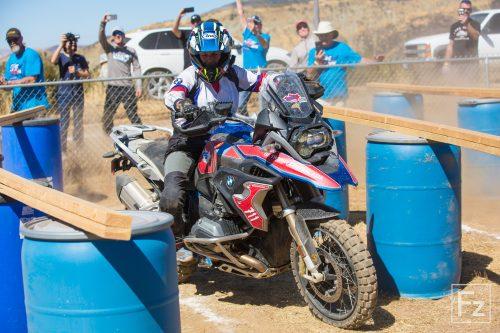 Jocelin reports that her experiences at the qualifiers were incredibly positive. Competitors were cheering for each other, giving high fives, and encouraging each other. She found the staff and judges extremely supportive. Before heading to South Africa, Jocelin said "I am expecting the GS Trophy Challenge to be intense and incredibly challenging both physically and mentally.  Regardless of the overall finish, I suspect participating in this event would be life changing, and I may even learn what I am really made of."
Upon her return, Jocelin says "South Africa was a true test of self.  It was both extremely physically and mentally challenging. The SA qualifier was in my opinion far more demanding than the US qualifier.  We were dished out test after test ranging from hammering a nail in a stump with a small pointed hammer to lifting a GS1200 on to a 4-foot log.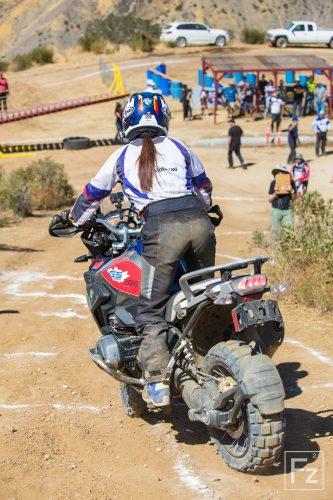 Some tests began hours prior to breakfast and some tests ran deep into the night.  One morning we were at the bikes at 6:30AM and finished the day after a night GPS navigation after 11:00PM.
Sleep was rare, with raging winds and loud thunderstorms at night.  At times the top of my tent was hitting me in the face while I tried to sleep, and water came flooding in from the grass field."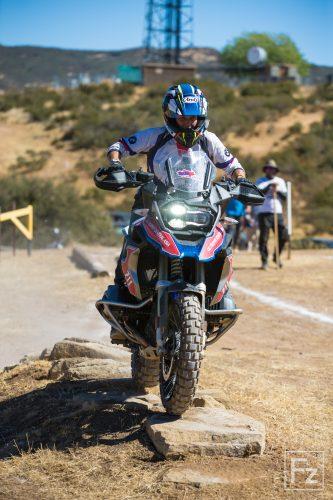 "What I found most interesting about the SA challenge is the strong comradeship  Even though we were technically opponents, competing against each other for a spot on the international team, every single contestant was cheering on the others with intense passion and true sportsmanship almost as though we were all on the same team.  Stereo-typically, one would think if you get 23 athletic women, all from different countries together in one room competing against each each other for the position of a lifetime……that there would be judging, destructive behavior and jealousy.  This was so not the case.  There was not even a single apple that spoiled the bushel.  If someone had walked into the room, not knowing the circumstances, they would have most likely believed we were all best friends and have known each other for years.  Hugs, tears and words of encouragement never ceased from the start all the way to the final elimination day.  The women who were eliminated in the earlier rounds could have been hurt, jealous and even angry, but instead became the most supportive cheering squad for the remaining contenders. The energy all through the competition was astounding.
And, the best part?  I left South Africa with many new friends, and we are still keeping in touch through social media and emails.  I believe this is what BMW was referring to when they asked us if we understood 'the spirit of GS'. Being part of a team with ANY of these ladies is a true honor.  I am humbled and grateful.  My training program will become more intense and my commitment even stronger as now I have teammates and sponsors to consider, along with continuing to set a positive role model for other female riders."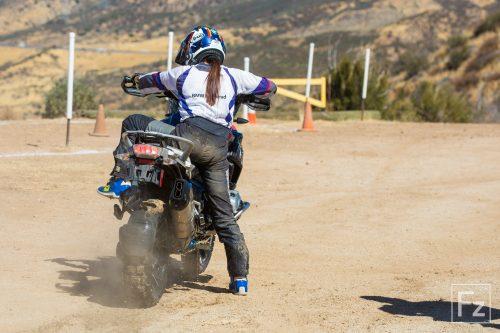 Jocelin's final words to us all: "To all the ladies out there, don't let anyone tell you that you can't do something. Follow your passion, dare to try something new, believe in yourself and never give up."
Photos by MOTOINSIDER. Check out his website!
If you liked this article, check out Chantel Simon's article CONFIDENCE IS NOT A VERB too!
For more about the 2018 BMW GS Trophy, check out BMW'S WEBSITE!