BY ANDREA JENSEN
In March of 2017 my broken ankle had finally healed and was out of the cast. Though the bone was still tender along the fuse and I had a slight limp, I was ready to be spontaneous again rather than cautious about every move I made. 
At home one night, flipping through Instagram pictures of sushi and cute kittens, I came across a blurb for a "Ladies Motorcycle Tour with Jo Rust".  I say yes to a lot of things, maybe even most things.  It makes my life larger and more satisfying.  But, I had never said yes to anything as big as a 3500 kilometer motorcycle ride through South Africa and Lesotho.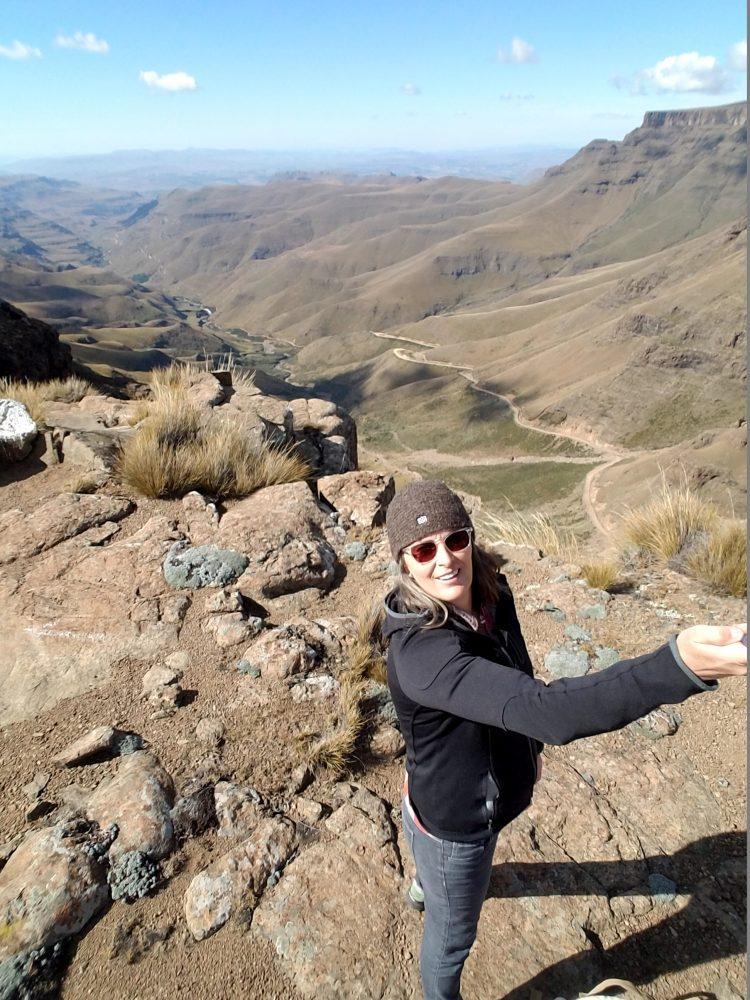 I "Googled" Jo Rust and found she had an extensive history of adventure in the motorcycle world.  The tour was only a few months out and filling fast.  I had a short window to join if I was going to say yes to this. I called my brother, a man who has known me 50-years.  So often, when I was a kid, he was my champion. He'd also had to save me more than once.  Perhaps I subconsciously wanted him to make the decision, to talk me out of an adventure that felt both thrilling and too big for a woman with a freshly mended ankle.  There was no hesitation in his voice.  "Yes," he said.  "You should do this."  I clicked Purchase.
I confided in a friend and she sent me this quote from Ellen Johnson Sirleaf, the President of Liberia, "The size of your dreams must always exceed your current capacity to achieve them." Game on. I was going to Africa!
On April 24 I got on a plane to Johannesburg.  I'd made a point not to do extensive research on South Africa and Lesotho – because I wanted to go with an open mind.  I wanted to experience the geography, the people and the beauty with no preconceived ideas about what I would see, smell, hear or taste.  I'm glad for this.  I let the country do me, not the other way around.
I landed in "Joburg," feeling great to be on my first solo trip abroad.  I made my way to the hotel at the Cradle of Humankind, our lodge for the first four days of the tour. It was exciting to meet Jo Rust in person, the first woman to have ridden around Africa solo on a motorcycle.  She is also the first internationally accredited female off-road instructor in Africa – but the first thing that struck me about Jo was her smile and her warm welcome.  I met Tim Skelton, Jo's business partner and the sweep and medic on the tour.  I met the other riders, all strong and amazing women.  I also met my BMW F800GS, a very tall bike with a most intimidating big front wheel.  I talked to Jo about my decision to ride an 800 before the trip. She was very convincing and said, "You'll be fine, that 21" wheel will go over anything".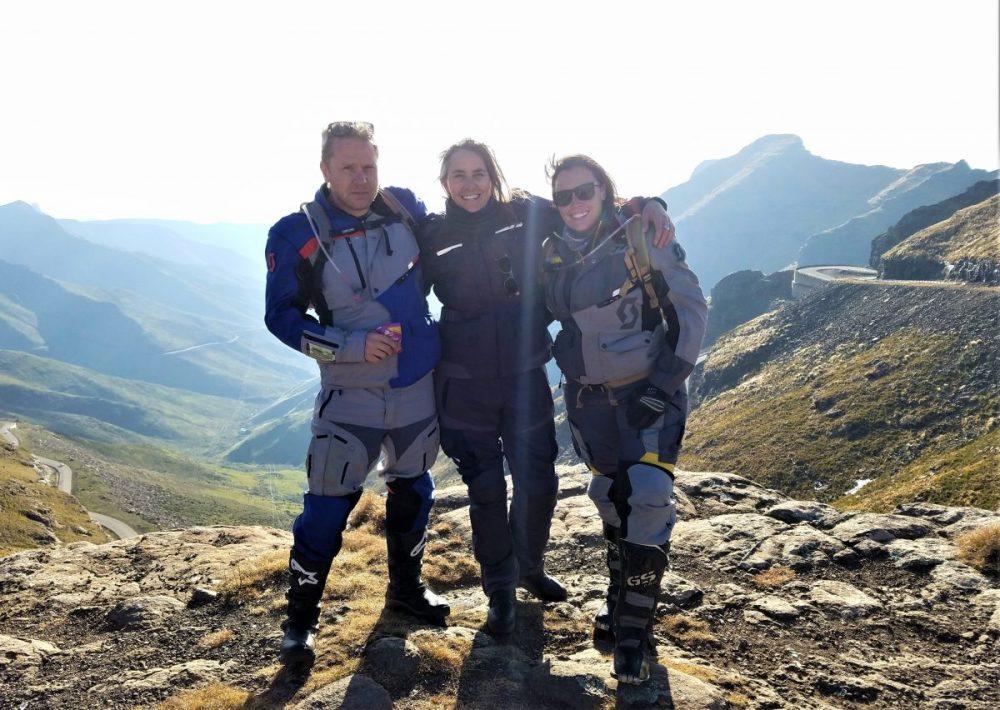 We started the next day with an off road two-day riding course I felt lucky to have.  We learned how to ride standing on pegs, negotiating obstacles, downhill braking, clutch and throttle control, emergency braking and other necessary tactics. Back at the lodge, we would share the swimming pool with Zebras who would show up at dusk to drink from the pool. Never did I imagine this!
With little sleep, I woke the next morning feeling excited to be underway.  We left Gauteng and headed Southeast towards the Free State and Lesotho with Louis, our support truck driver bringing up the rear.
Our first lunch break was in the quaint town of Clarens, which is situated near The Golden Gate Highlands National Park.  The name comes from the color of the sandstone cliffs that rise above the town and it felt familiar to me, it felt like my childhood home in Utah.  Back on our bikes, we flew through the countryside and arrived at the Lesotho border in searing heat.  With our heavy gear on, we sweated our way through the border control, passports in hand.  From here, we headed up a long twisty, but beautiful road to Katse Dam, the highest dam in Africa.  Here is where I had a love affair with a local, Castle milk stout beer!
The next day we rode on beautiful paved and unpaved roads to Sani Top and the highest pub in Africa situated at almost 9,500 ft. and I discovered they had my favorite African beer, how about that!  We got our first glimpse of the notoriously dangerous road that has a long reputation with adventure motorcyclists.
Excited for a day off and a chance to take in the road from above I jumped out of bed the next morning. I walked along the escarpment atop the pass and watched the 4×4 trucks making the slow chug around the hairpin corners to the top.  The sky was brilliant blue and the sun was warm, I was told we were lucky not to have fog.  I laid in the dirt, under the puffy clouds and watched birds fly above me.  My heart started to slow for the first time on this trip as I returned to the lodge.  It had been a good day.
The next morning, I woke up early to the cold Basotho style room and the smell of the coal-burning stove that had gone out hours ago. The hardy breakfast of warm mealie pap and scrambled eggs settled nicely as we mounted our bikes in the chilly Lesotho weather.  After checking in at the border control station,  Jo and Tim lined us up at the top of the pass and we descended one by one beyond view of the others behind us.  I was rolling down and around the switchbacks and steep grade too quickly and had to stop a few times to give the rider in front some room.  This is where my inner dialogue became the loudest.  I visualized my riding position, keeping my butt back; I recalled my hand/brake/clutch position, and braking methods taught by Jo and Tim.  After a few switchbacks, my forearms were already pumped from holding the brake and clutch with two fingers.  Just before the first rest stop and near the bottom of the switchbacks I fell as I cut the corner too tight. I managed to pick up my bike and rode it the last 50 feet to our first designated rest stop.  While some of us worked out the spasms in our forearms, Jo and Tim spent about 30 minutes shuttling some of the other riders down the switchbacks.  Jo joked about how this afforded them a proper work out and was only possible because of her CrossFit obsession.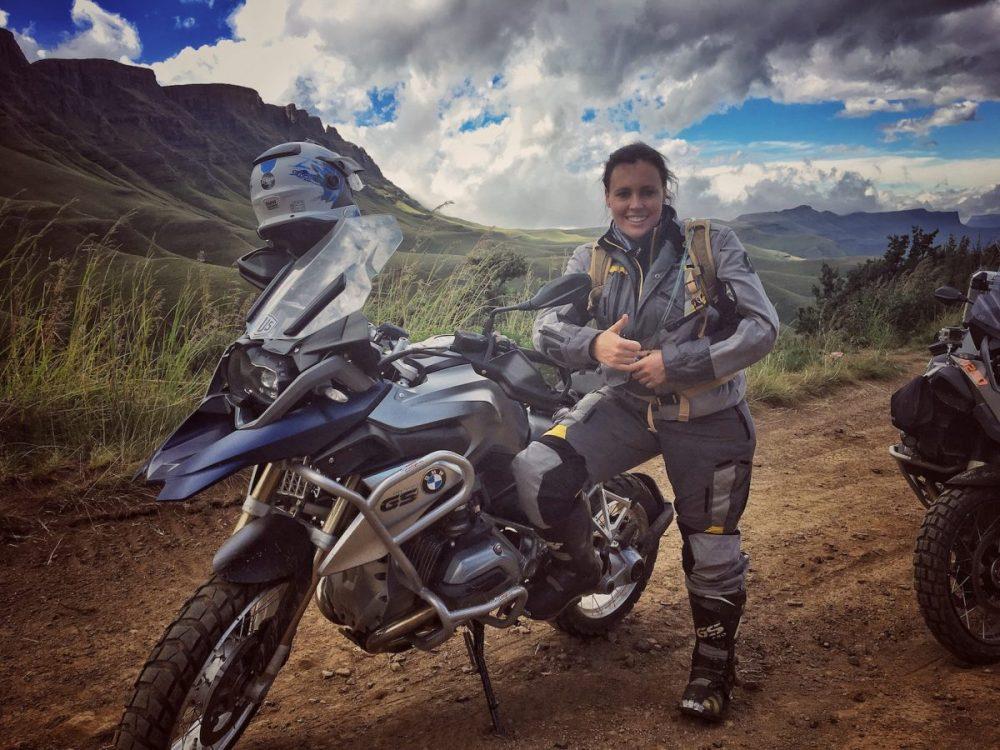 After a good rest, we continued down the rest of the pass knowing there was no other way down.  I made it through several stream crossings, ruts that seemed big enough to get lost in but I fell again near the bottom.  Having to slow down behind a truck with no way to go around I stopped and lost my footing in the rocks.  Over I went. Jo had been right – my 21" wheel rolled over anything; unfortunately, it didn't always keep me upright.  I finally came to a stop at the bottom of the pass flushed with adrenaline and feeling more confident.
We all regrouped and were back in the saddle making our way through the border into the Eastern Cape of South Africa.  We had accomplished Sani Pass and the Kingdom of Lesotho, no small feat! Here the scenery made a dramatic shift from rugged to lush forest.  We headed towards the town of Hogsback where Samango monkeys played in the road in front of us and we made a quick stop over at the home of Rob Wicks, a collector of British motorcycles.  After the short break, we got back on course and spent a long day riding very difficult and steep dirt roads through foggy conditions.  I made it through the day with no falls and helped a few other riders pull their bikes out of puddles and bushes.  After a long and trying day, we finally arrived at our hotel near Addo Elephant National Park, where we took a much-needed day off.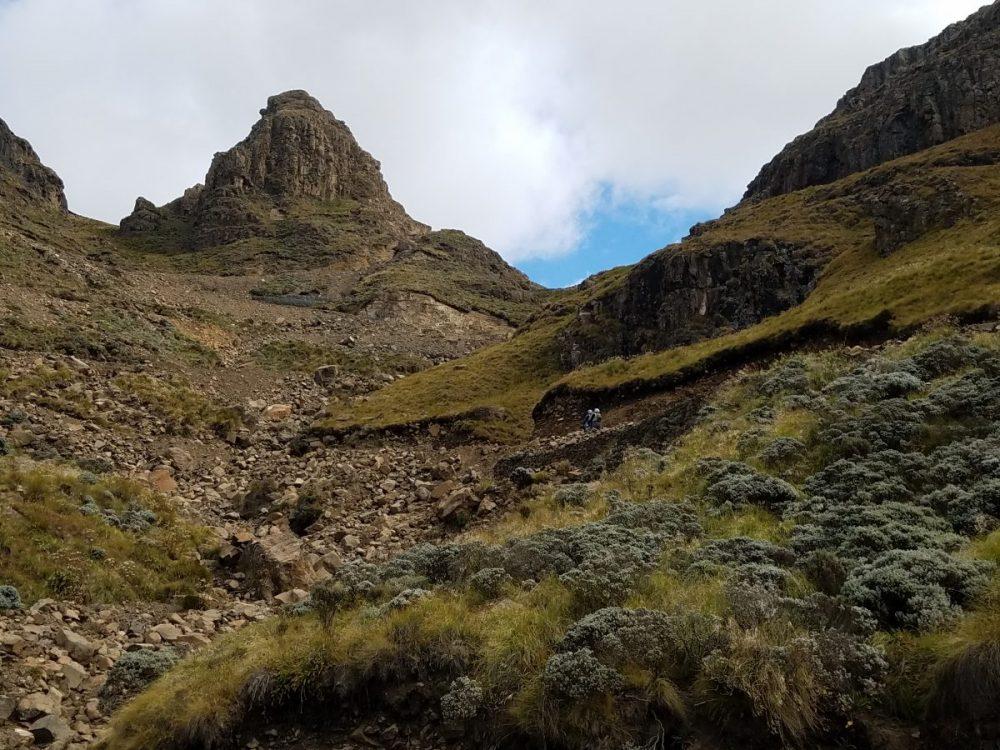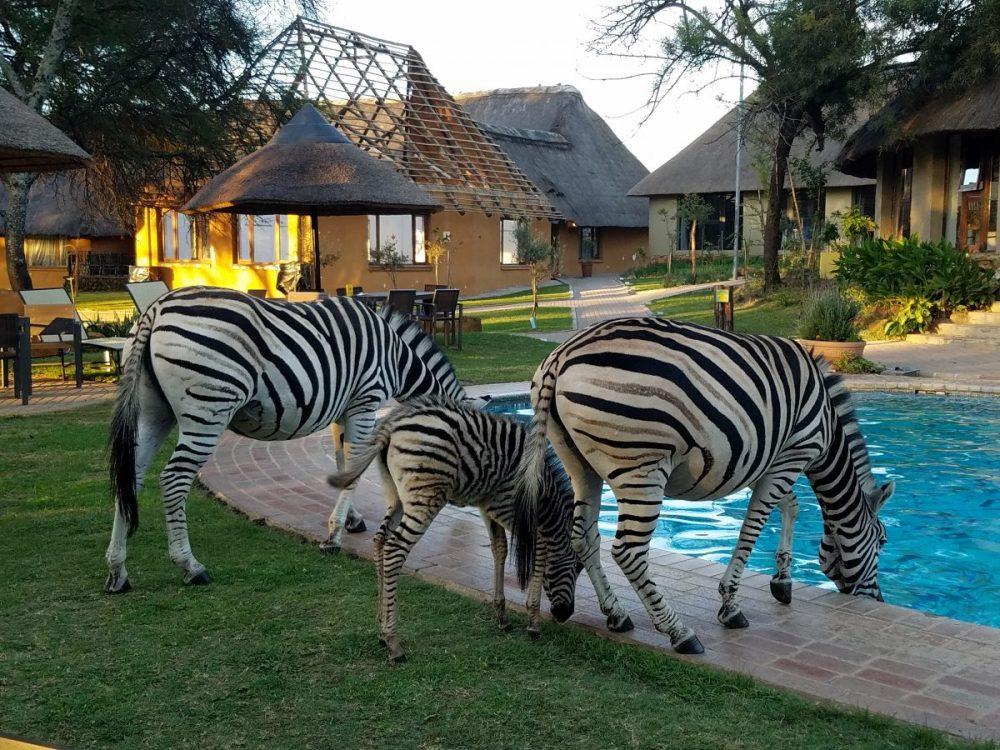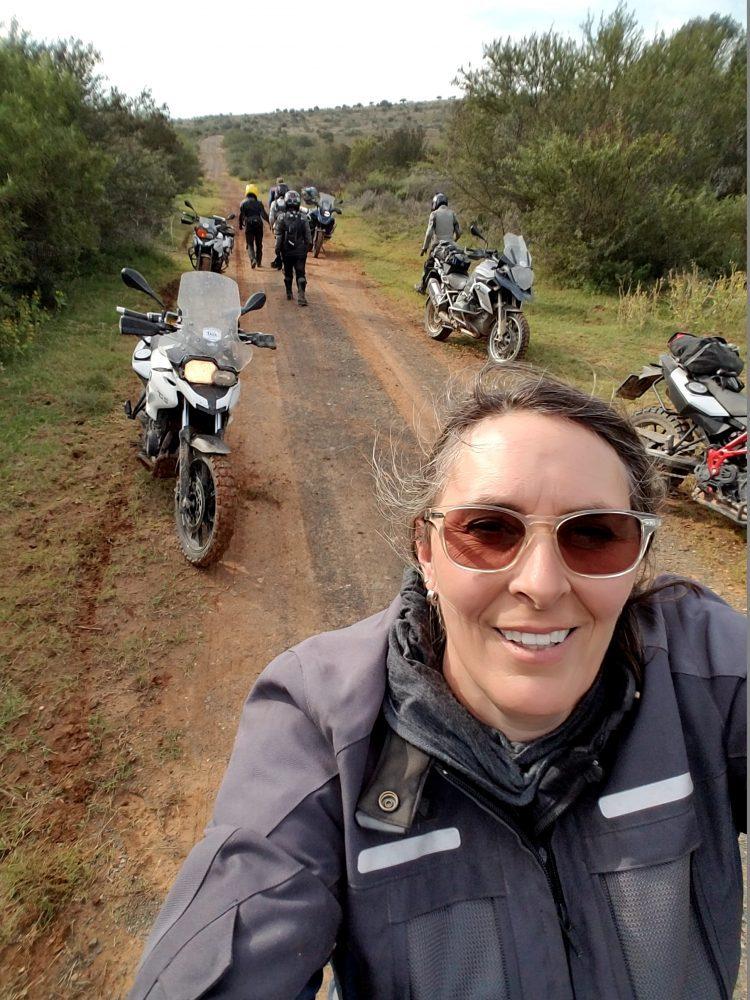 Next up, we headed to the coast via the famous Garden Route of South Africa and to the town of Knysna.  Being that Knysna is a coastal town and known for their seafood, I challenged Tim to an oyster-eating contest.  Tim – 1 (he literally had to choke this one down), Andrea – 11.
Back on the bikes the following day, we had some nice gravel and paved roads as we headed along the coast to the fishing village of Arniston.  Here we stayed in a beautiful hotel with sweeping views of the blue-green water of the Indian Ocean.  The most anticipated stop for me was at the close of the journey on day 11.  We landed at Cape L'Agulhas, where the Indian and Atlantic oceans touch at the southernmost tip of Africa. In the short video I posted to Instagram (@livesbeyondthe100th), the wind is howling, I am breathless, my hair is in my mouth, and I can't stop smiling. This was an emotional place for me; the weight of 50 years fell away.  I buried old losses, disappointments and struggles at this exact point in Africa.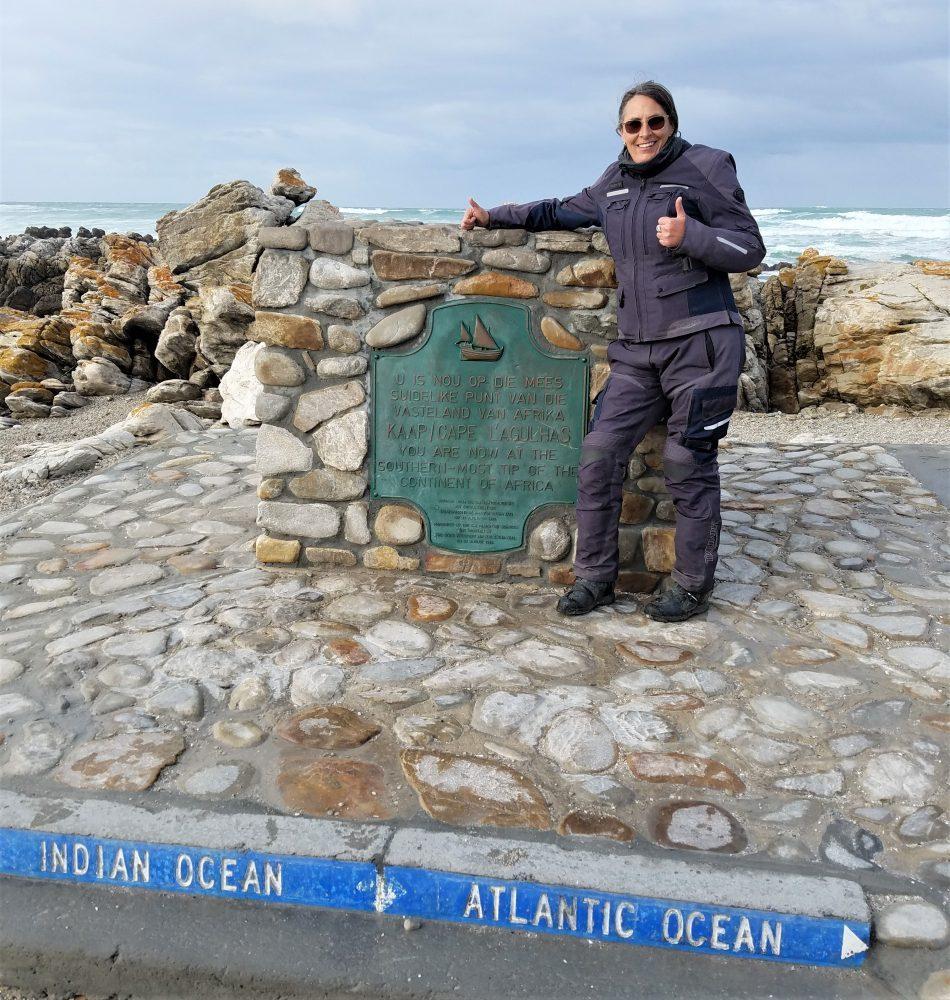 Our last day would take us along Chapman's Peak Drive, the famed road into Cape Town.  We pulled in to gas up for the last time. My eyes filled with tears. I was both exhausted and ready to keep going.  We reached Cape Town in heavy traffic. Jo led us brilliantly through the city, lane-splitting to our hotel.
Arriving at the hotel, we parked our motorcycles for the last time.  There were many hugs; some seriously tore up motorcycles and lifelong friendships that came out of this adventure.  Jo, Tim and Louis did a great job of supporting me throughout this trip, both physically and emotionally.  Tim mended old and new wounds and checked on us constantly.  Louis fed us homemade jerky and made us laugh.  Jo led us through her beautiful country with the skill of the professional that she is with the sun on our faces and the wind at our backs.  I knew the risk of coming home more physically broken than when I left, but this is why my life is larger and more satisfying – knowing the risk, assessing the possible outcome and making an informed decision.  I flew home feeling lighter than I did 20 days prior; ready to move into the next fifty years. I hope one day to reconnect with Jo, Tim, Louis and the women I grew close to on this trip.
On May 27th, 14 days after I arrived home to Oakland, California, I sold my BMW G650GS and bought a BMW R1200GS.  My dreams are bigger now. I needed a bigger ride.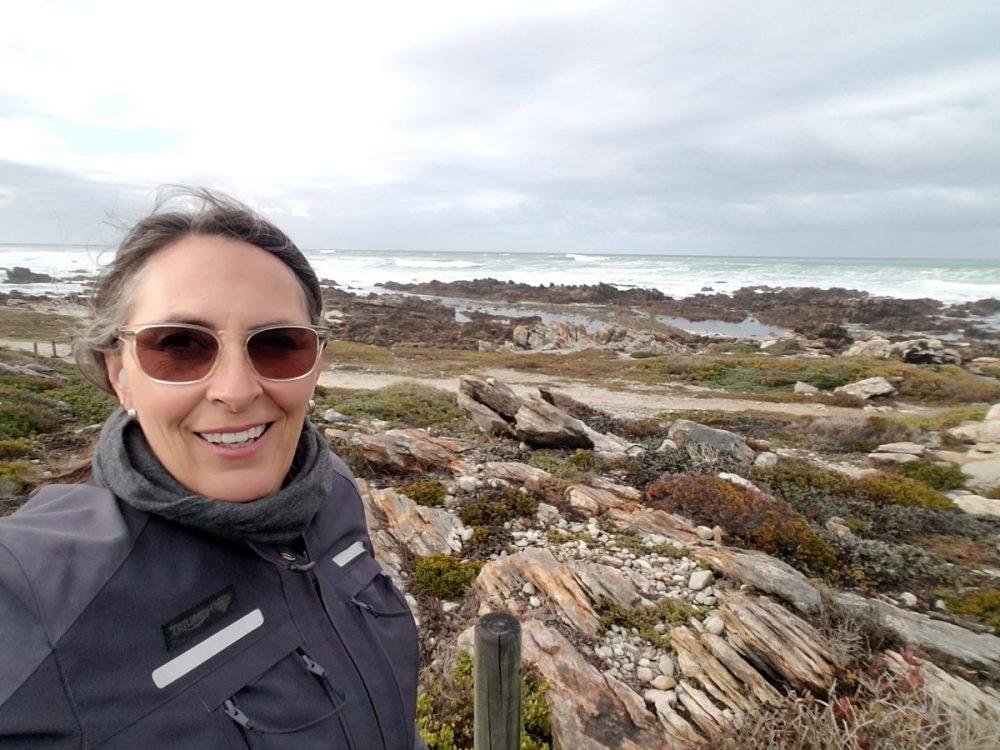 Jo Rust Adventures will be hosting another one of their epic tours through South Africa this October and is offering all Women Adventure Riders a 10% discount when you book on their SA Odyssey Adventure Motorcycle Tour. All you need to do is include "WomenADV10%" as your discount code in the comments section when you book. Visit: www.jorustadventures.com/sa-odyssey for more details.