BY HEATHER ELLIS
Has the internet, GPS navigation and social media taken the 'adventure' out of adventure motorcycle travel? Or has it paved the way for more of us to follow that dream?
Back in the 1990's, long before the internet, GPS navigation and social media, I rode a Yamaha TT600 through Africa and later through Central Asia — a journey that took four years including a stint as a motorcycle courier in London. The story of the first leg of that world motorcycle journey was published by Black Inc. in April 2016 as Ubuntu: One Woman's Motorcycle Odyssey Across Africa.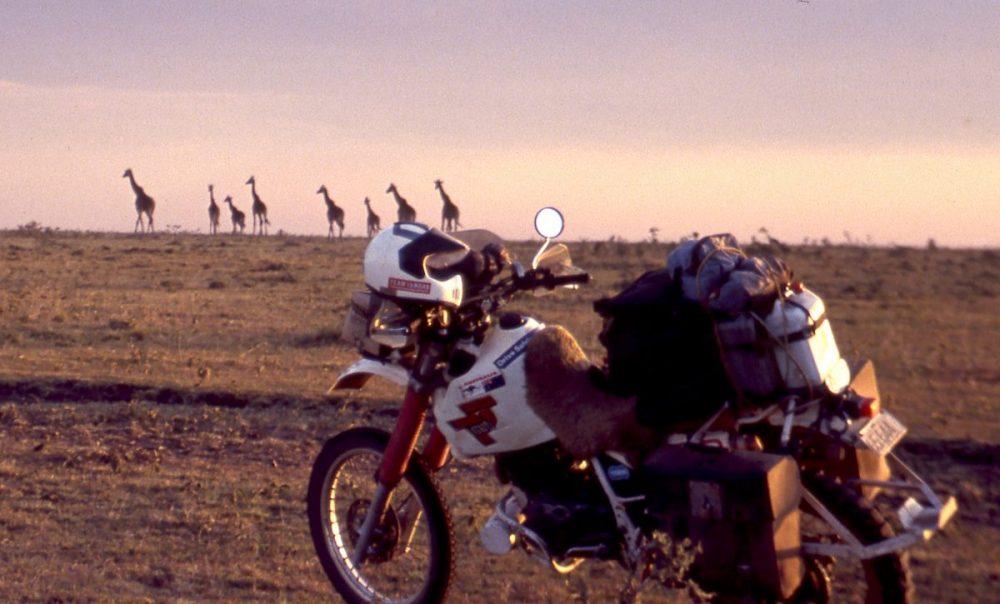 The snap decision to do that ride was a light-bulb moment at a backyard barbecue. But as soon as I blurted out, "Wouldn't it be great to ride a motorcycle across Africa" (or words to that effect), I knew I'd do it. The year was 1992, I was working as a radiation safety technician at the Ranger uranium mine on the fringe of Kakadu National Park in Australia's Northern Territory. This was before the internet. Long before the plethora of websites, blogs, magazines and books filled with every detail one needs to embark on a motorcycle adventure. But even so, once the planning began (a process of 12 months), everything fell into place. And this philosophy of 'everything happens for a reason and everything will always work out', became a central theme to my journey from that very moment I said I'd do it.
It started when a friend gave me a dog-eared copy of Ted Simon's classic motorcycle travel memoir, Jupiter's Travels. Ted's classic motorcycle travel memoir, along with Lonely Planet's Africa on a Shoestring were my only sources of information back then. That was until a German motorcycle traveler who'd just ridden through Africa turned up on my doorstep. His advice was invaluable.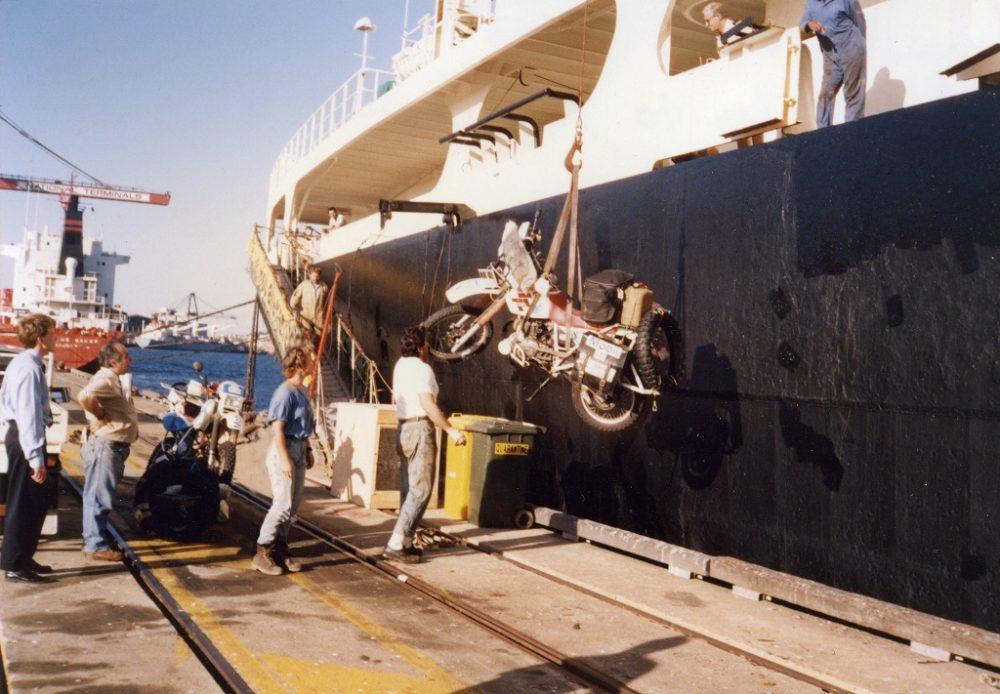 Realistically, I should have chosen a smaller, lighter bike than the Yamaha TT600. The TT350 had nearly the same power as the 600 but would have been much easier to ride. But there were no websites like Horizons Unlimited to trawl through so I went with the advice from my motorcycle-riding friends. The TT600 was also a kick start, but with automatic decompression I soon mastered the art of starting this beast. I also fitted a 21 litre Acerbis petrol tank which, depending on fuel quality, gave me a range of 450 kilometers. With its deep, almost primeval sound that says power and strength, this bike became my companion, my loyal friend, my protector. Yes, we made the 'bond'.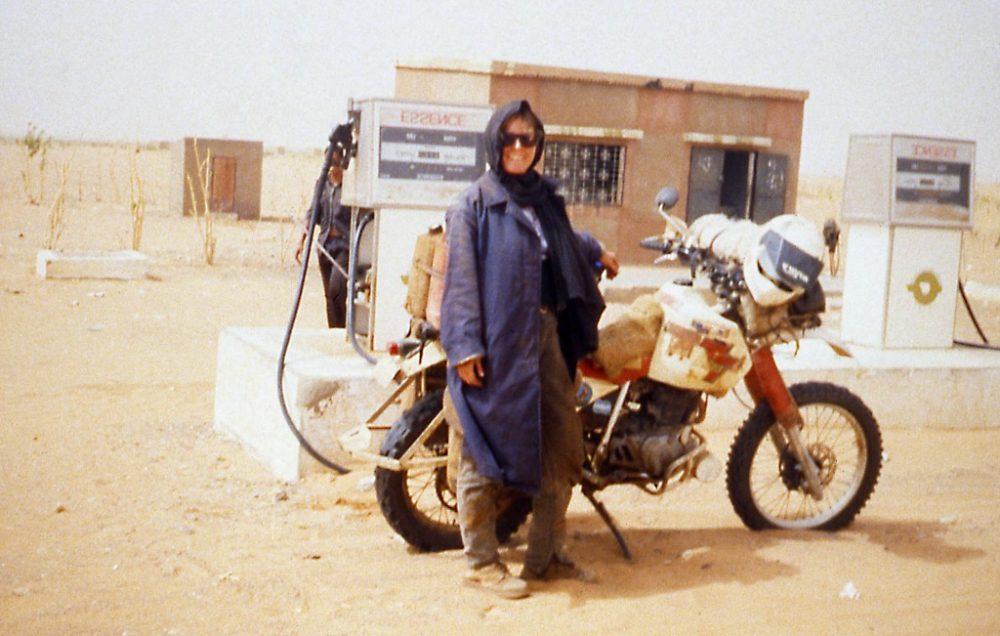 Back in the 1990's adventure motorcycle travel was relatively unheard of so I was also lucky enough to receive support from Mobil, Yamaha and Tsubaki. Mobil provided me with free petrol and oil from their depots throughout Africa. Yamaha provided me with a bevy of spare parts and Tsubaki provided four motorcycle chains. Embarking on such an adventure back then was still revered as unique especially for women. Today, there are thousands taking to the road on a motorcycle adventure of a lifetime mostly because the internet has nurtured those dreams and shown that it is possible. Not just information that covers everything about motorcycles, equipment, documents and where to go, but we are also inspired by blogs, books and magazine features penned by those who've lived their dream—the adventure of a lifetime on two-wheels.While I too wrote a book about my travels through Africa, I never traveled with this intention.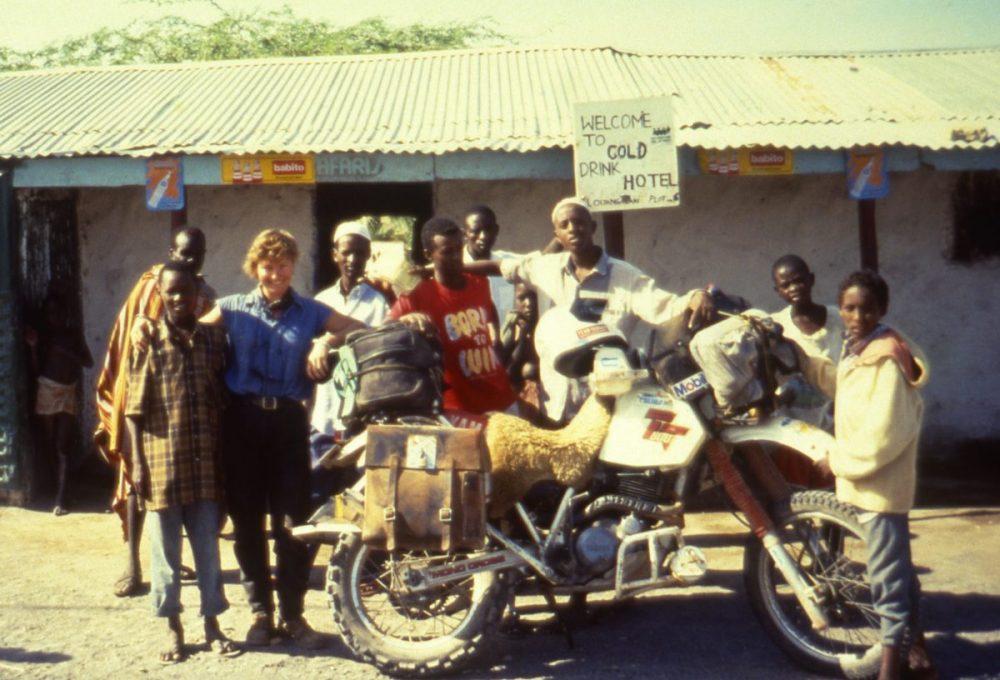 Ubuntu came long after my journey ended (the book was published twenty years later!). But when it did end, I'd I felt compelled to share my extraordinary journey with the world and all that had been revealed. I'd gone to Africa as a young woman of 28 with about as much depth as the muddy puddles I often rode through on Africa's pot-holed roads, but I emerged after 15 months and 42,000 kilometers, with an undeniable sense of knowing that there is a greater force that we connect to through our positive thoughts, our intuition and the chance encounters and coincidences that come our way. I'm not alone in this realization as words to this effect are often voiced by those who embark on such adventures, especially alone.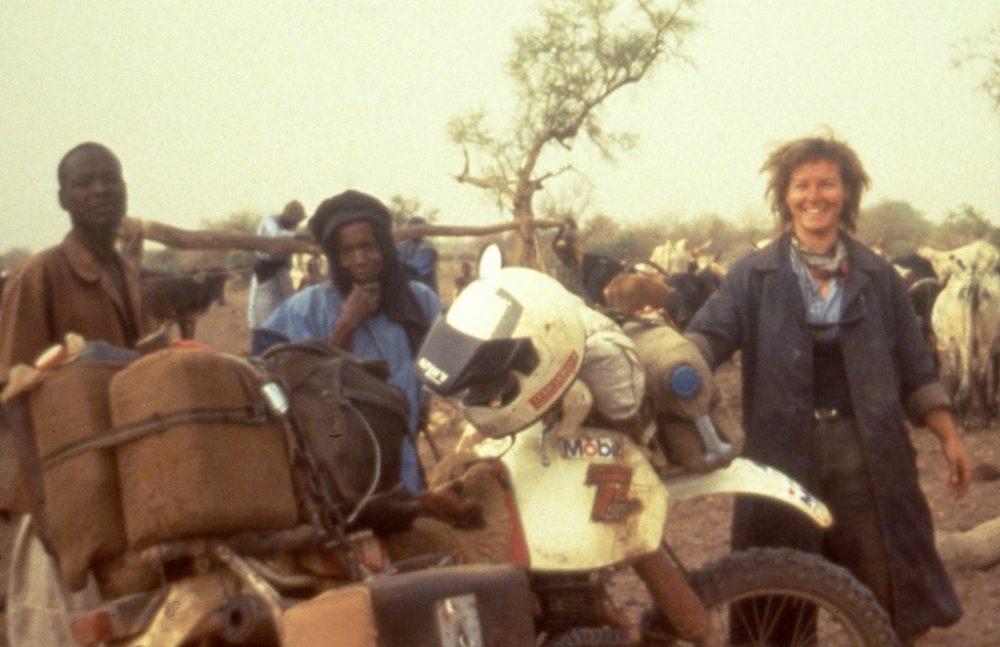 However, would this awakening have emerged if I was still connected to my old life, to family and friends, and to the 24-hour news cycle, if I'd traveled in the internet era? Yes, it provides access to weather and road conditions and a GPS means the motorcycle traveler today never gets lost. But isn't getting lost, taking a wrong turn, and not knowing what's around the next corner, the very essence of adventure travel? Those moments come from getting caught in a storm and seeking refuge with a family in a village hut; finding a bridge has washed out but you and your bike get ferried across by canoe; or asking directions when all you have is a crumpled and torn Michelin map. This is when our intuition is no longer hidden deep inside us, forgotten and unused. This is when we smile every time another chance encounter and coincidence comes our way. This is when there's no more control and we are free to move with the ebb and flow of this journey called life. While I've never traveled by motorcycle in the internet era, I don't know if the journey I experienced could be replicated. Yes, we have the choice to disconnect: to not update on social media, Skype our family and friends, to look up weather forecasts, news reports and use a GPS to check where we are — but would we?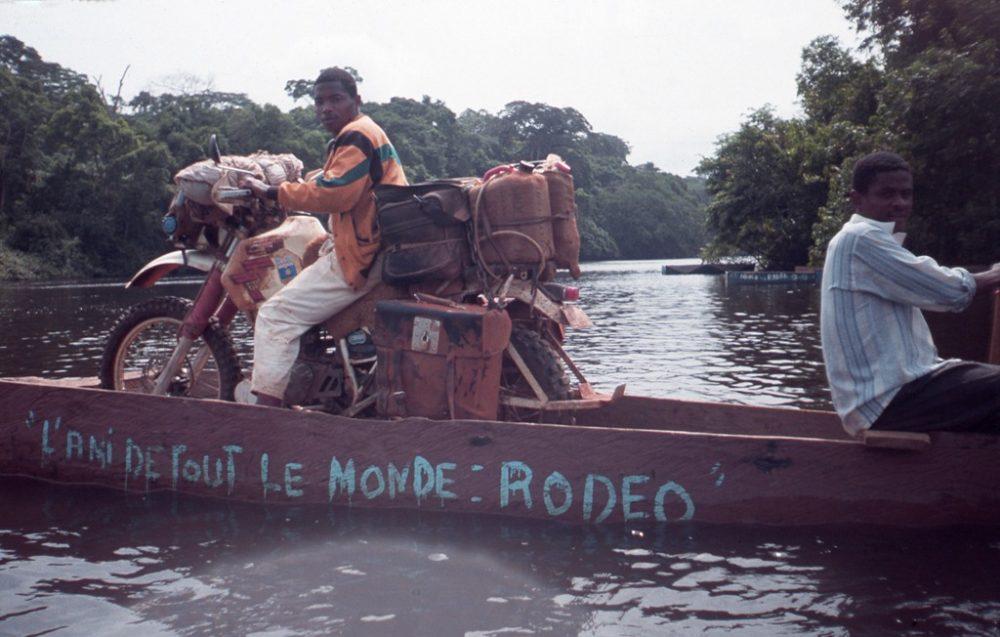 When I left that small mining town in northern Australia, I had a traveling companion. We hardly knew each other but I reasoned that our common desire for adventure would make us suitable travelling companions. Not so. After five tension-filled months, he left Africa from Kenya and after that I was on my own and that is when my journey really began. After Africa and then the ride home across Central Asia and China, I always traveled alone. And I loved every minute of it. I was never lonely. I was always befriended by the locals or met other motorcycle travelers. Although, I only ever met two women, both were Japanese. The first in Malawi on a Honda postie bike,and the second in Kenya on a Suzuki FX200.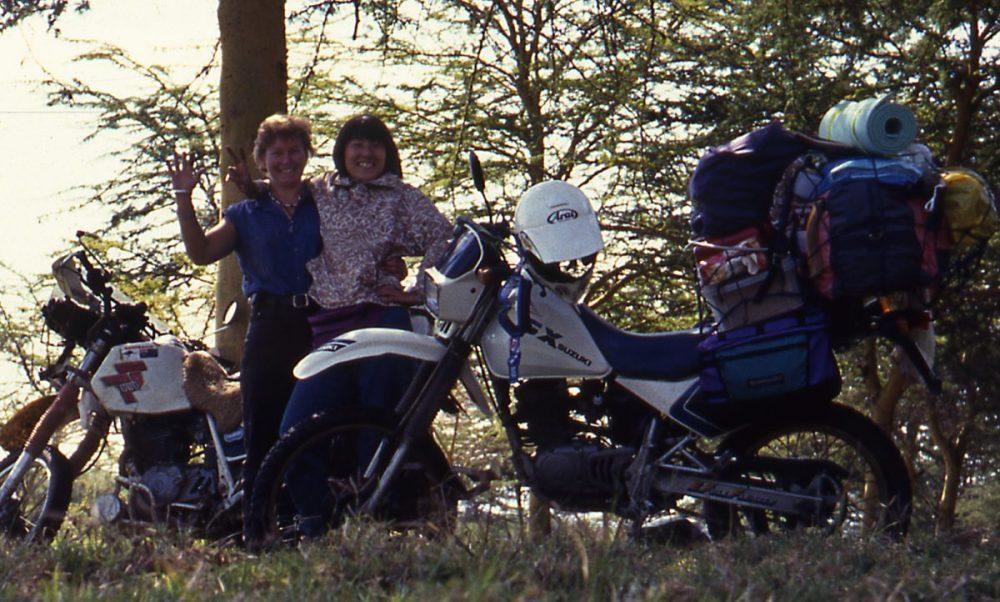 While the internet has fueled a massive growth in adventure motorcycle travel both in organised tours and for independent travelers, back in 1993, there were still quite a few hardy types taking to the road. In fact, in Africa, at a campsite in Malawi on the shores of Lake Malawi, there were ten – four Australians, one New Zealander, two Swiss, one German and two Japanese (the only women being one of the Japanese and myself). Cape Mac Clear in Malawi is one of those key meeting points for travelers of all descriptions. Another was Victoria Falls, in Zimbabwe and also Mama Roche's backyard campsite in Nairobi, Kenya.
When I arrived at these places, it was just accepted we'd hang out together. We are motorcyclists: we are of the same 'tribe'. So if you're planning to travel and are a little worried about travelling alone. You won't be alone for long. And even more so today with literally hundreds, if not thousands, travelling the world by motorcycle, including many women. In fact, I suggest you're better off alone as you'll have a far more interesting experience, a far richer cultural experience as the locals will be less inclined to approach you when you're with another or in a group. They'll think: 'You're okay because you've got a friend. But when you're alone, they'll want to help you. And this is ubuntu. It is a Bantu word from South Africa that literally means: 'I am because we are' or the universal bond that connects us all as one. Ubuntu became the title of my book because it encapsulates the very essence of my journey. Rather than harm me, people always wanted to help me, offer me food or a place to sleep.  This 'kindness of strangers' echoes many a traveler's experience.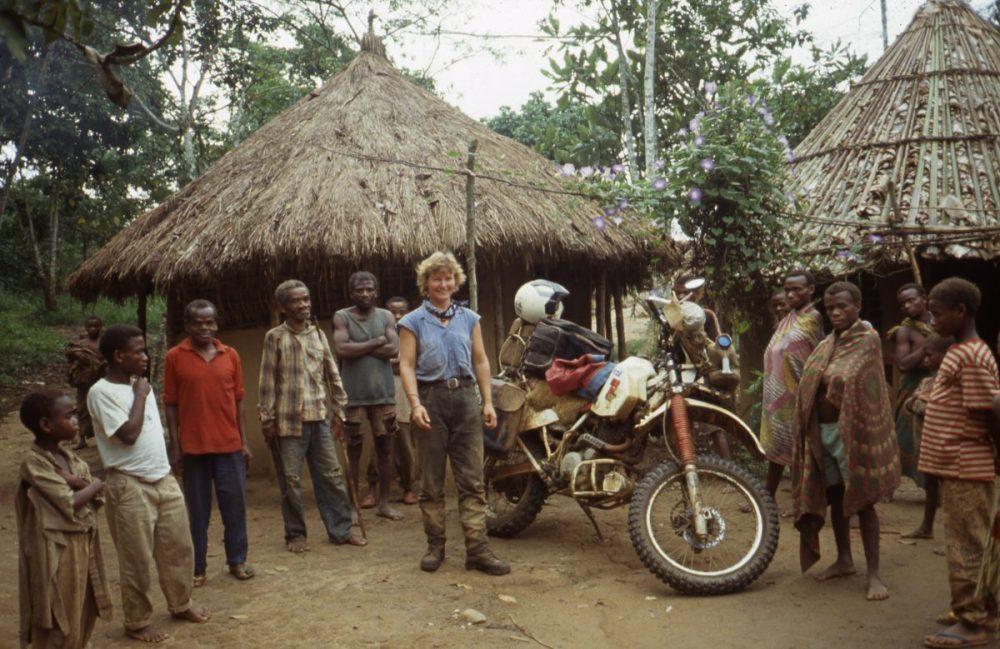 When you travel alone, there are no distractions and I believe when this happens, you begin to search for meaning in how events unfold. Would my mind have wandered in this direction if I was also thinking about what to write in my next blog or feeling anxious because I hadn't logged into Facebook or updated my Twitter feed to coincide with multiple time zones. Instead, I was totally free to explore those deeper questions that bubble to the surface when we go out into the world with no responsibilities, no pressing need to do anything or be anywhere. And because no harm ever came to me, I did not expect it to. Without another to ask: 'should I go this way or that way, do this or that', I relied on my intuition to help me make all my decisions. But this is not to say that I always made the right decisions.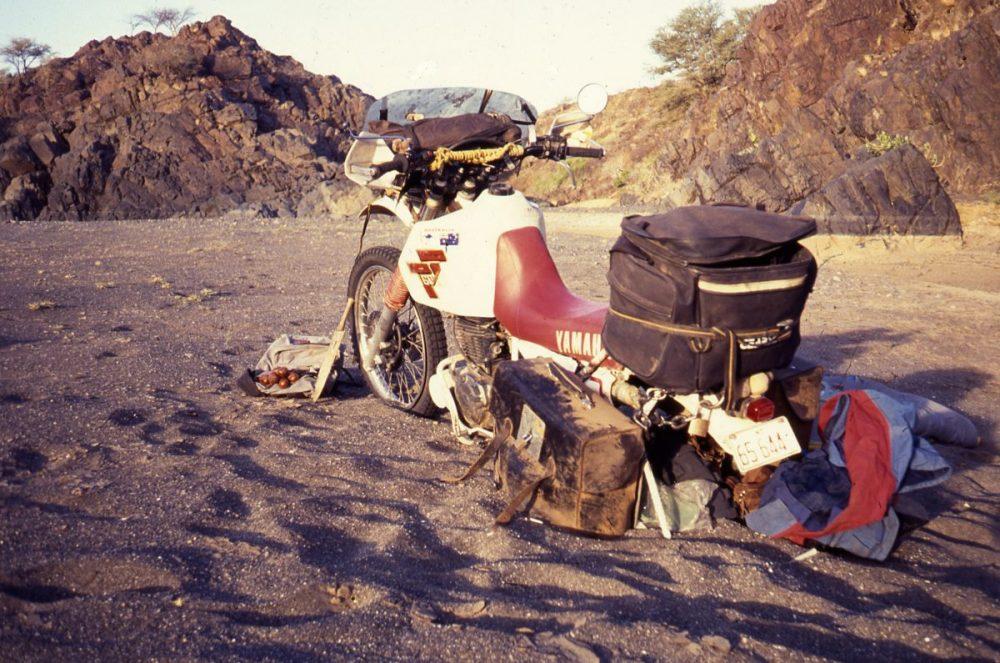 I was riding to Lake Turkana, an alkaline lake in Northern Kenya, which is surrounded by inhospitable desert and scrub land. My intention was to see the fossils of our early ancestors. I wanted to stand on that very spot where we all came from. But to do so, I was advised to take a guide and we negotiated a fee of US$150 which he would waiver if I took a short detour to search for sapphires. No more than 50 kilometers, he said, but it was an eight-day adventure that left us dehydrated and weak from hunger, until we reached the lake and were rescued by Turkana fisherman. During another similar misguided adventure in the Altai Mountains in Kazakhstan while travelling briefly with three French motorcyclists, we became lost for a few days. By chance, we were found by four mountain cattlemen who offered us pig fat, stale bread and cream, and a place to stay in their log cabin straight out of the 1800's. Today, I wonder if such adventures would happen if there's a solar powered GPS coupled with a personal locator beacon tucked into a pannier.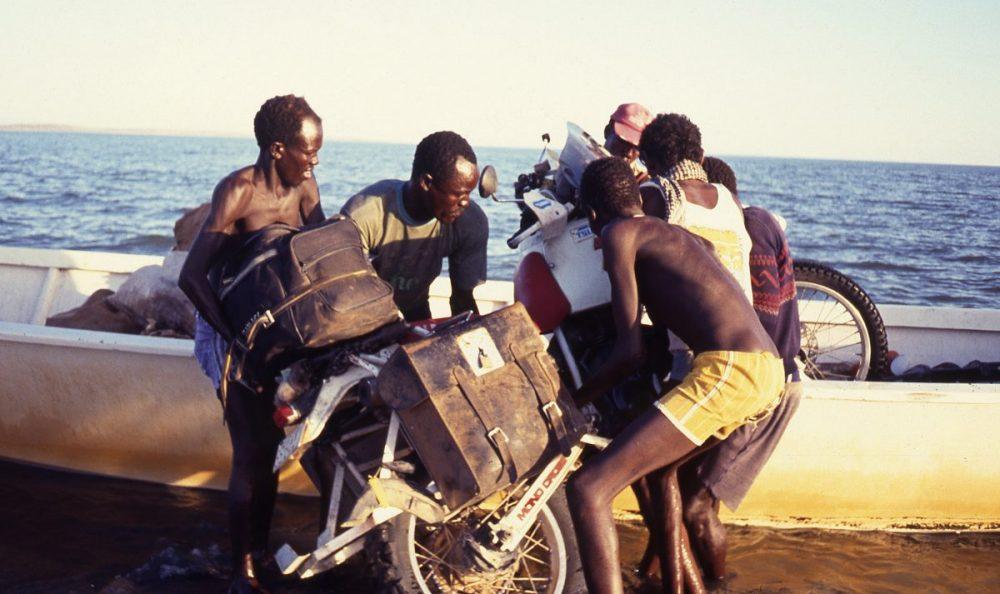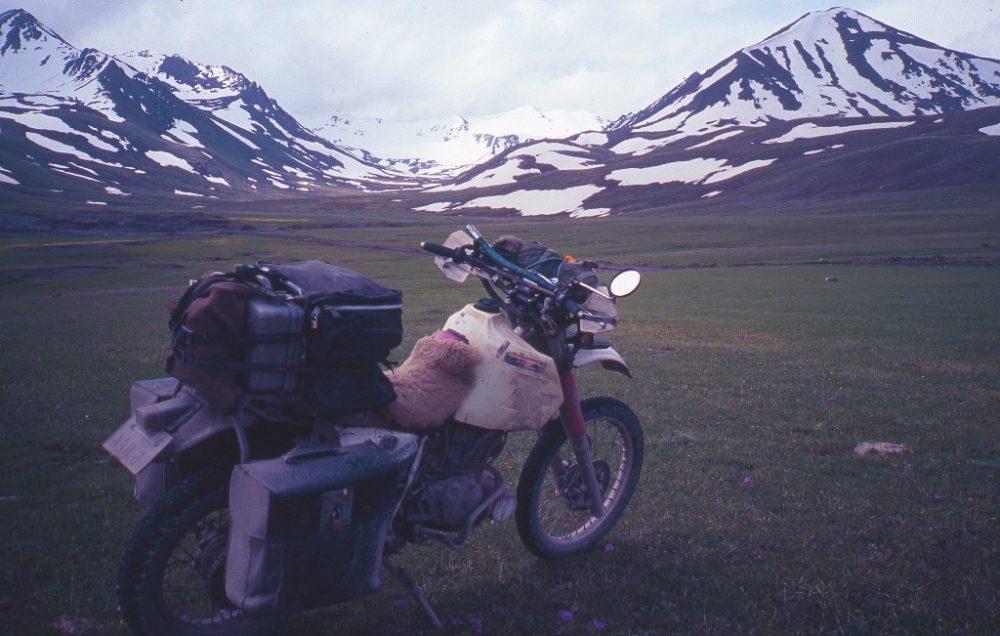 While I encountered many challenges, wild and remote places, and extraordinary people on my travels, I was embraced by all. Not just in Africa, but everywhere I went. And while a lot has changed in our world for the motorcycle traveler today, the kindness of strangers and the connection we share with each other as people regardless of who we are, remains the same.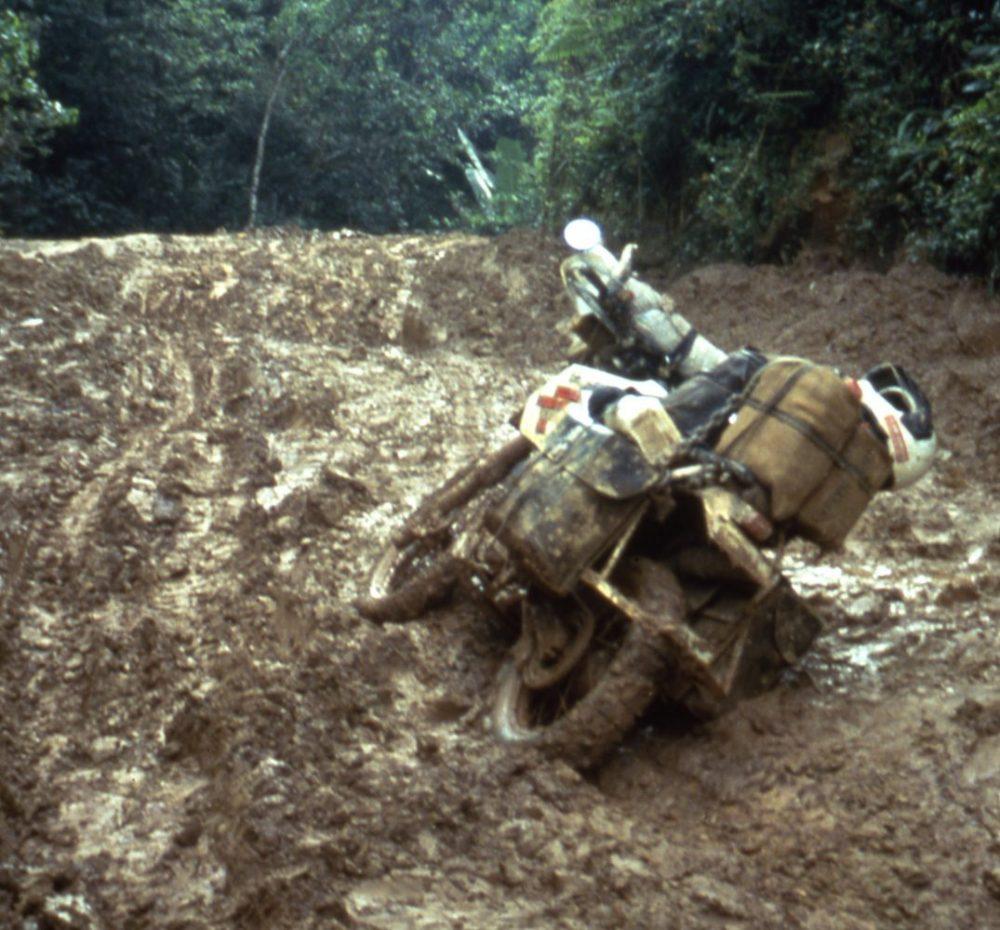 During 2017, I'm writing the sequel to Ubuntu, which is based on my ride home on my beloved Yamaha TT600. From London, where I worked as a motorcycle courier, I rode across Europe, Central Asia then by train through China to Vietnam. I now call the Yarra Ranges home where some of the world's best motorcycling roads are right on my door step. I now ride a Triumph Thruxton, but my TT600, which has had two rebuilds, waits patiently in my shed for our next adventure.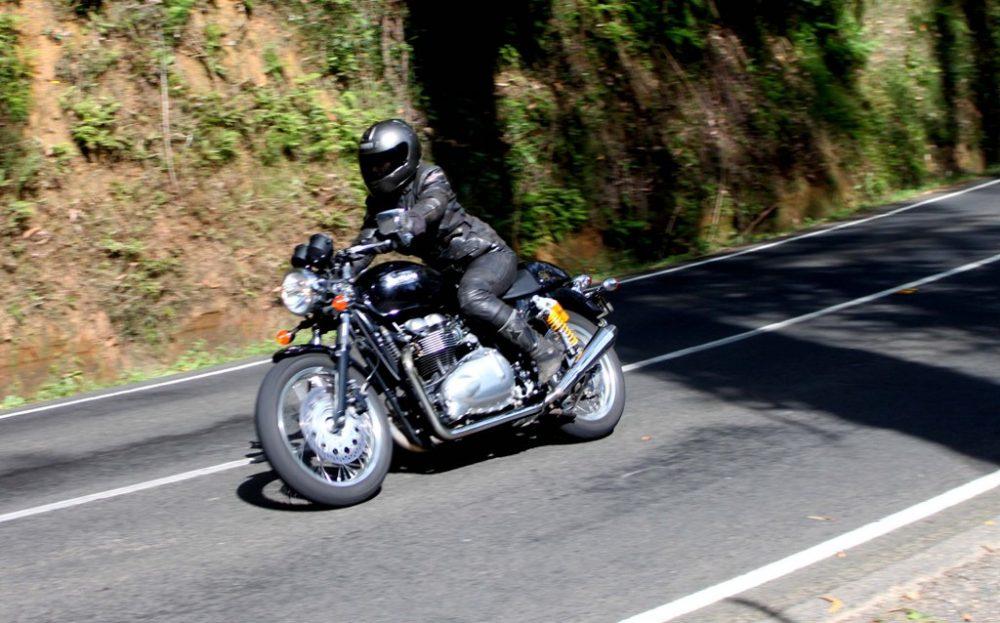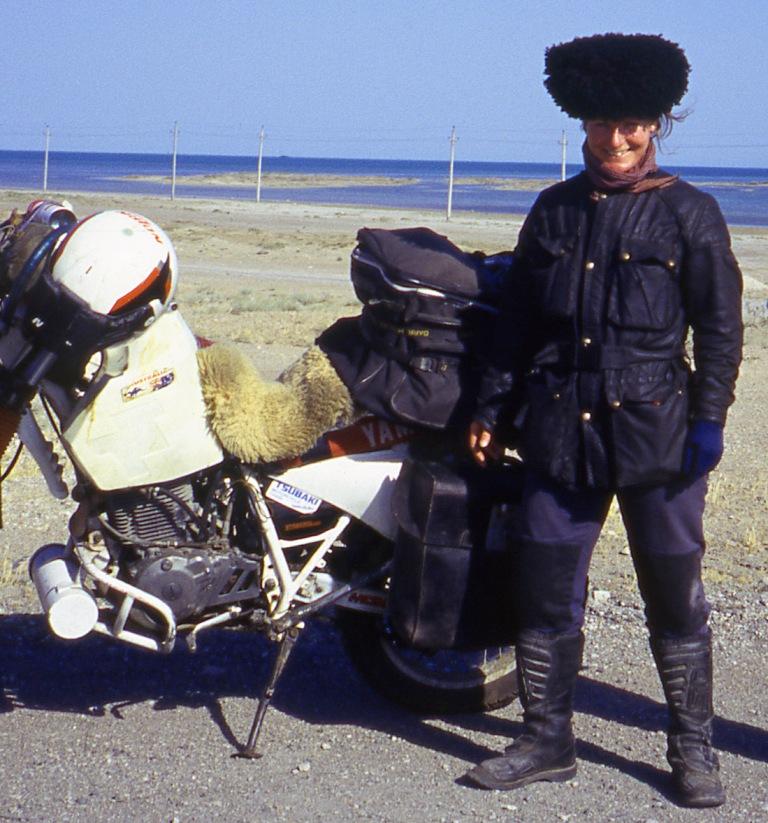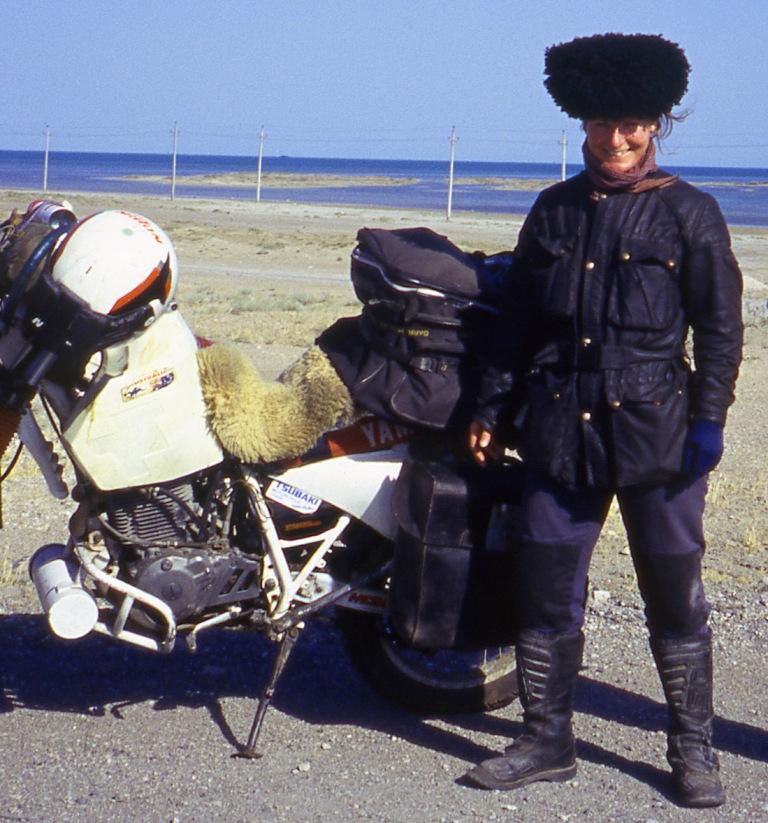 Tomorrow, (in about ten years when my three boys are grown), I'll dust off the TT, and our odyssey will continue. We'll ride from South to North America and beyond. Just like Africa, we will go where and when the wind blows us. Our journey, once again, will be a slow meander as we explore further that search for some greater 'unspoken' meaning. There will be a diary, of course, to write all that happens, but buried in a pannier there will also be a laptop to share that extraordinary adventure — to share our connection with each other. To share instantly what would not be possible without the internet. But only on those occasions when there's a momentary lapse in the adventure of living in the 'now', a power socket and free wifi, will the 'electronics'emerge, and I'll connect.. There will be no GPS navigation. Instead, there will be a good old fashioned map a little crumbled and torn. And I'll pull over to ask directions. But maybe those I pull over to ask have the latest iPhone and directions come in a flash via Google Maps, and we both smile at the wonder of it all.
CHECK OUT HEATHER ELLIS'S BOOK, UBUNTU: ONE WOMAN'S MOTORCYCLE ODYSSEY ACROSS AFRICA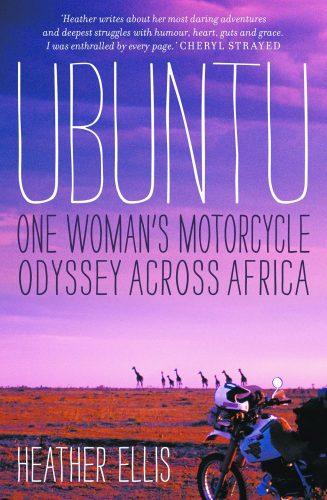 ABOUT HEATHER:
Everything I 'awakened' to through my motorcycle travels across Africa has never left me.  And that journey continues today. But it was in London that I gained my stripes as a motorcyclist: where I learnt skills that have carried me so far on the road. Where I truly became in tune with the 'art of motorcycling' and which lead me to become an advocate for motorcycle road safety as a member of the Victorian Government's Motorcycle Expert Advisory Panel. As well as advising the government on road safety measures, our aim is to also change public perception of motorcycling from one of temporary Australians to one of being part of the solution to traffic congestion. I am also a founding member of the IRG (Independent Riders Group), a motorcycle road safety political lobby group. If you want to get involved, you can find out more HERE.
I am also a Jupiter's Traveller with The Ted Simon Foundation, which encourages those who adventure into the world to go the extra mile and transform their experiences into something of value for the world to share.
FOLLOW HEATHER'S ADVENTURES: HEATHER ELLIS