BY MARIE-LUISE RUNGE
Traveling – it leaves you speechless, then turns you into a storyteller. – Ibn Battuta
During my six month motorcycle journey through South America, my life was changed to an extent I could not have envisioned. My name is Marie-Luise and I come from Germany. I was only 24 when I embarked on my travels across Chile, Argentina, Bolivia, Peru, Ecuador and Colombia. Beginning in early February until July, my motorcycle trip spanned almost 17,000 km.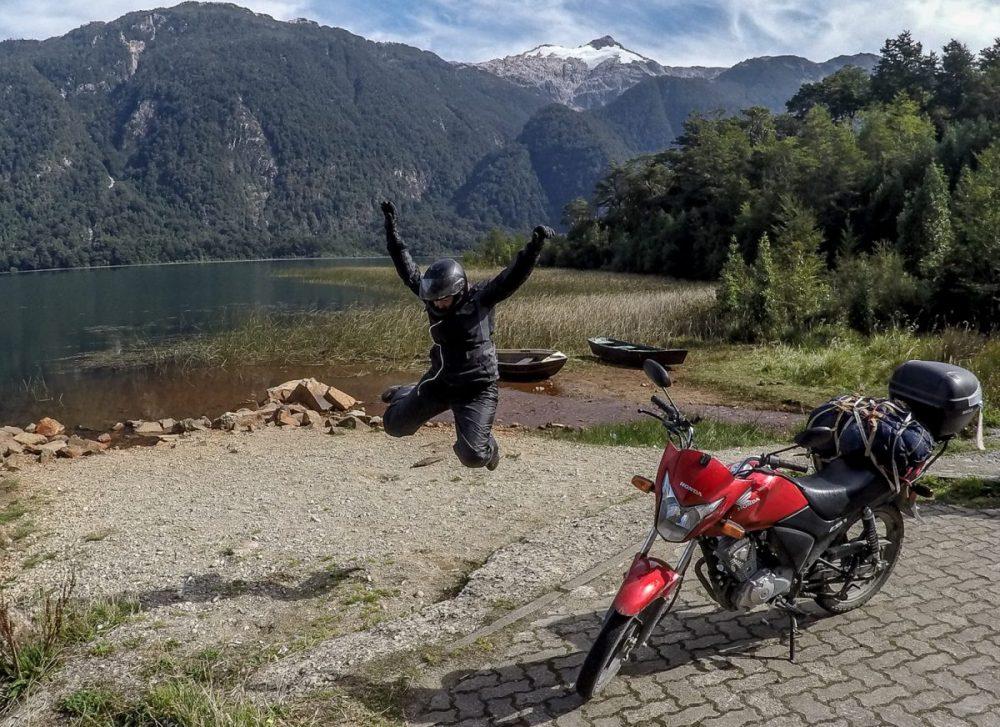 The Challenge
I do not recall when I came up with the idea to ride a motorcycle through South America. My only experience on a motorcycle was twenty years earlier, riding with my dad as a little girl. I knew nothing about basic motorcycling techniques, and my Spanish came down to  "hola, como estas" and "mi nombre es". I was met with defiance from close friends and family telling me how this journey would be too tough and dangerous. All I knew was that a classical backpacking adventure just wouldn't do; I wanted something different. To me, South America appeared as mysterious and thrilling. I wanted the freedom to experience cultures, people, food, nature, and not be tied down by a bus schedule or a train to catch. Challenge accepted!
Following a successful purchase, my first 100 km ride from Santiago to Valparaiso was bad, really bad. My backpack, which I strapped to the passenger seat, was constantly moving. Every time a car passed me, I was sure I was going to die, and every truck almost knocked me off the bike with their air pull alone. Somehow I managed to survive, sweaty, exhausted, and happy.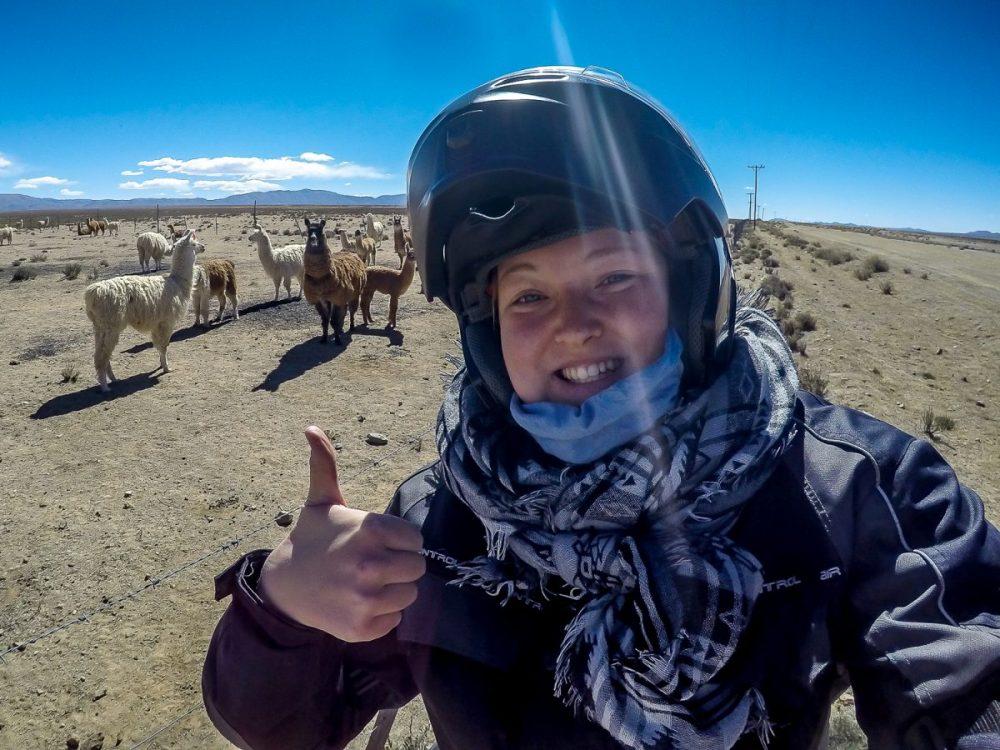 I couchsurfed, stayed in hostel dorms, at friends of friends' places and only twice luxuriated in Bed & Breakfasts. Parking in South America, especially overnight, was something different. I parked my motorcycle in the strangest places. The locals were often afraid that my bike would get stolen. I parked in living rooms, Internet cafes, valet parkings, secret spots in back alleys, garages, or carports to keep it safe. Parking the motorcycle a couple of stairs up was no problem. Once in Bolivia I arrived at a hostel. On the pictures in the Internet, it looked like I could park in their courtyard. Little did I know that the courtyard was up about ten steps. I couldn't do it by myself, so I asked some other travelers if they could help me carry it inside. After some confused looks, because I was a woman traveling on a motorcycle, we managed to transport it inside. On this trip, I learned when I needed help there was always another traveler or local around to assist me.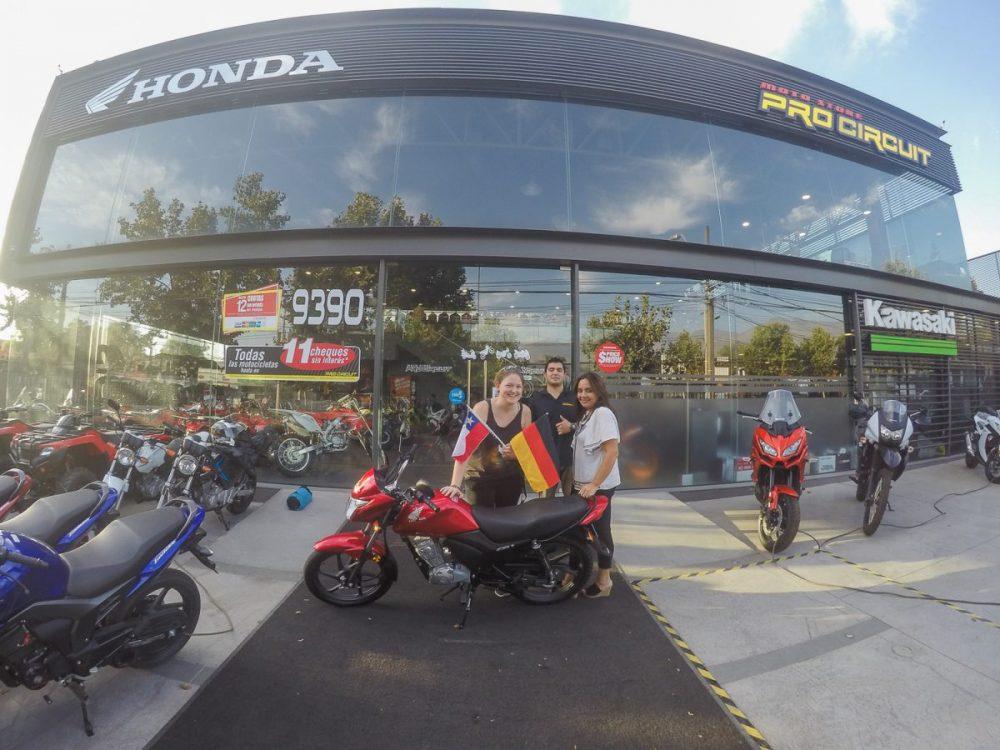 The Bike Headache
The only problem I had with my motorcycle was the chain. My troublesome relationship with it started in Chile. As a complete beginner, little did I know that I had to tighten it every 1,000km. Somewhere on the Carretera Austral, the best motorcycle road in Chile, I broke down. This dirt road was partly under construction, and is deserted most days. Luckily, I broke down right after a construction site. The workers came running towards me and offered to help. At the time, I had no idea how to tighten the chain. After repairing it, they filled some of their oil (to lubricate the chain) into a little, old bottle and handed it generously to me as a present. I used it until the end of my trip, along with my newfound chain tightening knowledge. The Carretera Austral is mostly gravel. With my bike designed for paved road, I had to ride slowly and more carefully than motorcyclists and off-road bikes. Since the South of Chile is rebuilding this road, in a couple of years it will also be paved. The Carretera Austral was also one of the most memorable roads of my whole trip. The spectacular colors of trees, plants, lakes, rich nature, friendly people, unfortunate little gas stations, cold temperatures, quietness, amazing sun rises and fog, made it a pleasure to ride. The Carretera Austral is the one road all riders should aim to ride when traveling in South America. It is demanding, but worth it.
Other than that, I mostly rode on pavement and did not do much off-road riding. The Ruta 40, which I rode for about 1,000km, is a mostly paved road from north to south in Argentina. It is also the only road that leads to the most southern town in South America, Ushuaia.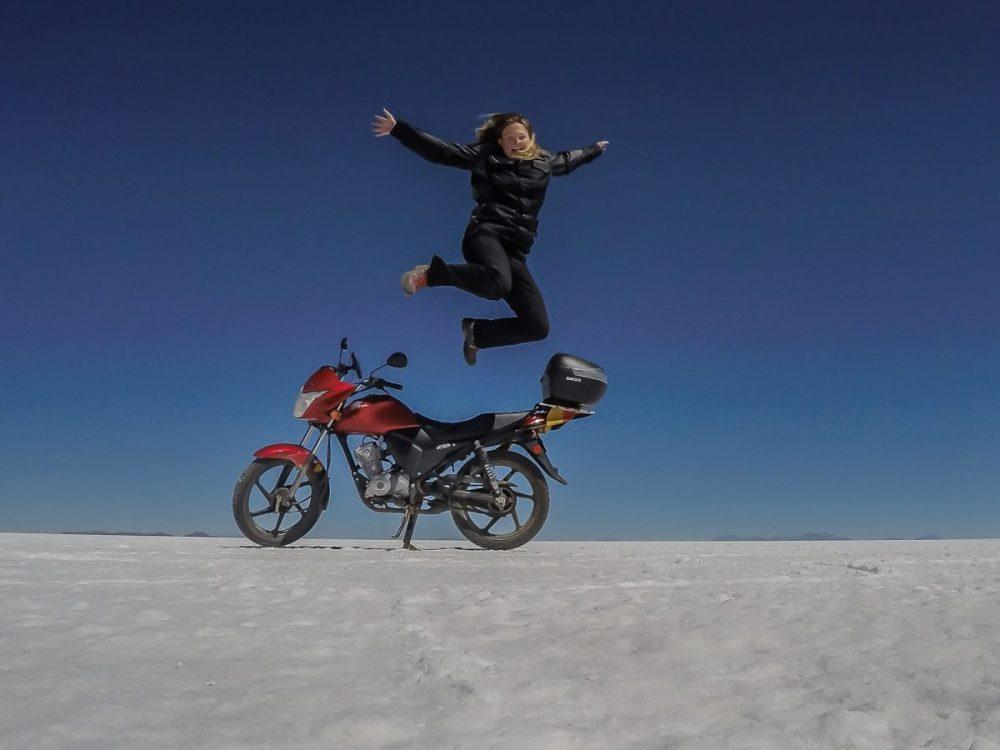 Before entering Bolivia, I was afraid of their roads. I had no idea what to expect. Surprisingly, the main roads in Bolivia (Sucre, Salar de Uyuni, La Paz) were well maintained and easy to ride. They have plenty of gas stations, unlike Chile, as well as astonishing cities and nature. The second road I gave a lot of attention to was the Road of Death (Camino de la muerte), just northwest of La Paz—the capital of Bolivia. It was raining the day I rode it from La Cumbre (at about 4,600m/15,091ft) to Coroico at 1,200m/3,937ft). I experienced many climates from the top to the bottom. There were slippery roads, waterfalls at the roadside… around every corner a new challenge. I arrived safely, but it was a very challenging and memorable road on this trip.
The Lessons
Every day of this trip brought a new challenge. The night before taking off to another town, I had to prepare. How do I get to the next city? Do I have the address of the Couchsurfer or hostel? What will I eat for lunch? Will there be a gas station? What will the weather be like? How long will the ride take? During the rides, I kept busy with Spanish podcasts and music, or just enjoyed the nature. Some days where more exciting and demanding than others, and some were simply straight riding.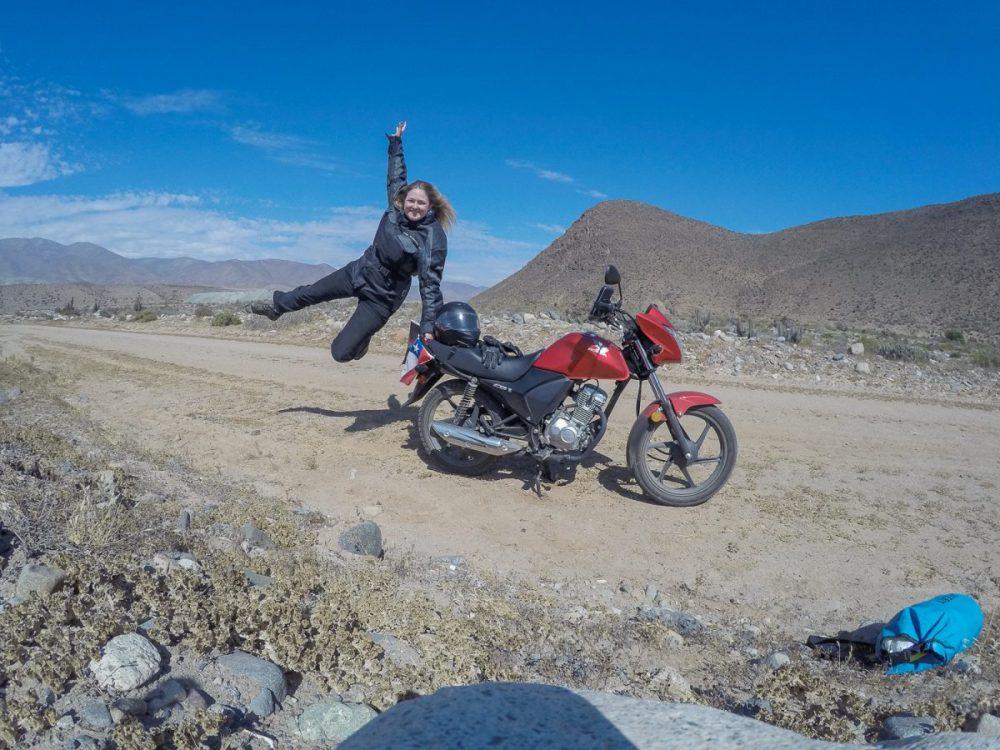 I was asked what lessons I took away from this trip. Here is my best-of collection. However, I have learned far more than I could express right now.
Women are equally as strong as men. Don't let other people tell you want you can or cannot do. Let yourself be the judge of that. You can do more than you could ever imagine. I am a regular college grad, had no special training in motorcycle techniques prior to this trip, just wanderlust, courage and a motorcycle license.

Trust in yourself. Yes, you can do it!

Be open-minded to strangers. I was never attacked, never robbed, never had one bad experience with a stranger. People were curious because I was different from them. I traveled differently, and mostly because I was a woman on a bike.

Accept help and ask for help, but first always try it by yourself.

Stop wasting your time on social networks, get out and talk to people in real life. Get off of your tablet or phone and talk to each other. Whether it be the hostel owner, the nice couple in the restaurant, the guy/girl sitting across from you, the museum guard, or the kids at the local market.

Stop pointing out the problem. Rather, constantly search for solutions.

Stop complaining. You are richer in so many ways than most people on earth, so start appreciating it.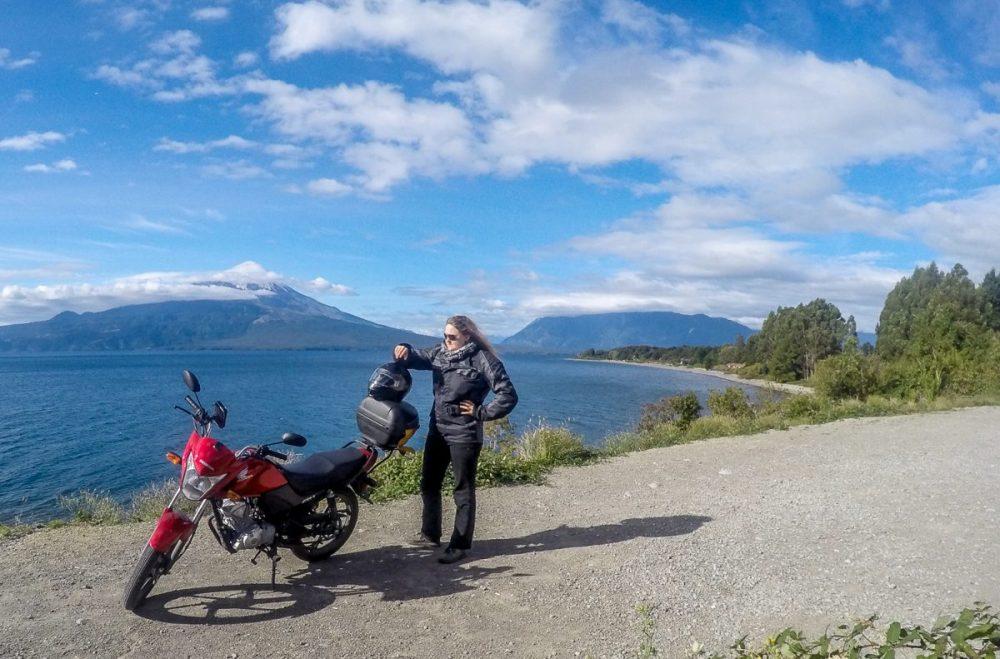 After six constant months on the road, meeting new people, growing personally and mentally, the day approached when I dropped off my backpack at the airport in Bogotá, Colombia, to return back home. I wondered if I would ever go on this trip again. The answer is simple: YES! It was an intensive time with ups and downs, self-doubt, and loneliness, but absolutely more happiness and fun, sun, good and varied food, thoughtful & remarkable conversations, heated debates, coffee tastings, parties, hikes, and unforgettable experiences. It was the craziest time of my life. I received so much kindness from strangers, tried new things, learned about motorcycling, history, art, cultures, people, and improved my Spanish.
My advice to women who are thinking about a motorcycle adventure: Do it! Stop worrying or over-planning. Leave and see where the road takes you. There are far more nice people out there than bad people. I felt safe in South America—more so than back at home.
Keep on riding, Marie.