BY DUSTY WESSELS, WEST 38 MOTO
What's a practical wheelie, and when do you use it?
Never, unless you are showing off! Seriously. Now, there is a time to lift or "loft" the front wheel, though. Most of the time this is used when getting over somewhat stationary obstacles like logs or small dirt mounds. The technique is to load the suspension which means you push down on the front forks compressing them and "blip" the throttle when the suspension is unloading and at the point of assisting the throttle with lifting the front wheel (this is more for logs and such). All this while moving your body in the correct position while you are loading suspension and blipping the throttle. This is a pretty advanced maneuver and takes a lot of practice. I teach this in our intermediate course.
There are times when you don't need to load the suspension but just need to blip the throttle at the right time. Knowing the difference and when to use each just takes time in the saddle and having enough obstacles in front of you.
For the absolute first-timers, I would recommend to have an experienced riding instructor (or at least a knowledgeable friend) around. It's best to be in the most comfortable riding position (sitting or standing), and crawl over the log to get an idea of its impact on the bike. While you can probably get over the smaller logs with no instruction (and it is good to try them out!), for bigger logs that need 'jumped' I would definitely recommend practicing with an instructor first.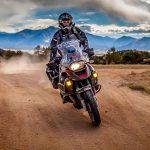 Dusty Wessels co-founded West 38 Moto after logging over 200,000 miles on a wide array of big-bike Dual Sport and Adventure motorcycles over the last 10 years. West 38 Moto provides participants everything from foundational riding skills to ultra-advanced riding techniques.
PHOTO: TRACY JEFFRIES