BY ELISA WIRKALA
Ubuntu, "the universal bond that connects all of humanity as one," Heather Ellis writes, and the fundamental quality that makes this book so unique amongst motorcycle travelogues. But do not misunderstand; this isn't a book just for motorcyclists. This is a book for anyone looking for adventure, or for questions of a much deeper and more philosophical nature.
There are few travelers who delve so deeply into the spirit of adventure and of the journey of the self. As a young Australian, Heather left in search of adventure in a far off continent. What she found was much greater. She found community, wonder, and a sense of self and place. She found ubuntu.
"One of the sayings in our country is ubuntu—the essence of being human. Ubuntu speaks particularly about the fact that you can't exist as a human being in isolation. It speaks about our interconnectedness. You can't be human all by yourself, and when you have this quality—ubuntu—you are known for your generosity. We think of ourselves far too frequently as just individuals, separated from one another, whereas you are connected and what you do affects the whole world. When you do well, it spreads out; it is for the whole of humanity." A powerful exert by Desmond Tutu, which Heather included in the dedication of her book, and one of Heather's main missions while traveling across Africa.
Her 1994 ride through Africa was not just inspirational. It was epic, in every sense of the true meaning of the word. It was a poetic journey so full of adventure that it was sometimes hard to believe, until you arrived at the photo section with Heather, camped on a flotilla of barges during a 1,750 kilometer and nearly month-long voyage down the Zaire river, surrounded by thousands of vendors selling everything from dead monkeys and tied up crocodiles to cassava and peanuts. Other photos depict her struggles on the 'mud highway' between Bukavu and Kisangani in Zaire, or Heather changing one of her numerous flats on the side of a desolate road. My favorites were of her surrounded by the smiling warm faces of locals who embraced her, cared for her, and wished her well over and over along her 15 month journey.
Heather travelled with sharp wits and a keen sense of belonging as she navigated Africa, though it took her time to find her stride.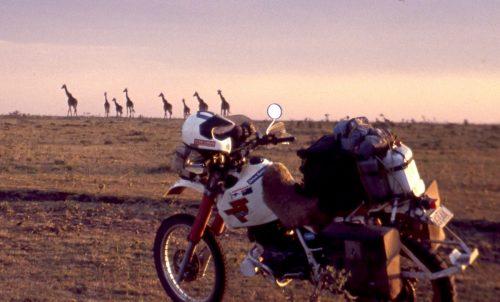 "'I never see a girl travel alone on a motorbike,' Mama said, as she poured tea into a fine china cup…. But her attempt to boost my confidence had little effect, as the reality that I was alone in Africa now hit me, and I could only think of the things that might go wrong. On her porch I was safe, but soon I would venture into the world that existed beyond her steel gates, where people lived by their wits and there was no one to watch over me."
Later, Heather felt, "….free to ride when and where I pleased. This ride was not about reaching the top of Africa to say I've done it; it was more a meander, as I let my intuition lead me to something yet to be revealed".
At times, she came within inches of her life. "We'd drunk the last of our water that morning and I felt as though it would not be long before we also ran out of our will to live and simply lay down, closed our eyes and died." And though she contracted a malignant disease which she will carry with her forever, it's also clear that what she shares in the pages of this book are far greater than what many of us will get to experience in our lifetime.
Her story is one of transformation and at times, brutal honesty. She doesn't hide behind glamor shouting, "look what I've done—see what I've accomplished!" She guides us through Africa, through its color and warmth to its dark and perilous past. She doesn't hide her secrets from the world, but shares them as openly as she shares the chaos and plight of the African people; of what they've suffered: The genocide, the AIDS epidemic, political strife and female genital mutilation.
Yet through this she weaves another narrative—a more powerful one.
One of ubuntu.