EGLE GERULAITYTE
How do you deal with keeping clean when wild-camping? I used to carry heavy dromedary bags full of water, or try to find the perfect spot near a lake or a river.
But enter Purequosa, a tiny magic bottle, and all my showering needs were solved: a spray of Purequosa takes care of grime, bacteria, and odors.
At first, I thought it sounded way too good: just spray some Purequosa and magically feel clean and fresh? I was skeptical; despite an impressive list of all-natural herbal ingredients, it still sounded like glorified body spray.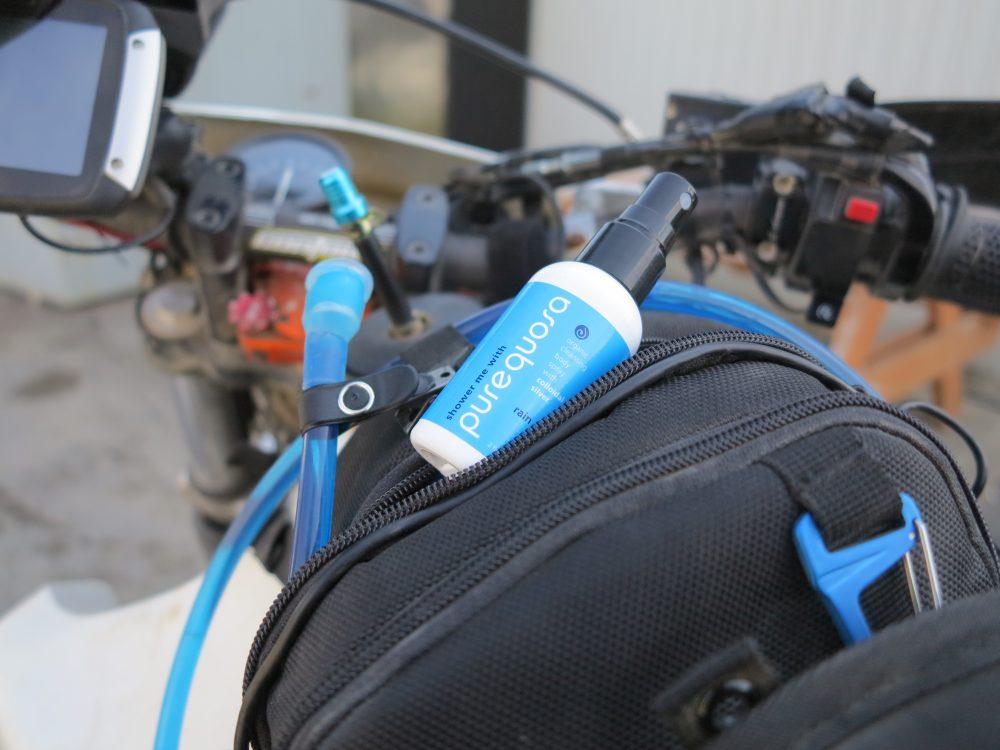 But then we rode across Labrador, a remote stretch of Canada. Endless days on dirt in rain and fog, camping wild, soggy boots, damp gear, and cold temperatures: a perfect cocktail for filth, germs, and unpleasant odors. Purequosa took care of it all: quick and easy application and instant results, and I was a convert.
So what exactly is Purequosa, and where does the awesomeness come from? I asked Jess Lea, marketing guru of Purequosa.
Q: Jess, how did Purequosa come about?
A: My friends Joe and Leah are the owners, and Joe originally came up with the idea as he wanted something that could help him clean up after a workout. He is a busy lawyer and avid cyclist and would fit in a ride between meetings and did not always have the time to shower. Joe wanted to create something that would allow him to clean up quickly and it was essential to him to use a product that was free from harmful and skin drying chemicals.
Q: It feels a little too good to be true: you just spray a little bit of the Purequosa mist and instantly feel refreshed and clean. But ARE you actually clean, and how is Purequosa different from a simple scented body spray?
A: Yes, you become clean when using the product. I too have a hard time wrapping my brain around it at times! Purequosa is different from a regular body spray because it has Colloidal silver as the active ingredient along with gentle plant hydrosols (plant rich water which is the byproduct when making essential oils) which are known for naturally killing bacteria. It works by suffocating the oxygen around a molecule. Regular body sprays have harmful chemicals, artificial fragrances, and alcohol which dehydrates the skin. Many ingredients in beauty products contain chemicals that are detrimental to the body's nervous system, and general health.
Q: 'Colloidal silver' sounds a little scary! In layman's terms, what is it and why is it good for you?
A: Colloidal silver is simply (.999%) pure silver suspended by electric charge in filtered water.  Colloidal silver near a pathogen, virus, fungi, or bacteria starves the oxygen-metabolism enzyme of air. Silver suffocates the pathogen, and it dies. Therefore, it is an alternative to antibiotics that cause an imbalance in the gut, causing other health issues to flare up, though Purequosa is for external use.
This type of silver has been around for centuries and story has it that Roman soldiers put silver coins in their water to keep bacteria from growing when trekking into battle. Silver thread in bandages is used in hospitals for post-op surgery to limit infections. Athletic wear companies have started using silver thread in clothing to help limit bacteria growth. Using colloidal silver on the skin keeps your skin clean from bacteria and helps with wound care, skin infections and irritations.
Q: Can you use Purequosa for facial skincare?
A: Yes! I use it to clean my face and take off my makeup. It also helps with acne as the silver will help stop bacteria growth in the pores on the skin. Purequosa can be sprayed directly on the face (close eyes and mouth) or added to a cotton ball.
Q: Can you use a moisturizer after Purequosa, without actually washing your face with water and cleanser?
A: Yes, use Purequosa everywhere. I use it to clean my face, my hands, and when hot I spray my neck, arms and other areas to feel cool and fresh. Eucalyptus is known to help lower body temps, so the sprays are healthy and effective in hot and dirty areas.
When I am camping, I use PQ to wash my face and then use a little aloe or coconut oil as a moisturizer.
Intrigued? Get your shower in a bottle here