BY KRIS FANT
Deciding what's the best bike for women is no easy task. Adventure Bikes are tall by design. It's important to have ground clearance for whatever you may encounter off road, be it downed trees, large rocks, roots, or anything else you might discover you need to hop over. However, some of us have an inseam of fewer than 30 inches. This narrows the bike market for those of us who like to get at least a toe on each side. I've personally tried three different bikes and will review pros and cons, as well as list similar bikes available to the shorter riders. There are new bikes coming out all the time, so this is just a starting place for your research! Let us know what are the best bikes for women for you. 
Is Yamaha XT 225 the best bike for women?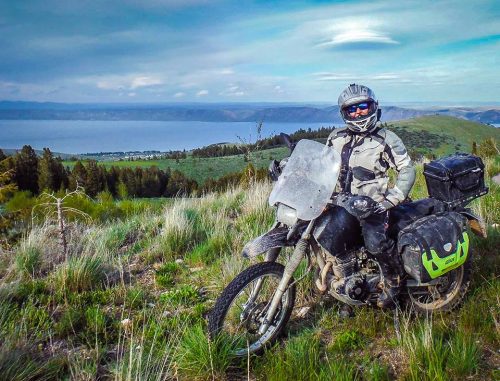 The Yamaha XT 225 is a single cylinder street legal dirt bike. The seat is extremely narrow, so although it is the tallest bike I've owned, at 31.9", the small saddle allows for toes on the ground. The bike is so light; the lean angle is more manageable than the bigger adventure bikes. There are also tons of aftermarket mods available for this bike as well.
I really put this bike to the test; it was my first and third adventure bike. As a person who falls a lot off road, I can speak to the fact that this bike is nearly indestructible. Usually, a hammer and some zip ties will fix most of what I could damage on it. It was powerful enough to go 70 mph+ on the freeway (with a few mods) and light enough to ride black diamond dirt bike trails. The XT also has a spirited personality: it felt like I was riding my dirt bike on the road, and made me want to ride up sidewalks, jump curbs, and get on the grassy knolls. Another advantage of the XT was that it was so light I could pick it up from almost any position. I learned a ton about working on bikes because this bike is very basic.
I took this bike on a 4000-mile adventure around Oregon, Nevada, Utah, and Idaho, 1000 of which was off road. This bike was so much fun! The little engine will go 70mph all day on the freeway if you ask it to, however, it does develop a bit of a wobble. Off road, it loved the dirt, the rocks, and was a little snow machine, digging it's way through 3-foot drifts. The downsides of the XT on a grand adventure were having to change the jetting every time we changed elevation; I couldn't keep up with my husband's KLR so our pace was uneven, and carrying my portion of our adventure luggage slowed the bike down more. The stator was an important upgrade we completed before the trip, because I like to run a heated jacket, and the stock stator was not a reliable option.
I'd recommend this bike to new adventure riders, as well as people who ride alone and want to feel like they can conquer any terrain and self-rescue from nearly any situation. It's also a great bike to ride to the trails, ride all day, and then ride home.
Pros: small, light, sturdy, lots of personality, lots of aftermarket options.
Cons: 17hp, top speed 70mph, sensitive carburetor, weight sensitive, speed wobble, stator output.
Similar Bikes: XT250, Super Sherpa, WR 250 (much higher seat height, but it can be lowered)
BMW G650GS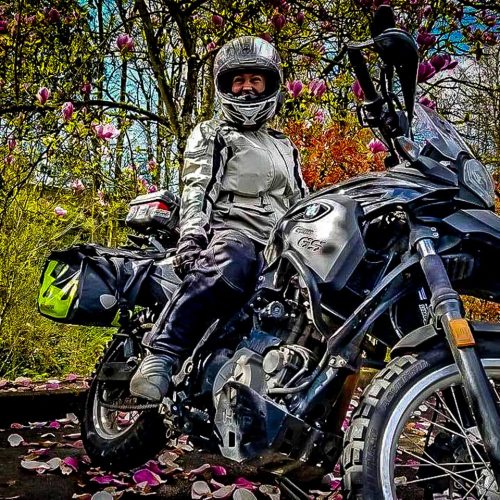 The G650GS is a single cylinder adventure bike with a factory low seat height available. While 2016 is the last year this bike was manufactured, there are others that will be similar to it on the market. And you can, of course, pick them up used. The low seat is 30.3".
This bike served the purpose of being a great city and commuting bike for me. The power is super linear and smooth for a 650 single. It loved carving curves and finding long high-speed highway stretches. The GS did a great job on gravel roads and could handle harder 4×4 trails as well as quad trails. It comes with heated grips, which is honestly a life changing experience. It was fairly comfortable on long rides with its wide seat and smooth suspension. This bike also has an incredibly low center of gravity; I honestly felt like it almost balanced itself and didn't need me to put my feet down at stop lights. I loved the rear gas tank for keeping that weight down low. It also had ABS, which can be helpful on wet commutes.
The challenge I had with the bike, as a person with a 27" inseam, was the height. The width of the saddle made the 30.3" seat height interfere with me getting a toe down on each side of the bike, so I ended up shaving the seat for another fraction of an inch. I also found that even though I upgraded to the wide footpegs, the air box (located where the gas tank is on other bikes) was quite wide; when standing up off road, my legs would get tired much faster than on a narrower bike because they were spread beyond a normal squat width. This also made it challenging to reach the rear brake while standing. An upgrade I'd recommend is the extended rear brake pedal to help with this issue. Another thing to consider is that replacement parts tend to be more expensive than on other bikes I've owned. It also was quite a bit more complicated to work on than other bikes I have owned, but it ended up being a great learning experience.
Pros: comfortable, low center of gravity, smooth power, reasonable top speed, heated grips, ABS
Cons: heavy, wide seat, challenging physically off road, expensive repairs, challenging to work on
Similar Bikes: BMW F 650 GS, BMW F700 GS, BMW G 310 GS
Suzuki DR 650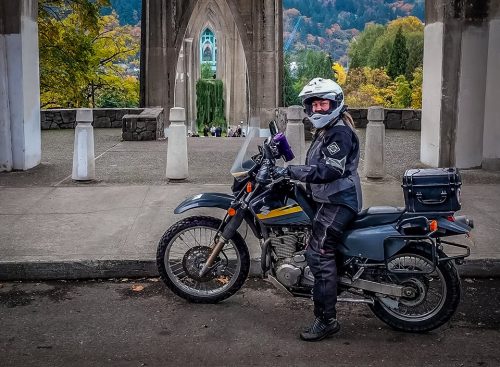 The Suzuki DR 650 is my current bike and is another example of a 650 single cylinder motorcycle. The seat height is 34.8", so you might wonder what is it doing on my list of bikes for short people. The bike comes with a factory lowering option in the rear shock, and you can raise the forks to get it down to 33.8". You can get a low seat, and get it down to 32.8". And, you can get a lowering link, which brings it down to about 31.8", which combined with the narrow seat is enough to get at least a couple of toes on the ground, and with some lean, as you can see from the picture, a whole foot!
The bike is fairly light for a 650 at 324 lbs, so it is like riding a bigger, more powerful XT225. I can hop logs, ride tightly winding off road trails, play in the twisties, and make good safe passes on the freeway. The bike has been pretty much the same for forever, so there are tons of aftermarket parts available, including a kit to make it an 800cc bike. The DR is spunky and playful: it will tractor down low and sprint up high. The bike will carry all of my camping gear, and still pass every car on the twisty mountain passes. This bike is the swiss army knife of motorcycles. It can do everything fairly well, has been 100% reliable, is easy to work on, incredibly sturdy (I've gotten better and dropped it less, but it has still taken its fair share), and comfortable on the freeway.
The only cons I've found are a few issues straight from the factory that need to be attended to, but they are well documented on the internet. The stock tires are not great, so upgrading those is a high priority, especially for off road use. The stock seat, even if you aren't lowering it, feels like concrete, so that's a swift upgrade for most folks. And the suspension from the factory is rather marginal; I upgraded my front suspension with intiminators, and it immediately changed the entire character of the bike in curves and off road. I recommend that as an early upgrade. The stator is also a little weak for both the heated grips I added and my heated jacket liner, so that's an upgrade I am currently working on. If you do lower this bike, be prepared to lower the kickstand as well. Even the short kickstand needs to be shorter with all of the lowering options.
Pros: light, comfortable, good on trails, good on twisties, good on highways, top speed 100mph
Cons: needs a few upgrades from factory to be truly great
Similar Bikes: The other bikes in this class, XR650 and KLR 650 do not have easy lowering options that I know about, though I have seen people lower them.
Other options might include the CBR500x, the Africa Twin 750, and the Versys-X. In this growing market, there seem to be new options every year.
Hopefully, this is a helpful starting place if you are height challenged. If anyone offers to let you ride their bike, I encourage you to say yes! Let us know what is the best bike for you. 
FOLLOW KRIS' ADVENTURES: MOTO THERAPY BLOG