Would you like to join a women's adventure motorcycle tour in Belize, organized and led by female guides? If riding jungle trails and gravel roads, seeing wildlife from the saddle of your bike, swimming under waterfalls, connecting with local Maya women, and enjoying the Caribbean vibes with a bunch of like-minded gals sounds like your kind of a motorcycle holiday, read on!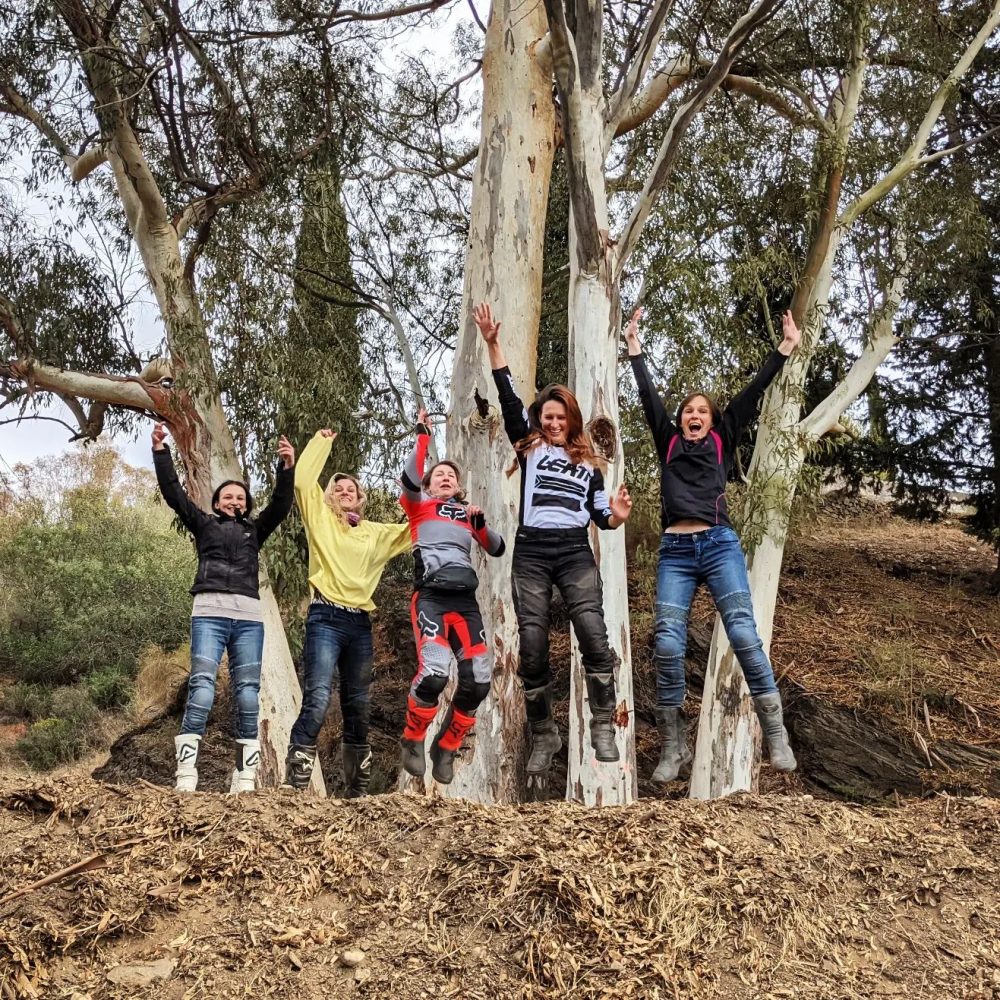 Women's motorcycle tours aren't a new idea: more and more, women are organizing their own bike adventures. From local all-female dirt bike campouts to adventures in South America, women love riding together. And for good reason: all-female motorcycle tours tend to be challenging yet hilarious since we refuse to take ourselves too seriously, and the atmosphere of support, camaraderie, and sisterhood is unparalleled. That's not to say that co-ed tours aren't friendly, but let's face it – riding dirt with a bunch of gals just has something special about it.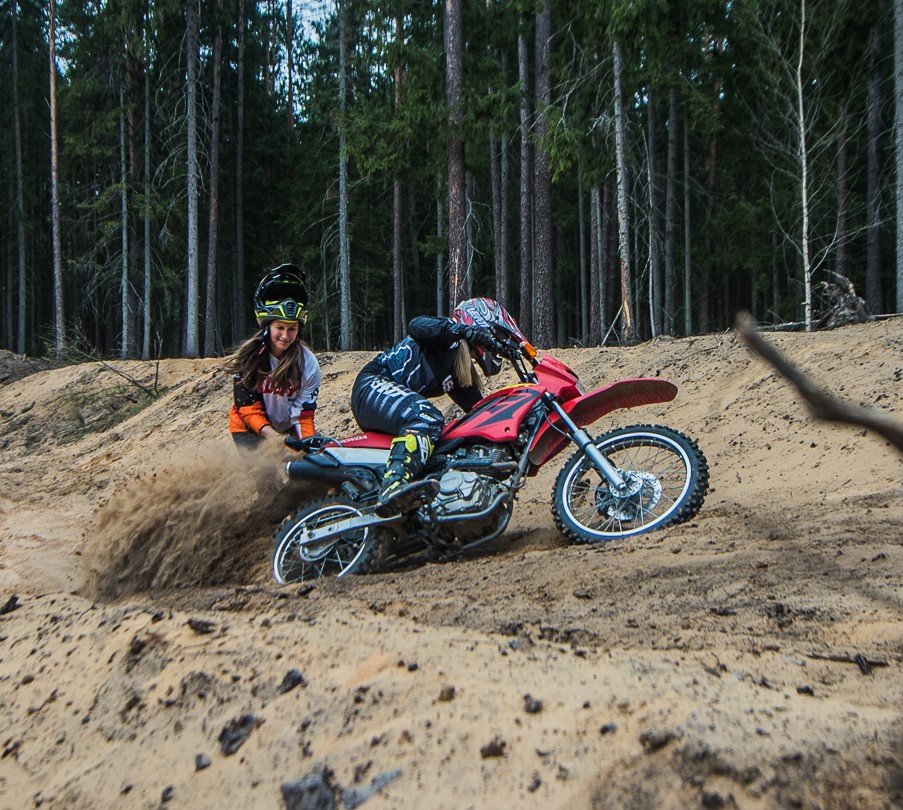 Big Little Rides
Enter Big Little Rides, a small moto event planning startup led by Egle and Jurga, two motorcycle travelers, dirt bike maniacs, and adventurers. Big Little Rides started out as a series of all-female enduro weekends aimed to bring women together, help them boost their riding skills, and encourage them to ride more.
Those enduro weekends soon grew into dirt bike expeditions abroad. The Big Little Rides duo has organized women's adventure motorcycle tours in Spain, Portugal, and Romania, and the interest is growing so quickly it's obvious women love riding and getting dirty together.
"We named it Big Little Rides because we've noticed how most women, even when they go on incredible adventures, tend to play them down. "Oh, I got stuck in sand riding Morocco and had to hike five miles to get help, how silly!", or "I ran out of fuel as I was riding Patagonia, but hey, no big deal"…these are quotes from real women riders going on real, and often spectacular, adventures, yet instead of bragging or boasting, they just shrug and say, hey, no big deal. They simply get on with it, thinking nothing of it: it was no biggie, it was just a little ride. So we chose the Big Little Rides name: on one hand, some of our rides and achievements may appear little, but on the other hand, sometimes we do big things without little recognition. We want other women to enjoy and share the big little rides with us, wherever it may take us", Jurga explained.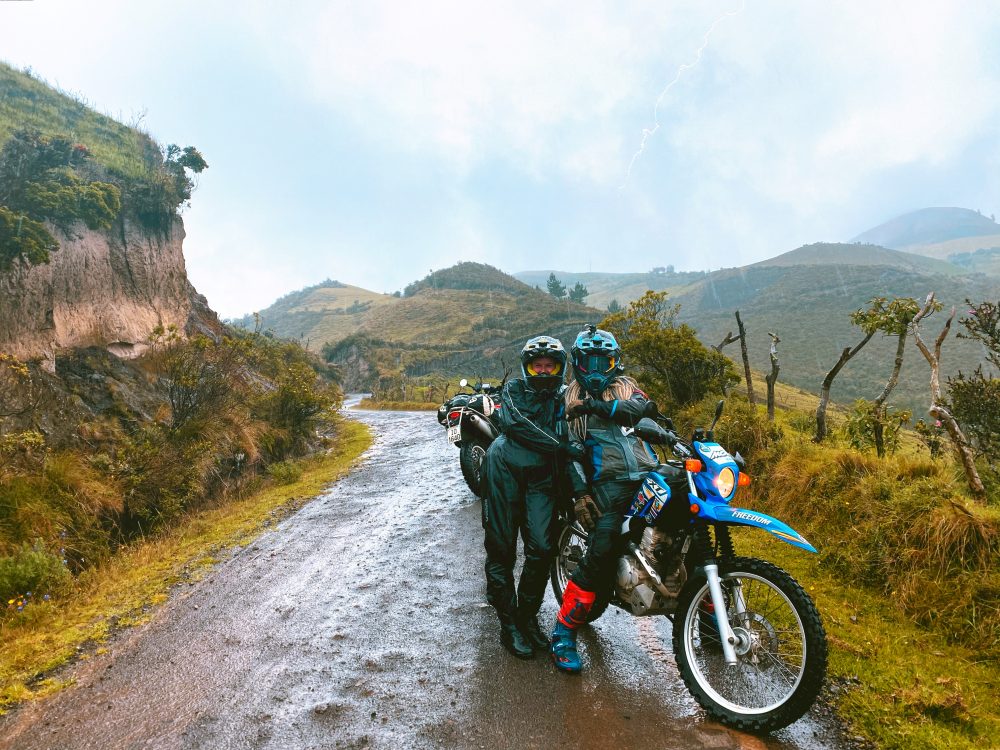 "And the most important thing on the Big Little Rides tours is the atmosphere. Some riders are slower, some are faster, some are more skilled, some are just beginners, but none of that matters: we ride together, we help each other out when we fall, we laugh it off, and we keep going. And in the process, we have a crazy amount of fun – as well as improve our riding by leaps and bounds as a side effect. After a hard day's ride, we'll have an evening around a bonfire sharing beers and stories, or we'll jump into the hot springs, then gear up the next morning and do it all over again".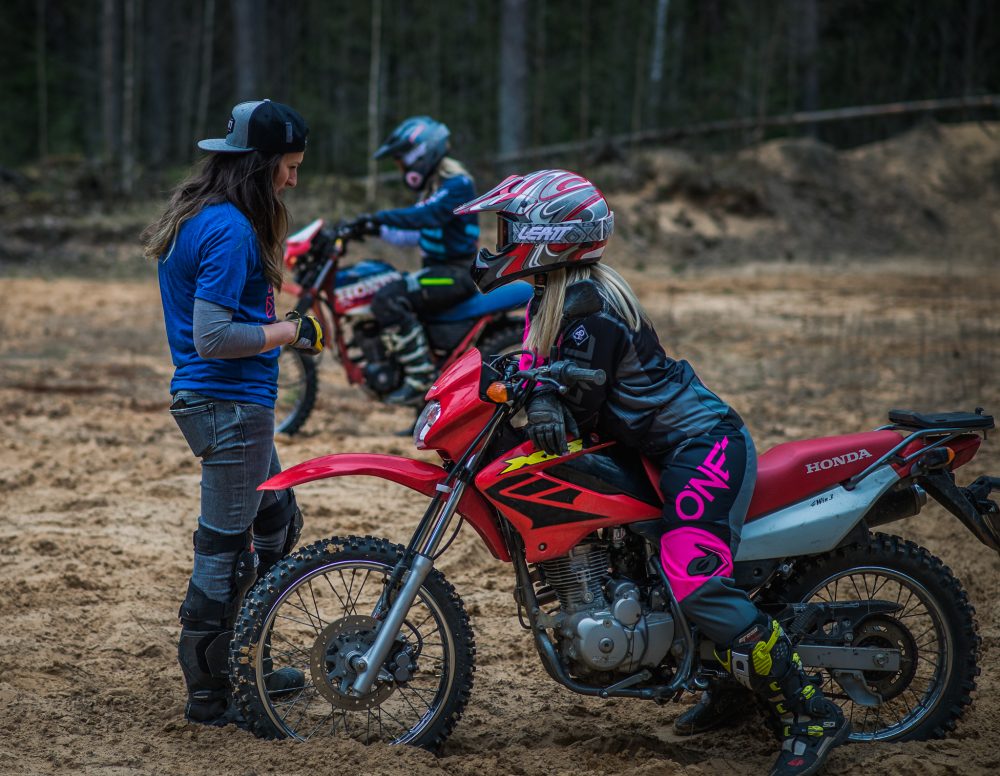 Women's Adventure Motorcycle Tour in Belize
As Big Little Rides are growing, Jurga and Egle are setting their sights on Central and South America. This March, they're taking a crew of women riders to Belize for a twelve-day dirt bike tour around the country.
"Women's adventure motorcycle tour in Belize is designed by women for women. Egle and I will be guiding the tour, and our local host and bike rental owner is Emma, a Swedish expat who's spent more than a decade riding, exploring, and running tours in Belize. Emma knows the country inside and out, and she has designed a kickass route for us;  she has a wealth of local knowledge in Belize, and she's promised us some places off the beaten path, visits with local Mayan women, and plenty of off-bike activities", Jurga explains.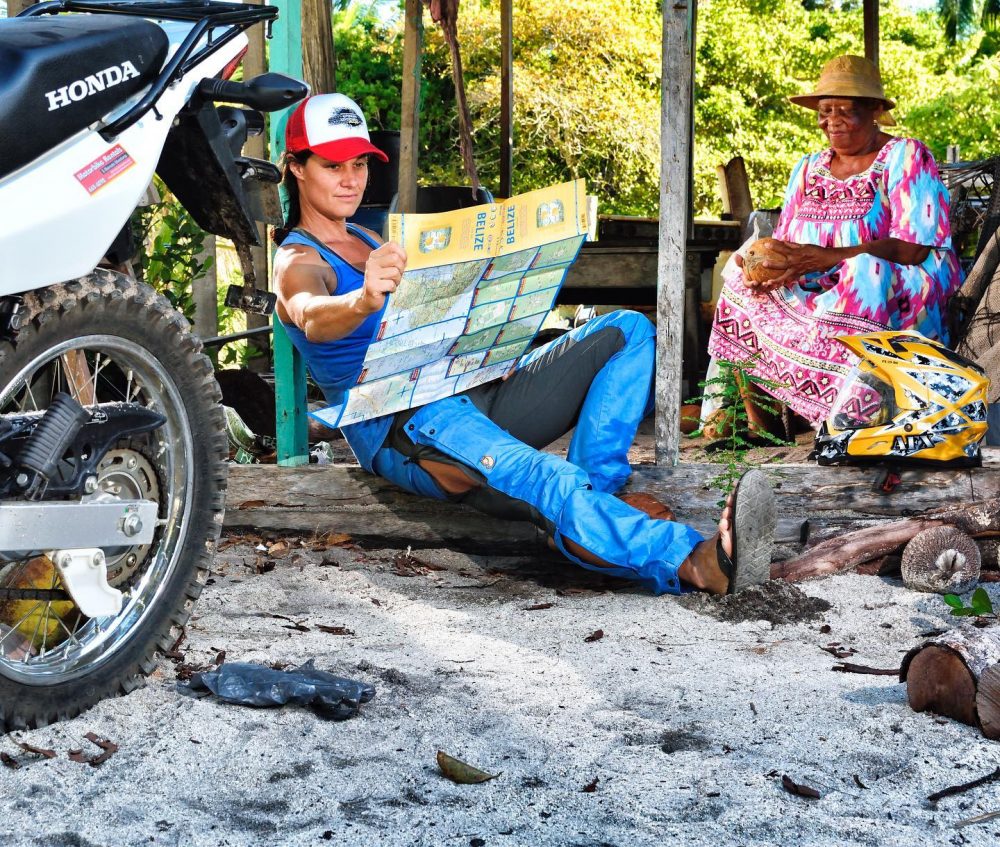 "We'll be riding Belize's stunning dirt and tarmac roads, exploring the local scenery, getting off the grid, and enjoying the hospitality of the locals – all in the company of other women riders. We'll tackle some river crossings, see waterfalls, dip into the Caribbean Sea, visit local farms and villages, connect with local Mayan women and learn to make corn tortillas and open coconuts found on the beach, enjoy delicious local food, and combine dual-sport motorcycling with snorkeling and riverboat parties -just because we can.
It's an adventure, a beach holiday, and a motorcycling expedition rolled into one unforgettable experience – you'll need your moto boots and your swimmers in equal measure!", Jurga shares.
The Girl on a Bike
This time around, Big Little rides are partnering up with Vanessa Ruck, aka The Girl on a Bike. Vanessa is one of the most inspirational women riders out there: after a horrific crash, she has had to undergo multiple surgeries and countless physio sessions. Despite years of recovery, Vanessa has started riding motorcycles as soon as she could – and she didn't stop there: she's finished the Romaniancs, one of the most brutal enduro competitions on the planet, and now has her sights set on Rally Dakar.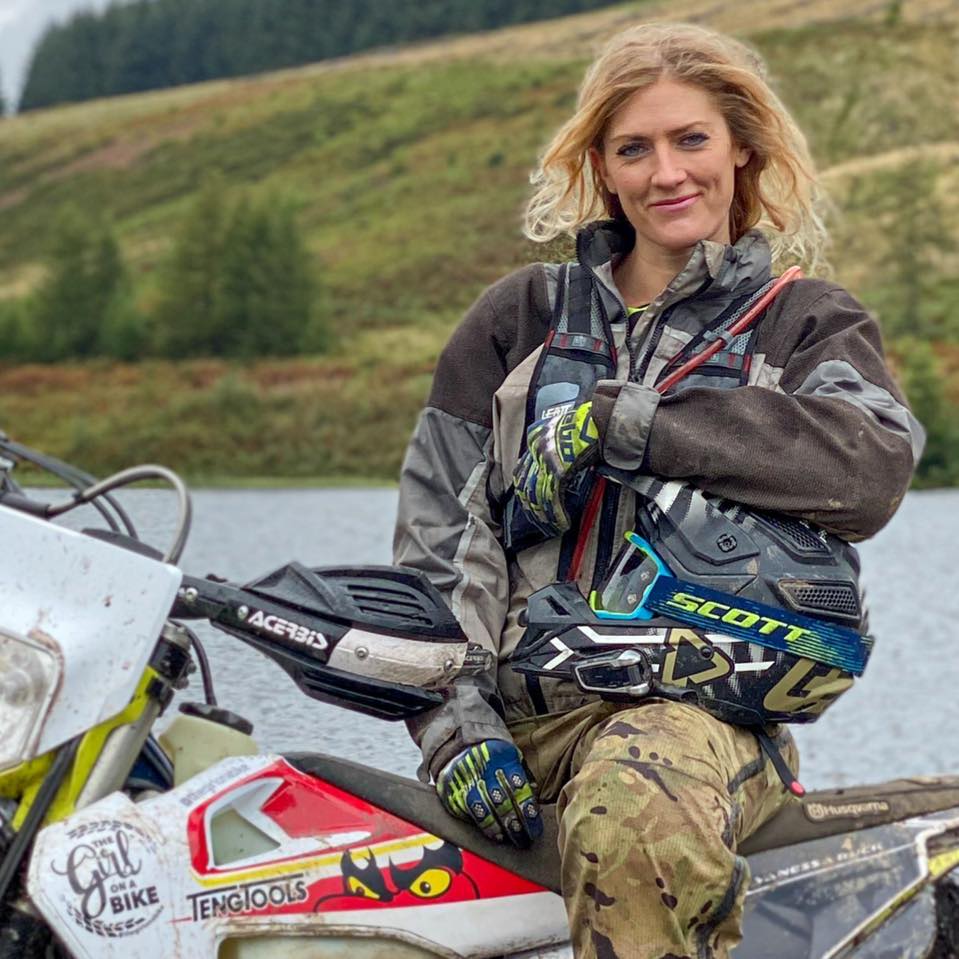 Vanessa is joining the Belize tour as a guest rider and dirt masterclass leader, so if you've always wanted to meet her and ride together, now is your chance!
Dirt Bikes vs the Caribbean
Belize may not be the bucket list motorcycling destination, but that's the beauty of it: it's a country few riders have explored, and it's got so much to offer those twelve days are guaranteed to fly by. And it's an adventure in its true sense: it'll take a bush plane and a car ride just to get to Hopkins, and from there, the tour will take riders around the entire country on 250cc dirt bikes with plenty of scenic stops, improvised swimming sessions, and laughs along the way.
And the best part is, you can still join the expedition: the women's adventure motorcycle tour in Belize still has two spots available.
Ready to rock and roll?
Book your spot now via the MOTOURISMO Women's Adventure Motorcycle Tour Belize platform and join the adventure!
Options for bike rental and self-guided Belize tours: Alternate Adventures
Women's adventure and dirt bike tours in Portugal, Spain, Romania, and Belize: Big Little Rides