DUSTY WESSELS
Determined to conquer fine gravel and sand, but keep dropping your bike no matter how much practice and energy you invest? Don't get demoralized.
Dropping your bike is just part of the process! If it keeps happening, though, there are ways to help you stay calm and get back in the saddle.
Smile and Take a  Hero Selfie
Naturally, dropping a bike often can can become mentally and physically exhausting – but there is a way to stay cool and keep trying.  The best tip is to relax: if you're tensing up that will only deepen the problem. But relaxing isn't always easy when you're frustrated! So I would say, take a completely different approach…and celebrate dropping your bike. Laugh! It's all part of the adventure, and attitude is everything.
Change Your Strategy
If you keep falling off, perhaps it's time to rethink your learning strategy? Changing your approach to dirt can work wonders.
For example, -are you standing? If not, try it. You will have more control of the bike. Are you relaxed? If not, loosen up on the bars: controlling the bike will become much easier. If you're trying to steer when there is less traction, your input to the motorcycle is negatively affecting its ability to stabilize. Try these two things and see if they help!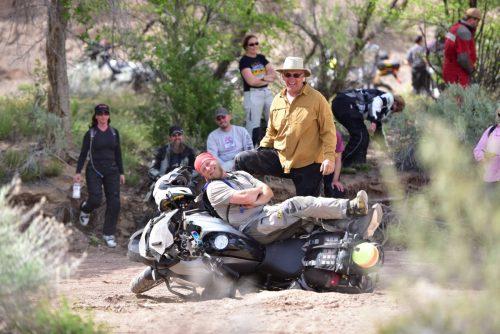 Dusty Wessels co-founded West 38 Moto after logging over 200,000 miles on a wide array of big-bike Dual Sport and Adventure motorcycles over the last 10 years. West 38 Moto provides participants everything from foundational riding skills to ultra-advanced riding techniques.
PHOTO: RTW PAUL