"Humans tend to fear the unknown. So when I am doing my initial assessment of riders who show-up for training, I am looking for much more than how well they ride…."
"What do they know? How do they think? What do they want? All this helps me to get a sense of their comfort level, ability to tolerate stress and how hard they push themselves, their motivation. When I have an idea of what is 'unknown' for each rider, then we go to work. This is the start of my simple-to-complex coaching style." Coach Stroud
I've written about Coach's style in individual riding coaching sessions, but often group sessions offer a chance for students to learn from and connect with each other.  Yet, how does this translate into a group class? Is it really possible to teach three women with diverse personalities,  learning styles and riding experiences? In this article, enjoy a conversation with Chevy to find out!
Chevy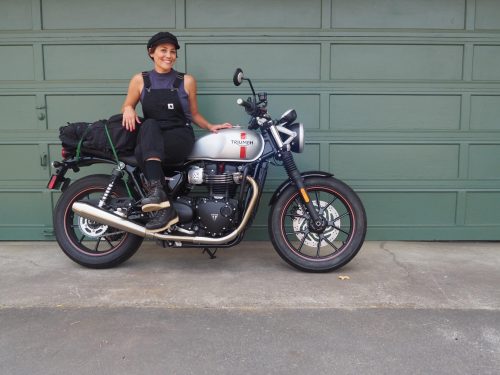 Chevy has been riding street bikes since 2010. She had an adventure bike for a bit, but realized as a new mom, that adventure bike wasn't having a lot of adventures, so she sold it. She now rides a 2017 Triumph Street Twin. Yet having a young child, she is very aware of the risks of street riding. Chevy has an insatiable need to ride, so she is turning to dirt, hoping to satisfy her as well as creating the potential for a hobby her entire family can participate in!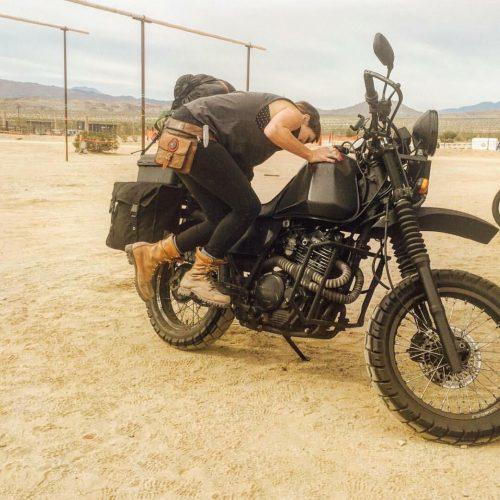 I asked Chevy what her off road goals are, and she emphatically responded "have fun!" She also wants to continue to grow as a rider, improving her street and dirt technique. "I want to stretch my muscles and find my skill boundaries, then push them.  I want to find a healthy balance of humble and confident." She also has friends who ride off road, and she wants to learn to keep up!
The Class
Training with Coach Stroud feels like joining a family. On the day of our class session, Coach's daughter was helping with the class, a new rider was observing to get a feel for the class before taking the plunge, and two amazing women from Portland were the primary students. I was there as a student and observer, and a videographer filmed the entire class. Chewy and Ketchup, the resident dog and cat, also attended.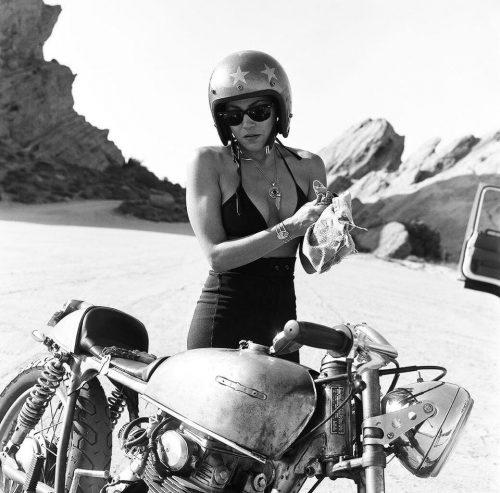 Class started with a discussion about balance, body mechanics, and riding.  The day was beautiful, so our next task was to hop on our motorcycles. If you were watching, the tasks of the day would appear to be on bike assessment, using a curvy freshly mowed hay path, counter leaning turns, slow speed hills, whoops, side hills, hill u-turns and downhill braking.  Woven throughout was mini-lessons, building the stairway of knowledge, filling in gaps in the knowledge base of each individual student.  But how did the students experience Coach Stroud's class?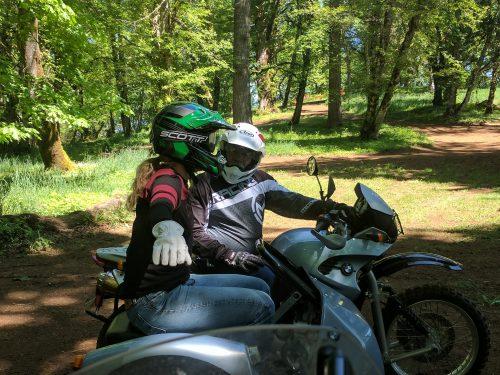 The Experience
Chevy describes coaches style as "very technical. His focus is the mechanics of the machine and of the human body. There's a lot of physics and physiology involved in his training. He's very interested in efficiency of movement, biomechanics and simply put-working smart, not hard. My favorite thing is his passion for the sport. You can tell he has so much info and teaching he wants to give you. His excitement is infectious."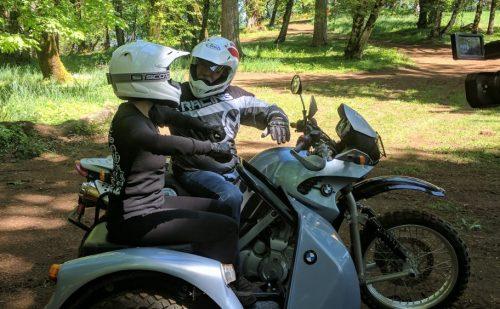 We asked Chevy "What do you feel like you took home after a day of coaching," and she responded "How far I have to go! How much I need to learn! And how thirsty I am for more. Today was my first day ever in the dirt, so I think I did pretty good. Consistency is key. I need practice! It's hard to get out of the house for that many hours in one day with a toddler at home….but I've got my eye on the calendar trying to find the time….SO FUN!"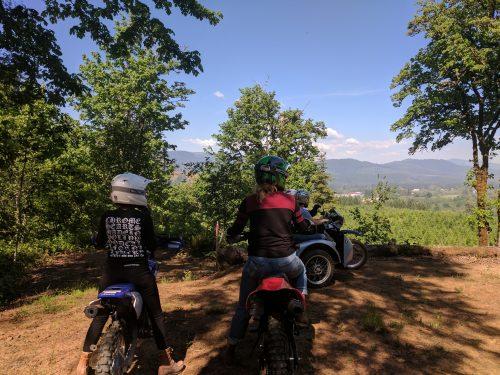 Kris's Conclusions
What I noticed by observing coach with other students is that rather than providing immediate feedback about position or technique, Coach asks about the students internal experience. When Chevy stopped at the top of a hill in a turn, Coach asked what was going on for her. Her response allowed him to provide individual feedback to her experience. At one point, he asked me  "What were you doing with your body in that practice?"  I could not put into words what I was doing, and he laughed and said "you were having a whole lot of fun."  We came back to the same exercise at the end of the day, and I realized I could describe step by step "Side hill, bike uphill, booty downhill, straighten."  And for the u-turn "ride toward the hill, holding the bike with my knees, soft hands, up the hill, booty up-hill, bike down hill, straighten, proceed."   I was thrilled to have strengthened my connection between my body and mind.  The day ended with everyone feeling happily tired, and ready to set up another day of coaching.
Did you enjoy this article? Check out another article about coach HERE!
Interested in class with Coach?  HERE'S his site!  Tell him we sent you!