Lone Rider by Elspeth Beard
Book Review by KRIS FANT
"Riding a bike around the world was probably an extreme reaction to heartbreak. Other people might have considered going somewhere hot for a fortnight, got drunk, let their hair down in a new environment. But I knew that wasn't for me because when it was over, I'd have to return home, where I'd still be confronted by my feelings for Alex." Elspeth Beard, Lone Rider
In her memoir, Elspeth takes us on her journey around the world, back in 1982 on her 1974 BMW R60/6. There is a wit, wisdom, and maturity here that she could not have captured upon her arrival home at the age of 25. This story, like a good wine, needed time to age to perfection. Drink now, my friends. This story is full-bodied, well-balanced, and full of surprises.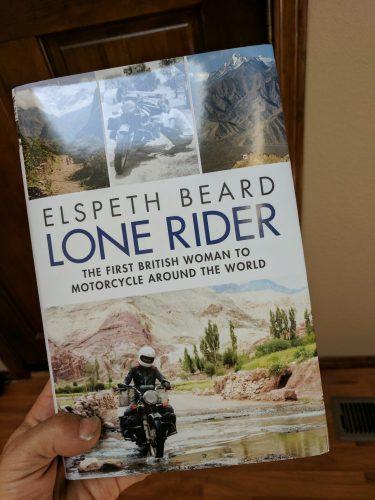 Many people today wonder how to fund a round the world trip. In 1982, Elspeth, recently graduated from architecture school, lived the true meaning of budget travel, learned from frugal parenting.
Elspeth shares stories of her thrifty father, a medical doctor, who accepted payment in unlabeled, dented tin cans from a patient who was a shopkeeper… Elspeth recounts trying to guess what was in the can by shaking it, and the family then trying to make a cohesive meal of these guesses. Even when traveling to France, the tin cans followed the family in a trailer. In the land of fine cuisine, Elspeth's family dined on fruit cocktail, spinach, beans, or whatever happened to be in the next can. As a college student, she continued her meager meals. A doctor said she needed fresh fruit and vegetables for vitamin C, but Elsbeth bought tablets instead, focusing on saving money to ride her BMW around the world. It only took her three months to make the decision to go and save for the first section!
On the day she was set to leave, Elspeth boarded the plane with a strong desire to turn back and cancel her trip. But her bike was already in New York, so Elspeth followed. She found the East Coast of America suspicious and unwelcoming to motorcyclists, until they found out she was a British woman. As she wandered south, she found a change in reception… a change toward wandering hands, unwanted propositions, a smooth talking Goldwing rider, and even a gang of biker bullies.  She easily outrode this threatening biker gang "glorying in the superior handling of my BMW over their dumb meathead hogs."
Before internet for planning or communication, Elspeth used maps, first-hand experience, and conversations to plan her trip. There was no internet to connect with loved ones. She had her friends and family write to predetermined destinations, and found these boxes of letters a highlight of her solo journey.
Elspeth also found a repeated lesson: All choices have consequences. After one of these discoveries, she writes, "I started to feel a loss, a grief for losing something that I hadn't even realized I'd had, but which I now missed nevertheless." This upheaval drove her into the undercurrent of her heartbreak, but matters of the heart are complicated, and do not resolve easily.
Previous to her departure, Elspeth was studying architecture in Britain. In order to continue her education, Elspeth needed experience, and Australia provided. Not a career that Elspeth had put a lot of thought into, she writes, "architecture had finally clicked for me, I suddenly understood what it was all about, the breakthrough coming when I visited a building site and saw the foundations that I'd drawn rising out of the ground. Something that previously seemed remote and arcane suddenly fitted together and made sense."
I don't want to give the whole book away; You really have to read it for yourself. But you should know that Elspeth's trip was not all insight and self exploration. Accidents, illnesses, bike casualties, and injuries slowed her down at times, but dust, dogs, and kangaroos were no match for Elspeth's determined spirit. India and the Middle East tried to break her, but this lone rider had internal strength earned through the rigors of travel.
By the time she reached the Middle East, she was ready to come home.  She remembers the moment in Pakistan where she saw a sign that said London, 9476 km. A sense of relief washed over her. Her bike and body nearing their weakest points, but home was suddenly on the map. The end of this book is powerfully moving. While the adventure culture we are blessed with today was not available to Elspeth when she returned from her journey, I feel honored that she's willing to write her story to share with us today.
Buy Lone Rider 

Like this review? Check out Steph Jeavon's EMBRACE THE COW!