Monday April 22
CABDR Day 3
With the wind whistling, I crawled out of the tent at 5, having slept very little. The scenery was epic, and I explored all the paths near our tent, crawling up rock piles and photographic cacti. I was excited because our big plan for CABDR Day 3 was the Colosseum Mine.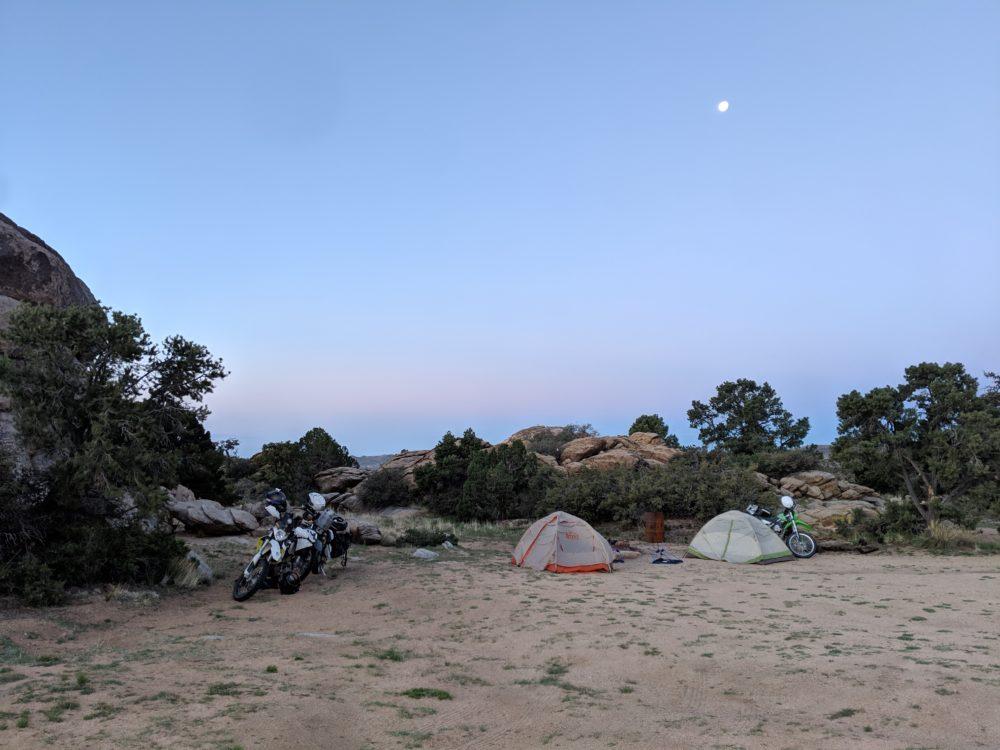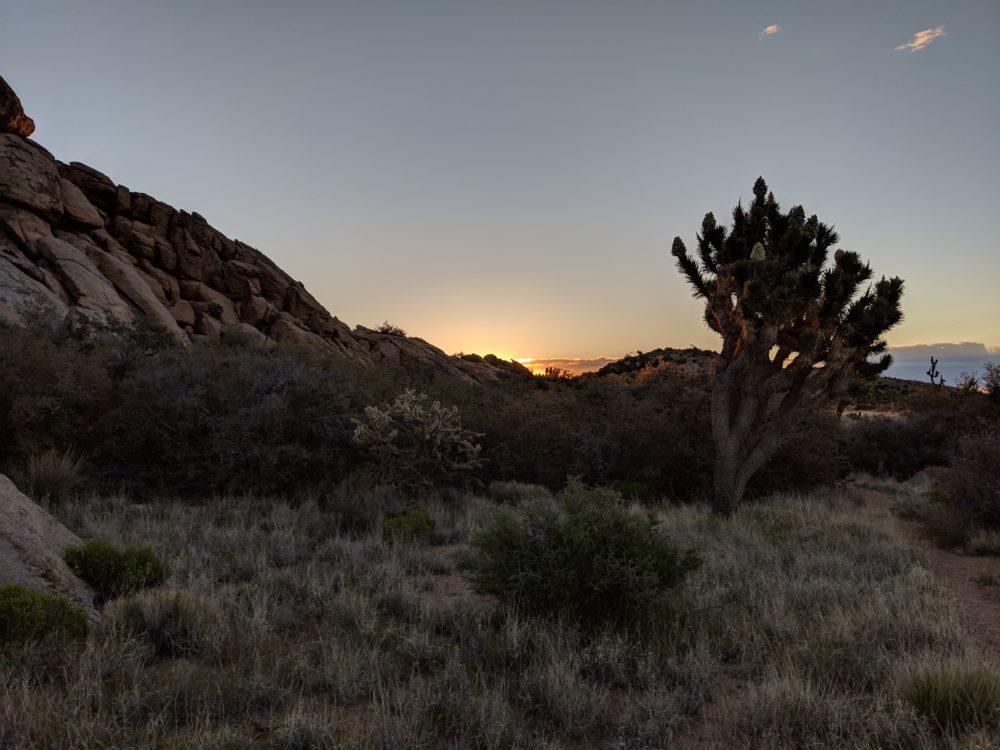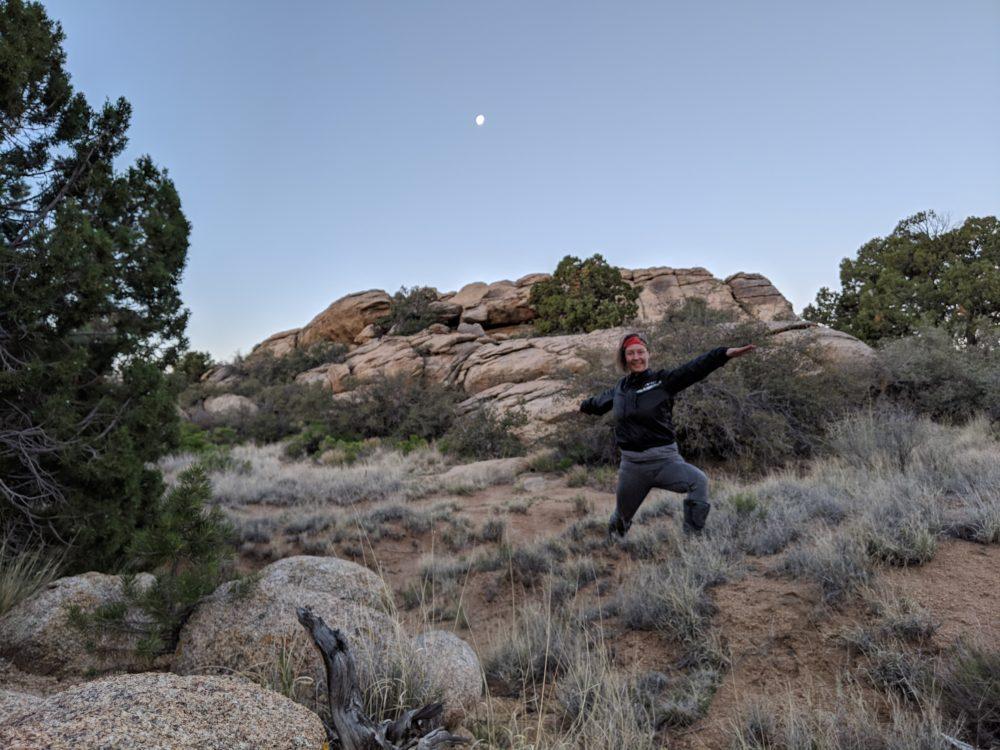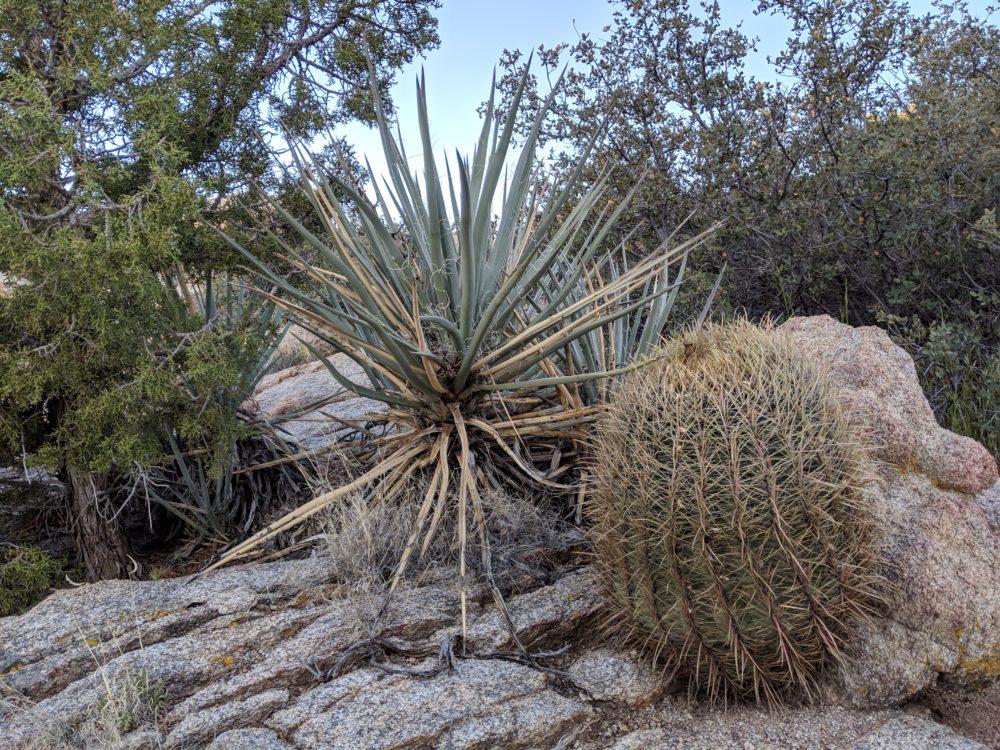 We had breakfast in the sun and took our time packing up. We rode Cima Rd through even more Joshua Trees and climbed out if the Valley. On the CABDR, the White Cross WWI memorial is a touching site.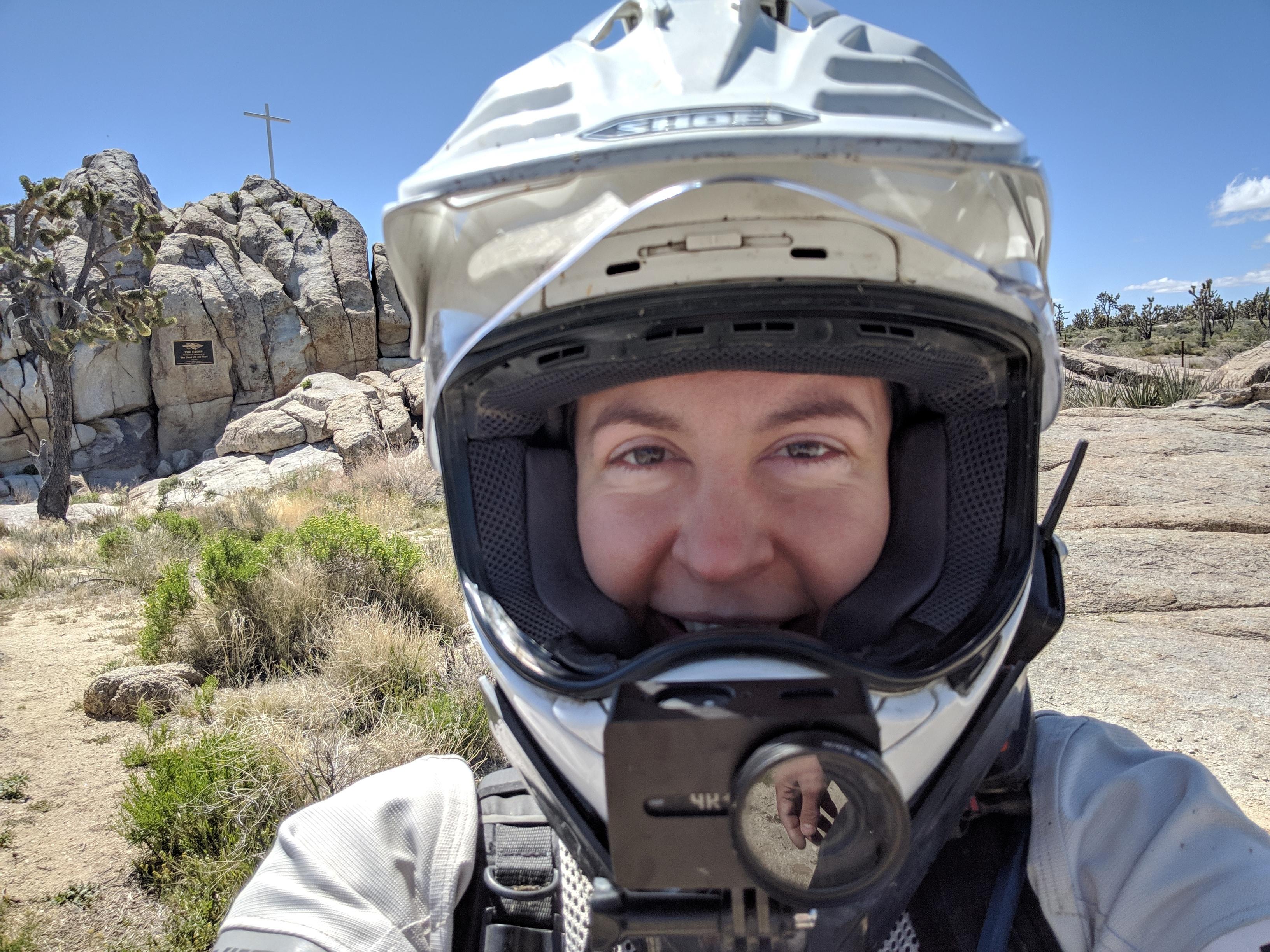 It's a cross in the middle of nowhere. The story goes that the cross was erected in 1934. In 2002, it was boarded up because it was on public land, and was said to violate separation of church and state.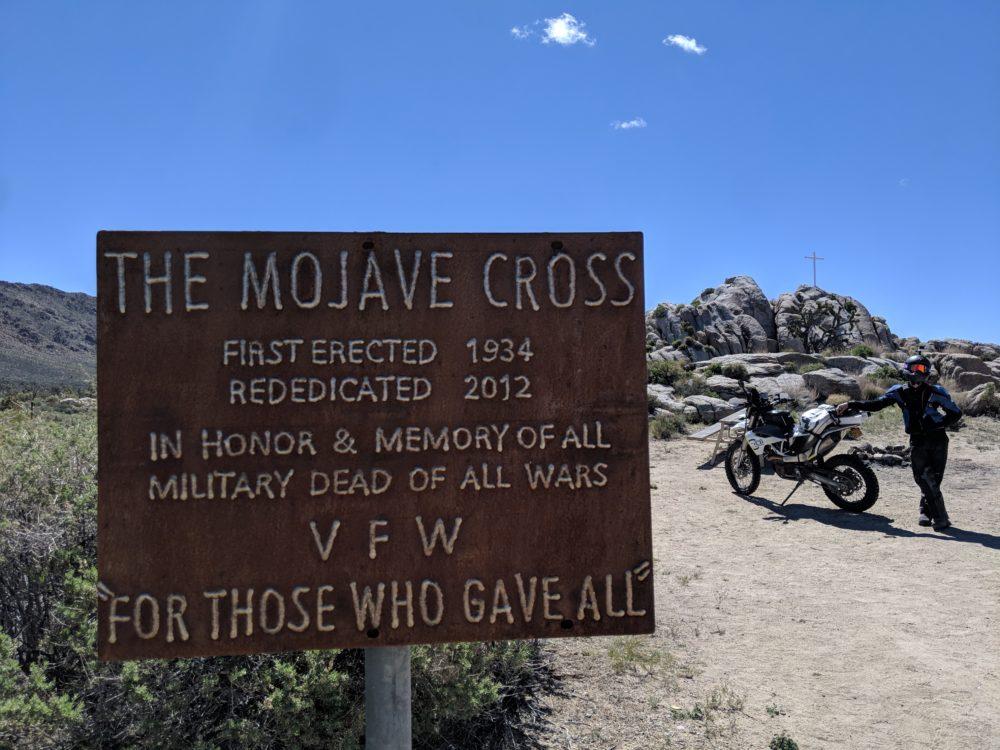 Congress transferred the surrounding land to a veterans group, and a higher court ruled there was now no violation of church and state, but meanwhile the cross was stolen!   In 2012, it was located and rededicated. I was more moved by it than I thought I'd be.
The CABDR track then took us toward Evening Star Mine. In the CABDR movie, this just looks like abandoned things in the desert. In person, it was incredible to see the old mining operation in the field of quartz.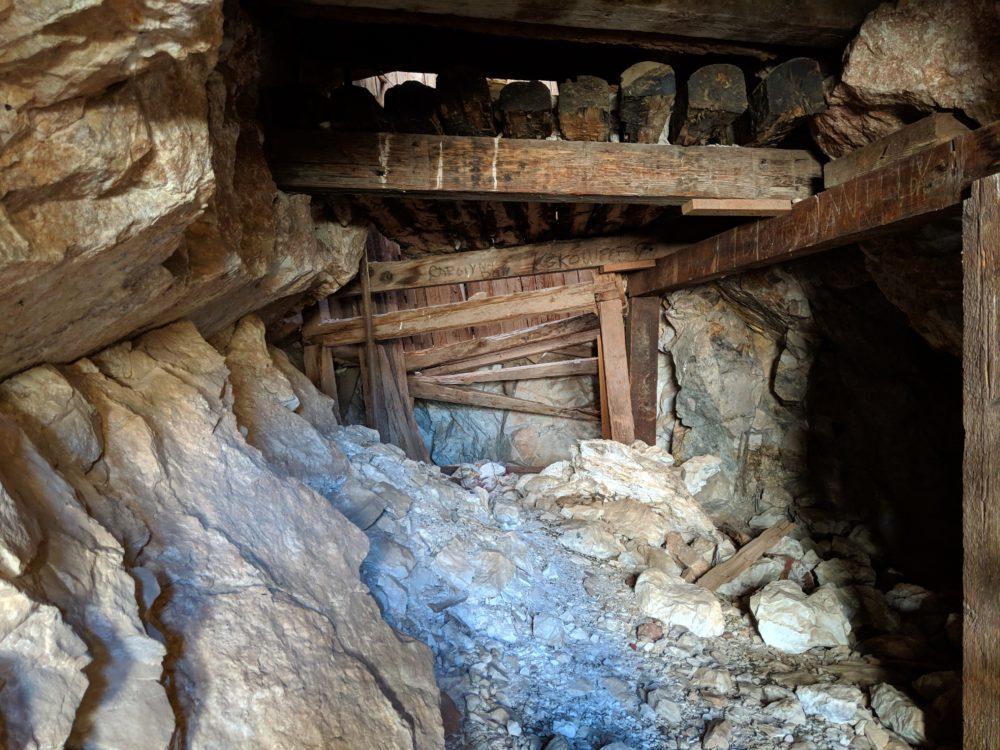 Heading out of there, we followed the CABDR track, right back to the cross. Oops! Heading back in the right direction, I dumped my bike in a sandy corner. Oh well, it was a fun section anyway.
I took a bit of time to make friends with a turtle. I made sure he made his way off the road before I ventured on!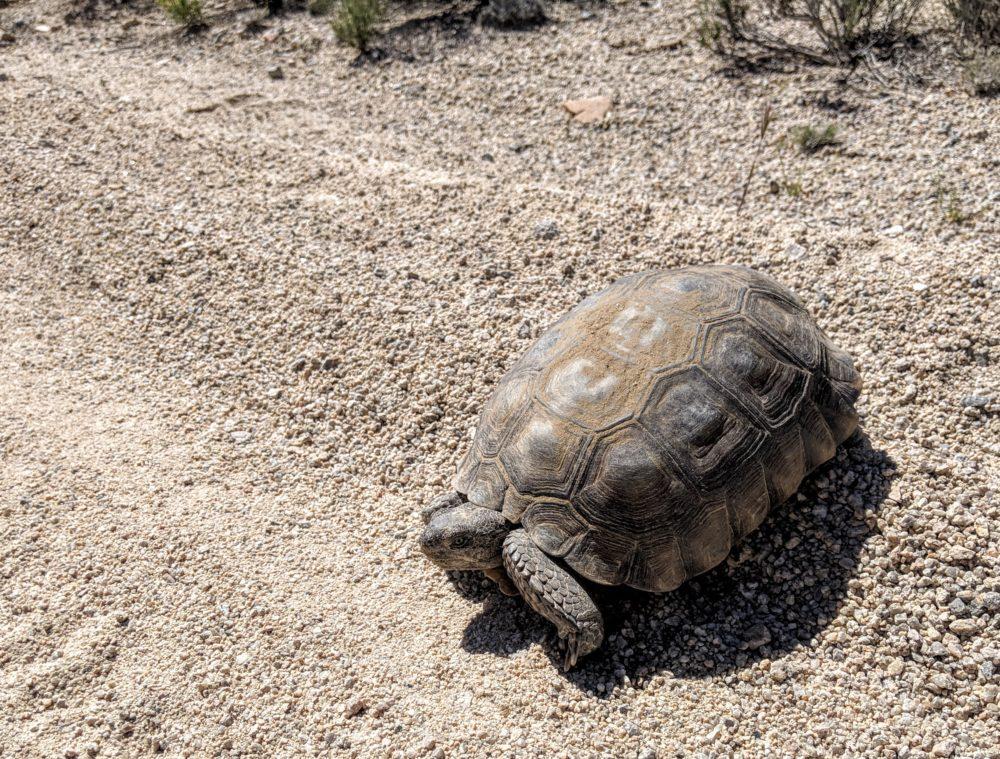 I found myself slowing down, a bit dizzy from lack of sleep. Luckily we were close to Primm, so we got gas and had Greek food for lunch. I rested until I felt my energy return, and then we were off to the Colosseum Mine hill climb!
We went past the solar panel array, and it was pretty impressive just how huge it was. But I was too excited for the Colosseum to think much about that. This was the infamous hill climb. The road got rockier and steeper. It was all going pretty well until I tried to avoid a couple rocks in the good line. I overcorrected and rode up the bank. Josh stopped to help me pick my bike up, and his kickstand failed.  With two bikes down, Nathan had the opportunity to delightedly send himself back down the hill to see what the hold up was. We'd all been waiting for a chance to use that line from the CABDR movie. Bikes up, we made it to the top without any other problems.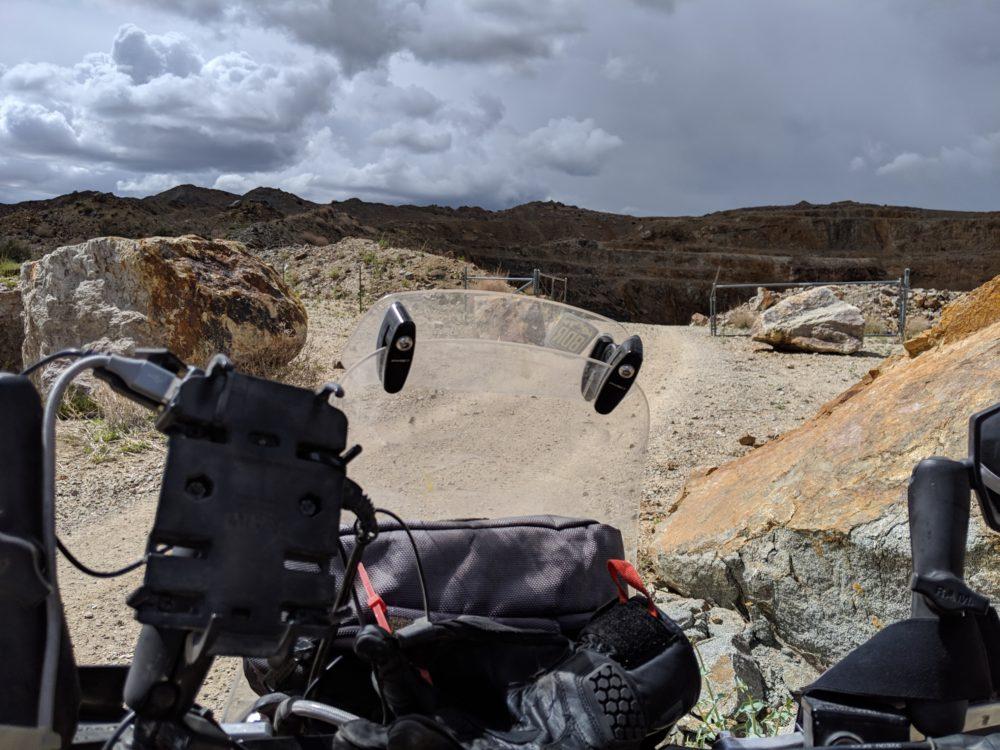 Nathan got the drone out and we rode slowly into the mine. Round and round we went, descending into the mine, hearing the whirr of the drone… going round so slowly that I dropped my bike. Oops! We'll just say I did it for the camera. Josh helped me pick it up again, and we descended to the bottom, where we met two 4*4 driver's and a dog. It was windy and about three raindrops fell onto our welcoming faces. We rode back up and the descent from the mine was a really fun and rocky road. Downhills are my jam.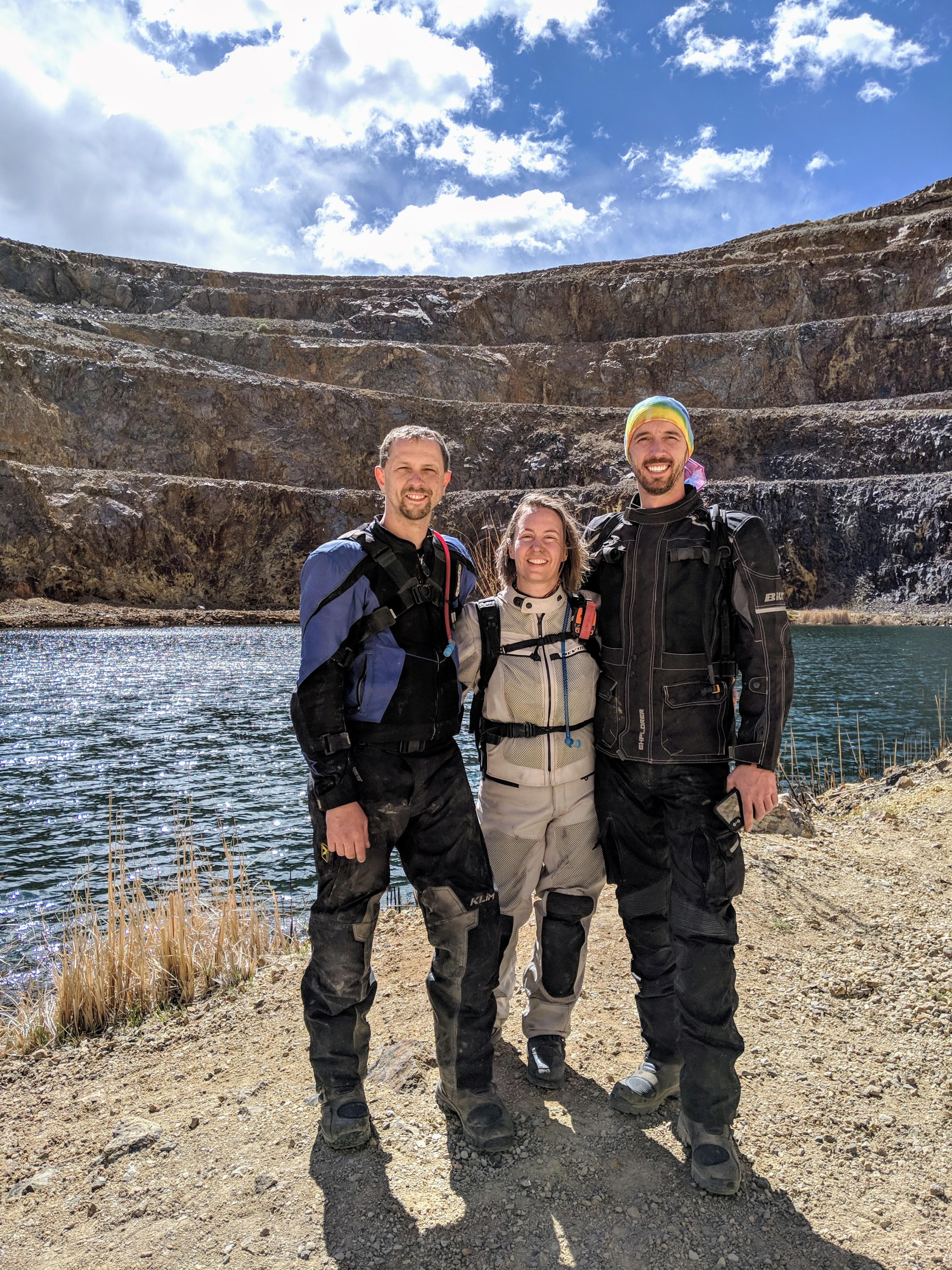 We hit a power line road that went on forever. It was graded and rocky and sandy. We got to the highway and gratefully took a break from the bouncing. We headed toward Tecopa on the main route, Mesquite Valley Road, which took us through a couple gates and on a road with a little bit of everything the CABDR had to offer. Rocks, washes, the deepest sand gravel we've seen this trip, and some wide open gravel sections. There was a bull, parked by the side of the road, wondering where these noisy humans had come from as he pondered his next meal.  We sowly passed him, and then continued on this magnificent road, until the sand threw me off my bike. At least it was a soft landing. After this I remembered my sand skills, and the day ended well.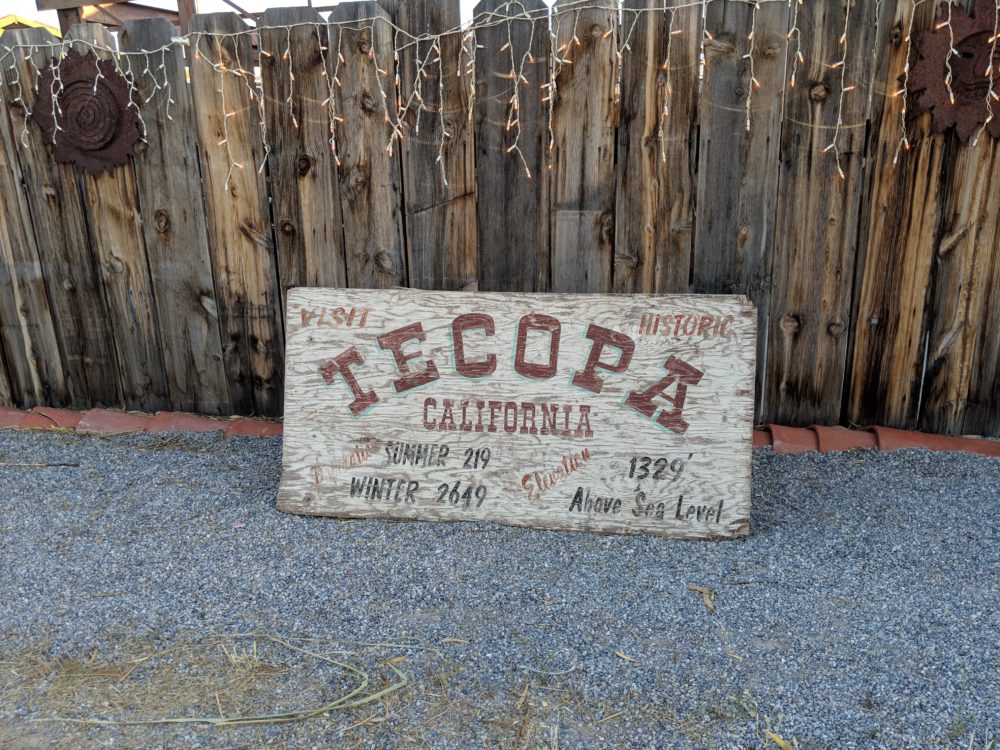 Once in Tecopa we took a vote. It was windy, and I knew I couldn't do another sleepless night. We got a room at Tecopa Hot Springs with a private soaking tub, and went to a steak dinner. We enjoyed our first beers of the trip, and fell into bed exhausted but happy.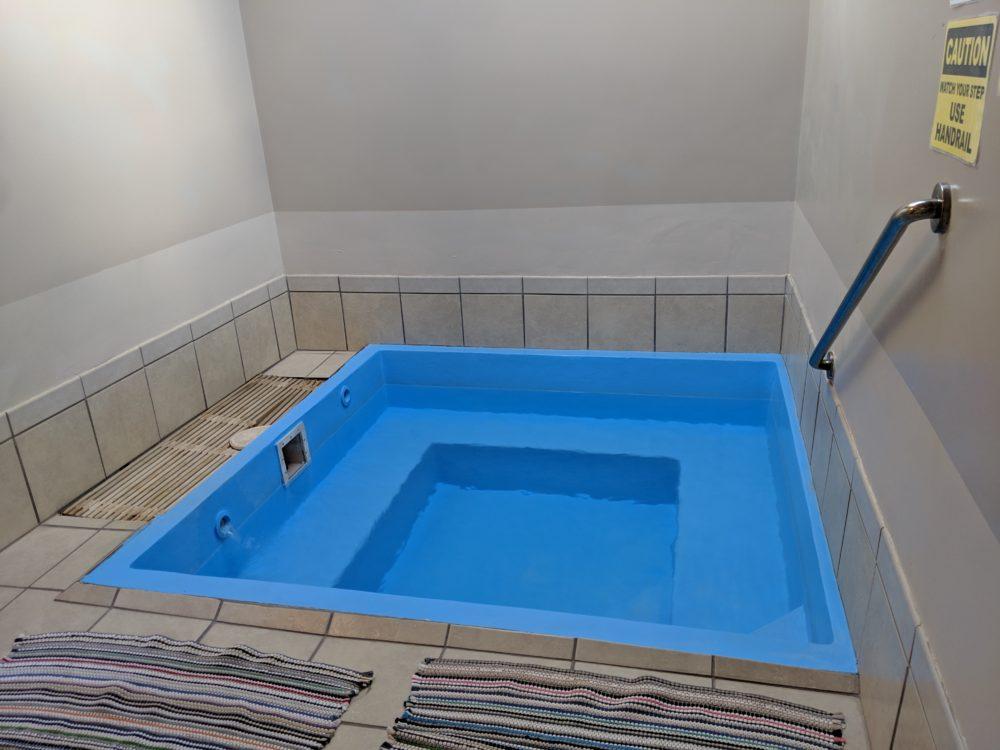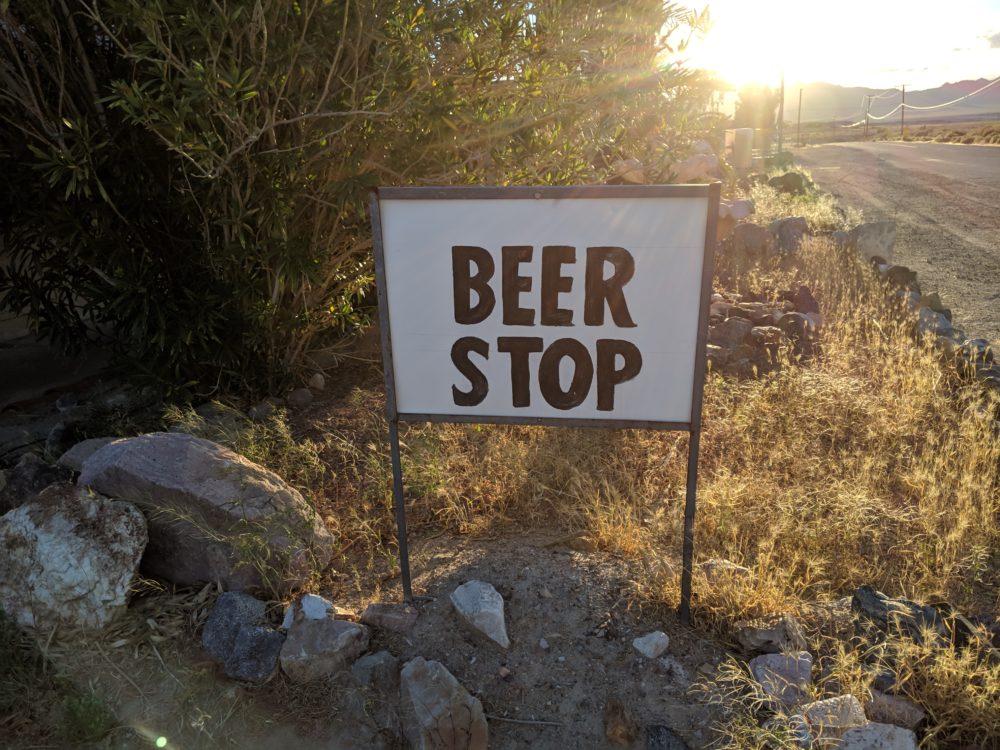 Things to note:
The road to Colosseum is not terribly steep, but long and rocky.  It's helpful to practice rocky assents before this.
If you miss China Ranch in the evening (they close at 5) try again in the morning.  Date Shakes and Date Bread make an excellent breakfast.
Bike Drops: 4
Did you miss the previous days? Day 1 and Day 2 are up!
Enjoy video?  Check out our DAY THREE CABDR VIDEO HERE!