The CABDR route is scouted and released, and my husband and I can't wait to ride it. We've been prepping for a while, but we're a month away – ever wonder what BDR prep looks like?
What is the CABDR?
The California Backcountry Discovery Route (CABDR) is 800 miles of 4*4 trails in some of the most remote parts of California. Backcountry Discovery Routes (BDR's) are prescouted routes that take you to some of the most remote and beautiful places in the US, and their website provides information on mileage between gas stops, last stop for food or beer, and even current road conditions or closures.
Bike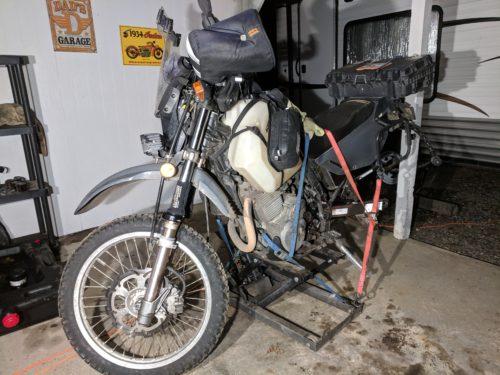 Having a well maintained bike to get through the BDR and back to civilization is critical!  I'm new to tinkering, so I asked my husband Nathan to give my bike a thorough look.
We found some critical things to replace, and I decided to do a few upgrades while we were doing BDR prep.
First, I was due for a new chain and sprockets. And I knew it had been a while since brake pads, so those were on the list.
We put the bike on the lift and as Nathan wiggled the swingarm up and down. "Feel that?" Hm. As it turns out, it's good I asked for help. I didn't realize that there should be no wiggle room in the swingarm. It was time for new bearings.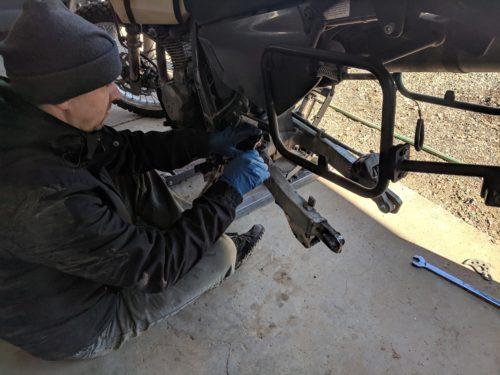 But wait, there was more. The chain slider, which I'd been keeping an eye on? I obviously wasn't very diligent about that; the chain had gouged the swing arm!  The brake line had also melted on my exhaust, so it was time for a new brake line. I figured I may as well upgrade to a braided steel brake line, and may as well do the front as well!  The cush drive was worn, so we decided to upgrade me to a polyurethane cush drive.
I'd had my eye on a hydraulic clutch for a while.  Since my friend had just experience a stretched clutch cable on the CABDR, it seemed a good time to upgrade. And, since the bike was in pieces anyway, why not add a quick throttle.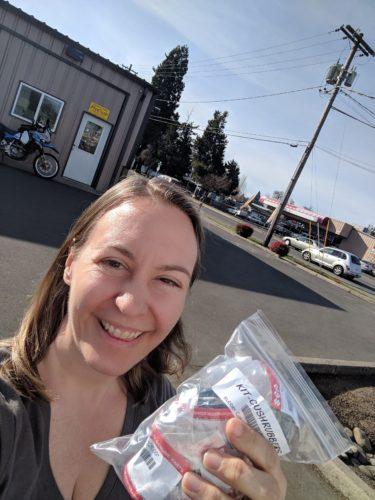 Knobbies were installed on my spare wheels, and of course, an oil change, clean air filters, and a valve check were all on the maintenance schedule.  
Body
The bike is important, but I believe riding is 10% bike, 90% rider. I'm not training like our women of the GS Trophy, but I've upped my cardio workouts to four days a week minimum, I've added some interval and strength training, and we're riding at least once a week now that the weather is cooperating.
Teaching about health behaviors has given me a fairly balanced approach to my nutrition.  I am eating sensibly, focusing on adding fruits and veggies to my diet more than anything else.  I know I could make many other changes, but I believe in slow, sustainable adjustments rather than drastic attempts.
Mind
Strong mind, strong rider, says Chet Mainwaring. Gary LaPlante says focus on one thing every single ride, and you will improve your riding.  I am in a constant state of challenging myself to develop a calm confidence while on the motorcycle.
My consistent reminders to myself are 1) head and eyes up, 2) get through the obstacle and then stop if you need to (as opposed to stopping on the obstacle, which never ends well) 3) keep one foot on a peg for leverage when stopping, and 4) check in with body position and posture, using core strength on every ride (for tips on this, see this assessment with Coach Stroud). I can practice these things in off road gnar, and I can practice them on my commute. As a general practice, I also try to meditate regularly.  The bike is its own form of active meditation, so I focus my daily meditations on observing my thoughts and mental clarity.  
To mentally prepare for this specific BDR, I am gathering as much information as possible. The Backcountry Discovery Route organization has created an amazing documentary about the inaugural ride of the CABDR. I have watched this repeatedly, as well as keeping an eye out for ride reports on ADV Rider, the BARF Forum (I'll be honest, I just like the name of the forum), and following #CABDR on instagram.  We have friends who have already attempted it, and are picking their brains for information.  
Riding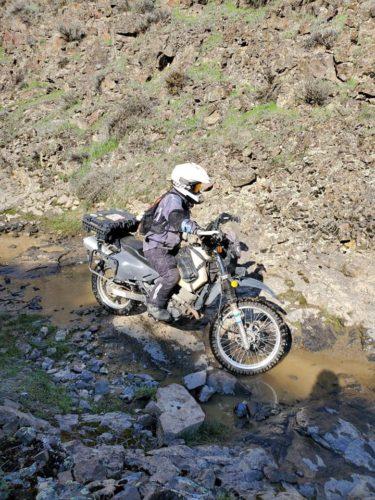 Of course, practicing riding in the environment closest to what we'll be riding in California is ideal.  So, I've take a trip to Mattawa, WA for an off road basics refresher course, and a trip to Bend, OR for a sand and rocks practice day.   (Keep an eye out for a full article about Donni, the founder of Skool of Moto. )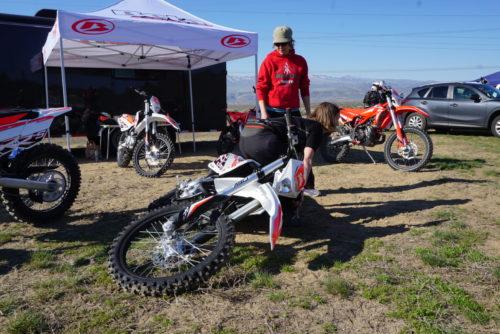 Documentation
Because I write for the magazine and Nathan has a You Tube Channel, we both want to have photos and videos when we return from the trip that really tell our story.  This is the most intentional we have ever been about documentation, so that has been something else to practice.  As we have worked on the bike and taken test rides, we have acquired new camera equipment, learned new camera angles, and practiced narrating our experience.
Interested in following my trip?
Be sure to follow Women ADV Riders on Facebook and Instagram, as I'll be posting updates there as well.  If you'd like to follow my personal Instagram account, it's FreeSpiritPixie.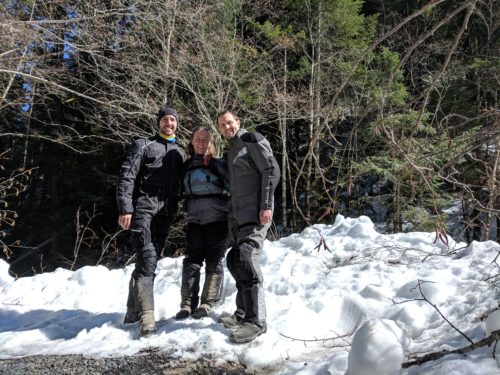 If you like this, check out my WABDR Ride Reports HERE, HERE, and HERE!