If you're just starting out as an adventure rider and long journeys or far-flung destinations feel a little daunting to explore solo for now, what's the next best thing you can do? Riding with friends, getting more training, and joining group rides can all give you a confidence boost. But so can beginner adventure motorcycle tours: the best way to get into adventure is to go on, well, an adventure, right?
While finding newbie-friendly tours isn't easy, and finding all-female beginner adventure motorcycle tours is even trickier, it can be done. Imagine yourself riding somewhere spectacular in the company of other women riders, learning new skills, and traveling a country you've always wanted to see from the saddle of a motorcycle…all within the safety of an organized tour where the routes are planned ahead, the hotels booked, and the off-bike activities arranged for you.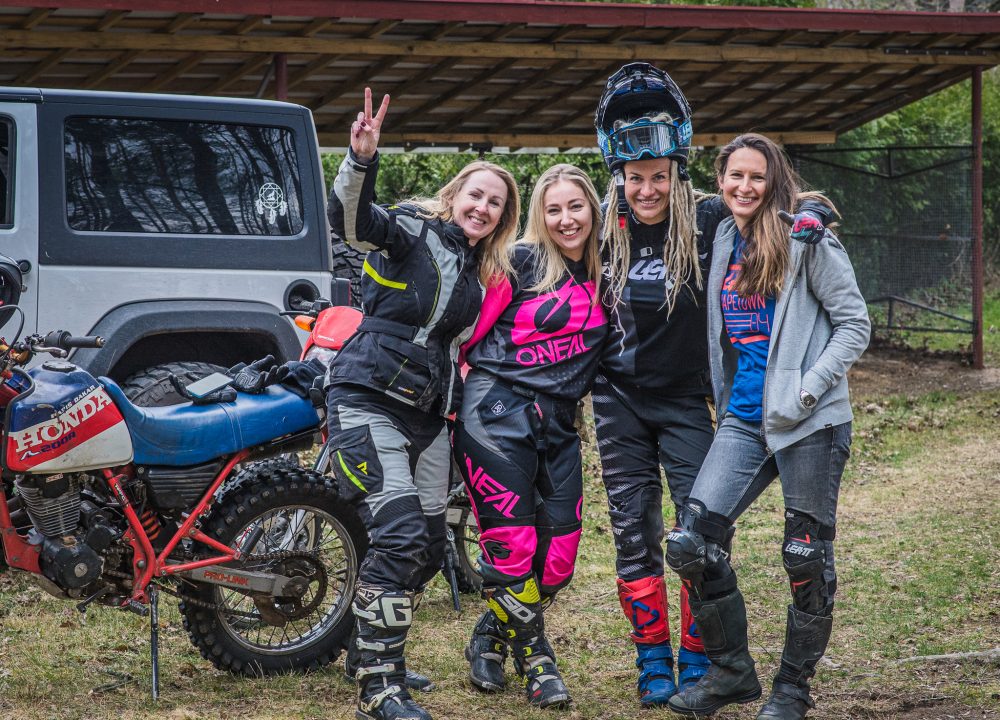 Women's adventure motorcycle tours are a fantastic way to get into ADV, learn new skills, meet like-minded gals, and enjoy some of the world's most epic destinations without the challenge of arranging the entire trip yourself.
Most ADV newbies are usually advised to work on their riding level and gain experience before they set out on longer trips or look for adventures in places like South America or Asia on their own. That's sound advice – but why not gain that experience while having an adventure someplace awesome? Here at Women ADV Riders, we believe that adventure is attitude – so let's take a look at what beginner adventure motorcycle touring options might be out there.
Finding the Right Tour
Before you start Googling female-focused beginner tours, think about your goals. Is it primarily off-road training? Is it adventure riding somewhere exotic? Is it seeing your dream destination on a bike? It can always be a combination of all three, of course, but it's important to set your expectations.
For pure training, it's best to look for tours that offer professional coaching. Beginner-friendly adventure motorcycle tours are focused on the riding aspect as much as the travel aspect, combining on-road and off-road riding with jaw-dropping scenery. If it's mostly about the destination, look for tours in that specific country, but keep in mind not all tour operators offer training (and not all welcome complete beginners).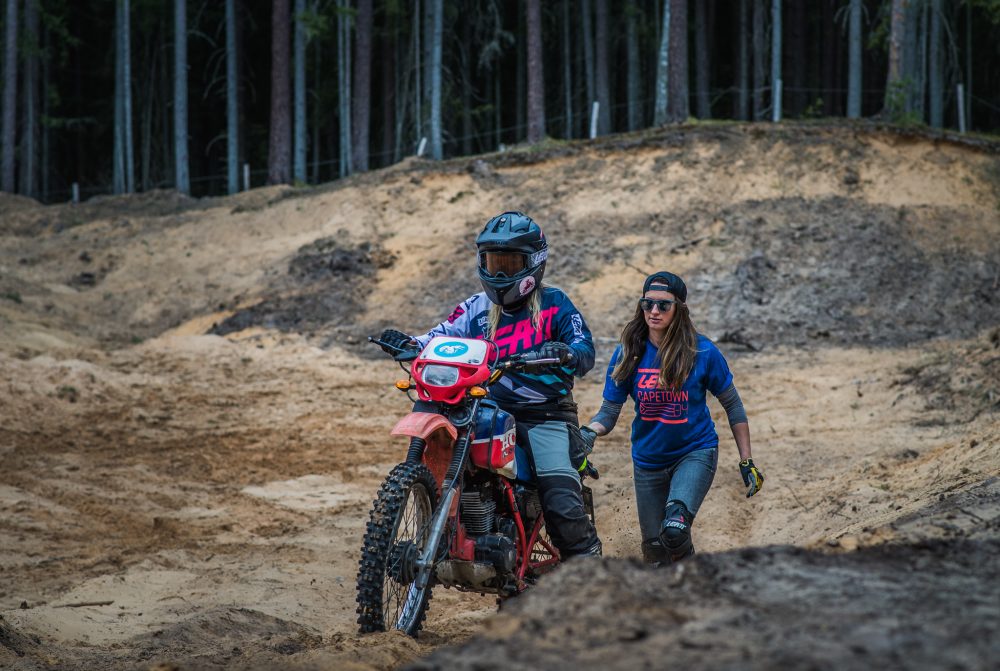 In fact, Google doesn't offer much if you put "beginner motorcycle tours" in the search box. Some tour operators require you to have a minimum experience of 6 months, a year, or 2 years of on-road and off-road riding to join their adventures. Plenty of tour operators don't specify the experience needed, but it's usually assumed that you've spent at least two years in the saddle.
If you haven't, can you still go on an adventure motorcycle tour? Yes, absolutely, but keep in mind a few things when selecting a tour.
What to Look for:
Tour length. If you're just starting out, joining a tour that's longer than five or six days is probably going to be too much. As an inexperienced rider, you'll have to deal with unfamiliar traffic situations, longer daily miles, and unfamiliar terrain or country, which means fatigue will set in fast. Don't overdo it the first time – pick a tour that's short so you can truly enjoy the experience rather than barely survive it.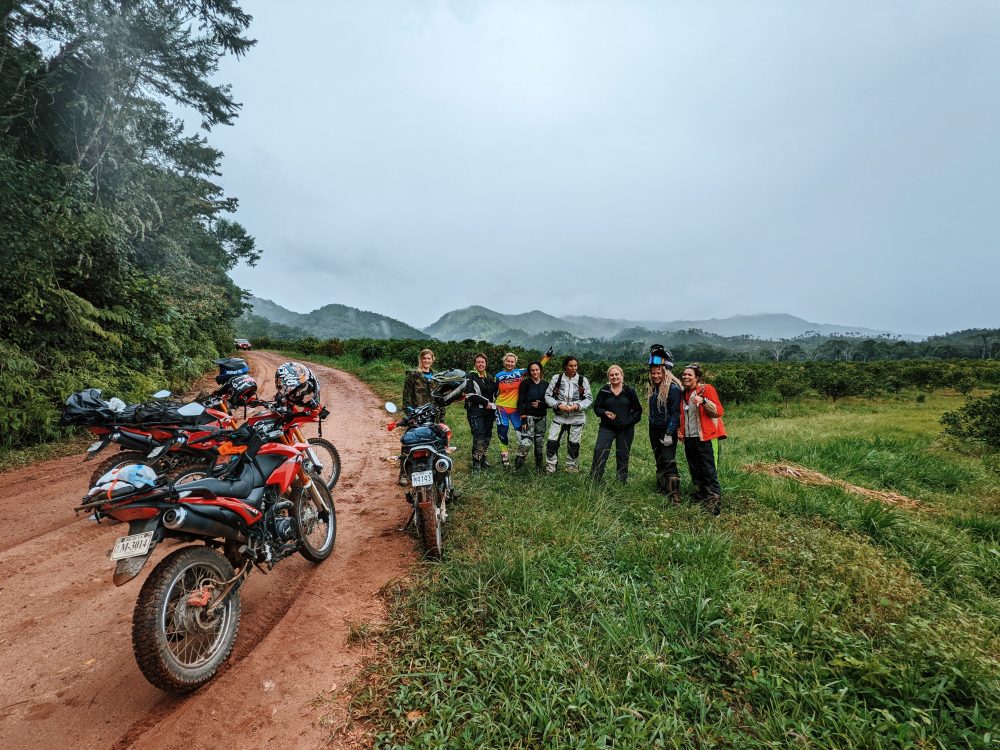 Daily miles. Look at what sort of distance the tour covers each day: if it's more than 160 miles (and includes off-road riding), choose something a little more relaxed. For beginner riders, long miles, especially off-road, can be difficult to tackle – it requires constant focus and some endurance. Instead, look for tours with shorter daily miles and plenty of stops in between.
Motorcycle options. Depending on what you ride at home, it's best to choose a beginner adventure motorcycle tour that offers smaller, lighter motorcycles. For example, if you ride a Yamaha Tenere 700 or a Suzuki DR650 at home, going on a tour that uses BMW GS 1200 motorcycles might be too overwhelming. Look for tour operators that have smaller, lightweight, beginner-friendly bikes.
When it comes to destinations, Europe is the most beginner-friendly place to explore as a newbie. On or off the road, Europe is spectacular but safe, the driving culture is similar to that of North America or Australia, and there are plenty of beginner adventure motorcycle tours to choose from. South America is another great destination to explore, but if you're headed to Colombia or Ecuador, just make sure the tour isn't too long – again, it can get overwhelming to put in serious miles in an unfamiliar and sometimes challenging environment.
Beginner Adventure Motorcycle Tours: USA
If you're looking for women's beginner adventure motorcycle tours in the US, look no further than ADV Woman. Run by an experienced off-road coach, author, and an all-around axis of awesome Pat Jacques, ADV Woman tours are all about improving your riding, building your confidence, and doing so in the company of other female riders.  If you've just gotten into adventure riding and are looking for local training tours, this is a great place to start.
West 38 Moto is another favorite; while they aren't female-focused, West 38 Moto's coaches are a great bunch of people who understand what it's like to get into adventure riding as an adult. They offer training and several-day training tours around the US to get your skill level up and your thirst for adventure quenched all in one go.
Another great place to find beginner adventure motorcycle tours in your area is women's ADV Facebook groups. Women Adventure Riders is a great place to ask for recommendations and other women's experiences in North America, while Women ADV and Dirt Bike Riders: Big Little Rides is an international female riders' group exploring places like South America, Europe, Asia, and more. Reaching out to other female riders on social media can be helpful if you're looking for something specific, whether it's local, nationwide, or global.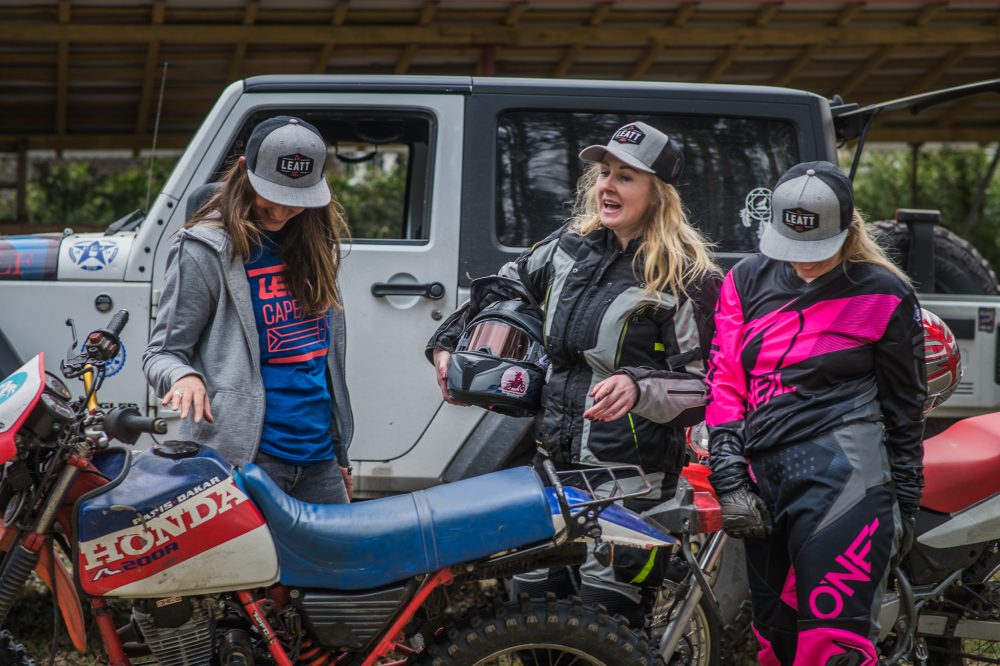 Women's Beginner Adventure Motorcycle Tours
Let's face it, most motorcycle tour operators are male, and most riders who join these tours are male, too. That's not to say you shouldn't consider them – there are plenty of fantastic male coaches and tour organizers out there, and most riders are a friendly, pleasant bunch regardless of gender. However, there's something about building your skills and traveling with other women – the camaraderie and the support you get from other female riders can be a huge confidence boost. Whether it's a training or an adventure tour, riding with other women can be an amazing experience, and the added bonus is, you might just find your crew of adventurous ladies to organize future trips with.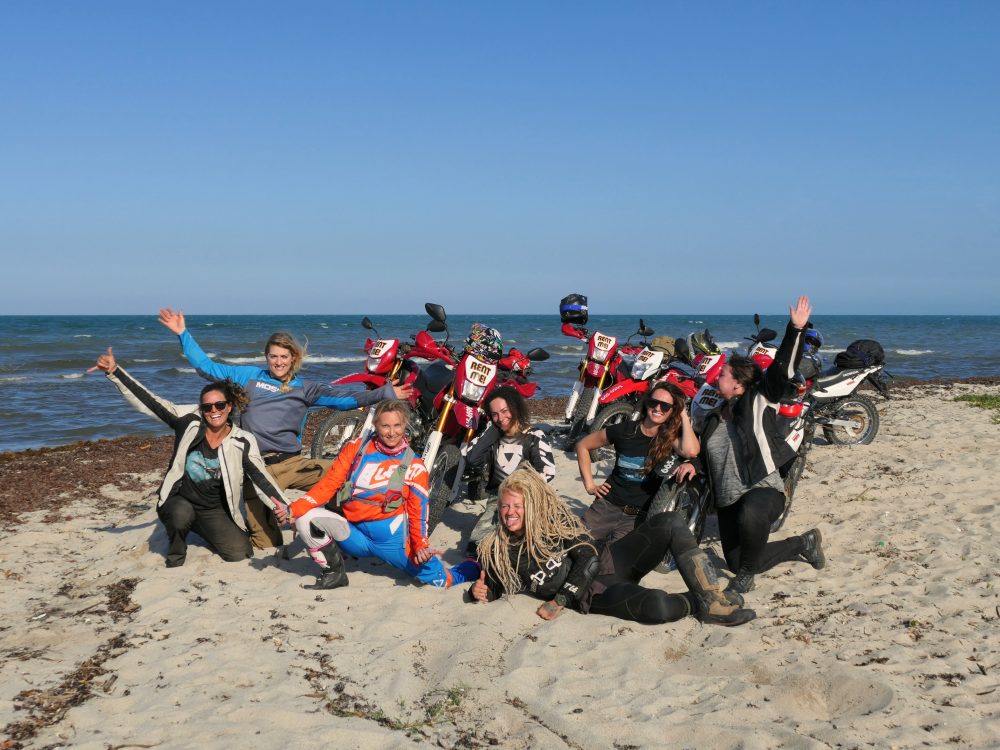 To this day, there aren't many female-owned and female-oriented tour operators out there, but it's growing. Big Little Rides, a Europe-based tour company, is women-owned and offer both training and adventure tours in places like Spain, Portugal, Croatia, Belize, Colombia, and Morocco for female riders only. The best part is, they welcome beginner riders – and although their tours sell out fairly quickly, it's worth reaching out to them to talk about your own ideas for adventure.
Curious what an all-female adventure tour looks like? Check out this video by Vanessa Ruck aka The Girl On a Bike who joined the Big Little Rides Belize expedition:
Custom Motorcycle Tours
What happens if you just can't find the right beginner adventure motorcycle tour for you, the dates don't work, or the destinations don't take your fancy? See if you can ask a tour operator to organize a custom tour for you. If you're flying solo, this can be an expensive adventure, but if you can get a group of five or six friends together, most motorcycle tour organizers are happy to offer something bespoke. It's worth reaching out to them and asking what the options are – you never know what could come out of it.
Finally, you can always try and put your own adventure ride together. It doesn't have to be anything epic – just a weekend ride or four days out on the backcountry roads can be a great start; once you start venturing further or riding more, revisit the tour options and see what you can find.
For more tips and resources, read this article on How to Transition from Street to Adventure Riding
For more touring inspiration, read the ride report of a women's adventure motorcycle tour in Ecuador.
Questions? Comments? Share them in the comment section below –  we always reply to our readers!