Here's the thing: for me, the word "enduro" has this almost ominous meaning. "Off-road" is friendly and chill: it can mean easy graded dirt roads or gravel tracks just as much as gnarly, rocky single track. "Enduro", on the other hand, just sounds like it's hard work. Like it's the Erzberg Rodeo or Romaniacs.
I've been riding a motorcycle for six years now, and for the past three years, I've been gingerly venturing off the road. I've done parts of the Trans America Trail, some Backcountry Discovery routes, and some off-road riding in the Andes in South America on Lucy, my loyal DR650. After chasing Rally Dakar and taking the leap to race cross-country rallies myself, I found myself bimbling around Europe, unsure what to do next.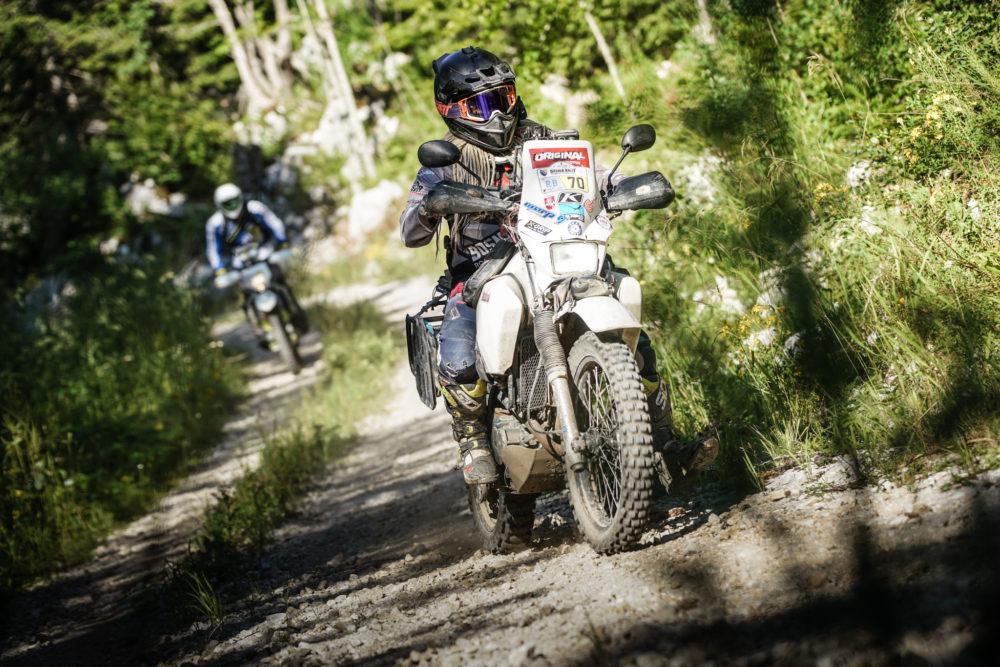 So when I got an invitation to come and ride enduro bikes in Transylvania with the Romania Enduro Escape Tours team, I jumped at the opportunity. For morale, I enlisted my rally buddy and dirtbike maniac Gabriella Linford to come with me, and a couple of weeks later, we met with the Enduro Escape crew in Targu Secuiesc, Transylvania.
Although I completed two cross-country roadbook training rallies in Portugal and Bosnia as well as Hellas Rally Raid, I still wasn't very happy with my riding, and the word "enduro" still scared the daylight out of me. I knew I could get over things slowly, and I knew I could ride a little faster on open, flowing tracks, especially after the Bosnia Rally experience. But could I combine the technical riding with speed? Could I tackle steep, slippery hillclimbs and forest riding with no visible tracks? Could I survive three days of enduro riding in Transylvania?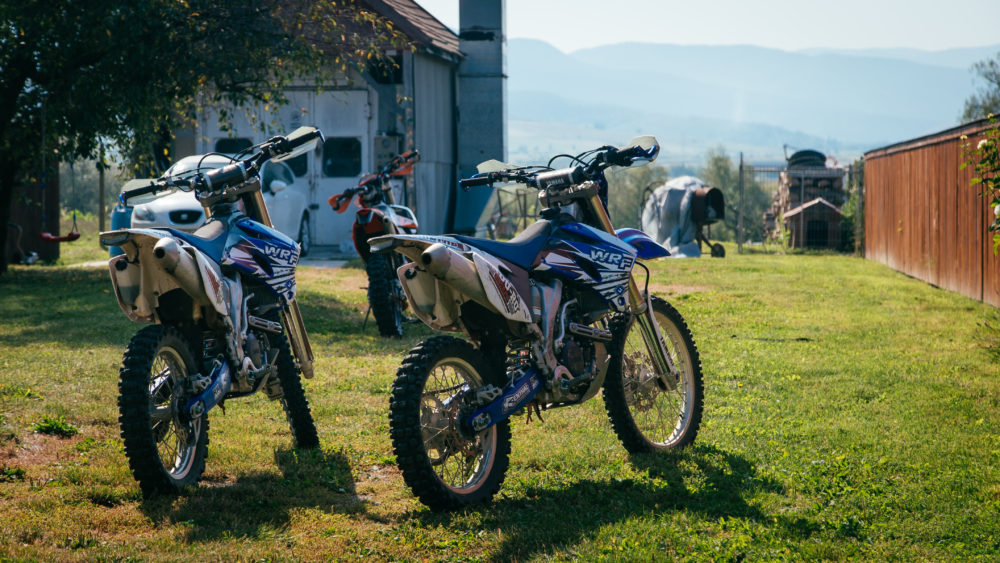 Both Gabriella and I had no idea what to expect. We knew we'd be riding WR250's in the mountains for three days, and that was enough to entice us to come. Romania Enduro Escape Tours is a fairly new off-road training and tours company based near Brasov, and they started out simply as a group of friends who loved riding. Sandor, the company's communications and media star, was in the US at the time, so we were met by Toni and Sanyi, our tour guides and riding coaches. Sandor, Toni and Sanyi are the three musketeers behind Enduro Escape, managing everything from customer service to bike maintenance to tour design, rider training, and airport transfers.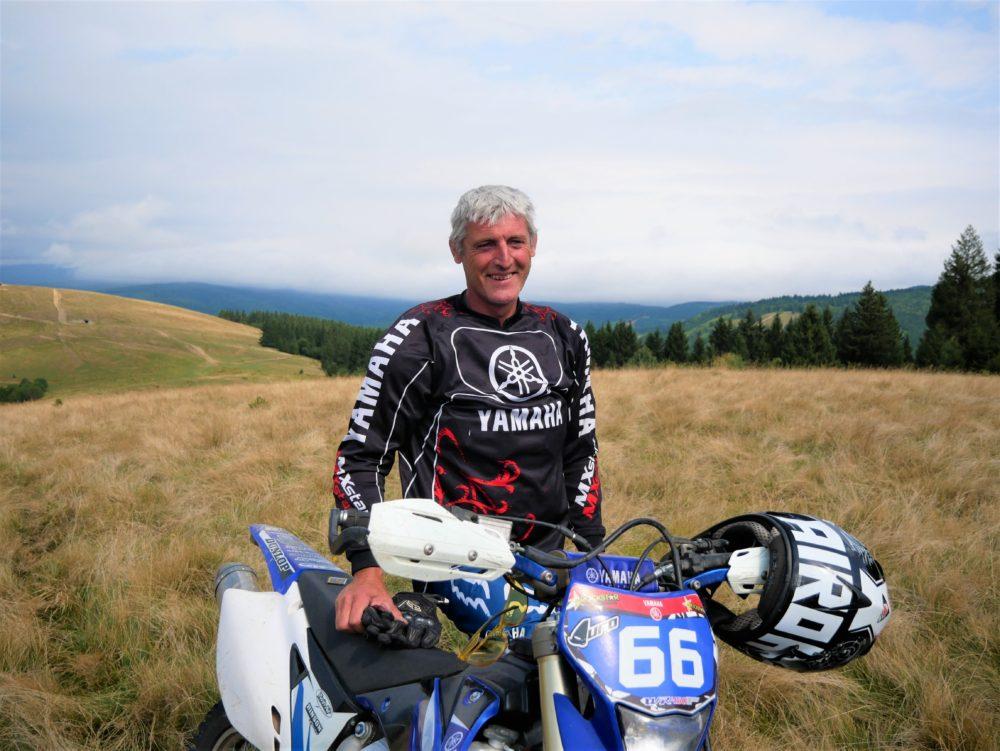 Day One: Into the Wild
When we met Toni and Sanyi on the morning of Day One, we instantly knew we were among friends. Hanging out in Sanyi's back yard, we changed into our gear, tried out the bikes, and met a few other riders who were joining us for the ride that day. We knew this was going to be an improvisation – and we were ready for anything.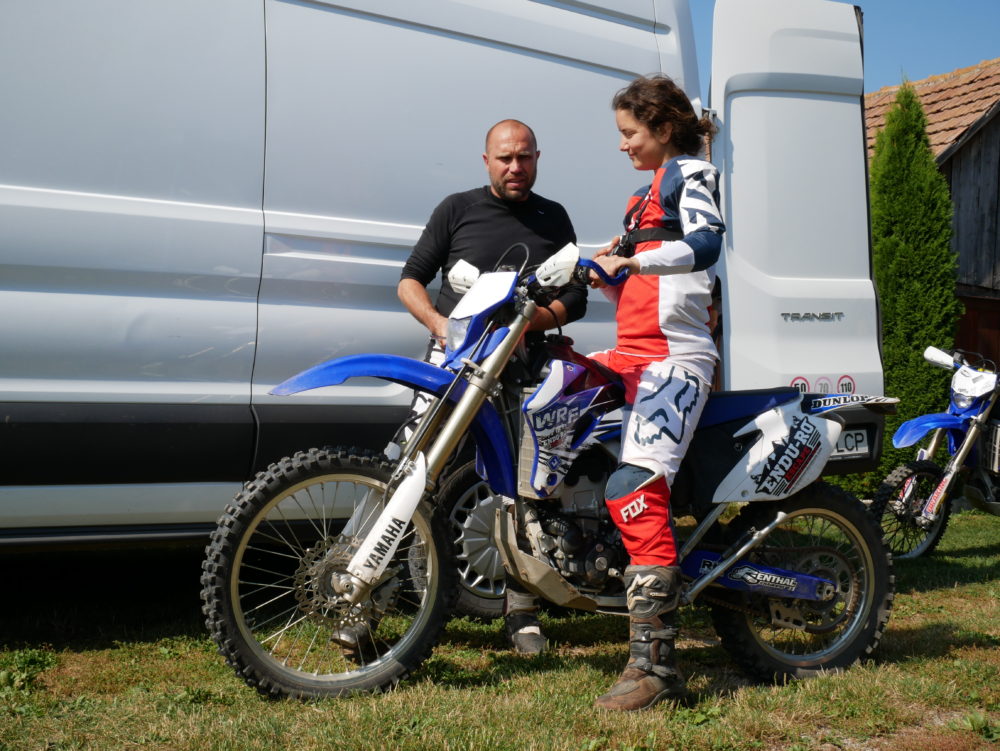 The Yamaha WR250 felt incredibly light and nimble after my DR650. At first, Toni took us along some graded dirt tracks crisscrossing farm fields; then, checking in to see we were comfortable, Toni and Sanyi headed for the hills. As we climbed higher, following a sandy, rutted track, the view opened up revealing a picturesque valley below and the looming peaks of the Carpathian Mountains ahead. Transylvania is a very unique corner of Romania where there is still a strong Hungarian community present, and nature here is out of this world. While most people associate Transylvania with vampires and the legend of Dracula (more on that later!), it's also a stunningly beautiful mountain country, a food and wine paradise, and a region known for its people's generosity and hospitality.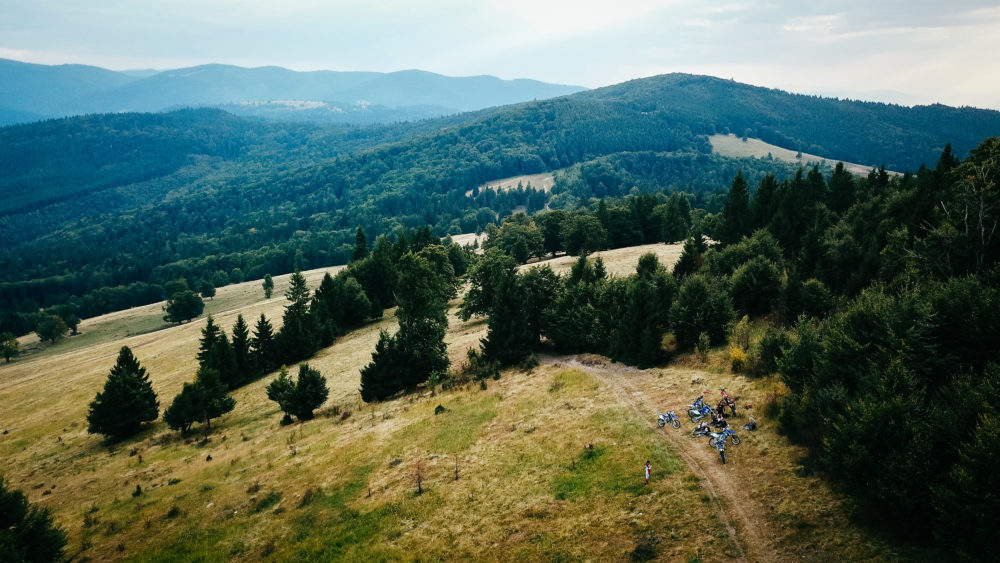 As we rode into the woods, the dreaded "enduro" part finally began. The trails grew narrower and narrower until we were riding the forest floor with no visible tracks at all, picking our way through the trees and up the slippery slopes covered in fallen leaves. I was concentrating so hard I didn't even realize that a) I was keeping up with Sanyi, Toni, and Gabriella just fine (a first for me!), b) the WR250 was an incredibly light and forgiving bike and c), that "enduro" wasn't scary at all – in fact, it was stupid fun.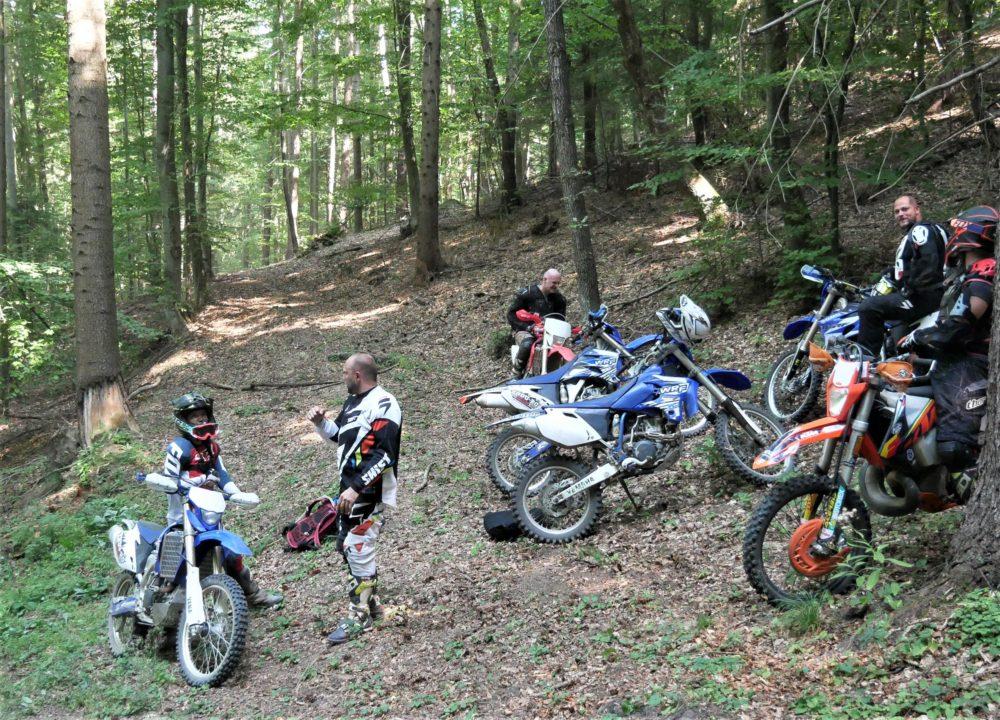 Sanyi and Toni both kept an eye on Gabriella and me, gradually challenging us more and more until we finally tackled an especially steep and slippery hillclimb where, according to our guides, "no woman has ever ridden before". We were told that we had reached a place where even some of the tougher dirtbike dudes normally struggle to get up to, and judging by the twinkle in their eyes, it seemed that Toni and Sanyi were enjoying the ride just as much as we did. They both looked like they were genuinely thrilled for us getting up those gnarly trails, as did the rest of the guys, which only added to the sense of achievement and excitement for Gabriella and me.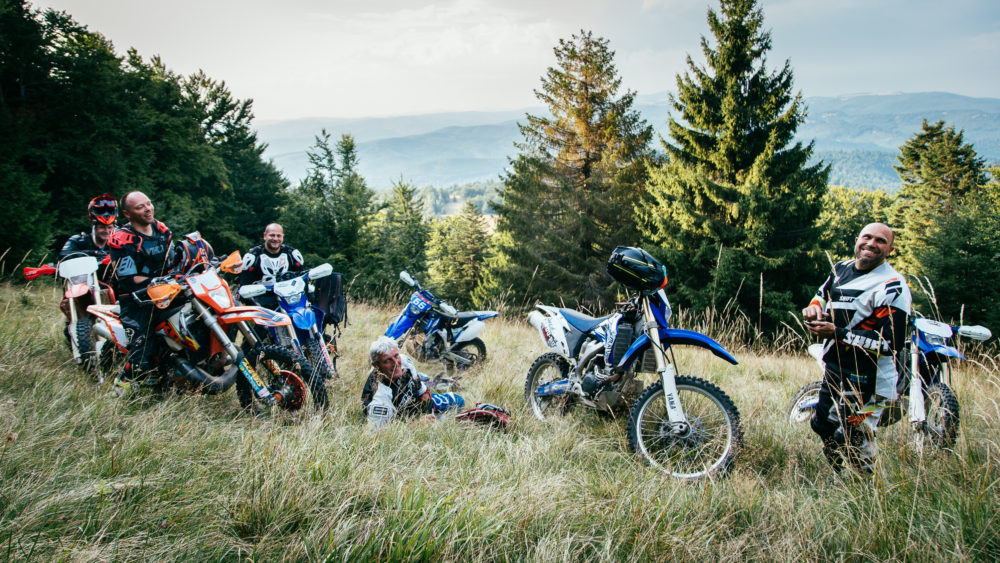 After a hearty Hungarian lunch, we headed off into the woods and mountains again, tackling single track, forest trails, hills, rocky tracks, and everything in between. This was much more technical than rally riding and required a lot more concentration and balance, but the end result was equally more awesome: my riding technique improved by leaps and bounds, and I got a major confidence boost that day.
Day two: Airborne
The next morning, Gabriella and I asked Toni to teach us to jump off small hills and ledges. Grinning from ear to ear, Toni was quick to oblige, and we first practiced jumping off a small curb, then bumps in the ground, then small hilltops. On Day Two, all the steep hillclimbs seemed much more doable, the forest floor less slippery, the descents less scary.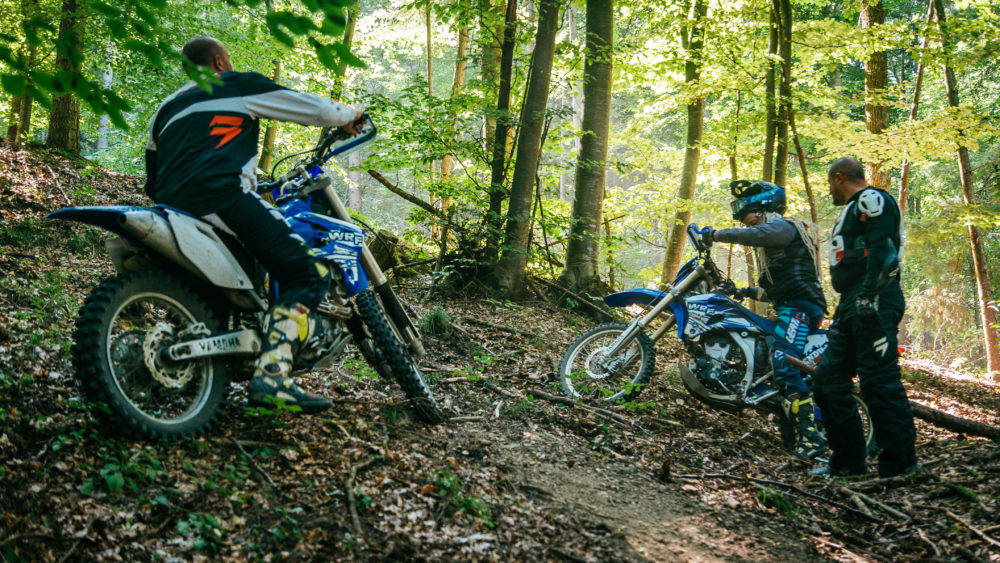 If I was working and concentrating hard on Day One, Day Two was all about unbridled fun. We followed Toni and Sanyi copying their lines and trying to match their speed, and, with a friendly piece of advice here and there, we made it half-way through the day riding different terrain and enjoying the hell out of ourselves. Stopping to admire the view every once in a while, we travelled through pristine green country darting in and out of the woods and flying through vast open spaces, taking in the mountain vistas. We laughed our butts off, learned to jump, flew up and down hills, over ditches, through thick vegetation, and it seemed like we had this enduro thing all figured out.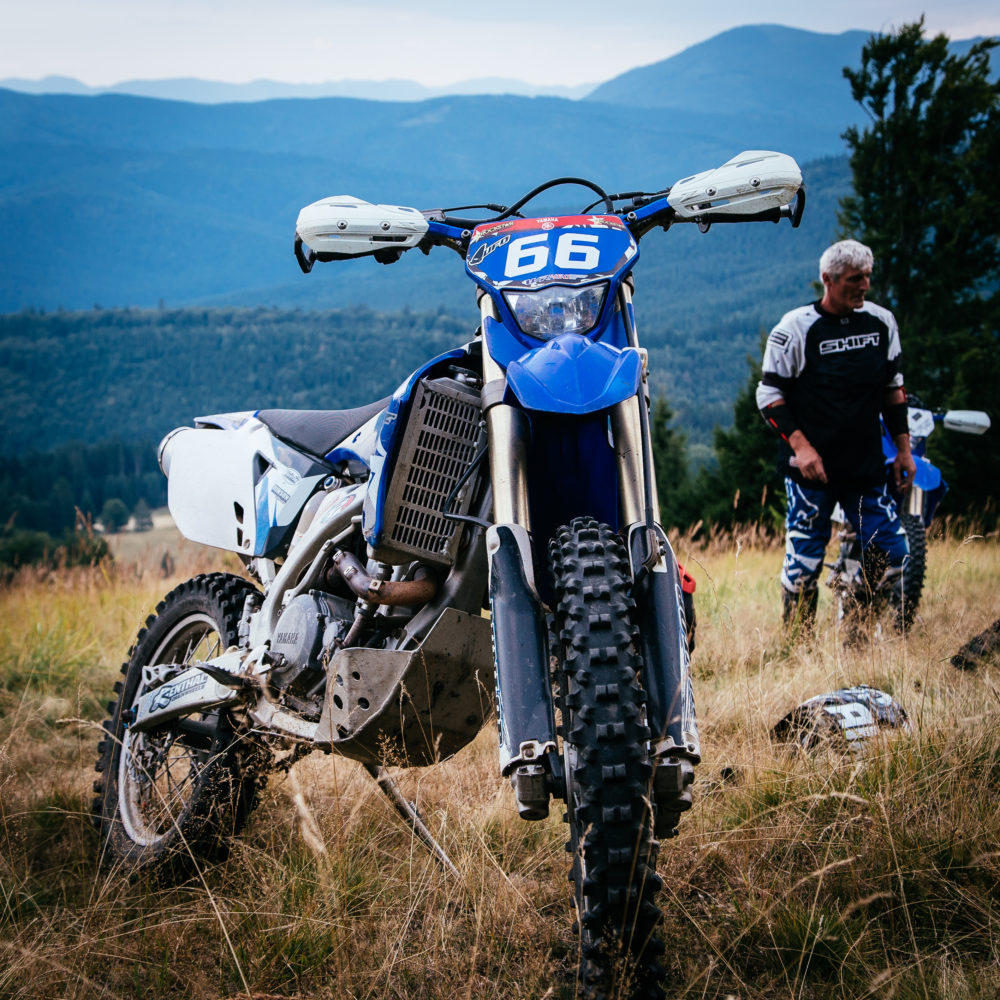 As bad luck would have it, just before the lunch break, I hit a small rise in the track and opened the throttle wider expecting the ground to be flat on the other side. It wasn't. The bike's front wheel ended up in a treacherous narrow ditch, and I was sent flying over the handlebars hitting the ground head-first. As I scrambled to get up, I knew I'd earned myself a concussion and hurt my hand as it instantly became swollen and throbbing with pain. It looked like my tour was going to end prematurely – there was no way I could ride much with a woozy, spinning head and a hand that now looked like it only had two knuckles.
I was grateful for Toni and Sanyi not making a big fuss about the whole thing. They deposited Gabriella and me at a restaurant, got some ice for my hand, got us some cold drinks, and went off to take my bike back and get the car. Shortly, Toni was back with the car, and we went to the hospital to get my hand X-Rayed, while Sanyi and Gabriella carried on riding. I was both angry with myself for making such a simple and silly mistake and getting myself out of commission and relieved that I got away with just a concussion and a sprain. I got way too confident for my own good with all the glorious hillclimbs and jumps, and for me, whenever I start feeling cocky, the Universe tends to step in and teach me a little humility – this time, in the form of a ditch.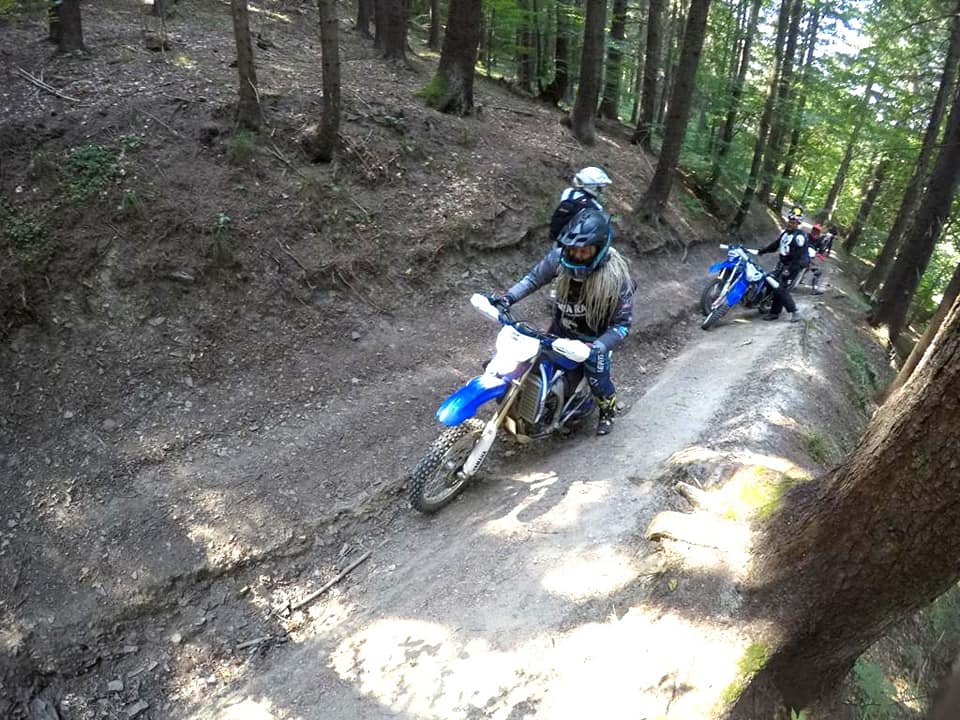 Still, as the X-Ray revealed that nothing was broken, I decided this was still so worth it – and the tour wasn't over just yet. While I couldn't ride, especially enduro, any longer, there was still the sightseeing part to look forward to.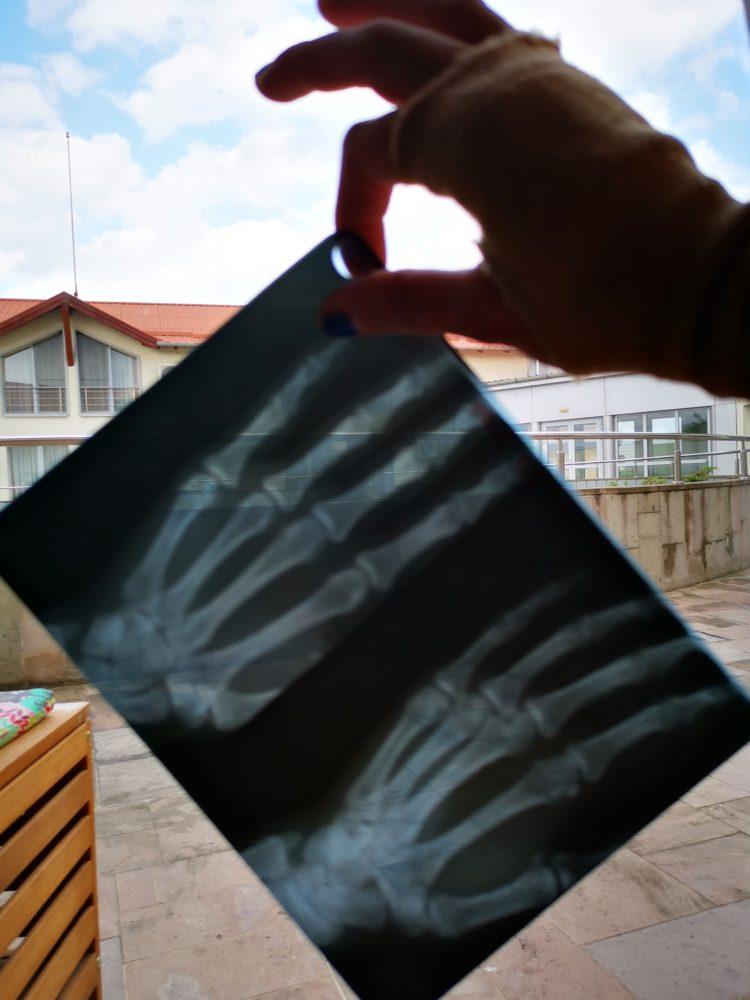 The Dracula Castle
On Day Three, Gabriella, Toni, and Sanyi went out for one last ride. Green with envy, I stayed in the hotel going through the images and videos, and Gabriella tells me this was the gnarliest day of them all. I felt gutted to be missing all the dirt and all the glory, but everyone was back by lunch and, piling into a van along with Toni and Sanyi's daughters – who are the future of Enduro Escape, we were told – we left for Bran to visit the world-famous Dracula castle.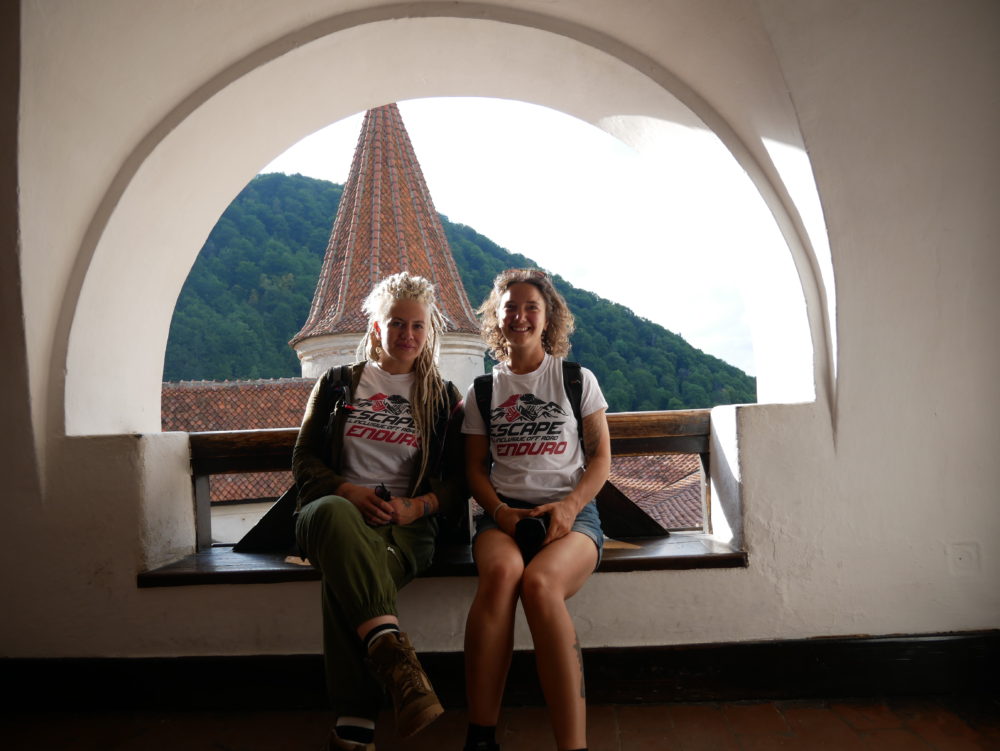 So what's the deal with Transylvania and vampires? Turns out, Count Dracula was, in fact, a real person, albeit a misunderstood one. During the Middle Ages, Transylvania experienced much turmoil and conflict, and its ruler Vlad Tepes, also known as Vlad the Impaler for his notorious habit of putting people on sticks, had to rule the region with an iron fist to both keep the internal peace and defend his people from the invading Turks. Because of his ruthlessness and cruelty, he was known as Vlad Dracula, "Dracula" meaning "son of a dragon" or "son of a devil" in Romanian. Then, in the mid-nineteenth century, an Irish writer Bram Stoker visited Transylvania and the town of Bran, famous for its spectacular medieval castle of the same name. Inspired by the local folklore about evil spirits and vampires, Stoker took the term "bloodthirsty" used to describe Vlad Tepes literally, and in his famous book "Dracula", turned poor old Vlad into a real vampire. Thus the legend was born, and ever since, the region of Transylvania and the Bran castle were known as this mysterious realm of dark legends and immortal vampires.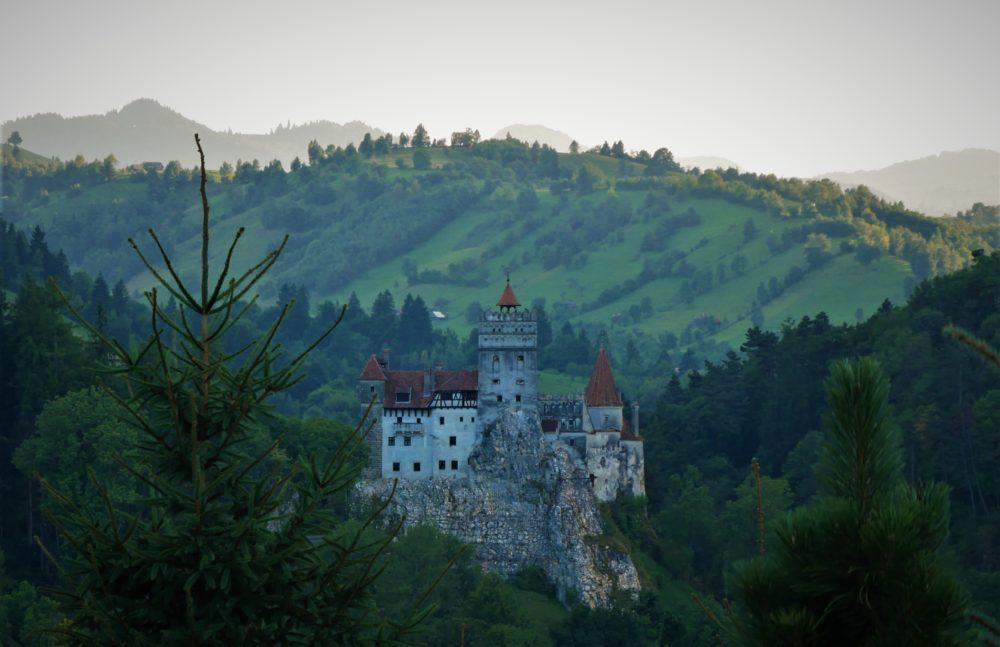 In reality, Bran is a picturesque, lovely little town, and Bran Castle is a truly impressive sample of medieval architecture, carved into living rock. Dracula is still big in Bran, but now it's mainly in the form of touristy souvenirs (you can find Dracula's doughnuts, Dracula's fridge magnets, and Dracula's hats just about everywhere you go in Bran).  We spent a chilled out afternoon exploring the castle and the town, sampling some delicious local goulash and wine, and talking dirtbikes with Toni and Sanyi. At that point, I felt like I was just hanging out with my riding buddies, not riding instructors or tour guides – even though I only rode for a day and a half due to my flight over the handlebars, it felt like we all had a crazy fun ride, and the experience has cemented the natural bond of camaraderie that happens when people spend a significant amount of time riding dirtbikes out in the sticks together.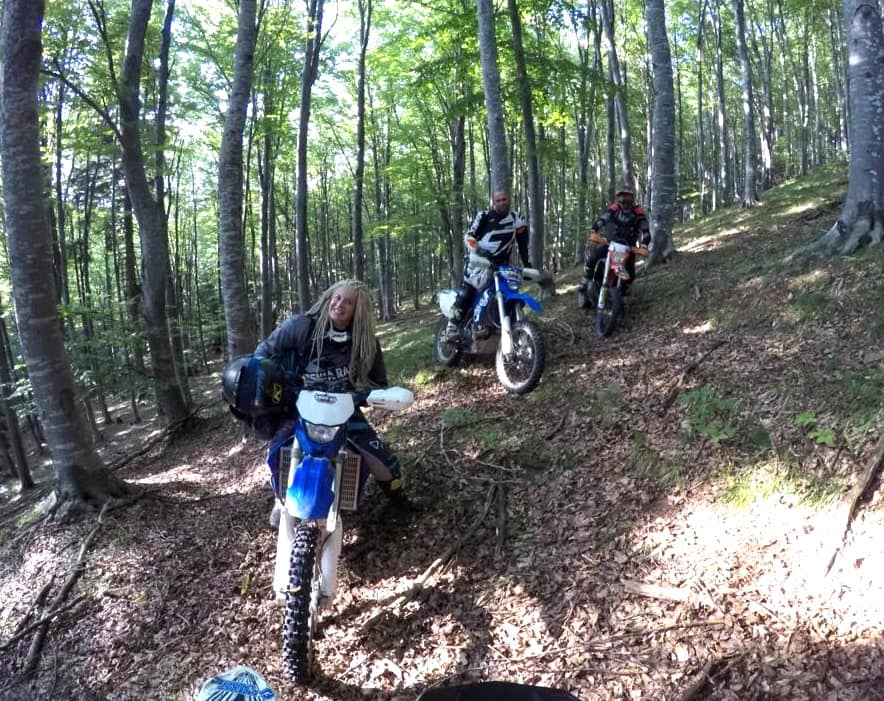 Romania Enduro Escape Tours is a different kind of a dirt bike training and tours company. Sure, they rent bikes, help you improve your skills, and take you out on some spectacular trails. But they also have something very rare and genuine, and that's heart. Toni and Sanyi made us feel welcomed and looked after like long-lost friends, and they both went above and beyond every day. Sanyi even fixed my leaking front sprocket seal as I was getting ready to leave, and we shared a goodbye coffee with Toni, Sanyi and their friends on the morning of my departure.
For me, "enduro" now equals "bliss" – so much so that I'm even thinking of doing Romaniacs next year, something I thought was completely unattainable for a slow, clumsy adventure rider like me. And to prep for Romaniancs, I know I'll be heading right back to Transylvania where it all began.
Follow Romania Enduro Escape Tours on Facebook
Images: Egle & Gabriella Linford