Ever need a place to stay while traveling? Want to connect with local riders?  Want to host riders in your home, show them your favorite sites, or help a long distance traveler with tools and garage space? Enter Bunk-a-Biker!
We chatted with Zee Traveler and asked all the questions we thought you might have.  We'd love to see everyone get involved!
What is Bunk-a-Biker?
Bunk-a-Biker is simply a network of bikers who can host other riders or travelers looking for somewhere to stay. It's got separate Facebook groups per region or country, a main Facebook page, and I've hosted a web page on my website for non-Facebook users. It works off of the generosity of riders to help those passing thru, and seems to be quite popular as the map has only been up for a week and has 283 member submitted pins. Every group uses the same map so the groups are just for members to socialize with locals.
Bunk-a-Biker was founded in late 2016 by Kjetil Lystad who lives in Norway. It's much harder to camp throughout Europe so a group of bikers offering to host traveling bikers would be valuable. Due to health and life matters, Kjetil didn't have time to run the many branches of Bunk-a-Biker and the connecting page. All the groups had little to no activity when I messaged Kjetil to offer my help to merge the groups, organize all the materials, and start promoting the new map to bring in members to add their pins. Because of my established reputation as the founder of Minimalist Motorcycle Vagabonds, it was pretty easy to get the ball rolling again.
Is there a cost to the service?
Not for the participants at this time.  The basic cost for the group is the monthly map subscription and, if you count it, the cost of my hosting on my web domain. The real cost is the many hours I volunteer of my time to help members add their pins, promoting, recruiting, posting, organizing, and creating content. But I love the motorcycle community and as a traveler myself, this is a concept that strikes close to my heart. What is better than riders helping other riders and renewing everyone's faith in the community? I've been helped by many people on my travels and those stories always bring a smile to people's faces so I hope Bunk-a-Biker can create more of those stories.
How do you help people feel safe opening their home to strangers?
Safety is up to each individual. I encourage members to pin their town and give a phone number or email to be contacted at so they can vet travelers before giving their address. Whether they just need a chat on the phone or to meet for lunch is up to each person. Usually a traveler has a trail that can be checked out so that helps the host. If a traveler has a problem with a host, they'll be quickly identified and banned from the community. It is mostly a word of mouth, instinct, and trust based community. I sincerely hope we never have any issues. I've never have!
Tell us a bit about you!
I've been living on my motorcycle for almost three years now with no home base. I started on a Victory Crosscountry then moved down to a Honda CB500x after 6 months. I put 41,000 miles on the Honda until I wrecked it in December 2018. That same month I bought a Suzuki DR350 and have been happy with it ever since. Right now I'm slightly home based because of needing a surgery to reconstruct my MCL that was torn in the wreck. So I've got more time to play on social media than I do when I'm touring or stopped to work. Currently, I'm hanging in San Jose, CA. In August I'm heading to Romania to ride for 11 weeks.
About a year ago, a friend asked if I would be able to help out as an admin for Bunk-a-Biker USA. Unfortunately due to the map service going from free to charge, we lost the member map and there wasn't much I could do because I can't afford things like that due to my nomadic lifestyle. The group stagnated for awhile with many of the other country groups dried up as well. At the time I was still pretty busy running the group I founded, "Minimalist Motorcycle Vagabonds" and didn't spend the time I should've running Bunk-a-Biker.
Have you used Bunk-a-Biker?
I used Bunk-a-Biker in 2017 when I needed a place to hang out for a couple days in Pennsylvania. I posted on the group and Tim offered his place on the Allegheny River. I had a wonderful 5 days there with the on-site resident Gaynil, kayaked, relaxed, and gave Tim my ideas for a motorcycle campground he's working on building at that spot. I made two friends and intend to go back when I get to that part of the country on my travels again.
How "big" will Bunk-a-Biker get?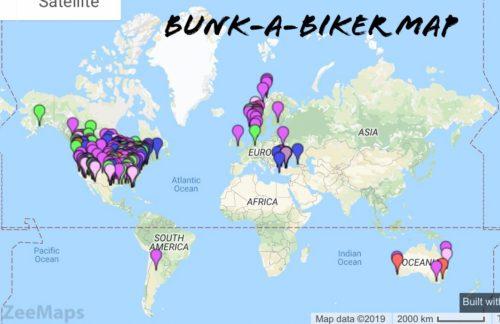 Right now Bunk-a-Biker has most of its pins in North America but I hope to start attracting more members from around the world as I get help from locals. It can be hard for me to market to different countries when I don't speak their language.
How do I join?
To get involved, all you need to do is visit one of the pages. You can join the Facebook groups, like the Facebook page, or visit the webpage. The map is linked on all the pages so you can add yourself or search for someone to stay with.
FB Page: Facebook.com/BunkaBiker 
North America group: Facebook.com/groups/BunkaBikerNA
Webpage: ZeeTraveler.com/BunkaBiker
Map: ZeeMaps.com/Bunk-a-Biker_World
Like this? Check out Dual Sports for Women!